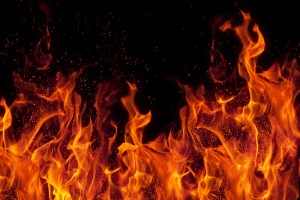 Continuing: In Revelation 3:18 the Lord says to those He has just described as indifferent in their superficial material comfort (thinking they know it all) to anoint (rub in) their eyes with eye-salve so they can see. He follows with telling of this being with regard to correcting what they think they have/know. We know this because He explains just prior the difference between how they see it and how it truly is when seen by His eyes. The word here translated "eyesalve" is the Greek word kollourion, a one time used word from an uncertain origin. Here is the origin, from kolla, meaning causing to stick (as in glue), and loutron, meaning to wash. In the context of everything else said here we see the Lord saying to washing away with the washing that stays with us and in doing we will see as He sees. He is telling of something restraining our mind and once removed seeing all.
2 Thessalonians 2 (Let and letteth in verse 7 mean restraining)
3 Let no man deceive you by any means: for that day shall not come, except there come a falling away first, and that man of sin be revealed, the son of perdition;
4 Who opposeth and exalteth himself above all that is called God, or that is worshipped; so that he as God sitteth in the temple of God, shewing himself that he is God.
5 Remember ye not, that, when I was yet with you, I told you these things?
6 And now ye know what withholdeth that he might be revealed in his time.
7 For the mystery of iniquity doth already work: only he who now letteth will let, until he be taken out of the way.
8 And then shall that Wicked be revealed, whom the Lord shall consume with the spirit of his mouth, and shall destroy with the brightness of his coming:
9 Even him, whose coming is after the working of Satan with all power and signs and lying wonders,
10 And with all deceivableness of unrighteousness in them that perish; because they received not the love of the truth, that they might be saved.
Revelation 3
14 And unto the angel of the church of the Laodiceans write; These things saith the Amen, the faithful and true witness, the beginning of the creation of God;
15 I know thy works, that thou art neither cold nor hot: I would thou wert cold or hot.
16 So then because thou art lukewarm, and neither cold nor hot, I will spue thee out of my mouth.
17 Because thou sayest, I am rich, and increased with goods, and have need of nothing; and knowest not that thou art wretched, and miserable, and poor, and blind, and naked:
18 I counsel thee to buy of me gold tried in the fire, that thou mayest be rich; and white raiment, that thou mayest be clothed, and that the shame of thy nakedness do not appear; and anoint thine eyes with eyesalve, that thou mayest see.
19 As many as I love, I rebuke and chasten: be zealous therefore, and repent.
20 Behold, I stand at the door, and knock: if any man hear my voice, and open the door, I will come in to him, and will sup with him, and he with me.
21 To him that overcometh will I grant to sit with me in my throne, even as I also overcame, and am set down with my Father in his throne.
22 He that hath an ear, let him hear what the Spirit saith unto the churches.
In the recent past we have looked at Luke and what he calls his "perfect understanding" and this being what he was writing and pouring forward.
(Luke1:1 Forasmuch as many have taken in hand to set forth in order a declaration of those things which are most surely believed among us, 2 Even as they delivered them unto us, which from the beginning were eyewitnesses, and ministers of the word; 3 It seemed good to me also, having had perfect understanding of all things from the very first, to write unto thee in order, most excellent Theophilus, 4 That thou mightest know the certainty of those things, wherein thou hast been instructed.)
In Luke 24 there is an exchange recorded of the encounter with the Lord after He is raised. In verse 16 we are told of the two men seeing Him not knowing him because their "eyes were holden." The word translated "eye" here, and many other similar contexts including Revelation 3:18, is ophthalmos. "Holden" is from the word krateo, and if you remember it is the second half of the one time used word kosmokrator, meaning world (superficial adornment) powers. Its only use is as "ruler" in describing the spiritually wicked in high place who our war is against. (Ephesians 6:12 For we wrestle not against flesh and blood, but against principalities, against powers, against the "rulers" of the darkness of this world, against spiritual wickedness in high places.)
Here are several of the definitions from Strong's Greek Dictionary:
Strong's #3788: ophthalmos (pronounced of-thal-mos') from 3700; the eye (literally or figuratively); by implication, vision; figuratively, envy (from the jealous side-glance):–eye, sight.
Strong's #2902: krateo (pronounced krat-eh'-o) from 2904; to use strength, i.e. seize or retain (literally or figuratively):–hold (by, fast), keep, lay hand (hold) on, obtain, retain, take (by).
Strong's #2888: kosmokrator (pronounced kos-mok-fat'-ore) from 2889 and 2902; a world-ruler, an epithet of Satan:–ruler.
What we see is these men's eyes are already taken by the powers of the world, and are only able to see superficially and in doing so don't recognize Him (re cognize – re know, re understand, re member). What follows is His opening the scripture and in doing they see him by seeing the inner man. In verse 31 we see as soon as they knew him He vanished out of their sight. The word "vanished" here is aphantos, also a one time used word said to mean, un-appear. In context we set it as actually meaning unapparent. It is telling of them knowing it was Him but still not knowing what they were seeing. Their worldly mind were unable to reconcile what they knew with what the powers (of the darkness of this world) told them they should believe. What follows is the encounter where He is suddenly in their midst and they think Him a spirit He would have to be (according to the world). He then shows them his body.
Luke 24
1 Now upon the first day of the week, very early in the morning, they came unto the sepulchre, bringing the spices which they had prepared, and certain others with them.
2 And they found the stone rolled away from the sepulchre.
3 And they entered in, and found not the body of the Lord Jesus.
4 And it came to pass, as they were much perplexed thereabout, behold, two men stood by them in shining garments:
5 And as they were afraid, and bowed down their faces to the earth, they said unto them, Why seek ye the living among the dead?
6 He is not here, but is risen: remember how he spake unto you when he was yet in Galilee,
7 Saying, The Son of man must be delivered into the hands of sinful men, and be crucified, and the third day rise again.
8 And they remembered his words,
9 And returned from the sepulchre, and told all these things unto the eleven, and to all the rest.
10 It was Mary Magdalene and Joanna, and Mary the mother of James, and other women that were with them, which told these things unto the apostles.
11 And their words seemed to them as idle tales, and they believed them not.
12 Then arose Peter, and ran unto the sepulchre; and stooping down, he beheld the linen clothes laid by themselves, and departed, wondering in himself at that which was come to pass.
13 And, behold, two of them went that same day to a village called Emmaus, which was from Jerusalem about threescore furlongs.
14 And they talked together of all these things which had happened.
15 And it came to pass, that, while they communed together and reasoned, Jesus himself drew near, and went with them.
16 But their eyes were holden that they should not know him.
17 And he said unto them, What manner of communications are these that ye have one to another, as ye walk, and are sad?
18 And the one of them, whose name was Cleopas, answering said unto him, Art thou only a stranger in Jerusalem, and hast not known the things which are come to pass there in these days?
19 And he said unto them, What things? And they said unto him, Concerning Jesus of Nazareth, which was a prophet mighty in deed and word before God and all the people:
20 And how the chief priests and our rulers delivered him to be condemned to death, and have crucified him.
21 But we trusted that it had been he which should have redeemed Israel: and beside all this, to day is the third day since these things were done.
22 Yea, and certain women also of our company made us astonished, which were early at the sepulchre;
23 And when they found not his body, they came, saying, that they had also seen a vision of angels, which said that he was alive.
24 And certain of them which were with us went to the sepulchre, and found it even so as the women had said: but him they saw not.
25 Then he said unto them, O fools, and slow of heart to believe all that the prophets have spoken:
26 Ought not Christ to have suffered these things, and to enter into his glory?
27 And beginning at Moses and all the prophets, he expounded unto them in all the scriptures the things concerning himself.
28 And they drew nigh unto the village, whither they went: and he made as though he would have gone further.
29 But they constrained him, saying, Abide with us: for it is toward evening, and the day is far spent. And he went in to tarry with them.
30 And it came to pass, as he sat at meat with them, he took bread, and blessed it, and brake, and gave to them.
31 And their eyes were opened, and they knew him; and he vanished out of their sight.
32 And they said one to another, Did not our heart burn within us, while he talked with us by the way, and while he opened to us the scriptures?
33 And they rose up the same hour, and returned to Jerusalem, and found the eleven gathered together, and them that were with them,
34 Saying, The Lord is risen indeed, and hath appeared to Simon.
35 And they told what things were done in the way, and how he was known of them in breaking of bread.
36 And as they thus spake, Jesus himself stood in the midst of them, and saith unto them, Peace be unto you.
37 But they were terrified and affrighted, and supposed that they had seen a spirit.
38 And he said unto them, Why are ye troubled? and why do thoughts arise in your hearts?
39 Behold my hands and my feet, that it is I myself: handle me, and see; for a spirit hath not flesh and bones, as ye see me have.
40 And when he had thus spoken, he shewed them his hands and his feet.
41 And while they yet believed not for joy, and wondered, he said unto them, Have ye here any meat?
42 And they gave him a piece of a broiled fish, and of an honeycomb.
43 And he took it, and did eat before them.
44 And he said unto them, These are the words which I spake unto you, while I was yet with you, that all things must be fulfilled, which were written in the law of Moses, and in the prophets, and in the psalms, concerning me.
45 Then opened he their understanding, that they might understand the scriptures,
46 And said unto them, Thus it is written, and thus it behooved Christ to suffer, and to rise from the dead the third day:
47 And that repentance and remission of sins should be preached in his name among all nations, beginning at Jerusalem.
48 And ye are witnesses of these things.
49 And, behold, I send the promise of my Father upon you: but tarry ye in the city of Jerusalem, until ye be endued with power from on high.
50 And he led them out as far as to Bethany, and he lifted up his hands, and blessed them.
51 And it came to pass, while he blessed them, he was parted from them, and carried up into heaven.
52 And they worshipped him, and returned to Jerusalem with great joy:
53 And were continually in the temple, praising and blessing God. Amen.
In Acts 2:24 Luke tells of Peter's explaining the rising and using the word krateo, "Whom God hath raised up, having loosed the pains of death: because it was not possible that he should be 'holden' of it." This is telling of it being impossible for "death" to have rule/power over Him. All we have to do is see with His eyes.
Do you see now? You may shut the door but you can't keep me out.
1 Corinthians 15
51 Behold, I shew you a mystery; We shall not all sleep, but we shall all be changed,
52 In a moment, in the twinkling of an eye, at the last trump: for the trumpet shall sound, and the dead shall be raised incorruptible, and we shall be changed.
53 For this corruptible must put on incorruption, and this mortal must put on immortality.
54 So when this corruptible shall have put on incorruption, and this mortal shall have put on immortality, then shall be brought to pass the saying that is written, Death is swallowed up in victory.
55 O death, where is thy sting? O grave, where is thy victory?
56 The sting of death is sin; and the strength of sin is the law.
57 But thanks be to God, which giveth us the victory through our Lord Jesus Christ.
58 Therefore, my beloved brethren, be ye stedfast, unmoveable, always abounding in the work of the Lord, forasmuch as ye know that your labour is not in vain in the Lord.
Acts 2
14 But Peter, standing up with the eleven, lifted up his voice, and said unto them, Ye men of Judaea, and all ye that dwell at Jerusalem, be this known unto you, and hearken to my words:
15 For these are not drunken, as ye suppose, seeing it is but the third hour of the day.
16 But this is that which was spoken by the prophet Joel;
17 And it shall come to pass in the last days, saith God, I will pour out of my Spirit upon all flesh: and your sons and your daughters shall prophesy, and your young men shall see visions, and your old men shall dream dreams:
18 And on my servants and on my handmaidens I will pour out in those days of my Spirit; and they shall prophesy:
19 And I will shew wonders in heaven above, and signs in the earth beneath; blood, and fire, and vapour of smoke:
20 The sun shall be turned into darkness, and the moon into blood, before the great and notable day of the Lord come:
21 And it shall come to pass, that whosoever shall call on the name of the Lord shall be saved.
22 Ye men of Israel, hear these words; Jesus of Nazareth, a man approved of God among you by miracles and wonders and signs, which God did by him in the midst of you, as ye yourselves also know:
23 Him, being delivered by the determinate counsel and foreknowledge of God, ye have taken, and by wicked hands have crucified and slain:
24 Whom God hath raised up, having loosed the pains of death: because it was not possible that he should be holden of it.
25 For David speaketh concerning him, I foresaw the Lord always before my face, for he is on my right hand, that I should not be moved:
26 Therefore did my heart rejoice, and my tongue was glad; moreover also my flesh shall rest in hope:
27 Because thou wilt not leave my soul in hell, neither wilt thou suffer thine Holy One to see corruption.
28 Thou hast made known to me the ways of life; thou shalt make me full of joy with thy countenance.
29 Men and brethren, let me freely speak unto you of the patriarch David, that he is both dead and buried, and his sepulchre is with us unto this day.
30 Therefore being a prophet, and knowing that God had sworn with an oath to him, that of the fruit of his loins, according to the flesh, he would raise up Christ to sit on his throne;
31 He seeing this before spake of the resurrection of Christ, that his soul was not left in hell, neither his flesh did see corruption.
32 This Jesus hath God raised up, whereof we all are witnesses.
33 Therefore being by the right hand of God exalted, and having received of the Father the promise of the Holy Ghost, he hath shed forth this, which ye now see and hear.
34 For David is not ascended into the heavens: but he saith himself, The Lord said unto my Lord, Sit thou on my right hand,
35 Until I make thy foes thy footstool.
36 Therefore let all the house of Israel know assuredly, that God hath made the same Jesus, whom ye have crucified, both Lord and Christ.
37 Now when they heard this, they were pricked in their heart, and said unto Peter and to the rest of the apostles, Men and brethren, what shall we do?
38 Then Peter said unto them, Repent, and be baptized every one of you in the name of Jesus Christ for the remission of sins, and ye shall receive the gift of the Holy Ghost.
39 For the promise is unto you, and to your children, and to all that are afar off, even as many as the Lord our God shall call.
2 Timothy 3
1 This know also, that in the last days perilous times shall come.
2 For men shall be lovers of their own selves, covetous, boasters, proud, blasphemers, disobedient to parents, unthankful, unholy,
3 Without natural affection, trucebreakers, false accusers, incontinent, fierce, despisers of those that are good,
4 Traitors, heady, highminded, lovers of pleasures more than lovers of God;
5 Having a form of godliness, but denying the power thereof: from such turn away.
6 For of this sort are they which creep into houses, and lead captive silly women laden with sins, led away with divers lusts,
7 Ever learning, and never able to come to the knowledge of the truth.
8 Now as Jannes and Jambres withstood Moses, so do these also resist the truth: men of corrupt minds, reprobate concerning the faith.
9 But they shall proceed no further: for their folly shall be manifest unto all men, as their's also was.
10 But thou hast fully known my doctrine, manner of life, purpose, faith, longsuffering, charity, patience,
11 Persecutions, afflictions, which came unto me at Antioch, at Iconium, at Lystra; what persecutions I endured: but out of them all the Lord delivered me.
12 Yea, and all that will live godly in Christ Jesus shall suffer persecution.
13 But evil men and seducers shall wax worse and worse, deceiving, and being deceived.
14 But continue thou in the things which thou hast learned and hast been assured of, knowing of whom thou hast learned them;
15 And that from a child thou hast known the holy scriptures, which are able to make thee wise unto salvation through faith which is in Christ Jesus.
16 All scripture is given by inspiration of God, and is profitable for doctrine, for reproof, for correction, for instruction in righteousness:
17 That the man of God may be perfect, thoroughly furnished unto all good works.
2 Timothy 4
1 I charge thee therefore before God, and the Lord Jesus Christ, who shall judge the quick and the dead at his appearing and his kingdom;
2 Preach the word; be instant in season, out of season; reprove, rebuke, exhort with all long suffering and doctrine.
3 For the time will come when they will not endure sound doctrine; but after their own lusts shall they heap to themselves teachers, having itching ears;
4 And they shall turn away their ears from the truth, and shall be turned unto fables.
5 But watch thou in all things, endure afflictions, do the work of an evangelist, make full proof of thy ministry.