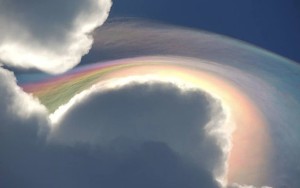 Christ haters (antichrists) often (at www.facebook.com/LogosofTheou) ask the same sour question as if they have some new accusation proving something that will produce doubt in believers. They accuse God (mostly Christ) and the Bible as being myth, and ask the question, "Show me one prophesy that has ever come true?" This is their paradox of not wanting to see, and therefore, no matter what they see is consciously rejected. Then there are believer unaware of this fact that try to point to detailed occurrences now and in history they say prove the Bible's truth. The antichrists aren't interested in being convinced and therefore close their mind to any information that contradicts their goal of destroying FAITH. As for this being something new, it is actually the first recorded attack on "faith," and it is by accusation against God.
Genesis 3
1 Now the serpent was more subtil than any beast of the field which the Lord God had made. And he said unto the woman, Yea, hath God said, Ye shall not eat of every tree of the garden?
2 And the woman said unto the serpent, We may eat of the fruit of the trees of the garden:
3 But of the fruit of the tree which is in the midst of the garden, God hath said, Ye shall not eat of it, neither shall ye touch it, lest ye die.
4 And the serpent said unto the woman, Ye shall not surely die:
5 For God doth know that in the day ye eat thereof, then your eyes shall be opened, and ye shall be as gods, knowing good and evil.
6 And when the woman saw that the tree was good for food, and that it was pleasant to the eyes, and a tree to be desired to make one wise, she took of the fruit thereof, and did eat, and gave also unto her husband with her; and he did eat.
Did death come as God said? (The antichrists will say no.) Death entered humanity by this induced falling away [from faith in God] through intentional deception and false accusation. In the next generation Cain killed his brother Abel, "And wherefore slew he him? Because his own works were evil, and his brother's righteous." As we have examined, Hebrews 12 tells of the Father (God) correcting our course back to Him and away from this error and fall. We also saw we are warned to hear [this word of correction] as the world is shaken, and how it speaks a greater witness than Abel's (blood). Earlier in the chapter we are told of those among us who hear this correction but choose to stay with the morsels of meet (doctrine they have created as if fruit plucked from the tree) and in doing sell their birthright.
The point today is that we aren't going to prove anything to those bent on destroying us. Our defense is [faith in ] the LORD of hosts. But as Cain, "who was that wicked one," killed the righteous, so do those in our time whose offering (what they have cultivated) is rejected by the LORD. The trouble isn't of external origin. It begins with subversion (sabotaging faith) from within and the consequence is destruction and chaos, normal for the uncivilized (heathen nations), as it/they invades and then destroy our sanctuary (as waves cover the ship).
2 Thessalonians 2
1 Now we beseech you, brethren, by the coming of our Lord Jesus Christ, and by our gathering together unto him,
2 That ye be not soon shaken in mind, or be troubled, neither by spirit, nor by word, nor by letter as from us, as that the day of Christ is at hand.
3 Let no man deceive you by any means: for that day shall not come, except there come a falling away first, and that man of sin be revealed, the son of perdition;
4 Who opposes and exalts himself above all that is called God, or that is worshipped; so that he as God sits in the temple of God, showing himself that he is God.
5 Remember ye not, that, when I was yet with you, I told you these things?
6 And now ye know what withholds that he might be revealed in his time.
7 For the mystery of iniquity does already work: only he who now keeps us from rising will hold us down, until he be taken out of the way.
8 And then shall that Wicked be revealed, whom the Lord shall consume with the spirit of his mouth, and shall destroy with the brightness of his coming:
9 Even him, whose coming is after the working of Satan with all power and signs and lying wonders,
10 And with all deceivableness of unrighteousness in them that perish; because they received not the love of the truth, that they might be saved.
11 And for this cause God shall send them strong delusion, that they should believe a lie:
12 That they all might be damned who believed not the truth, but had pleasure in unrighteousness.
13 But we are bound to give thanks alway to God for you, brethren beloved of the Lord, because God hath from the beginning chosen you to salvation through sanctification of the Spirit and belief of the truth:
14 Whereunto he called you by our gospel, to the obtaining of the glory of our Lord Jesus Christ.
15 Therefore, brethren, stand fast, and hold the traditions which ye have been taught, whether by word, or our epistle.
16 Now our Lord Jesus Christ himself, and God, even our Father, which hath loved us, and hath given us everlasting consolation and good hope through grace,
17 Comfort your hearts, and stablish you in every good word and work.
This "wicked" one is defined in verse 8 above using the Greek word anomos. This is a ten times used word appearing in Mark and Luke as "transgressors" in quoting Isaiah 53:12. The Hebrew word is pasha' and is therein used twice. The meaning is to break away (from just authority), as in apostasy or rebellion. The gospels tell us only that Christ at His crucifixion "was numbered among the transgressors." This also defines those crucifying Him as being those in (unjust) authority, as they falsely accused Him of being the apostate and rebel. Isaiah tells us the remaining aspect immediately in ending the sentence, "and He bare the sin of many, and made intercession for the transgressors." Luke's gospel tells of this aspect as it records the Lord's words, "Father, forgive them; for they know not what they do." (Hebrews 10:26 – 30)
Isaiah 53
1 Who hath believed our report? and to whom is the arm of the Lord revealed?
2 For he shall grow up before him as a tender plant, and as a root out of a dry ground: he hath no form nor comeliness; and when we shall see him, there is no beauty that we should desire him.
3 He is despised and rejected of men; a man of sorrows, and acquainted with grief: and we hid as it were our faces from him; he was despised, and we esteemed him not.
4 Surely he hath borne our griefs, and carried our sorrows: yet we did esteem him stricken, smitten of God, and afflicted.
5 But he was wounded for our transgressions, he was bruised for our iniquities: the chastisement of our peace was upon him; and with his stripes we are healed.
6 All we like sheep have gone astray; we have turned every one to his own way; and the Lord hath laid on him the iniquity of us all.
7 He was oppressed, and he was afflicted, yet he opened not his mouth: he is brought as a lamb to the slaughter, and as a sheep before her shearers is dumb, so he openeth not his mouth.
8 He was taken from prison and from judgment: and who shall declare his generation? for he was cut off out of the land of the living: for the transgression of my people was he stricken.
9 And he made his grave with the wicked, and with the rich in his death; because he had done no violence, neither was any deceit in his mouth.
10 Yet it pleased the Lord to bruise him; he hath put him to grief: when thou shalt make his soul an offering for sin, he shall see his seed, he shall prolong his days, and the pleasure of the Lord shall prosper in his hand.
11 He shall see of the travail of his soul, and shall be satisfied: by his knowledge shall my righteous servant justify many; for he shall bear their iniquities.
12 Therefore will I divide him a portion with the great, and he shall divide the spoil with the strong; because he hath poured out his soul unto death: and he was numbered with the transgressors; and he bare the sin of many, and made intercession for the transgressors.
This takes us back to the word anomos and the other time it is translated "wicked." Acts 2:23 tells us plainly these apostate rebels are those who crucified the Lord. Just prior to this Peter quotes from Joel 2 in telling of the sun being darkened and the moon turned to blood. Those who read along know these as the church and civil governments as God intended them to shine and reflect His light on earth (His Just reign – kingdom on earth). These being mentioned with telling of those who crucified the Lord is consistent with the context of our war against spiritual wickedness in high places. The threats from without are only such due to the corruption (falling away) of the just authorities within.
Ephesians 5
7 Be not ye therefore partakers with them.
8 For ye were sometimes darkness, but now are ye light in the Lord: walk as children of light:
9 (For the fruit of the Spirit is in all goodness and righteousness and truth;)
10 Proving what is acceptable unto the Lord.
11 And have no fellowship with the unfruitful works of darkness, but rather reprove them.
12 For it is a shame even to speak of those things which are done of them in secret.
13 But all things that are reproved are made manifest by the light: for whatsoever doth make manifest is light.
14 Wherefore he saith, Awake thou that sleepest, and arise from the dead, and Christ shall give thee light.
15 See then that ye walk circumspectly, not as fools, but as wise,
16 Redeeming the time, because the days are evil.
Ephesians 6
10 Finally, my brethren, be strong in the Lord, and in the power of his might.
11 Put on the whole armour of God, that ye may be able to stand against the wiles of the devil.
12 For we wrestle not against flesh and blood, but against principalities, against powers, against the rulers of the darkness of this world, against spiritual wickedness in high places.
13 Wherefore take unto you the whole armour of God, that ye may be able to withstand in the evil day, and having done all, to stand.
14 Stand therefore, having your loins girt about with truth, and having on the breastplate of righteousness;
15 And your feet shod with the preparation of the gospel of peace;
16 Above all, taking the shield of faith, wherewith ye shall be able to quench all the fiery darts of the wicked.
17 And take the helmet of salvation, and the sword of the Spirit, which is the word of God:
18 Praying always with all prayer and supplication in the Spirit, and watching thereunto with all perseverance and supplication for all saints;
19 And for me, that utterance may be given unto me, that I may open my mouth boldly, to make known the mystery of the gospel,
20 For which I am an ambassador in bonds: that therein I may speak boldly, as I ought to speak.
Here is what Peter says in Acts 2:
17 And it shall come to pass in the last days, saith God, I will pour out of my Spirit upon all flesh: and your sons and your daughters shall prophesy, and your young men shall see visions, and your old men shall dream dreams:
18 And on my servants and on my handmaidens I will pour out in those days of my Spirit; and they shall prophesy:
19 And I will shew wonders in heaven above, and signs in the earth beneath; blood, and fire, and vapour of smoke:
20 The sun shall be turned into darkness, and the moon into blood, before the great and notable day of the Lord come:
21 And it shall come to pass, that whosoever shall call on the name of the Lord shall be saved.
22 Ye men of Israel, hear these words; Jesus of Nazareth, a man approved of God among you by miracles and wonders and signs, which God did by him in the midst of you, as ye yourselves also know:
23 Him, being delivered by the determinate counsel and foreknowledge of God, ye have taken, and by wicked hands have crucified and slain:
24 Whom God hath raised up, having loosed the pains of death: because it was not possible that he should be holden of it.
25 For David speaketh concerning him, I foresaw the Lord always before my face, for he is on my right hand, that I should not be moved:
26 Therefore did my heart rejoice, and my tongue was glad; moreover also my flesh shall rest in hope:
27 Because thou wilt not leave my soul in hell, neither wilt thou suffer thine Holy One to see corruption.
28 Thou hast made known to me the ways of life; thou shalt make me full of joy with thy countenance.
29 Men and brethren, let me freely speak unto you of the patriarch David, that he is both dead and buried, and his sepulchre is with us unto this day.
30 Therefore being a prophet, and knowing that God had sworn with an oath to him, that of the fruit of his loins, according to the flesh, he would raise up Christ to sit on his throne;
31 He seeing this before spake of the resurrection of Christ, that his soul was not left in hell, neither his flesh did see corruption.
32 This Jesus hath God raised up, whereof we all are witnesses.
33 Therefore being by the right hand of God exalted, and having received of the Father the promise of the Holy Ghost, he hath shed forth this, which ye now see and hear.
34 For David is not ascended into the heavens: but he saith himself, The Lord said unto my Lord, Sit thou on my right hand,
35 Until I make thy foes thy footstool.
36 Therefore let all the house of Israel know assuredly, that God hath made the same Jesus, whom ye have crucified, both Lord and Christ.
37 Now when they heard this, they were pricked in their heart, and said unto Peter and to the rest of the apostles, Men and brethren, what shall we do?
38 Then Peter said unto them, Repent, and be baptized every one of you in the name of Jesus Christ for the remission of sins, and ye shall receive the gift of the Holy Ghost.
39 For the promise is unto you, and to your children, and to all that are afar off, even as many as the Lord our God shall call.
Friends, the point is we are not going to convince those who are seeking to destroy us. We must destroy their will to make war against US. Foremost we must remove those who sit in the seats of power, who seeing the consequence of their blindly leading us, continue in the same way seemingly wanting and enabling our destruction. We need to understand there are enemies of God and our Constitution, both foreign and domestic, and they have risen to control the highest seats of power.
Philippians 3
17 Brethren, be followers together of me, and mark them which walk so as ye have us for an ensample.
18 (For many walk, of whom I have told you often, and now tell you even weeping, that they are the enemies of the cross of Christ:
19 Whose end is destruction, whose God is their belly, and whose glory is in their shame, who mind earthly things.)
20 For our conversation is in heaven; from whence also we look for the Saviour, the Lord Jesus Christ:
21 Who shall change our vile body, that it may be fashioned like unto his glorious body, according to the working whereby he is able even to subdue all things unto himself.
This takes us back to the question the antichrists ask for proof of prophesy coming true. Here are several that prove them to be the proof. They will refuse it, even as they do in denying all reality. The proof is for believer to see by understanding.
1 John 2
18 Little children, it is the last time: and as ye have heard that antichrist shall come, even now are there many antichrists; whereby we know that it is the last time.
19 They went out from us, but they were not of us; for if they had been of us, they would no doubt have continued with us: but they went out, that they might be made manifest that they were not all of us.
20 But ye have an unction from the Holy One, and ye know all things.
21 I have not written unto you because ye know not the truth, but because ye know it, and that no lie is of the truth.
22 Who is a liar but he that denies that Jesus is the Christ? He is antichrist, that denies the Father and the Son.
Joshua 23
13 Know for a certainty that the Lord your God will no more drive out any of these nations from before you; but they shall be snares and traps unto you, and scourges in your sides, and thorns in your eyes, until ye perish from off this good land which the Lord your God hath given you.
14 And, behold, this day I am going the way of all the earth: and ye know in all your hearts and in all your souls, that not one thing hath failed of all the good things which the Lord your God spake concerning you; all are come to pass unto you, and not one thing hath failed thereof.
The nations who are invading us – by invitation of our leaders – are only doing what they do – these are their ways and what they believe. Our leaders have brought us to this place in telling us all beliefs are equal. They told us we shouldn't teach (self-evident) truth and we should keep it to ourselves (then made laws forcing us to do so). Our preachers corrupted into self-centered doctrines of devils telling us gain is godliness. The truth is someone's beliefs are going to be taught and some will force theirs upon us as we [have] become silent and weakened.
Our ideas are better. Our FAITH in God as embodied in Christ, and of Government under God as embodied in our Constitution, are the ideas that have made us great and prosperous. Our prosperity and greatness haven't and don't come from our prosperity. Destroy the foundation of the greatness and the prosperity and all else is destroyed with it. This is the self-evident truth that can only be denied by those who intentionally reject reality or have minds unable to comprehend it.
1 Timothy 6
3 If any man teach otherwise, and consent not to wholesome words, even the words of our Lord Jesus Christ, and to the doctrine which is according to godliness;
4 He is proud, knowing nothing, but doting about questions and strifes of words, whereof cometh envy, strife, railings, evil surmisings,
5 Perverse disputings of men of corrupt minds, and destitute of the truth, supposing that gain is godliness: from such withdraw thyself.
6 But godliness with contentment is great gain.
7 For we brought nothing into this world, and it is certain we can carry nothing out.
8 And having food and raiment let us be therewith content.
9 But they that will be rich fall into temptation and a snare, and into many foolish and hurtful lusts, which drown men in destruction and perdition.
10 For the love of money is the root of all evil: which while some coveted after, they have erred from the faith, and pierced themselves through with many sorrows.
11 But thou, O man of God, flee these things; and follow after righteousness, godliness, faith, love, patience, meekness.
12 Fight the good fight of faith, lay hold on eternal life, whereunto thou art also called, and hast professed a good profession before many witnesses.
13 I give thee charge in the sight of God, who quickeneth all things, and before Christ Jesus, who before Pontius Pilate witnessed a good confession;
14 That thou keep this commandment without spot, unrebukable, until the appearing of our Lord Jesus Christ:
15 Which in his times he shall shew, who is the blessed and only Potentate, the King of kings, and Lord of lords;
16 Who only hath immortality, dwelling in the light which no man can approach unto; whom no man hath seen, nor can see: to whom be honour and power everlasting. Amen.
17 Charge them that are rich in this world, that they be not highminded, nor trust in uncertain riches, but in the living God, who giveth us richly all things to enjoy;
18 That they do good, that they be rich in good works, ready to distribute, willing to communicate;
19 Laying up in store for themselves a good foundation against the time to come, that they may lay hold on eternal life.
20 O Timothy, keep that which is committed to thy trust, avoiding profane and vain babblings, and oppositions of science falsely so called:
21 Which some professing have erred concerning the faith. Grace be with thee. Amen.