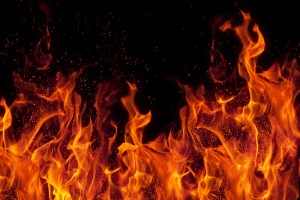 Today I am going to address a comment made to yesterday's post when it appeared at facebook.com/LogosofTheou. The comment was specifically directed at Revelation 15:2 and incorrectly defining "the sea of glass mingled with fire" as follows: "this describes when 90 scientists stood on a sea of glass called Trinity, in New Mexico each holding a holy book of god, Oppenheimer read from the Bagavad Gita, that is the song of God, after they tested the first Nuclear bomb." I corrected her about it actually not meaning that, and of course she went on to say, "this was prophecy fulfilled at Alamogordo, New Mexico with the test of the first nuclear weapon." I write the following not to sham the person but only as a teaching point. (There have been many far greater abuses than this one. The "experts" do it every day and are the least willing to be corrected. They already know it all – while only lacking one thing, the Truth.)
This [comment] epitomizes a problem in understand prophesy, the origin of the problem being with hypothetical surmising about one specific point without considering other aspects mentioned with it, and then how each of these are used in other instances. In this case we see a conclusion drawn to how one point could be seen as referring to something, but when the entire context of what is written is examined there isn't any continuity of meaning. When we frivolously and incorrectly divide the word as has been done here we add contradiction to God's word, which is without contradiction. People should be more careful and have more respect for what is holy.
This takes me to the true point about right judgment. Most people have no idea what is meant when they quote from Matthew 7:1, "Judge not, that ye be not judged." Most people claim [falsely] it means we shouldn't judge anything, and when looked at alone and without considering the surrounding context it may appear so. When the adjoining context is added we see it as warning those who aren't qualified, by preparation of their mind's eye, to not judge. The following sentence tells us, "For with what judgment ye judge, ye shall be judged: and with what measure ye mete, it shall be measured to you again." Therein we see it warning that by incorrectly dividing the word of God we not only expose ourselves but others to the sentence contained in this degraded and incorrect ruling, and we encourage others to take the same liberties with God's words. (In doing this we set a precedent for degrade and thoughtlessness – trampling under foot that which is holy and not caring about the consequences of doing so. Therefore "let your yea be yea; and your nay, nay; lest ye fall into condemnation.")
The idea of purifying your mind is told in following verse as the Lord uses the similitude of getting the beam out of our own eye first, so we can then see clearly to be able to judge rightly. That is the full context – when we do judge don't take it lightly or and don't do it at all if you haven't first made sure your judgment is correct. Too many people use the scriptures out of context to condemn their brother, and doing their incorrect opinion mislead and confuses others about God's word as they also condemn themselves by their own idle words of condemnation. Judgment isn't about condemnation but rather it is about correction. The condemnation is self-imposed by rejecting the correction. Matthew 7 tells us the object is to be able to pull the splinter out of your brother's eye, not to condemn him for having it in there. This is the same as what the Lord is doing with the guy with the beam in his eye.
Now read Matthew 7 in this context, and remember the Lord's words, "Judge not according to the appearance, but judge righteous judgment."
Matthew 7
1 Judge not, that ye be not judged.
2 For with what judgment ye judge, ye shall be judged: and with what measure ye mete, it shall be measured to you again.
3 And why beholdest thou the mote that is in thy brother's eye, but considerest not the beam that is in thine own eye?
4 Or how wilt thou say to thy brother, Let me pull out the mote out of thine eye; and, behold, a beam is in thine own eye?
5 Thou hypocrite, first cast out the beam out of thine own eye; and then shalt thou see clearly to cast out the mote out of thy brother's eye.
6 Give not that which is holy unto the dogs, neither cast ye your pearls before swine, lest they trample them under their feet, and turn again and rend you.
7 Ask, and it shall be given you; seek, and ye shall find; knock, and it shall be opened unto you:
8 For every one that asketh receiveth; and he that seeketh findeth; and to him that knocketh it shall be opened.
9 Or what man is there of you, whom if his son ask bread, will he give him a stone?
10 Or if he ask a fish, will he give him a serpent?
11 If ye then, being evil, know how to give good gifts unto your children, how much more shall your Father which is in heaven give good things to them that ask him?
12 Therefore all things whatsoever ye would that men should do to you, do ye even so to them: for this is the law and the prophets.
13 Enter ye in at the strait gate: for wide is the gate, and broad is the way, that leadeth to destruction, and many there be which go in thereat:
14 Because strait is the gate, and narrow is the way, which leadeth unto life, and few there be that find it.
15 Beware of false prophets, which come to you in sheep's clothing, but inwardly they are ravening wolves.
16 Ye shall know them by their fruits. Do men gather grapes of thorns, or figs of thistles?
17 Even so every good tree bringeth forth good fruit; but a corrupt tree bringeth forth evil fruit.
18 A good tree cannot bring forth evil fruit, neither can a corrupt tree bring forth good fruit.
19 Every tree that bringeth not forth good fruit is hewn down, and cast into the fire.
20 Wherefore by their fruits ye shall know them.
21 Not every one that saith unto me, Lord, Lord, shall enter into the kingdom of heaven; but he that doeth the will of my Father which is in heaven.
22 Many will say to me in that day, Lord, Lord, have we not prophesied in thy name? and in thy name have cast out devils? and in thy name done many wonderful works?
23 And then will I profess unto them, I never knew you: depart from me, ye that work iniquity.
24 Therefore whosoever heareth these sayings of mine, and doeth them, I will liken him unto a wise man, which built his house upon a rock:
25 And the rain descended, and the floods came, and the winds blew, and beat upon that house; and it fell not: for it was founded upon a rock.
26 And every one that heareth these sayings of mine, and doeth them not, shall be likened unto a foolish man, which built his house upon the sand:
27 And the rain descended, and the floods came, and the winds blew, and beat upon that house; and it fell: and great was the fall of it.
28 And it came to pass, when Jesus had ended these sayings, the people were astonished at his doctrine:
29 For he taught them as one having authority, and not as the scribes.
James 3
1 My brethren, be not many masters, knowing that we shall receive the greater condemnation.
2 For in many things we offend all. If any man offend not in word, the same is a perfect man, and able also to bridle the whole body.
3 Behold, we put bits in the horses' mouths, that they may obey us; and we turn about their whole body.
4 Behold also the ships, which though they be so great, and are driven of fierce winds, yet are they turned about with a very small helm, whithersoever the governor listeth.
5 Even so the tongue is a little member, and boasteth great things. Behold, how great a matter a little fire kindleth!
6 And the tongue is a fire, a world of iniquity: so is the tongue among our members, that it defileth the whole body, and setteth on fire the course of nature; and it is set on fire of hell.
7 For every kind of beasts, and of birds, and of serpents, and of things in the sea, is tamed, and hath been tamed of mankind:
8 But the tongue can no man tame; it is an unruly evil, full of deadly poison.
9 Therewith bless we God, even the Father; and therewith curse we men, which are made after the similitude of God.
10 Out of the same mouth proceedeth blessing and cursing. My brethren, these things ought not so to be.
11 Doth a fountain send forth at the same place sweet water and bitter?
12 Can the fig tree, my brethren, bear olive berries? either a vine, figs? so can no fountain both yield salt water and fresh.
13 Who is a wise man and endued with knowledge among you? let him shew out of a good conversation his works with meekness of wisdom.
14 But if ye have bitter envying and strife in your hearts, glory not, and lie not against the truth.
15 This wisdom descendeth not from above, but is earthly, sensual, devilish.
16 For where envying and strife is, there is confusion and every evil work.
17 But the wisdom that is from above is first pure, then peaceable, gentle, and easy to be intreated, full of mercy and good fruits, without partiality, and without hypocrisy.
18 And the fruit of righteousness is sown in peace of them that make peace.
Read the following paying attention to the use in both chapters of the term "prince(s) of this world."
John 16 (verse 11)
1 These things have I spoken unto you, that ye should not be offended.
2 They shall put you out of the synagogues: yea, the time cometh, that whosoever killeth you will think that he doeth God service.
3 And these things will they do unto you, because they have not known the Father, nor me.
4 But these things have I told you, that when the time shall come, ye may remember that I told you of them. And these things I said not unto you at the beginning, because I was with you.
5 But now I go my way to him that sent me; and none of you asketh me, Whither goest thou?
6 But because I have said these things unto you, sorrow hath filled your heart.
7 Nevertheless I tell you the truth; It is expedient for you that I go away: for if I go not away, the Comforter will not come unto you; but if I depart, I will send him unto you.
8 And when he is come, he will reprove the world of sin, and of righteousness, and of judgment:
9 Of sin, because they believe not on me;
10 Of righteousness, because I go to my Father, and ye see me no more;
11 Of judgment, because the prince of this world is judged.
12 I have yet many things to say unto you, but ye cannot bear them now.
13 Howbeit when he, the Spirit of truth, is come, he will guide you into all truth: for he shall not speak of himself; but whatsoever he shall hear, that shall he speak: and he will shew you things to come.
14 He shall glorify me: for he shall receive of mine, and shall shew it unto you.
15 All things that the Father hath are mine: therefore said I, that he shall take of mine, and shall shew it unto you.
16 A little while, and ye shall not see me: and again, a little while, and ye shall see me, because I go to the Father.
17 Then said some of his disciples among themselves, What is this that he saith unto us, A little while, and ye shall not see me: and again, a little while, and ye shall see me: and, Because I go to the Father?
18 They said therefore, What is this that he saith, A little while? we cannot tell what he saith.
19 Now Jesus knew that they were desirous to ask him, and said unto them, Do ye enquire among yourselves of that I said, A little while, and ye shall not see me: and again, a little while, and ye shall see me?
20 Verily, verily, I say unto you, That ye shall weep and lament, but the world shall rejoice: and ye shall be sorrowful, but your sorrow shall be turned into joy.
21 A woman when she is in travail hath sorrow, because her hour is come: but as soon as she is delivered of the child, she remembereth no more the anguish, for joy that a man is born into the world.
22 And ye now therefore have sorrow: but I will see you again, and your heart shall rejoice, and your joy no man taketh from you.
23 And in that day ye shall ask me nothing. Verily, verily, I say unto you, Whatsoever ye shall ask the Father in my name, he will give it you.
24 Hitherto have ye asked nothing in my name: ask, and ye shall receive, that your joy may be full.
25 These things have I spoken unto you in proverbs: but the time cometh, when I shall no more speak unto you in proverbs, but I shall shew you plainly of the Father.
26 At that day ye shall ask in my name: and I say not unto you, that I will pray the Father for you:
27 For the Father himself loveth you, because ye have loved me, and have believed that I came out from God.
28 I came forth from the Father, and am come into the world: again, I leave the world, and go to the Father.
29 His disciples said unto him, Lo, now speakest thou plainly, and speakest no proverb.
30 Now are we sure that thou knowest all things, and needest not that any man should ask thee: by this we believe that thou camest forth from God.
31 Jesus answered them, Do ye now believe?
32 Behold, the hour cometh, yea, is now come, that ye shall be scattered, every man to his own, and shall leave me alone: and yet I am not alone, because the Father is with me.
33 These things I have spoken unto you, that in me ye might have peace. In the world ye shall have tribulation: but be of good cheer; I have overcome the world.
1 Corinthians 2 (verses 6 & 8)
1 And I, brethren, when I came to you, came not with excellency of speech or of wisdom, declaring unto you the testimony of God.
2 For I determined not to know any thing among you, save Jesus Christ, and him crucified.
3 And I was with you in weakness, and in fear, and in much trembling.
4 And my speech and my preaching was not with enticing words of man's wisdom, but in demonstration of the Spirit and of power:
5 That your faith should not stand in the wisdom of men, but in the power of God.
6 Howbeit we speak wisdom among them that are perfect: yet not the wisdom of this world, nor of the princes of this world, that come to nought:
7 But we speak the wisdom of God in a mystery, even the hidden wisdom, which God ordained before the world unto our glory:
8 Which none of the princes of this world knew: for had they known it, they would not have crucified the Lord of glory.
9 But as it is written, Eye hath not seen, nor ear heard, neither have entered into the heart of man, the things which God hath prepared for them that love him.
10 But God hath revealed them unto us by his Spirit: for the Spirit searcheth all things, yea, the deep things of God.
11 For what man knoweth the things of a man, save the spirit of man which is in him? even so the things of God knoweth no man, but the Spirit of God.
12 Now we have received, not the spirit of the world, but the spirit which is of God; that we might know the things that are freely given to us of God.
13 Which things also we speak, not in the words which man's wisdom teacheth, but which the Holy Ghost teacheth; comparing spiritual things with spiritual.
14 But the natural man receiveth not the things of the Spirit of God: for they are foolishness unto him: neither can he know them, because they are spiritually discerned.
15 But he that is spiritual judgeth all things, yet he himself is judged of no man.
16 For who hath known the mind of the Lord, that he may instruct him? but we have the mind of Christ.