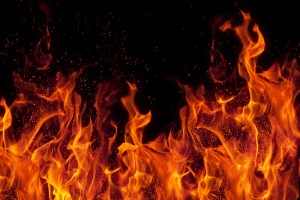 Beginning (again) today with the warning against thinking you will see the full meaning in what is written if you haven't been reading along. If you devote your self and your time in other endeavors don't expect a return on an investment here that you haven't made. This meaning itself isn't superficially apparent, and takes me to our point of – seeing the unseen. As we looked into yesterday, faith and deliberation are what opens the eyes and ears of the mind. This is the battle we wage against those who follow the pattern of human nature and have taken control of the oracles as they were delivered by God and degraded them to bring God's people under the bondage of their rule/control over their thinking.
The nature of the Spirit is to reestablish the connection to the life and freedom found in purity and holiness of the uncorrupted first hand witness – seeing the unseen world today and beyond (by use of God given intellect to understand and act knowing [by intellectual faith] both as interconnected realities).
Continuing, Galatians 4:1 Now I say, That the heir, as long as he is a child, differs nothing from a servant, though he be lord of all;
2 But is under tutors and governors until the time appointed of the father.
3 Even so we, when we were children, were in bondage under the elements of the [natural] world:
4 But when the fullness of the time was come, God sent forth his Son, made of a woman, made under the law,
5 To redeem them that were under the law, that we might receive the adoption of sons.
6 And because ye are sons, God hath sent forth the Spirit of his Son into your hearts, crying, Abba, Father.
7 Wherefore thou art no more a servant, but a son; and if a son, then an heir of God through Christ.
8 Howbeit then, when ye knew not God, ye did service unto them which by nature are no gods.
9 But now, after that ye have known God, or rather are known of God, how turn ye again to the weak and beggarly elements, whereunto ye desire again to be in bondage?
10 Ye observe days, and months, and times, and years.
11 I am afraid of you, lest I have bestowed upon you labour in vain.
12 Brethren, I beseech you, be as I am; for I am as ye are: ye have not injured me at all.
13 Ye know how through infirmity of the flesh I preached the gospel unto you at the first.
14 And my temptation which was in my flesh ye despised not, nor rejected; but received me as an angel of God, even as Christ Jesus.
15 Where is then the blessedness ye spoke of? for I bear you record, that, if it had been possible, ye would have plucked out your own eyes, and have given them to me.
16 Am I therefore become your enemy, because I tell you the truth?
17 They zealously affect you, but not well; yea, they would exclude you, that ye might affect them.
18 But it is good to be zealously affected always in a good thing, and not only when I am present with you.
19 My little children, of whom I travail in birth again until Christ be formed in you,
20 I desire to be present with you now, and to change my voice; for I stand in doubt of you.
21 Tell me, ye that desire to be under the law, do ye not hear the law?
22 For it is written, that Abraham had two sons, the one by a bondmaid, the other by a freewoman.
23 But he who was of the bondwoman was born after the flesh; but he of the freewoman was by promise.
24 Which things are an allegory: for these are the two covenants; the one from the mount Sinai, which genders to (brings forth) bondage, which is Agar.
25 For this Agar is mount Sinai in Arabia, and answers to Jerusalem which now is, and is in bondage with her children.
26 But Jerusalem which is above is free, which is the mother of us all.
27 For it is written, Rejoice, thou barren that bears not; break forth and cry, thou that travails not: for the desolate hath many more children than she which hath an husband.
28 Now we, brethren, as Isaac was, are the children of promise.
29 But as then he that was born after the flesh persecuted him that was born after the Spirit, even so it is now.
30 Nevertheless what say the scripture? Cast out the bondwoman and her son: for the son of the bondwoman shall not be heir with the son of the freewoman.
31 So then, brethren, we are not children of the bondwoman, but of the free.
This is telling of the pattern of the human nature's inclination to bring men into bondage under those who ascend to positions of power. The mission and nature of God is to free us from the natural pattern as the mind of Christ is formed in us and we grow into adulthood as fully liberated sons of God. The rule of (elements) the world as we now see it in full manifestation is to use liberty as mean of lawlessness, and the consequence of this shortsightedness is chaos.In answering one of the comments to yesterday's post we looked at Hebrews 11 as the example of those who have come before us seeing the unseen future and in seeing acted in their time with this end in mind. In other words, they understood their Spiritual nature and acted understanding the effect their action had on their time and society in general. They saw it as a pattern which must and would be continued to insure God's plan of creating man in His image and likeness – governed by his spiritual nature and the civilization that can only come with self bridled liberty of an "adult" human – released from the swaddling bands of his human nature.
Opening the eyes of the blind is true Christian charity.
1 Corinthians 13
1 Though I speak with the tongues of men and of angels, and have not charity, I am become as sounding brass, or a tinkling cymbal.
2 And though I have the gift of prophecy, and understand all mysteries, and all knowledge; and though I have all faith, so that I could remove mountains, and have not charity, I am nothing.
3 And though I bestow all my goods to feed the poor, and though I give my body to be burned, and have not charity, it profits me nothing.
4 Charity suffers long, and is kind; charity envies not; charity vaunts not itself, is not puffed up,
5 Doth not behave itself unseemly, seeks not her own, is not easily provoked, thinks no evil;
6 Rejoice not in iniquity, but rejoices in the truth;
7 Bear all things, believeth all things, hope all things, endures all things.
8 Charity never fails: but whether there be prophecies, they shall fail; whether there be tongues, they shall cease; whether there be knowledge, it shall vanish away.
9 For we know in part, and we prophesy in part.
10 But when that which is perfect is come, then that which is in part shall be done away.
11 When I was a child, I spoke as a child, I understood as a child, I thought as a child: but when I became a man, I put away childish things.
12 For now we see through a glass, darkly; but then face to face: now I know in part; but then shall I know even as also I am known.
13 And now abides faith, hope, charity, these three; but the greatest of these is charity.
This is what we see said in the final verse of Hebrews 11 of those having come before us and their not being made perfect without us. This time is what they saw afar off, the time when humanity awakes from its sleep.
Ephesians 5
1 Be ye therefore followers of God, as dear children;
2 And walk in love, as Christ also hath loved us, and hath given himself for us an offering and a sacrifice to God for a sweetsmelling savour.
3 But fornication, and all uncleanness, or covetousness, let it not be once named among you, as becometh saints;
4 Neither filthiness, nor foolish talking, nor jesting, which are not convenient: but rather giving of thanks.
5 For this ye know, that no whoremonger, nor unclean person, nor covetous man, who is an idolater, hath any inheritance in the kingdom of Christ and of God.
6 Let no man deceive you with vain words: for because of these things cometh the wrath of God upon the children of disobedience.
7 Be not ye therefore partakers with them.
8 For ye were sometimes darkness, but now are ye light in the Lord: walk as children of light:
9 (For the fruit of the Spirit is in all goodness and righteousness and truth;)
10 Proving what is acceptable unto the Lord.
11 And have no fellowship with the unfruitful works of darkness, but rather reprove them.
12 For it is a shame even to speak of those things which are done of them in secret.
13 But all things that are reproved are made manifest by the light: for whatsoever doth make manifest is light.
14 Wherefore he says, Awake thou that sleeps, and arise from the dead, and Christ shall give thee light.
15 See then that ye walk circumspectly, not as fools, but as wise,
16 Redeeming the time, because the days are evil.
17 Wherefore be ye not unwise, but understanding what the will of the Lord is.
18 And be not drunk with wine, wherein is excess; but be filled with the Spirit;
19 Speaking to yourselves in psalms and hymns and spiritual songs, singing and making melody in your heart to the Lord;
20 Giving thanks always for all things unto God and the Father in the name of our Lord Jesus Christ;
21 Submitting yourselves one to another in the fear of God.
22 Wives, submit yourselves unto your own husbands, as unto the Lord.
23 For the husband is the head of the wife, even as Christ is the head of the church: and he is the saviour of the body.
24 Therefore as the church is subject unto Christ, so let the wives be to their own husbands in every thing.
25 Husbands, love your wives, even as Christ also loved the church, and gave himself for it;
26 That he might sanctify and cleanse it with the washing of water by the word,
27 That he might present it to himself a glorious church, not having spot, or wrinkle, or any such thing; but that it should be holy and without blemish.
28 So ought men to love their wives as their own bodies. He that loves his wife loves himself.
29 For no man ever yet hated his own flesh; but nourishes and cherishes it, even as the Lord the church:
30 For we are members of his body, of his flesh, and of his bones.
31 For this cause shall a man leave his father and mother, and shall be joined unto his wife, and they two shall be one flesh.
32 This is a great mystery: but I speak concerning Christ and the church.
33 Nevertheless let every one of you in particular so love his wife even as himself; and the wife see that she reverence her husband.
Hebrews 11
1 Now faith is the substance of things hoped for, the evidence of things not seen.
2 For by it the elders obtained a good report.
3 Through faith we understand that the worlds were framed by the word of God, so that things which are seen were not made of things which do appear.
4 By faith Abel offered unto God a more excellent sacrifice than Cain, by which he obtained witness that he was righteous, God testifying of his gifts: and by it he being dead yet speaks.
5 By faith Enoch was translated that he should not see death; and was not found, because God had translated him: for before his translation he had this testimony, that he pleased God.
6 But without faith it is impossible to please him: for he that cometh to God must believe that he is, and that he is a rewarder of them that diligently seek him.
7 By faith Noah, being warned of God of things not seen as yet, moved with fear, prepared an ark to the saving of his house; by the which he condemned the world, and became heir of the righteousness which is by faith.
8 By faith Abraham, when he was called to go out into a place which he should after receive for an inheritance, obeyed; and he went out, not knowing whither he went.
9 By faith he sojourned in the land of promise, as in a strange country, dwelling in tabernacles with Isaac and Jacob, the heirs with him of the same promise:
10 For he looked for a city which hath foundations, whose builder and maker is God.
11 Through faith also Sara herself received strength to conceive seed, and was delivered of a child when she was past age, because she judged him faithful who had promised.
12 Therefore sprang there even of one, and him as good as dead, so many as the stars of the sky in multitude, and as the sand which is by the sea shore innumerable.
13 These all died in faith, not having received the promises, but having seen them afar off, and were persuaded of them, and embraced them, and confessed that they were strangers and pilgrims on the earth.
14 For they that say such things declare plainly that they seek a country.
15 And truly, if they had been mindful of that country from whence they came out, they might have had opportunity to have returned.
16 But now they desire a better country, that is, an heavenly: wherefore God is not ashamed to be called their God: for he hath prepared for them a city.
17 By faith Abraham, when he was tried, offered up Isaac: and he that had received the promises offered up his only begotten son,
18 Of whom it was said, That in Isaac shall thy seed be called:
19 Accounting that God was able to raise him up, even from the dead; from whence also he received him in a figure.
20 By faith Isaac blessed Jacob and Esau concerning things to come.
21 By faith Jacob, when he was a dying, blessed both the sons of Joseph; and worshipped, leaning upon the top of his staff.
22 By faith Joseph, when he died, made mention of the departing of the children of Israel; and gave commandment concerning his bones.
23 By faith Moses, when he was born, was hid three months of his parents, because they saw he was a proper child; and they were not afraid of the king's commandment.
24 By faith Moses, when he was come to years, refused to be called the son of Pharaoh's daughter;
25 Choosing rather to suffer affliction with the people of God, than to enjoy the pleasures of sin for a season;
26 Esteeming the reproach of Christ greater riches than the treasures in Egypt: for he had respect unto the recompence of the reward.
27 By faith he forsook Egypt, not fearing the wrath of the king: for he endured, as seeing him who is invisible.
28 Through faith he kept the passover, and the sprinkling of blood, lest he that destroyed the firstborn should touch them.
29 By faith they passed through the Red sea as by dry land: which the Egyptians assaying to do were drowned.
30 By faith the walls of Jericho fell down, after they were compassed about seven days.
31 By faith the harlot Rahab perished not with them that believed not, when she had received the spies with peace.
32 And what shall I more say? for the time would fail me to tell of Gedeon, and of Barak, and of Samson, and of Jephthae; of David also, and Samuel, and of the prophets:
33 Who through faith subdued kingdoms, wrought righteousness, obtained promises, stopped the mouths of lions.
34 Quenched the violence of fire, escaped the edge of the sword, out of weakness were made strong, waxed valiant in fight, turned to flight the armies of the aliens.
35 Women received their dead raised to life again: and others were tortured, not accepting deliverance; that they might obtain a better resurrection:
36 And others had trial of cruel mockings and scourgings, yea, moreover of bonds and imprisonment:
37 They were stoned, they were sawn asunder, were tempted, were slain with the sword: they wandered about in sheepskins and goatskins; being destitute, afflicted, tormented;
38 (Of whom the world was not worthy:) they wandered in deserts, and in mountains, and in dens and caves of the earth.
39 And these all, having obtained a good report through faith, received not the promise:
40 God having provided some better thing for us, that they without us should not be made perfect.
Acts 7
1 Then said the high priest, Are these things so?
2 And he said, Men, brethren, and fathers, hearken; The God of glory appeared unto our father Abraham, when he was in Mesopotamia, before he dwelt in Charran,
3 And said unto him, Get thee out of thy country, and from thy kindred, and come into the land which I shall show thee.
4 Then came he out of the land of the Chaldaeans, and dwelt in Charran: and from thence, when his father was dead, he removed him into this land, wherein ye now dwell.
5 And he gave him none inheritance in it, no, not so much as to set his foot on: yet he promised that he would give it to him for a possession, and to his seed after him, when as yet he had no child.
6 And God spoke on this wise, That his seed should sojourn in a strange land; and that they should bring them into bondage, and entreat them evil four hundred years.
7 And the nation to whom they shall be in bondage will I judge, said God: and after that shall they come forth, and serve me in this place.
8 And he gave him the covenant of circumcision: and so Abraham begat Isaac, and circumcised him the eighth day; and Isaac begat Jacob; and Jacob begat the twelve patriarchs.
9 And the patriarchs, moved with envy, sold Joseph into Egypt: but God was with him,
10 And delivered him out of all his afflictions, and gave him favour and wisdom in the sight of Pharaoh king of Egypt; and he made him governor over Egypt and all his house.
11 Now there came a dearth over all the land of Egypt and Chanaan, and great affliction: and our fathers found no sustenance.
12 But when Jacob heard that there was corn in Egypt, he sent out our fathers first.
13 And at the second time Joseph was made known to his brethren; and Joseph's kindred was made known unto Pharaoh.
14 Then sent Joseph, and called his father Jacob to him, and all his kindred, threescore and fifteen souls.
15 So Jacob went down into Egypt, and died, he, and our fathers,
16 And were carried over into Sychem, and laid in the sepulchre that Abraham bought for a sum of money of the sons of Emmor the father of Sychem.
17 But when the time of the promise drew nigh, which God had sworn to Abraham, the people grew and multiplied in Egypt,
18 Till another king arose, which knew not Joseph.
19 The same dealt subtilly with our kindred, and evil entreated our fathers, so that they cast out their young children, to the end they might not live.
20 In which time Moses was born, and was exceeding fair, and nourished up in his father's house three months:
21 And when he was cast out, Pharaoh's daughter took him up, and nourished him for her own son.
22 And Moses was learned in all the wisdom of the Egyptians, and was mighty in words and in deeds.
23 And when he was full forty years old, it came into his heart to visit his brethren the children of Israel.
24 And seeing one of them suffer wrong, he defended him, and avenged him that was oppressed, and smote the Egyptian:
25 For he supposed his brethren would have understood how that God by his hand would deliver them: but they understood not.
26 And the next day he showed himself unto them as they strove, and would have set them at one again, saying, Sirs, ye are brethren; why do ye wrong one to another?
27 But he that did his neighbour wrong thrust him away, saying, Who made thee a ruler and a judge over us?
28 Wilt thou kill me, as thou did the Egyptian yesterday?
29 Then fled Moses at this saying, and was a stranger in the land of Madian, where he begat two sons.
30 And when forty years were expired, there appeared to him in the wilderness of mount Sina an angel of the Lord in a flame of fire in a bush.
31 When Moses saw it, he wondered at the sight: and as he drew near to behold it, the voice of the Lord came unto him,
32 Saying, I am the God of thy fathers, the God of Abraham, and the God of Isaac, and the God of Jacob. Then Moses trembled, and durst not behold.
33 Then said the Lord to him, Put off thy shoes from thy feet: for the place where thou stands is holy ground.
34 I have seen, I have seen the affliction of my people which is in Egypt, and I have heard their groaning, and am come down to deliver them. And now come, I will send thee into Egypt.
35 This Moses whom they refused, saying, Who made thee a ruler and a judge? the same did God send to be a ruler and a deliverer by the hand of the angel which appeared to him in the bush.
36 He brought them out, after that he had showed wonders and signs in the land of Egypt, and in the Red sea, and in the wilderness forty years.
37 This is that Moses, which said unto the children of Israel, A prophet shall the Lord your God raise up unto you of your brethren, like unto me; him shall ye hear.
38 This is he, that was in the church in the wilderness with the angel which spoke to him in the mount Sina, and with our fathers: who received the lively oracles to give unto us:
39 To whom our fathers would not obey, but thrust him from them, and in their hearts turned back again into Egypt,
40 Saying unto Aaron, Make us gods to go before us: for as for this Moses, which brought us out of the land of Egypt, we know not what is become of him.
41 And they made a calf in those days, and offered sacrifice unto the idol, and rejoiced in the works of their own hands.
42 Then God turned, and gave them up to worship the host of heaven; as it is written in the book of the prophets, O ye house of Israel, have ye offered to me slain beasts and sacrifices by the space of forty years in the wilderness?
43 Yea, ye took up the tabernacle of Moloch, and the star of your god Remphan, figures which ye made to worship them: and I will carry you away beyond Babylon.
44 Our fathers had the tabernacle of witness in the wilderness, as he had appointed, speaking unto Moses, that he should make it according to the fashion (pattern) that he had seen.
45 Which also our fathers that came after brought in with Jesus (Joshua into the Promised Land) into the possession of the Gentiles, whom God drove out before the face of our fathers, unto the days of David;
46 Who found favour before God, and desired to find a tabernacle for the God of Jacob.
47 But Solomon built him an house.
48 Howbeit the most High dwells not in temples made with hands; as say the prophet,
49 Heaven is my throne, and earth is my footstool: what house will ye build me? says the Lord: or what is the place of my rest?
50 Hath not my hand made all these things?
51 Ye stiffnecked and uncircumcised in heart (reasoning as the eye of the mind) and ears, ye do always resist the Holy Ghost: as your fathers did, so do ye.
52 Which of the prophets have not your fathers persecuted? and they have slain them which showed before of the coming of the Just One; of whom ye have been now the betrayers and murderers:
53 Who have received the law by the disposition of angels, and have not kept it.
54 When they heard these things, they were cut to the heart, and they gnashed on him with their teeth.
55 But he, being full of the Holy Ghost, looked up stedfastly into heaven, and saw the glory of God, and Jesus standing on the right hand of God,
56 And said, Behold, I see the heavens opened, and the Son of man standing on the right hand of God.
57 Then they cried out with a loud voice, and stopped their ears, and ran upon him with one accord,
58 And cast him out of the city, and stoned him: and the witnesses laid down their clothes at a young man's feet, whose name was Saul.
59 And they stoned Stephen, calling upon God, and saying, Lord Jesus, receive my spirit.
60 And he kneeled down, and cried with a loud voice, Lord, lay not this sin to their charge. And when he had said this, he fell asleep.