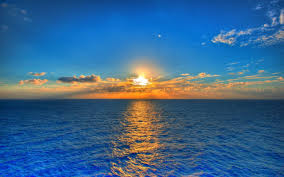 Continuing today with our discussion of the manifestation of the Holiest of all by way of a perfected conscience. Conscience is from the Greek word suneidesis – meaning co-perception, from suneido, to see completely; and therefore a conscience (con – together + science – knowing) is defined by the source from which it derives its essence.
Strong's Greek Dictionary definition: Strong's #4894: suneido (pronounced soon-i'-do) from 4862 (sun – union) and 1492 (eido – to see or know); to see completely; used (like its primary) only in two past tenses, respectively meaning to understand or become aware, and to be conscious or (clandestinely) informed of:–consider, know, be privy, be ware of.
Ephesians 4 accompanied the previous message as its preamble, which tells us of our perfecting being accomplished, as it gives the reason and state in the same explanation; "14 That we henceforth be no more children, tossed to and fro, and carried about with every wind of doctrine, by the sleight of men, and cunning craftiness, whereby they lie in wait to deceive; 15 But speaking the truth in love, may grow up into him in all things, which is the head, even Christ." In this we also see described the first state that must be removed so the second can take its place.
This takes us to this description as it is revealed in Hebrews 9 as it tells of it in the pattern of entering the Holiest of all. In Ephesians 4 it is the storms, caused by deceptive doctrine, calmed as we learn truth.
In Hebrews 9:7 the pattern of the same is first explained using the example; "7 But into the second went the high priest alone once every year, not without blood, which he offered for himself, and for the errors of the people."
The following verses then tell us while the first was standing the way wasn't yet made apparent, in the pattern of the same now remaining unable to be accomplished while the first state of corrupted truth is standing. "8 The Holy Ghost this signifying, that the way into the holiest of all was not yet made manifest, while as the first tabernacle was yet standing: 9 Which was a figure for the time then present, in which were offered both gifts and sacrifices, that could not make him that did the service perfect, as pertaining to the conscience."
Hebrews 9:7 uses the word "error" instead of "sin." The Greek word used is agnoema and only used this one time. It means something ignored, therefore knowable but through ignorance not seen. It is from the word agnoeo, meaning to not understand and therefore not know. This is what stands in the way of perfection.
Agnoeo is the word Luke used in Acts 13:27 [translated as "because they knew Him not] to describe the state of mind in those who crucified the Lord, "For they that dwell at Jerusalem, and their rulers, because they knew him not, nor yet the voices of the prophets which are read every sabbath day, they have fulfilled them in condemning him."
The same word (agnoeo) is used in Acts 17:23 in defining those who "ignorantly" worship a God they believe is unknowable (agnostos). Paul's address here goes on in the same pattern as Peter's in Acts 3 wherein both speak of this time of ignorance (agnoia) and calling all to repentance. The repentance is to turn from this first state and be changed into second – which is perfection and the resurrection from the dead.
Acts 3
13 The God of Abraham, and of Isaac, and of Jacob, the God of our fathers, hath glorified his Son Jesus; whom ye delivered up, and denied him in the presence of Pilate, when he was determined to let him go.
14 But ye denied the Holy One and the Just, and desired a murderer to be granted unto you;
15 And killed the Prince of life, whom God hath raised from the dead; whereof we are witnesses.
16 And his name through faith in his name hath made this man strong, whom ye see and know: yea, the faith which is by him hath given him this perfect soundness in the presence of you all.
17 And now, brethren, I understand that through ignorance ye did it, as did also your rulers.
18 But those things, which God before had showed by the mouth of all his prophets, that Christ should suffer, he hath so fulfilled.
19 Repent ye therefore, and be converted, that your sins may be blotted out, when the times of refreshing shall come from the presence of the Lord.
Acts 17
22 Then Paul stood in the midst of Mars' hill, and said, Ye men of Athens, I perceive that in all things ye are too superstitious.
23 For as I passed by, and beheld your devotions, I found an altar with this inscription, To The Unknown God. Whom therefore ye ignorantly worship, him declare I unto you.
24 God that made the world and all things therein, seeing that he is Lord of heaven and earth, dwells not in temples made with hands;
25 Neither is worshipped with men's hands, as though he needed any thing, seeing he gives to all life, and breath, and all things;
26 And hath made of one blood all nations of men for to dwell on all the face of the earth, and hath determined the times before appointed, and the bounds of their habitation;
27 That they should seek the Lord, if haply they might feel after him, and find him, though he be not far from every one of us:
28 For in him we live, and move, and have our being; as certain also of your own poets have said, For we are also his offspring.
29 Forasmuch then as we are the offspring of God, we ought not to think that the Godhead is like unto gold, or silver, or stone, graven by art and man's device.
30 And the times of this ignorance God winked at; but now commands all men every where to repent:
31 Because he hath appointed a day, in the which he will judge the world in righteousness by that man whom he hath ordained; whereof he hath given assurance unto all men, in that he hath raised him from the dead.
Hebrews 9 ends telling of this same second state and this change being the way into it. It is where the former has been "put away" (athetesis – disannulled or literally, re-placed) so the new can be accomplished. This is not a new commandment, "Ephesians 4:25 Wherefore putting away lying, speak every man truth with his neighbour: for we are members one of another."
Hebrews 9
23 It was therefore necessary that the patterns of things in the heavens should be purified with these; but the heavenly things themselves with better sacrifices than these.
24 For Christ is not entered into the holy places made with hands, which are the figures of the true; but into heaven itself, now to appear in the presence of God for us:
25 Nor yet that he should offer himself often, as the high priest entered into the holy place every year with blood of others;
26 For then must he often have suffered since the foundation of the world: but now once in the end of the world hath he appeared to "put away" sin by the sacrifice of himself.
27 And as it is appointed unto men once to die, but after this the judgment:
28 So Christ was once offered to bear the sins of many; and unto them that look for him shall he appear the second time without sin unto salvation.
We are told in verse 28 that Christ will appear "unto them that look for Him" and His appear will be "without sin unto salvation." The Greek word choris is translated "without," meaning apart from. It is from the word chora, meaning an empty expanse, and is a derivative of the word chasma, which is the great impassable "gulf" between the living and the dead that the Lord tells in the parable of Lazarus. The point is found in the final verse.
Luke 16
26 And beside all this, between us and you there is a great gulf fixed: so that they which would pass from hence to you cannot; neither can they pass to us, that would come from thence.
27 Then he said, I pray thee therefore, father, that thou would send him to my father's house:
28 For I have five brethren; that he may testify unto them, lest they also come into this place of torment.
29 Abraham said unto him, They have Moses and the prophets; let them hear them.
30 And he said, Nay, father Abraham: but if one went unto them from the dead, they will repent.
31 And he said unto him, If they hear not Moses and the prophets, neither will they be persuaded, though one rose from the dead.
John 5
24 Truly, Truly, I say unto you, He that hears my word, and believeth on Him that sent me, hath everlasting life, and shall not come into condemnation; but is passed from death unto life.
25 Truly, Truly, I say unto you, The hour is coming, and now is, when the dead shall hear the voice of the Son of God: and they that hear shall live.
26 For as the Father hath life in Himself; so hath he given to the Son to have life in himself;
27 And hath given him authority to execute judgment also, because he is the Son of man.
28 Marvel not at this: for the hour is coming, in the which all that are in the graves shall hear his voice,
29 And shall come forth; they that have done good, unto the resurrection of life; and they that have done evil, unto the resurrection of damnation.
The word translated "unto them that look for, " in Hebrews 9:28 telling of who the Son of man will appear to, is the seven times used Greek word apekdechomai. It is actually a compound word literally meaning to receive from a source away from, and therefore here in context the source is the place "without" sin (on the other side of the gulf). This is the chasm between looking to the corruption where the Lord will never be seen or to the pure uncorrupted truth from the source. These are the difference between being resurrected to life or damnation.
Another time the word apeldechomia is used is as " we look for" in revealing the location (state of mind) of this place of incorruption. The word is in Philippians 3:20 where we are told this second state of our perfection is when we look to the source, become one in and with it. There we are also told of leaving the corrupted behind and of the enemies of this truth being those who refuse it, preferring the earthly corruption to the perfection of heaven.
Philippians 3
1 Finally, my brethren, rejoice in the Lord. To write the same things to you, to me indeed is not grievous, but for you it is safe.
2 Beware of dogs, beware of evil workers, beware of the concision.
3 For we are the circumcision, which worship God in the spirit, and rejoice in Christ Jesus, and have no confidence in the flesh.
4 Though I might also have confidence in the flesh. If any other man thinks that he hath whereof he might trust in the flesh, I more:
5 Circumcised the eighth day, of the stock of Israel, of the tribe of Benjamin, an Hebrew of the Hebrews; as touching the law, a Pharisee;
6 Concerning zeal, persecuting the church; touching the righteousness which is in the law, blameless.
7 But what things were gain to me, those I counted loss for Christ.
8 Yea doubtless, and I count all things but loss for the excellency of the knowledge of Christ Jesus my Lord: for whom I have suffered the loss of all things, and do count them but dung, that I may win Christ,
9 And be found in him, not having mine own righteousness, which is of the law, but that which is through the faith of Christ, the righteousness which is of God by faith:
10 That I may know him, and the power of his resurrection, and the fellowship of his sufferings, being made conformable unto his death;
11 If by any means I might attain unto the resurrection of the dead.
12 Not as though I had already attained, either were already perfect: but I follow after, if that I may apprehend that for which also I am apprehended of Christ Jesus.
13 Brethren, I count not myself to have apprehended: but this one thing I do, forgetting those things which are behind, and reaching forth unto those things which are before,
14 I press toward the mark for the prize of the high calling of God in Christ Jesus.
15 Let us therefore, as many as be perfect, be thus minded: and if in any thing ye be otherwise minded, God shall reveal even this unto you.
16 Nevertheless, whereto we have already attained, let us walk by the same rule, let us mind the same thing.
17 Brethren, be followers together of me, and mark them which walk so as ye have us for an ensample.
18 (For many walk, of whom I have told you often, and now tell you even weeping, that they are the enemies of the cross of Christ:
19 Whose end is destruction, whose God is their belly, and whose glory is in their shame, who mind earthly things.)
20 For our conversation is in heaven; from whence also we look for the Saviour, the Lord Jesus Christ:
21 Who shall change our vile body, that it may be fashioned like unto his glorious body, according to the working whereby he is able even to subdue all things unto himself.
Ephesians 4
1 I therefore, the prisoner of the Lord, beseech you that ye walk worthy of the vocation wherewith ye are called,
2 With all lowliness and meekness, with longsuffering, forbearing one another in love;
3 Endeavouring to keep the unity of the Spirit in the bond of peace.
4 There is one body, and one Spirit, even as ye are called in one hope of your calling;
5 One Lord, one faith, one baptism,
6 One God and Father of all, who is above all, and through all, and in you all.
7 But unto every one of us is given grace according to the measure of the gift of Christ.
8 Wherefore he saith, When he ascended up on high, he led captivity captive, and gave gifts unto men.
9 (Now that he ascended, what is it but that he also descended first into the lower parts of the earth?
10 He that descended is the same also that ascended up far above all heavens, that he might fill all things.)
11 And he gave some, apostles; and some, prophets; and some, evangelists; and some, pastors and teachers;
12 For the perfecting of the saints, for the work of the ministry, for the edifying of the body of Christ:
13 Till we all come in the unity of the faith, and of the knowledge of the Son of God, unto a perfect man, unto the measure of the stature of the fulness of Christ:
14 That we henceforth be no more children, tossed to and fro, and carried about with every wind of doctrine, by the sleight of men, and cunning craftiness, whereby they lie in wait to deceive;
15 But speaking the truth in love, may grow up into him in all things, which is the head, even Christ:
16 From whom the whole body fitly joined together and compacted by that which every joint supplieth, according to the effectual working in the measure of every part, maketh increase of the body unto the edifying of itself in love.
17 This I say therefore, and testify in the Lord, that ye henceforth walk not as other Gentiles walk, in the vanity of their mind,
18 Having the understanding darkened, being alienated from the life of God through the ignorance that is in them, because of the blindness of their heart:
19 Who being past feeling have given themselves over unto lasciviousness, to work all uncleanness with greediness.
20 But ye have not so learned Christ;
21 If so be that ye have heard him, and have been taught by him, as the truth is in Jesus:
22 That ye put off concerning the former conversation the old man, which is corrupt according to the deceitful lusts;
23 And be renewed in the spirit of your mind;
24 And that ye put on the new man, which after God is created in righteousness and true holiness.
25 Wherefore putting away lying, speak every man truth with his neighbour: for we are members one of another.
26 Be ye angry, and sin not: let not the sun go down upon your wrath:
27 Neither give place to the devil.
28 Let him that stole steal no more: but rather let him labour, working with his hands the thing which is good, that he may have to give to him that needeth.
29 Let no corrupt communication proceed out of your mouth, but that which is good to the use of edifying, that it may minister grace unto the hearers.
30 And grieve not the holy Spirit of God, whereby ye are sealed unto the day of redemption.
31 Let all bitterness, and wrath, and anger, and clamour, and evil speaking, be put away from you, with all malice:
32 And be ye kind one to another, tenderhearted, forgiving one another, even as God for Christ's sake hath forgiven you.
Psalms 71
1 In thee, O Lord, do I put my trust: let me never be put to confusion.
2 Deliver me in thy righteousness, and cause me to escape: incline thine ear unto me, and save me.
3 Be thou my strong habitation, whereunto I may continually resort: thou hast given commandment to save me; for thou art my rock and my fortress.
4 Deliver me, O my God, out of the hand of the wicked, out of the hand of the unrighteous and cruel man.
5 For thou art my hope, O Lord God: thou art my trust from my youth.
6 By thee have I been held up from the womb: thou art he that took me out of my mother's bowels: my praise shall be continually of thee.
7 I am as a wonder unto many; but thou art my strong refuge.
8 Let my mouth be filled with thy praise and with thy honour all the day.
9 Cast me not off in the time of old age; forsake me not when my strength fails.
10 For mine enemies speak against me; and they that lay wait for my soul take counsel together,
11 Saying, God hath forsaken him: persecute and take him; for there is none to deliver him.
12 O God, be not far from me: O my God, make haste for my help.
13 Let them be confounded and consumed that are adversaries to my soul; let them be covered with reproach and dishonour that seek my hurt.
14 But I will hope continually, and will yet praise thee more and more.
15 My mouth shall show forth thy righteousness and thy salvation all the day; for I know not the numbers thereof.
16 I will go in the strength of the Lord God: I will make mention of thy righteousness, even of thine only.
17 O God, thou hast taught me from my youth: and hitherto have I declared thy wondrous works.
18 Now also when I am old and greyheaded, O God, forsake me not; until I have showed thy strength unto this generation, and thy power to every one that is to come.
19 Thy righteousness also, O God, is very high, who hast done great things: O God, who is like unto thee!
20 Thou, which hast showed me great and sore troubles, shalt quicken me again, and shalt bring me up again from the depths of the earth.
21 Thou shalt increase my greatness, and comfort me on every side.
22 I will also praise thee with the psaltery, even thy truth, O my God: unto thee will I sing with the harp, O thou Holy One of Israel.
23 My lips shall greatly rejoice when I sing unto thee; and my soul, which thou hast redeemed.
24 My tongue also shall talk of thy righteousness all the day long: for they are confounded, for they are brought unto shame, that seek my hurt.