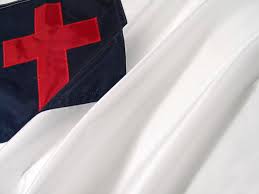 Let's begin with the article that briefly appeared as Drudge's headline yesterday. It told of the Cruz's beliefs as described by the elder Cruz during a 2012 sermon. The article included a linked video of the sermon in which Cruz the elder defines their belief in the end times being when an anointed leader comes and takes power over the nation (and the world) and presides over a massive wealth transfer from the wicked to the righteous. They define Cruz the younger as being proven as the "anointed" one by his then recent election to the Senate.
The anchor verse Cruz uses in his videoed sermon is Proverbs 13:22, which he quotes as saying, "The wealth of the wicked is stored for the righteous." The sermons goes on to describe this as them being those who will take charge of the wealth of the wicked, as "God's bankers," and will be those who will redistribute it to who they define as the righteous.
The article was quickly removed from Drudge. In this and other cases it has been suppressed with all the effectiveness of those covering up any truth about Obama's church, and its similar beliefs in the same Prosperity Doctrine. It is forced redistribution that takes from those who it defines as the transgressors (wicked).
This is where Cruz's and any doctrine such as this becomes a threat to our form of Constitutional Government. Cruz cannot believe in forced redistribution and also believe in the Constitution's vigorous enforcement at the same time. His beliefs rest in a forced compliance by extra Constitutional means and such force is more reminiscent of Islam than any form of Christianity my Lord preached. It totally violates the Lord's message I have been preaching of civilization by mutual respect founded in reciprocal security (see previous posts).
These above aspects create a paradox for those who believe in Cruz. They claim any who refuse to follow their "anointed one" are by this as definition proving to be the wicked. Is this the same aspect and evidence they will use to decide who the "wicked" are when they are appointed over us?
In recent days Rush has described a conversation he had with Cruz some time prior to his beginning his run for the presidency. In this conversation Cruz described his strategy for winning as including energizing those evangelicals who sat out the 2012 election and thereby allowed Obama to win reelection to the presidency. This is at the root of defining who the wicked are and the intensity of their accusations against them. There must be demons to fight against as they are doing "God's will," and any who stand against them must necessarily be anti-God.
So enters Glen Beck, also member of a church that believes it has a valid claim to rule over the nation and the world. Beck has been one the loudest voices in the community of these believers stirred and agitated into the hate against any who refuse to submit. We also now see the final effects as the leftist and anarchists join them in destroying the threat to their savior. This is how Cruz and Beck agitate (manipulate) evangelicals to vote. Set the fire and step back and watch it burn.
One of the reasons I recently stopped supporting Cruz are the above contradiction and the underlying truth found. As with so many other TV preachers he seems to believe they have a right to say what ever it takes to separate people from their money. The other common trait is all doctrine becomes subordinate and malleable toward their elevation, and any who speak against them are the devil.
I know this will draw the scorn and demonization as described above. This is not my intention but rather I seek to open the eyes of the blind. I think those who believe what they believe will believe what they believe. I think we are headed for a Trump win in the primary followed by Cruz's followers sabotaging the general election. They will vengefully attempt to assure their predictions come true as they attempt to hand power again to the leftists and socialist to prove their self-fulfilling prophesy to be true.
I will close with another proverb directed to Cruz, Beck and their believers.
Proverbs 26:24 He that hates dissembles with his lips, and lays up deceit within him; 25 When he speaks fair, believe him not: for there are seven abominations in his heart. 26 Whose hatred is covered by deceit, his wickedness shall be showed before the whole congregation. 27 Whoso digs a pit shall fall therein: and he that rolls a stone, it will return upon him. 28 A lying tongue hates those that are afflicted by it; and a flattering mouth works ruin.
Mark 8:34 And when he had called the people unto him with his disciples also, he said unto them, Whosoever will come after me, let him deny himself, and take up his cross, and follow me. 35 For whosoever will save his life shall lose it; but whosoever shall lose his life for my sake and the gospel's, the same shall save it. 36 For what shall it profit a man, if he shall gain the whole world, and lose his own soul? 37 Or what shall a man give in exchange for his soul? 38 Whosoever therefore shall be ashamed of me and of my words in this adulterous and sinful generation; of him also shall the Son of man be ashamed, when he cometh in the glory of his Father with the holy angels.
Revelation 22
1 And he showed me a pure river of water of life, clear as crystal, proceeding out of the throne of God and of the Lamb.
2 In the midst of the street of it, and on either side of the river, was there the tree of life, which bare twelve manner of fruits, and yielded her fruit every month: and the leaves of the tree were for the healing of the nations.
3 And there shall be no more curse: but the throne of God and of the Lamb shall be in it; and his servants shall serve him:
4 And they shall see his face; and his name shall be in their foreheads.
5 And there shall be no night there; and they need no candle, neither light of the sun; for the Lord God gives them light: and they shall reign for ever and ever.
6 And he said unto me, These sayings are faithful and true: and the Lord God of the holy prophets sent his angel to show unto his servants the things which must shortly be done.
7 Behold, I come quickly: blessed is he that keeps the sayings of the prophecy of this book.
8 And I John saw these things, and heard them. And when I had heard and seen, I fell down to worship before the feet of the angel which showed me these things.
9 Then said he unto me, See thou do it not: for I am thy fellow-servant, and of thy brethren the prophets, and of them which keep the sayings of this book: worship God.
10 And he said unto me, Seal not the sayings of the prophecy of this book: for the time is at hand.
11 He that is unjust, let him be unjust still: and he which is filthy, let him be filthy still: and he that is righteous, let him be righteous still: and he that is holy, let him be holy still.
12 And, behold, I come quickly; and my reward is with me, to give every man according as his work shall be.
13 I am Alpha and Omega, the beginning and the end, the first and the last.
14 Blessed are they that do his commandments, that they may have right to the tree of life, and may enter in through the gates into the city.
15 For without are dogs, and sorcerers, and whoremongers, and murderers, and idolaters, and whosoever loves and makes a lie.
16 I Jesus have sent mine angel to testify unto you these things in the churches. I am the root and the offspring of David, and the bright and morning star.
17 And the Spirit and the bride say, Come. And let him that hears say, Come. And let him that is athirst come. And whosoever will, let him take the water of life freely.
18 For I testify unto every man that hears the words of the prophecy of this book, If any man shall add unto these things, God shall add unto him the plagues that are written in this book:
19 And if any man shall take away from the words of the book of this prophecy, God shall take away his part out of the book of life, and out of the holy city, and from the things which are written in this book.
20 He which testifies these things says, Surely I come quickly. Amen. Even so, come, Lord Jesus.
21 The grace of our Lord Jesus Christ be with you all. Amen.
Ted Cruz's Father: My Son "Anointed" To "Take Control of Society"..