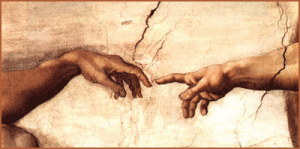 Continuing: How is intelligence what is described in the scriptures as the spirit? The answer is in the common aspect of seeing the unseen. It is seeing what isn't yet seen through an understanding mind, using intellect to assemble the pieces in the abstract. (Suffer with me for just a moment through an analogy: in scripture the number 11 is said to represent confusion. I surmise it is so because it is the first number that can't be counted using the digits of one's hands. It can only be counted using abstract thought to add in the next representation and all subsequent. If incapable of doing so all further progress is stifled as one pushes forward in a state of confusion in which values are unable to be comprehended.)
This point of enlightenment when we are changed from the natural man and become the spirit is defined in scripture as our translation. This implies our being changed into a form in which we are able to understand. The Greek word is methistemi (meta-stasis), meaning successions of connected states. This is also telling of a process of cause and its effect.
The word is only once used as "translated." It is in Colossians 1:13 telling of the process being of hearing and believing. This concept of hearing and it producing a change in man's thinking pervades the scriptures. The result (effect) is directly related to whom one listens (cause). The only way to overcome this is also ironically connected to whom one listens. Man listening to man's wisdom (the experts and prognosticators) both keeps man in a state of confusion, or if once enlightened returns him there. (2 Peter 2:17 These are wells without water, clouds that are carried with a tempest; to whom the mist of darkness is reserved for ever. 18 For when they speak great swelling words of vanity, they allure through the lusts of the flesh, through much wantonness, those that were clean escaped from them who live in error. 19 While they promise them liberty, they themselves are the servants of corruption: for of whom a man is overcome, of the same is he brought in bondage. 20 For if after they have escaped the pollutions of the world through the knowledge of the Lord and Saviour Jesus Christ, they are again entangled therein, and overcome, the latter end is worse with them than the beginning. 21 For it had been better for them not to have known the way of righteousness, than, after they have known it, to turn from the holy commandment delivered unto them. 22 But it is happened unto them according to the true proverb, The dog is turned to his own vomit again; and the sow that was washed to her wallowing in the mire.)
This is the time and state of our world. There is only one way out of the darkness.
Colossians 1
1 Paul, an apostle of Jesus Christ by the will of God, and Timothy our brother,
2 To the saints and faithful brethren in Christ which are at Colosse: Grace be unto you, and peace, from God our Father and the Lord Jesus Christ.
3 We give thanks to God and the Father of our Lord Jesus Christ, praying always for you,
4 Since we heard of your faith in Christ Jesus, and of the love which ye have to all the saints,
5 For the hope which is laid up for you in heaven, whereof ye heard before in the word of the truth of the gospel;
6 Which is come unto you, as it is in all the world; and brings forth fruit, as it doth also in you, since the day ye heard of it, and knew the grace of God in truth:
7 As ye also learned of Epaphras our dear fellowservant, who is for you a faithful minister of Christ;
8 Who also declared unto us your love in the Spirit.
9 For this cause we also, since the day we heard it, do not cease to pray for you, and to desire that ye might be filled with the knowledge of his will in all wisdom and spiritual understanding;
10 That ye might walk worthy of the Lord unto all pleasing, being fruitful in every good work, and increasing in the knowledge of God;
11 Strengthened with all might, according to his glorious power, unto all patience and longsuffering with joyfulness;
12 Giving thanks unto the Father, which hath made us meet to be partakers of the inheritance of the saints in light:
13 Who hath delivered us from the power of darkness, and hath translated us into the kingdom of his dear Son:
14 In whom we have redemption through his blood, even the forgiveness of sins:
15 Who is the image of the invisible God, the firstborn of every creature:
16 For by him were all things created, that are in heaven, and that are in earth, visible and invisible, whether they be thrones, or dominions, or principalities, or powers: all things were created by him, and for him:
17 And he is before all things, and by him all things consist.
18 And he is the head of the body, the church: who is the beginning, the firstborn from the dead; that in all things he might have the preeminence.
19 For it pleased the Father that in him should all fulness dwell;
20 And, having made peace through the blood of his cross, by him to reconcile all things unto himself; by him, I say, whether they be things in earth, or things in heaven.
21 And you, that were sometime alienated and enemies in your mind by wicked works, yet now hath he reconciled
22 In the body of his flesh through death, to present you holy and unblameable and unreproveable in his sight:
23 If ye continue in the faith grounded and settled, and be not moved away from the hope of the gospel, which ye have heard, and which was preached to every creature which is under heaven; whereof I Paul am made a minister;
24 Who now rejoice in my sufferings for you, and fill up that which is behind of the afflictions of Christ in my flesh for his body's sake, which is the church:
25 Whereof I am made a minister, according to the dispensation of God which is given to me for you, to fulfil the word of God;
26 Even the mystery which hath been hid from ages and from generations, but now is made manifest to his saints:
27 To whom God would make known what is the riches of the glory of this mystery among the Gentiles; which is Christ in you, the hope of glory:
28 Whom we preach, warning every man, and teaching every man in all wisdom; that we may present every man perfect in Christ Jesus:
29 Whereunto I also labour, striving according to his working, which works in me mightily.
Psalms 121 posted yesterday used the Hebrew word shamar three time translated as "preserve." It is a primary word meaning to hedge about, as in to guard, protect, or attend to. It would appear to be connected to another primary word, shama, meaning to intelligently hear, often implying acting as result of what is heard. This is what 2 Corinthians 4 is saying when it speaks of the life of Jesus being made manifest in our mortal body. It is telling of our speaking because we have heard and do believe in what we haven't seen (with our natural eyes) but do understand (with the spiritual eyes of our intellect). Psalms 121 tells us it is the LORD who gives us His understanding if we will listen, and He is the One who preserves us.
Psalms 121
1 I will lift up mine eyes unto the hills, from whence cometh my help.
2 My help cometh from the Lord, which made heaven and earth.
3 He will not suffer thy foot to be moved: he that keeps thee will not slumber.
4 Behold, he that keeps Israel shall neither slumber nor sleep.
5 The Lord is thy keeper: the Lord is thy shade upon thy right hand.
6 The sun shall not smite thee by day, nor the moon by night.
7 The Lord shall preserve thee from all evil: he shall preserve thy soul.
8 The Lord shall preserve thy going out and thy coming in from this time forth, and even for evermore.
Men in our time are stirring and agitating other men into violence while these instigators blame those listening to them. These are false prophets telling of coming events they themselves are creating and then claim what they have generated is some sign of their understanding. These are the dogs returned to their own vomit, and to wallowing in the mire they themselves stirred. They are the holier than thou crowd sitting in their closed circle telling each other how holy they are. Therefore the publicans and harlots will enter the kingdom of God before them.
Matthew 21
21 Jesus answered and said unto them, Verily I say unto you, If ye have faith, and doubt not, ye shall not only do this which is done to the fig tree, but also if ye shall say unto this mountain, Be thou removed, and be thou cast into the sea; it shall be done.
22 And all things, whatsoever ye shall ask in prayer, believing, ye shall receive.
23 And when he was come into the temple, the chief priests and the elders of the people came unto him as he was teaching, and said, By what authority does thou these things? and who gave thee this authority?
24 And Jesus answered and said unto them, I also will ask you one thing, which if ye tell me, I in like wise will tell you by what authority I do these things.
25 The baptism of John, whence was it? from heaven, or of men? And they reasoned with themselves, saying, If we shall say, From heaven; he will say unto us, Why did ye not then believe him?
26 But if we shall say, Of men; we fear the people; for all hold John as a prophet.
27 And they answered Jesus, and said, We cannot tell. And he said unto them, Neither tell I you by what authority I do these things.
28 But what think ye? A certain man had two sons; and he came to the first, and said, Son, go work to day in my vineyard.
29 He answered and said, I will not: but afterward he repented, and went.
30 And he came to the second, and said likewise. And he answered and said, I go, sir: and went not.
31 Whether of them twain did the will of his father? They say unto him, The first. Jesus said unto them, Verily I say unto you, That the publicans and the harlots go into the kingdom of God before you.
32 For John came unto you in the way of righteousness, and ye believed him not: but the publicans and the harlots believed him: and ye, when ye had seen it, repented not afterward, that ye might believe him.
33 Hear another parable: There was a certain householder, which planted a vineyard, and hedged it round about, and digged a winepress in it, and built a tower, and let it out to husbandmen, and went into a far country:
34 And when the time of the fruit drew near, he sent his servants to the husbandmen, that they might receive the fruits of it.
35 And the husbandmen took his servants, and beat one, and killed another, and stoned another.
36 Again, he sent other servants more than the first: and they did unto them likewise.
37 But last of all he sent unto them his son, saying, They will reverence my son.
38 But when the husbandmen saw the son, they said among themselves, This is the heir; come, let us kill him, and let us seize on his inheritance.
39 And they caught him, and cast him out of the vineyard, and slew him.
40 When the lord therefore of the vineyard cometh, what will he do unto those husbandmen?
41 They say unto him, He will miserably destroy those wicked men, and will let out his vineyard unto other husbandmen, which shall render him the fruits in their seasons.
42 Jesus said unto them, Did ye never read in the scriptures, The stone which the builders rejected, the same is become the head of the corner: this is the Lord's doing, and it is marvellous in our eyes?
43 Therefore say I unto you, The kingdom of God shall be taken from you, and given to a nation bringing forth the fruits thereof.
44 And whosoever shall fall on this stone shall be broken: but on whomsoever it shall fall, it will grind him to powder.
45 And when the chief priests and Pharisees had heard his parables, they perceived that he spoke of them.
46 But when they sought to lay hands on him, they feared the multitude, because they took him for a prophet.
In this context read these following chapters.
2 Corinthians 3
1 Do we begin again to commend ourselves? or need we, as some others, epistles of commendation to you, or letters of commendation from you?
2 Ye are our epistle written in our hearts, known and read of all men:
3 Forasmuch as ye are manifestly declared to be the epistle of Christ ministered by us, written not with ink, but with the Spirit of the living God; not in tables of stone, but in fleshy tables of the heart.
4 And such trust have we through Christ to God-ward:
5 Not that we are sufficient of ourselves to think any thing as of ourselves; but our sufficiency is of God;
6 Who also hath made us able ministers of the new testament; not of the letter, but of the spirit: for the letter kills, but the spirit gives life.
7 But if the ministration of death, written and engraved in stones, was glorious, so that the children of Israel could not steadfastly behold the face of Moses for the glory of his countenance; which glory was to be done away:
8 How shall not the ministration of the spirit be rather glorious?
9 For if the ministration of condemnation be glory, much more doth the ministration of righteousness exceed in glory.
10 For even that which was made glorious had no glory in this respect, by reason of the glory that excels.
11 For if that which is done away was glorious, much more that which remains is glorious.
12 Seeing then that we have such hope, we use great plainness of speech:
13 And not as Moses, which put a veil over his face, that the children of Israel could not steadfastly look to the end of that which is abolished:
14 But their minds were blinded: for until this day remains the same vail untaken away in the reading of the old testament; which vail is done away in Christ.
15 But even unto this day, when Moses is read, the vail is upon their heart (understanding – reasoning mind).
16 Nevertheless when it shall turn to the Lord, the vail shall be taken away.
17 Now the Lord is that Spirit: and where the Spirit of the Lord is, there is liberty.
18 But we all, with open face beholding as in a glass the glory of the Lord, are changed into the same image from glory to glory, even as by the Spirit of the Lord.
2 Corinthians 4
1 Therefore seeing we have this ministry, as we have received mercy, we faint not;
2 But have renounced the hidden things of dishonesty, not walking in craftiness, nor handling the word of God deceitfully; but by manifestation of the truth commending ourselves to every man's conscience in the sight of God.
3 But if our gospel be hid, it is hid to them that are lost:
4 In whom the god of this world hath blinded the minds of them which believe not, lest the light of the glorious gospel of Christ, who is the image of God, should shine unto them.
5 For we preach not ourselves, but Christ Jesus the Lord; and ourselves your servants for Jesus' sake.
6 For God, who commanded the light to shine out of darkness, hath shined in our hearts, to give the light of the knowledge of the glory of God in the face of Jesus Christ.
7 But we have this treasure in earthen vessels, that the excellency of the power may be of God, and not of us.
8 We are troubled on every side, yet not distressed; we are perplexed, but not in despair;
9 Persecuted, but not forsaken; cast down, but not destroyed;
10 Always bearing about in the body the dying of the Lord Jesus, that the life also of Jesus might be made manifest in our body.
11 For we which live are always delivered unto death for Jesus' sake, that the life also of Jesus might be made manifest in our mortal flesh.
12 So then death works in us, but life in you.
13 We having the same spirit of faith, according as it is written, I believed, and therefore have I spoken; we also believe, and therefore speak;
14 Knowing that he which raised up the Lord Jesus shall raise up us also by Jesus, and shall present us with you.
15 For all things are for your sakes, that the abundant grace might through the thanksgiving of many redound to the glory of God.
16 For which cause we faint not; but though our outward man perish, yet the inward man is renewed day by day.
17 For our light affliction, which is but for a moment, works for us a far more exceeding and eternal weight of glory;
18 While we look not at the things which are seen, but at the things which are not seen: for the things which are seen are temporal; but the things which are not seen are eternal.