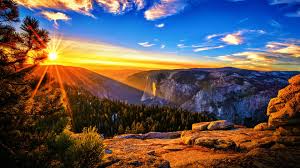 Today a bit about the intended meaning of "leaven" as it is used in God's word. The intended meaning is always something that is mixed in, and as it effects the entirety of the whole it is mixed with. It is always corruption introduced by men. Failing to understand this point is the origin of misunderstanding one of the LORD's definitions of the end time. It is his telling of the reign of heaven coming as the world is first fully corrupted into a state of total confusion and emptiness. This is again referencing the condition we have studied that is described in the Hebrew phrase tohuw bohuw. These are the words used only three times together, with the first describing the condition of the earth in Genesis 1:2 as "without form, and void" as God moves in creating the new. (See the post from WordXP.com April 22, 2016 titled, "How Do You See The Promised Land?")
The LORD's telling of the women having fully worked her leaven into the whole lump is found in Matthew 13:33. This is preceded by the definition of the reign of heaven being as a mustard seed that grows into the greatest of all the trees. This is also a coinciding aspect of creation as God's wisdom being present before creation and only with this contrast is the corruption fully seen and understood. Just prior in the chapter we are told of the tares being separated from their being intermixed with the wheat. In Genesis 1:7 we see it as the waters being divided, and again in verse 8 we see this right dividing being called heaven. In Matthew 13 it is the word of God as the good seed and when it takes hold in good ground it becomes the greatest of all (in the children of the kingdom of heaven).
Matthew 13
24 Another parable put he forth unto them, saying, The kingdom of heaven is likened unto a man which sowed good seed in his field:
25 But while men slept, his enemy came and sowed tares among the wheat, and went his way.
26 But when the blade was sprung up, and brought forth fruit, then appeared the tares also.
27 So the servants of the householder came and said unto him, Sir, didn't you sow good seed in your field? from where and when then has it tares?
28 He said unto them, An enemy has done this. The servants said unto him, [Is your will] then that we go and gather them up?
29 But he said, Nay; [unless] while you gather up the tares, you root up also the wheat with them.
30 Let both grow together until the harvest: and in the time of harvest I will say to the reapers, Gather you together first the tares, and bind them in bundles to burn them: but gather the wheat into my barn.
31 Another parable put he forth unto them, saying, The kingdom of heaven is like to a grain of mustard seed, which a man took, and sowed in his field:
32 Which indeed is the least of all seeds: but when it is grown, it is the greatest among herbs, and becomes a tree, so that the birds of the air come and lodge in the branches thereof.
33 Another parable spoke he unto them; The kingdom of heaven is like unto leaven, which a woman took, and hid in three measures of meal, till the whole was leavened.
34 All these things spoke Jesus unto the multitude in parables; and without a parable spoke he not unto them:
35 That it might be fulfilled which was spoken by the prophet, saying, I will open my mouth in parables; I will utter things which have been kept secret from the foundation of the world.
36 Then Jesus sent the multitude away, and went into the house: and his disciples came unto him, saying, Declare unto us the parable of the tares of the field.
37 He answered and said unto them, He that sows the good seed is the Son of man;
38 The field is the world; the good seed are the children of the kingdom; but the tares are the children of the wicked one;
39 The enemy that sowed them is the devil; the harvest is the end of the world; and the reapers are the angels.
40 As therefore the tares are gathered and burned in the fire; so shall it be in the end of this world.
41 The Son of man shall send forth his angels, and they shall gather out of his kingdom all things that offend, and them which do iniquity;
42 And shall cast them into a furnace of fire: there shall be wailing and gnashing of teeth.
43 Then shall the righteous shine forth as the sun in the kingdom of their Father. Who has ears to hear, let him hear.
This again must be read coinciding with John 1 where we (also) see the two great lights, here as Jesus and John, and also symbolizing the Church and civil governments (as also in the sun and the moon).
John 1
1 In the beginning was the Word, and the Word was with God, and the Word was God.
2 The same was in the beginning with God.
3 All things were made by him; and without him was not any thing made that was made.
4 In him was life; and the life was the light of men.
5 And the light shined in darkness; and the darkness comprehended it not.
6 There was a man sent from God, whose name was John.
7 The same came for a witness, to bear witness of the Light, that all men through him might believe.
8 He was not that Light, but was sent to bear witness of that Light.
9 That was the true Light, which lights every man that cometh into the world.
10 He was in the world, and the world was made by him, and the world knew him not.
11 He came unto his own, and his own received him not.
12 But as many as received him, to them gave he power to become the sons of God, even to them that believe on his name:
13 Which were born, not of blood, nor of the will of the flesh, nor of the will of man, but of God.
14 And the Word was made flesh, and dwelt among us, (and we beheld his glory, the glory as of the only begotten of the Father,) full of grace and truth.
Matthew 13:35 tells of these things being spoken in parable to fulfill scripture. It is quoting from Psalms 78:2.
Psalms 78
1 Give ear, O my people, to my law: incline your ears to the words of my mouth.
2 I will open my mouth in a parable: I will utter dark sayings of old:
3 Which we have heard and known, and our fathers have told us.
4 We will not hide them from their children, showing to the generation to come the praises of the LORD, and his strength, and his wonderful works that he has done.
5 For he established a testimony in Jacob, and appointed a law in Israel, which he commanded our fathers, that they should make them known to their children:
6 That the generation to come might know them, even the children which should be born; who should arise and declare them to their children:
7 That they might set their hope in God, and not forget the works of God, but keep his commandments:
8 And might not be as their fathers, a stubborn and rebellious generation; a generation that set not their heart aright, and whose spirit was not steadfast with God.
Earlier in Matthew 13:14 we read of those whose understanding and perception have been removed and their eyes blinded and ears unable to hear. The quote is from Isaiah 6 and ends saying that if this condition wasn't as it is these people would be converted (changed) and healed. The common aspect with these quotes is that God's word is not being heard. This is the condition even Isaiah saw in himself before he is converted and healed.
Isaiah 6
1 In the year that king Uzziah died I saw also the LORD sitting upon a throne, high and lifted up, and his train filled the temple.
2 Above it stood the seraphims: each one had six wings; with twain he covered his face, and with twain he covered his feet, and with twain he did fly.
3 And one cried unto another, and said, Holy, holy, holy, is the LORD of hosts: the whole earth is full of his glory.
4 And the posts of the door moved at the voice of him that cried, and the house was filled with smoke.
5 Then said I, Woe is me! for I am undone; because I am a man of unclean lips, and I dwell in the midst of a people of unclean lips: for mine eyes have seen the King, the LORD of hosts.
6 Then flew one of the seraphims unto me, having a live coal in his hand, which he had taken with the tongs from off the altar:
7 And he laid it upon my mouth, and said, Lo, this hath touched thy lips; and your iniquity is taken away, and thy sin purged.
8 Also I heard the voice of the LORD, saying, Whom shall I send, and who will go for us? Then said I, Here am I; send me.
9 And he said, Go, and tell this people, Hear you indeed, but understand not; and see you indeed, but perceive not.
10 Make the heart of this people fat, and make their ears heavy, and shut their eyes; [unless] they see with their eyes, and hear with their ears, and understand with their heart, and convert, and be healed.
11 Then said I, LORD, how long? And he answered, Until the cities be wasted without inhabitant, and the houses without man, and the land be utterly desolate,
12 And the LORD have removed men far away, and there be a great forsaking in the midst of the land.
13 But yet in it shall be a tenth, and it shall return, and shall be eaten: as a teil tree, and as an oak, whose substance [life] is in them, when they cast their leaves: so the holy seed shall be the substance [life] thereof.
This is also describing the state of full corruption. Now back to the leaven, and I show you a great mystery. The word is mentioned several times in 1 Corinthians 5:6-8. Understanding the passage in the context intended by the Spirit begins in the chapter prior where we are told of not having many fathers. Charter 5 then begins by telling of the one that has his father's wife. Then we are told of the leaven that corrupts the whole. This is telling of the same corruption that has been worked in by the same women.
1 Corinthians 4
14 I write not these things to shame you, but as my beloved sons I warn you.
15 For though you have ten thousand instructors in Christ, yet have you not many fathers: for in Christ Jesus I have begotten you through the gospel.
16 Wherefore I beseech you, be you followers of me.
17 For this cause have I sent unto you Timothy, who is my beloved son, and faithful in the LORD, who shall bring you into remembrance of my ways which be in Christ, as I teach every where in every church.
18 Now some are puffed up, as though I would not come to you.
19 But I will come to you shortly, if the LORD will, and will know, not the speech of them which are puffed up, but the power.
20 For the kingdom of God is not in word, but in power.
21 What will you? shall I come unto you with a rod, or in love, and in the spirit of meekness?
1 Corinthians 5
1 It is reported commonly that there is fornication among you, and such fornication as is not so much as named among the Gentiles, that one should have his father's wife.
2 And you are puffed up, and have not rather mourned, that he that hath done this deed might be taken away from among you.
3 For I verily, as absent in body, but present in spirit, have judged already, as though I were present, concerning him that hath so done this deed,
4 In the name of our LORD Jesus Christ, when you are gathered together, and my spirit, with the power of our LORD Jesus Christ,
5 To deliver such an one unto Satan for the destruction of the flesh, that the spirit may be saved in the day of the LORD Jesus.
6 Your glorying is not good. Know you not that a little leaven leavens the whole lump?
7 Purge out therefore the old leaven, that you may be a new lump, as you are unleavened. For even Christ our Passover is sacrificed for us:
8 Therefore let us keep the feast, not with old leaven, neither with the leaven of malice and wickedness; but with the unleavened bread of sincerity and truth.
Here we have the contrast between the corrupted and uncorrupted as we are told to purge out the old leaven, that we may become the new lump. It goes on to define it as the unleavened bread of sincerity and truth.
This takes us to our resurrection as it is defined in 1 Corinthians 15, and our call to be changed from the corrupted by putting on incorruption. It doesn't happen by our having to put off this body, but rather, as the scriptures tell us, by putting on sincerity and truth. Hebrew 13 (again) tells us as it begins of the undefiled bed that allows us to see what we haven't seen. (1 Corinthian 15:51 Behold, I show you a mystery; We shall not all sleep, but we shall all be changed, 52 In a moment, in the twinkling of an eye, at the last trump: for the trumpet shall sound, and the dead shall be raised incorruptible, and we shall be changed.)
Hebrews 13
1 Let brotherly love [Philadelphia] continue.
2 Be not forgetful to entertain strangers: for thereby some have entertained angels unawares.
3 Remember them that are in bonds, as bound with them; and them which suffer adversity, as being yourselves also in the body.
4 Marriage is honorable in all, and the bed undefiled: but whoremongers and adulterers God will judge.
5 Let your conversation be without covetousness; and be content with such things as you have: for he hath said, I will never leave thee, nor forsake thee.
6 So that we may boldly say, The LORD is my helper, and I will not fear what man shall do unto me.
7 Remember them which have the rule over you, who have spoken unto you the word of God: whose faith follow, considering the end of their conversation.
8 Jesus Christ the same yesterday, and to day, and for ever.
9 Be not carried about with divers and strange doctrines. For it is a good thing that the heart be established with grace; not with meats, which have not profited them that have been occupied therein.
10 We have an altar, whereof they have no right to eat which serve the tabernacle.
11 For the bodies of those beasts, whose blood is brought into the sanctuary by the high priest for sin, are burned without the camp.
12 Wherefore Jesus also, that he might sanctify the people with his own blood, suffered without the gate.
13 Let us go forth therefore unto him without the camp, bearing his reproach.
14 For here have we no continuing city, but we seek one to come.
15 By him therefore let us offer the sacrifice of praise to God continually, that is, the fruit of our lips giving thanks to his name.
16 But to do good and to communicate forget not: for with such sacrifices God is well pleased.
17 Obey them that have the rule over you, and submit yourselves: for they watch for your souls, as they that must give account, that they may do it with joy, and not with grief: for that is unprofitable for you.
18 Pray for us: for we trust we have a good conscience, in all things willing to live honestly.
19 But I beseech you the rather to do this, that I may be restored to you the sooner.
20 Now the God of peace, that brought again from the dead our LORD Jesus, that great shepherd of the sheep, through the blood of the everlasting covenant,
21 Make you perfect in every good work to do his will, working in you that which is well-pleasing in his sight, through Jesus Christ; to whom be glory for ever and ever. Amen.
22 And I beseech you, brethren, suffer the word of exhortation: for I have written a letter unto you in few words.
23 Know you that our brother Timothy is set at liberty; with whom, if he come shortly, I will see you.
24 Salute all them that have the rule over you, and all the saints. They of Italy salute you.
25 Grace be with you all. Amen.
1 Corinthians 15
1 Moreover, brethren, I declare unto you the gospel which I preached unto you, which also you have received, and wherein you stand;
2 By which also you are saved, if you keep in memory what I preached unto you, unless you have believed in vain.
3 For I delivered unto you first of all that which I also received, how that Christ died for our sins according to the scriptures;
4 And that he was buried, and that he rose again the third day according to the scriptures:
5 And that he was seen of Cephas, then of the twelve:
6 After that, he was seen of above five hundred brethren at once; of whom the greater part remain unto this present, but some are fallen asleep.
7 After that, he was seen of James; then of all the apostles.
8 And last of all he was seen of me also, as of one born out of due time.
9 For I am the least of the apostles, that am not meet to be called an apostle, because I persecuted the church of God.
10 But by the grace of God I am what I am: and his grace which was bestowed upon me was not in vain; but I labored more abundantly than they all: yet not I, but the grace of God which was with me.
11 Therefore whether it were I or they, so we preach, and so you believed.
12 Now if Christ be preached that he rose from the dead, how say some among you that there is no resurrection of the dead?
13 But if there be no resurrection of the dead, then is Christ not risen:
14 And if Christ be not risen, then is our preaching vain, and your faith is also vain.
15 Yea, and we are found false witnesses of God; because we have testified of God that he raised up Christ: whom he raised not up, if so be that the dead rise not.
16 For if the dead rise not, then is not Christ raised:
17 And if Christ be not raised, your faith is vain; you are yet in your sins.
18 Then they also which are fallen asleep in Christ are perished.
19 If in this life only we have hope in Christ, we are of all men most miserable.
20 But now is Christ risen from the dead, and become the first-fruits of them that slept.
21 For since by man came death, by man came also the resurrection of the dead.
22 For as in Adam all die, even so in Christ shall all be made alive.
23 But every man in his own order: Christ the first-fruits; afterward they that are Christ's at his coming.
24 Then cometh the end, when he shall have delivered up the kingdom to God, even the Father; when he shall have put down all rule and all authority and power.
25 For he must reign, till he hath put all enemies under his feet.
26 The last enemy that shall be destroyed is death.
27 For he hath put all things under his feet. But when he said all things are put under him, it is manifest that he is excepted, which did put all things under him.
28 And when all things shall be subdued unto him, then shall the Son also himself be subject unto him that put all things under him, that God may be all in all.
29 Else what shall they do which are baptized for the dead, if the dead rise not at all? why are they then baptized for the dead?
30 And why stand we in jeopardy every hour?
31 I protest by your rejoicing which I have in Christ Jesus our LORD, I die daily.
32 If after the manner of men I have fought with beasts at Ephesus, what advantages it me, if the dead rise not? let us eat and drink; for to morrow we die.
33 Be not deceived: evil communications corrupt good manners.
34 Awake to righteousness, and sin not; for some have not the knowledge of God: I speak this to your shame.
35 But some man will say, How are the dead raised up? and with what body do they come?
36 You fool, that which you sow is not quickened, except it die:
37 And that which you sow, you sow not that body that shall be, but bare grain, it may chance of wheat, or of some other grain:
38 But God gives it a body as it hath pleased him, and to every seed his own body.
39 All flesh is not the same flesh: but there is one kind of flesh of men, another flesh of beasts, another of fishes, and another of birds.
40 There are also celestial bodies, and bodies terrestrial: but the glory of the celestial is one, and the glory of the terrestrial is another.
41 There is one glory of the sun, and another glory of the moon, and another glory of the stars: for one star differs from another star in glory.
42 So also is the resurrection of the dead. It is sown in corruption; it is raised in incorruption:
43 It is sown in dishonor; it is raised in glory: it is sown in weakness; it is raised in power:
44 It is sown a natural body; it is raised a spiritual body. There is a natural body, and there is a spiritual body.
45 And so it is written, The first man Adam was made a living soul; the last Adam was made a quickening spirit.
46 Howbeit that was not first which is spiritual, but that which is natural; and afterward that which is spiritual.
47 The first man is of the earth, earthy; the second man is the LORD from heaven.
48 As is the earthy, such are they also that are earthy: and as is the heavenly, such are they also that are heavenly.
49 And as we have borne the image of the earthy, we shall also bear the image of the heavenly.
50 Now this I say, brethren, that flesh and blood cannot inherit the kingdom of God; neither doth corruption inherit incorruption.
51 Behold, I show you a mystery; We shall not all sleep, but we shall all be changed,
52 In a moment, in the twinkling of an eye, at the last trump: for the trumpet shall sound, and the dead shall be raised incorruptible, and we shall be changed.
53 For this corruptible must put on incorruption, and this mortal must put on immortality.
54 So when this corruptible shall have put on incorruption, and this mortal shall have put on immortality, then shall be brought to pass the saying that is written, Death is swallowed up in victory.
55 O death, where is thy sting? O grave, where is thy victory?
56 The sting of death is sin; and the strength of sin is the law.
57 But thanks be to God, which gives us the victory through our LORD Jesus Christ.
58 Therefore, my beloved brethren, be you steadfast, unmovable, always abounding in the work of the LORD, forasmuch as you know that your labor is not in vain in the LORD.