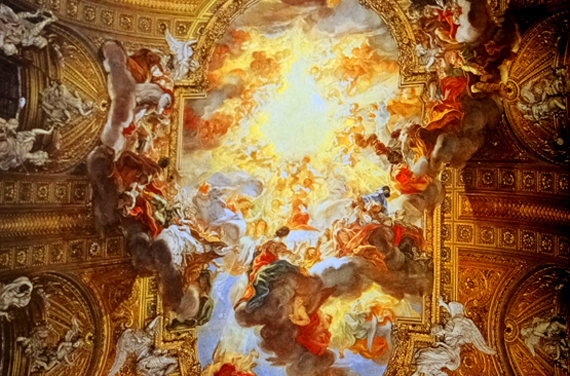 Continuing: If the prescription found in the LORD's prayer (as we looked at yesterday) doesn't have an effect on those being called, what is the cause? Let's start with a deeper look at a few of yesterday's verses from Titus 3: "10 A man that is an heretic after the first and second admonition reject; 11 Knowing that he that is such is subverted, and sins, being condemned of himself."
These verses and the surrounding context tell of the heretics being admonished (warned) and wanting to argue about it rather than be corrected. This is the pride we have been discussing that leads men to continue on their own way as they ignorantly and unknowingly (blinded by pride) reject the correction of the Holy Spirit.
The Greek word used when we are told to "reject" those who refuse correction is the same word used when the LORD tells of those who have determined themselves unworthy of the kingdom supper. In Titus 3 we are told in earlier verses that these are men who want to engage in endless argument. In Luke 14:18 the same Greek word paraiteomai rendered as "reject" is translated "excuses." Yesterday we talked about being in consort with the LORD, meaning to be working in accord with His will. In Luke we see the men that are refusing the invitation with "one accord" (in consort with other men) "make excuses." In both example we see men refusing the call when it comes and in doing choose to remain in darkness they have brought upon the earth. They do it because of their being in consort (in confederacy) with other men in rejecting the LORD that brought them (see 2 Peter 2). These associated with the crowd (legion) are so filled with self-confidence and pride that they condemn themselves by their own choice. (All of this is still part of the same call to the incorrigibles in a language (the Word of God) even they should understand.)
Here are the scripture that will allow for translating the meaning with perfect understanding.
Luke 14 tells of those rejecting the call being rejected.
Blessed is he that shall eat bread in the kingdom of God.
16 Then said he unto him, A certain man made a great supper, and bade many:
17 And sent his servant at supper time to say to them that were bidden, Come; for all things are now ready.
18 And they all with one consent began to make excuse. The first said unto him, I have bought a piece of ground, and I must needs go and see it: I pray you have me excused.
19 And another said, I have bought five yoke of oxen, and I go to prove them: I pray you have me excused.
20 And another said, I have married a wife, and therefore I cannot come.
21 So that servant came, and showed his LORD these things. Then the master of the house being angry said to his servant, Go out quickly into the streets and lanes of the city, and bring in hither the poor, and the maimed, and the halt, and the blind.
22 And the servant said, LORD, it is done as you have commanded, and yet there is room.
23 And the LORD said unto the servant, Go out into the highways and hedges, and compel them to come in, that my house may be filled.
24 For I say unto you, That none of those men which were bidden shall taste of my supper.
25 And there went great multitudes with him: and he turned, and said unto them,
26 If any man come to me, he must love me more than his father, and mother, and wife, and children, and brethren, and sisters, yea, and his own life also, or he cannot be my disciple.
27 And whosoever doth not bear his cross, and come after me, cannot be my disciple.
28 For which of you, intending to build a tower, sits not down first, and counts the cost, whether he have sufficient to finish it?
29 Lest haply, after he hath laid the foundation, and is not able to finish it, all that behold it begin to mock him,
30 Saying, This man began to build, and was not able to finish.
31 Or what king, going to make war against another king, sits not down first, and consults whether he be able with ten thousand to meet him that cometh against him with twenty thousand?
32 Or else, while the other is yet a great way off, he sends an ambassador, and desires conditions of peace.
33 So likewise, whosoever he be of you that forsakes not all that he hath, he cannot be my disciple.
34 Salt is good: but if the salt have lost his savour, wherewith shall it be seasoned?
35 It is neither fit for the land, nor yet for the dunghill; but men cast it out. He that hath ears to hear, let him hear.
Isaiah 8 tells of men being in consort with other men and not with the LORD. The chapter ends telling of the darkness these men have brought upon the earth.
9 Associate yourselves, O you people, and you shall be broken in pieces; and give ear, all you of far countries: gird yourselves, and you shall be broken in pieces; gird yourselves, and you shall be broken in pieces.
10 Take counsel together, and it shall come to naught; speak the word, and it shall not stand: for God is with us.
11 For the LORD spoke thus to me with a strong hand, and instructed me that I should not walk in the way of this people, saying,
12 Say you not, A confederacy, to all them to whom this people shall say, A confederacy; neither fear you their fear, nor be afraid.
13 Sanctify the LORD of hosts himself; and let him be your fear, and let him be your dread.
14 And he shall be for a sanctuary; but for a stone of stumbling and for a rock of offence to both the houses of Israel, for a gin and for a snare to the inhabitants of Jerusalem.
15 And many among them shall stumble, and fall, and be broken, and be snared, and be taken.
16 Bind up the testimony, seal the law among my disciples.
17 And I will wait upon the LORD, that hides his face from the house of Jacob, and I will look for him.
18 Behold, I and the children whom the LORD hath given me are for signs and for wonders in Israel from the LORD of hosts, which dwells in mount Zion.
19 And when they shall say unto you, Seek unto them that have familiar spirits, and unto wizards that peep, and that mutter: should not a people seek unto their God? for the living to the dead?
20 To the law and to the testimony: if they speak not according to this word, it is because there is no light in them.
21 And they shall pass through it, hardly bestead and hungry: and it shall come to pass, that when they shall be hungry, they shall fret themselves, and curse their king and their God, and look upward.
22 And they shall look unto the earth; and behold trouble and darkness, dimness of anguish; and they shall be driven to darkness.
This is all speaking to the leaders and teachers (symbolized in Judah), and the civil and religious governments (symbolized by the sun and the moon) ruling over God's people. These are those who have continually rejected the call to correction.
Jeremiah 8 speaks to these men and to their having rejected the wisdom of God.
1 At that time, says the LORD, they shall bring out the bones of the kings of Judah, and the bones of his princes, and the bones of the priests, and the bones of the prophets, and the bones of the inhabitants of Jerusalem, out of their graves:
2 And they shall spread them before the sun, and the moon, and all the host of heaven, whom they have loved, and whom they have served, and after whom they have walked, and whom they have sought, and whom they have worshipped: they shall not be gathered, nor be buried; they shall be for dung upon the face of the earth.
3 And death shall be chosen rather than life by all the residue of them that remain of this evil family, which remain in all the places whither I have driven them, says the LORD of hosts.
4 Moreover you shalt say unto them, Thus says the LORD; Shall they fall, and not arise? shall he turn away, and not return?
5 Why then is this people of Jerusalem slid back by a perpetual backsliding? they hold fast deceit, they refuse to return.
6 I hearkened and heard, but they spoke not aright: no man repented him of his wickedness, saying, What have I done? every one turned to his course, as the horse rushs into the battle.
7 Yea, the stork in the heaven knows her appointed times; and the turtle and the crane and the swallow observe the time of their coming; but my people know not the judgment of the LORD.
8 How do you say, We are wise, and the law of the LORD is with us? Lo, certainly in vain made he it; the pen of the scribes is in vain.
9 The wise men are ashamed, they are dismayed and taken: lo, they have rejected the word of the LORD; and what wisdom is in them?
10 Therefore will I give their wives unto others, and their fields to them that shall inherit them: for every one from the least even unto the greatest is given to covetousness, from the prophet even unto the priest every one deals falsely.
11 For they have healed the hurt of the daughter of my people slightly, saying, Peace, peace; when there is no peace.
12 Were they ashamed when they had committed abomination? nay, they were not at all ashamed, neither could they blush: therefore shall they fall among them that fall: in the time of their visitation they shall be cast down, says the LORD.
13 I will surely consume them, says the LORD: there shall be no grapes on the vine, nor figs on the fig tree, and the leaf shall fade; and the things that I have given them shall pass away from them.
14 Why do we sit still? assemble yourselves, and let us enter into the defensed cities, and let us be silent there: for the LORD our God hath put us to silence, and given us water of gall to drink, because we have sinned against the LORD.
15 We looked for peace, but no good came; and for a time of health, and behold trouble!
16 The snorting of his horses was heard from Dan: the whole land trembled at the sound of the neighing of his strong ones; for they are come, and have devoured the land, and all that is in it; the city, and those that dwell therein.
17 For, behold, I will send serpents, cockatrices, among you, which will not be charmed, and they shall bite you, says the LORD.
18 When I would comfort myself against sorrow, my heart is faint in me.
19 Behold the voice of the cry of the daughter of my people because of them that dwell in a far country: Is not the LORD in Zion? is not her king in her? Why have they provoked me to anger with their graven images, and with strange vanities?
20 The harvest is past, the summer is ended, and we are not saved.
21 For the hurt of the daughter of my people am I hurt; I am black; astonishment hath taken hold on me.
22 Is there no balm in Gilead; is there no physician there? why then is not the health of the daughter of my people recovered?
This last verse's question is unquestionably answer in the earlier portions of this and many other posts. Of the eleven times paraiteomai is used it is appears three times in Hebrews 12. It is the word translated as "entreated" in verse 19, and it is "refuse" and "refused" in verse 25. The chapter deals with the LORD correcting His children and this being a determining factor in our knowing we are His children. It also tells of those rejecting the call when it comes.
Hebrews 12
1 Wherefore seeing we also are compassed about with so great a cloud of witnesses, let us lay aside every weight, and the sin which doth so easily beset us, and let us run with patience the race that is set before us,
2 Looking unto Jesus the author and finisher of our faith; who for the joy that was set before him endured the cross, despising the shame, and is set down at the right hand of the throne of God.
3 For consider him that endured such contradiction of sinners against himself, lest you be wearied and faint in your minds.
4 You have not yet resisted unto blood, striving against sin.
5 And you have forgotten the exhortation which speaks unto you as unto children, My son, despise not you the chastening of the LORD, nor faint when you art rebuked of him:
6 For whom the LORD loves he chastens, and scourges every son whom he receives.
7 If you endure chastening, God deals with you as with sons; for what son is he whom the father chastens not?
8 But if you be without chastisement, whereof all are partakers, then are you illegitimate, and not sons.
9 Furthermore we have had fathers of our flesh which corrected us, and we gave them reverence: shall we not much rather be in subjection unto the Father of spirits, and live?
10 For they verily for a few days chastened us after their own pleasure; but he for our profit, that we might be partakers of his holiness.
11 Now no chastening for the present seems to be joyous, but grievous: nevertheless afterward it yields the peaceable fruit of righteousness unto them which are exercised thereby.
12 Wherefore lift up the hands which hang down, and the feeble knees;
13 And make straight paths for your feet, lest that which is lame be turned out of the way; but let it rather be healed.
14 Follow peace with all men, and holiness, without which no man shall see the LORD:
15 Looking diligently lest any man fail of the grace of God; lest any root of bitterness springing up trouble you, and thereby many be defiled;
16 Lest there be any fornicator, or profane person, as Esau, who for one morsel of meat sold his birthright.
17 For you know how that afterward, when he would have inherited the blessing, he was rejected: for he found no place of repentance, though he sought it carefully with tears.
18 For you are not come unto the mount that might be touched, and that burned with fire, nor unto blackness, and darkness, and tempest,
19 And the sound of a trumpet, and the voice of words; which voice they that heard entreated that the word should not be spoken to them any more:
20 (For they could not endure that which was commanded, And if so much as a beast touch the mountain, it shall be stoned, or thrust through with a dart:
21 And so terrible was the sight, that Moses said, I exceedingly fear and quake:)
22 But you are come unto mount Zion, and unto the city of the living God, the heavenly Jerusalem, and to an innumerable company of angels,
23 To the general assembly and church of the firstborn, which are written in heaven, and to God the Judge of all, and to the spirits of just men made perfect,
24 And to Jesus the mediator of the new covenant, and to the blood of sprinkling, that speaks better things than that of Abel.
25 See that you refuse not him that speaks. For if they escaped not who refused him that spoke on earth, much more shall not we escape, if we turn away from him that speaks from heaven:
26 Whose voice then shook the earth: but now he hath promised, saying, Yet once more I shake not the earth only, but also heaven.
27 And this word, Yet once more, signifies the removing of those things that are shaken, as of things that are made, that those things which cannot be shaken may remain.
28 Wherefore we receiving a kingdom which cannot be moved, let us have grace, whereby we may serve God acceptably with reverence and godly fear:
29 For our God is a consuming fire.