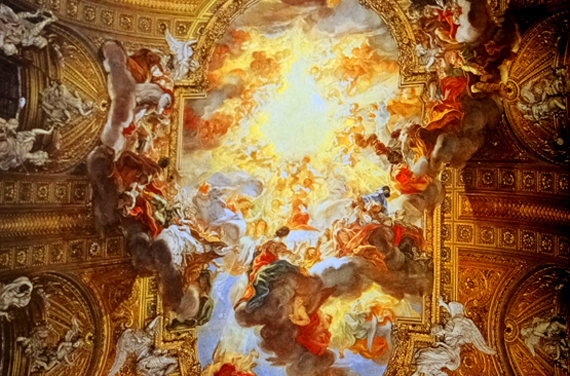 Continuing with the question from yesterday, "What does the judgment of the LORD look like?" Jeremiah 23 asks several questions that when considered in the context of other parts of yesterday's post give us the answer. Verse 23 asks, "Am I a God at hand, says the LORD, and not a God afar off?" The context is the LORD asking if these false prophets thought that the Owner of the vineyard, the Owner and keeper of the flock, wouldn't come for what is His. Did they think the LORD couldn't hear them, as they told their lies in His name, as they made themselves rich and raised up their own names? (Read yesterday's and previous posts.)
Jeremiah 23
21 I have not sent these prophets, yet they ran: I have not spoken to them, yet they prophesied.
22 But if they had stood in my counsel, and had caused my people to hear my words, then they should have turned them from their evil way, and from the evil of their doings.
23 Am I a God at hand, says the LORD, and not a God afar off?
24 Can any hide himself in secret places that I shall not see him? says the LORD. Do not I fill heaven and earth? says the LORD.
25 I have heard what the prophets said, that prophesy lies in my name, saying, I have dreamed, I have dreamed.
26 How long shall this be in the heart of the prophets that prophesy lies? yea, they are prophets of the deceit of their own heart;
27 Which think to cause my people to forget my name by their dreams which they tell every man to his neighbor, as their fathers have forgotten my name for Baal.
28 The prophet that has a dream, let him tell a dream; and he that has my word, let him speak my word faithfully. What is the chaff to the wheat? says the LORD.
29 Is not my word like as a fire? says the LORD; and like a hammer that breaks the rock in pieces?
30 Therefore, behold, I am against the prophets, says the LORD, that steal my words every one from his neighbor.
31 Behold, I am against the prophets, says the LORD, that use their tongues, and say, "He said."
32 Behold, I am against them that prophesy false dreams, says the LORD, and do tell them, and cause my people to err by their lies, and by their lightness; yet I sent them not, nor commanded them: therefore they shall not profit this people at all, says the LORD.
Have you ever wonder what Paul was talking about in his address on Mars' Hill when he told of LORD being "not far from every one of us?" The context of the statement is the LORD calling all to repent from ignorance. It tells of this time of His judgment and of it being by the man God has chosen.
Acts 17
22 Then Paul stood in the midst of Mars' hill, and said, You men of Athens, I perceive that in all things you are too superstitious.
23 For as I passed by, and beheld your devotions, I found an altar with this inscription, To The Unknown God. Whom therefore you ignorantly worship, him declare I unto you.
24 God that made the world and all things therein, seeing that he is LORD of heaven and earth, dwells not in temples made with hands;
25 Neither is worshipped with men's hands, as though he needed any thing, seeing he gives to all life, and breath, and all things;
26 And hath made of one blood all nations of men for to dwell on all the face of the earth, and hath determined the times before appointed, and the bounds of their habitation;
27 That they should seek the LORD, if haply they might feel after him, and find him, though he be not far from every one of us:
28 For in him we live, and move, and have our being; as certain also of your own poets have said, For we are also his offspring.
29 Forasmuch then as we are the offspring of God, we ought not to think that the Godhead is like unto gold, or silver, or stone, graven by art and man's device.
30 And the times of this ignorance God winked at; but now commands all men every where to repent:
31 Because he hath appointed a day, in the which he will judge the world in righteousness by that man whom he hath ordained; whereof he hath given assurance unto all men, in that he hath raised him from the dead.
32 And when they heard of the resurrection of the dead, some mocked: and others said, We will hear you again of this matter.
The idea is the same as we have been discussing, the Father isn't ever far from us, but we (humans – as is our nature) separate ourselves from Him by going astray (apostasy – away stand – meaning having a position fixed by our ignorance and being too proud to hear the call to correction). The Greek words used in verse 27 above translated "far away" are, makran apo. The word makran is only used ten times and two of those very descriptively in Ephesians 2:13 & 17 as "far off." It is telling of our being separated from God and being brought near in/by Christ. It is telling of the sacrifice, the blood shed, needed to bring us out of ignorance and rebellion.
Ephesians 2
1 And you hath he quickened, who were dead in trespasses and sins;
2 Wherein in time past you walked according to the course of this world, according to the prince of the power of the air, the spirit that now works in the children of disobedience:
3 Among whom also we all had our conversation in times past in the lusts of our flesh, fulfilling the desires of the flesh and of the mind; and were by nature the children of wrath, even as others.
4 But God, who is rich in mercy, for his great love wherewith he loved us,
5 Even when we were dead in sins, hath quickened us together with Christ, (by grace you are saved;)
6 And hath raised us up together, and made us sit together in heavenly places in Christ Jesus:
7 That in the ages to come he might show the exceeding riches of his grace in his kindness toward us through Christ Jesus.
8 For by grace are you saved through faith; and that not of yourselves: it is the gift of God:
9 Not of works, lest any man should boast.
10 For we are his workmanship, created in Christ Jesus unto good works, which God hath before ordained that we should walk in them.
11 Wherefore remember, that you being in time past Gentiles in the flesh, who are called Un-circumcision by that which is called the Circumcision in the flesh made by hands;
12 That at that time you were without Christ, being aliens from the commonwealth of Israel, and strangers from the covenants of promise, having no hope, and without God in the world:
13 But now in Christ Jesus you who sometimes were far off are made nigh by the blood of Christ.
14 For he is our peace, who hath made both one, and hath broken down the middle wall of partition between us;
15 Having abolished in his flesh the enmity, even the law of commandments contained in ordinances; for to make in himself of twain one new man, so making peace;
16 And that he might reconcile both unto God in one body by the cross, having slain the enmity thereby:
17 And came and preached peace to you which were afar off, and to them that were nigh.
18 For through him we both have access by one Spirit unto the Father.
19 Now therefore you are no more strangers and foreigners, but fellow-citizens with the saints, and of the household of God;
20 And are built upon the foundation of the apostles and prophets, Jesus Christ himself being the chief corner stone;
21 In whom all the building fitly framed together grows unto an holy temple in the LORD:
22 In whom you also are built together for an habitation of God through the Spirit.
This place we are called out of is described in the early verses of Ephesians 4 as, "Wherein in time past you walked according to the course of this world, according to the prince of the power of the air, the spirit that now works in the children of disobedience: 3 Among whom also we all had our conversation in times past in the lusts of our flesh, fulfilling the desires of the flesh and of the mind; and were by nature the children of wrath, even as others."
The word "according" tells us it is a state in consort (concord) with the prevailing atmosphere (the course of the world). It is telling of the (air) atmosphere of ignorance and pride dominating (ruling) over all discourse (conversation).
When we read in 1 Thessalonians 4:17 of the LORD coming and snatching us into the air, this is the context. This is also what Paul further defines in 2 Thessalonians 2 where we see the disobedient sitting (ruling) in the seat of God, and opposing everything that is the truth of God.
(If you want proof – wait until you see some of the responses to this post and you will see the predominant ignorance and pride filled self-confidence on parade. They will be defending the damnable heresies of the false prophets, and condemning the innocent. They have no idea they are fulfilling the Word of God as they do. They prove the blind lead them. Come out of her, my people, that you be not partakers of her sins, and that you receive not of her plagues.)
1 Thessalonians 4
1 Furthermore then we implore you, brethren, and encourage you by the LORD Jesus, that as you have received of us how you ought to walk and to please God, so you would abound more and more.
2 For you know what commandments we gave you by the LORD Jesus.
3 For this is the will of God, even your sanctification [purification – purge out (the leaven)], that you should abstain from fornication:
4 That every one of you should know how to possess his vessel in sanctification and honor;
5 Not in the lust of concupiscence (reasoning to justify), even as the Gentiles which know not God:
6 That no man go beyond and defraud his brother in any matter: because that the LORD is the avenger of all such, as we also have forewarned you and testified.
7 For God hath not called us unto uncleanness, but unto holiness.
8 He therefore that despises, despises not man, but God, who hath also given unto us his holy Spirit.
9 But as touching brotherly love you need not that I write unto you: for you yourselves are taught of God to love one another.
10 And indeed you do it toward all the brethren which are in all Macedonia: but we beseech you, brethren, that you increase more and more;
11 And that you study to be quiet, and to do your own business, and to work with your own hands, as we commanded you;
12 That you may walk honestly toward them that are without, and that you may have lack of nothing.
13 But I would not have you to be ignorant, brethren, concerning them which are asleep, that you sorrow not, even as others which have no hope.
14 For if we believe that Jesus died and rose again, even so them also which sleep in Jesus will God bring with him.
15 For this we say unto you by the word of the LORD, that we which are alive and remain unto the coming of the LORD shall not prevent them which are asleep.
16 For the LORD himself shall descend from heaven with a shout, with the voice of the archangel, and with the trump of God: and the dead in Christ shall rise first:
17 Then we which are alive and remain shall be caught up together with them in the clouds, to meet the LORD in the air: and so shall we ever be with the LORD.
18 Wherefore comfort one another with these words.
2 Thessalonians 2
1 Now we beseech you, brethren, by the coming of our LORD Jesus Christ, and by our gathering together unto him,
2 That you be not soon shaken in mind, or be troubled, neither by spirit, nor by word, nor by letter as from us, as that the day of Christ is at hand.
3 Let no man deceive you by any means: for that day shall not come, except there come a falling away first, and that man of sin be revealed, the son of perdition;
4 Who opposes and exalts himself above all that is called God, or that is worshipped; so that he as God sits in the temple of God, showing himself that he is God.
5 Remember you not, that, when I was yet with you, I told you these things?
6 And now you know what withholds that he might be revealed in his time.
7 For the mystery of iniquity doth already work: only he who now restrains you will hold you down, until he be taken out of the way.
8 And then shall that Wicked be revealed, whom the LORD shall consume with the spirit of his mouth, and shall destroy with the brightness of his coming:
9 Even him, whose coming is after the working of Satan with all power and signs and lying wonders,
10 And with all deceivableness of unrighteousness in them that perish; because they received not the love of the truth, that they might be saved.
11 And for this cause God shall send them strong delusion, that they should believe a lie:
12 That they all might be damned who believed not the truth, but had pleasure in unrighteousness.
13 But we are bound to give thanks always to God for you, brethren beloved of the LORD, because God hath from the beginning chosen you to salvation through sanctification of the Spirit and belief of the truth:
14 Whereunto he called you by our gospel, to the obtaining of the glory of our LORD Jesus Christ.
15 Therefore, brethren, stand fast, and hold the traditions which you have been taught, whether by word, or our epistle.
16 Now our LORD Jesus Christ himself, and God, even our Father, which hath loved us, and hath given us everlasting consolation [Paraclete – call to come out of corruption] and good hope through grace,
17 Comfort [Paraclete] your hearts [reasoning], and establish you in every good word and work.