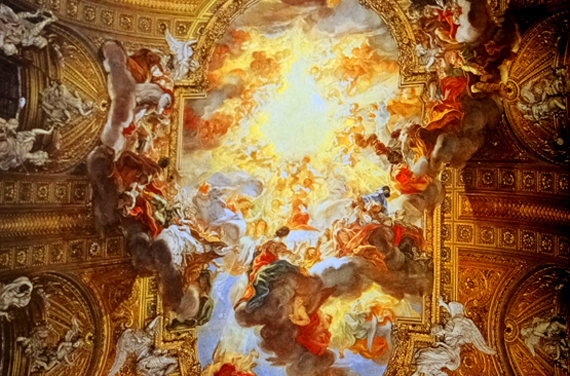 Continuing with the question posed over the past few days (and throughout history), "What does the judgment of the LORD look like?" Today we see it through a deeper look at Acts 17:31, "Because He has appointed a day, in the which he will judge the world in righteousness by that man whom he has ordained; whereof he has given assurance unto all men, in that he has raised him from the dead."
By looking at prior verses in Acts 17 we are able to read of Paul's telling us what this end time (our time) judgment consists of and of its focus. His address on Mars' hill begins with describing a people worshiping a God while having no knowledge of His name – name meaning identifying His unique character by which He is recognized. He goes on to define this as a time of ignorance, and telling of God "winking" at this state of man's being. The LORD responds by commanding all men everywhere to repent, meaning we return to a state opposite ignorance.
The Greek word hupereido is translated as "winked." Here is the Strong's Greek Dictionary definition: Strong's #5237: hupereido (pronounced hoop-er-i'-do) from 5228 and 1492; to overlook, i.e. not punish:–wink at. This is a direct response to the Son's request from the cross, "Father, forgive them because they have no idea what they are doing." It is the response to the time of ignorance. Paul is telling of a time of correction that ends ignorance and therefor eliminates all excuse by the resulting choice. (See John 3 below)
The above definition of state and call to correction are followed by verse 31, "Because He has appointed a day, in the which he will judge the world in righteousness by that man whom he has ordained; whereof he has given assurance unto all men, in that he has raised him from the dead."
The Greek word histemi is translated as "appointed" in telling of the "day." Day is from the word hemera, meaning the time between dawn and dusk, and histemi means to stand. What we see here is a standing that come in the morning, as in waking from sleep. This follows the call to repent in the verse prior. (See 1 Thessalonians 5 below)
In the next part of the verse we see it is by a man "ordained" by God, and the "assurance" is that He has "raised" him from the dead. Ordained is from the Greek word horizo (horizon), literally meaning to mark out a boundary, as in a limit. In complete context we see it is what end the darkness and begins the day of our standing – and this a similitude for our coming out of this state of stupor into the fully cognitive state of repentance. The word "raised" is from is anistemi, which is ana, meaning up, added to histemi, again meaning to stand. In this we see this one standing up from this sleep is the horizon (the boundary of time and the beginning of the new day).
John 3
11 Truly, truly, I say unto you, We speak that we do know, and testify that we have seen; and you receive not our witness.
12 If I have told you earthly things, and you believe not, how shall you believe, if I tell you of heavenly things?
13 And no man hath ascended up to heaven, but he that came down from heaven, even the Son of man which is in heaven.
14 And as Moses lifted up the serpent in the wilderness, even so must the Son of man be lifted up:
15 That whosoever believeth in him should not perish, but have eternal life.
16 For God so loved the world, that he gave his only begotten Son, that whosoever believeth in him should not perish, but have everlasting life.
17 For God sent not his Son into the world to condemn the world; but that the world through him might be saved.
18 He that believeth on him is not condemned: but he that believeth not is condemned already, because he hath not believed in the name of the only begotten Son of God.
19 And this is the condemnation, that light is come into the world, and men loved darkness rather than light, because their deeds were evil.
20 For every one that doeth evil hates the light, neither cometh to the light, lest his deeds should be reproved.
21 But he that doeth truth cometh to the light, that his deeds may be made manifest, that they are wrought in God.
The word "assurance," meaning the proof, is from the Greek word pistis. Here is the definition from Strong's Greek Dictionary:
Strong's #4102: pistis (pronounced pis'-tis) from 3982; persuasion, i.e. credence; moral conviction (of religious truth, or the truthfulness of God or a religious teacher), especially reliance upon Christ for salvation; abstractly, constancy in such profession; by extension, the system of religious (Gospel) truth itself:–[translated as] assurance, belief, believe, faith, fidelity.
Acts 17
22 Then Paul stood in the midst of Mars' hill, and said, You men of Athens, I perceive that in all things you are too superstitious.
23 For as I passed by, and beheld your devotions, I found an altar with this inscription, To The Unknown God. Whom therefore you ignorantly worship, him declare I unto you.
24 God that made the world and all things therein, seeing that he is LORD of heaven and earth, dwells not in temples made with hands;
25 Neither is worshipped with men's hands, as though he needed any thing, seeing he gives to all life, and breath, and all things;
26 And has made of one blood all nations of men for to dwell on all the face of the earth, and has determined the times before appointed, and the bounds of their habitation;
27 That they should seek the LORD, if haply they might feel after him, and find him, though he be not far from every one of us:
28 For in him we live, and move, and have our being; as certain also of your own poets have said, For we are also his offspring.
29 Forasmuch then as we are the offspring of God, we ought not to think that the Godhead is like unto gold, or silver, or stone, graven by art and man's device.
30 And the times of this ignorance God winked at; but now commands all men every where to repent:
31 Because he has appointed a day, in the which he will judge the world in righteousness by that man whom he has ordained; whereof he has given assurance unto all men, in that he has raised him from the dead.
32 And when they heard of the resurrection of the dead, some mocked: and others said, We will hear you again of this matter.
In yesterday's post we saw the one standing in the way and withholding our standing up, written in 2 Thessalonians 2 as it further defined 1 Thessalonians 4. In today's context we must continue into and consider the following chapters.
In 1 Thessalonians 5 we see that it is the LORD coming in the night, and therein being raised as the boundary (horizon) and we understand what Paul was saying in verses 26 and 27 above when speaking of the LORD having, "determined the times before appointed, and the bounds of their habitation; 27 That they should seek the LORD, if haply they might feel after him, and find him [in the darkness], though he be not far from every one of us."
1 Thessalonians 5
1 But of the times and the seasons, brethren, you have no need that I write unto you.
2 For yourselves know perfectly that the day of the LORD so cometh as a thief in the night.
3 For when they shall say, Peace and safety; then sudden destruction cometh upon them, as travail upon a woman with child; and they shall not escape.
4 But you, brethren, are not in darkness, that that day should overtake you as a thief.
5 You are all the children of light, and the children of the day: we are not of the night, nor of darkness.
6 Therefore let us not sleep, as do others; but let us watch and be sober.
7 For they that sleep sleep in the night; and they that be drunken are drunken in the night.
8 But let us, who are of the day, be sober, putting on the breastplate of faith and love; and for an helmet, the hope of salvation.
9 For God has not appointed us to wrath, but to obtain salvation by our LORD Jesus Christ,
10 Who died for us, that, whether we wake or sleep, we should live together with him.
11 Wherefore comfort yourselves together, and edify one another, even as also you do.
12 And we beseech you, brethren, to know them which labor among you, and are over you in the LORD, and admonish you;
13 And to esteem them very highly in love for their work's sake. And be at peace among yourselves.
14 Now we exhort you, brethren, warn them that are unruly, comfort the feebleminded, support the weak, be patient toward all men.
15 See that none render evil for evil unto any man; but ever follow that which is good, both among yourselves, and to all men.
16 Rejoice evermore.
17 Pray without ceasing.
18 In every thing give thanks: for this is the will of God in Christ Jesus concerning you.
19 Quench not the Spirit.
20 Despise not prophesying.
21 Prove all things; hold fast that which is good.
22 Abstain from all appearance of evil.
23 And the very God of peace sanctify you wholly; and I pray God your whole spirit and soul and body be preserved blameless unto the coming of our LORD Jesus Christ.
24 Faithful is he that calls you, who also will do it.
25 Brethren, pray for us.
26 Greet all the brethren with an holy kiss.
27 I charge you by the LORD that this epistle be read unto all the holy brethren.
28 The grace of our LORD Jesus Christ be with you. Amen.
1 Thessalonians 2
1 For yourselves, brethren, know our entrance in unto you, that it was not in vain:
2 But even after that we had suffered before, and were shamefully entreated, as you know, at Philippi, we were bold in our God to speak unto you the gospel of God with much contention.
3 For our exhortation was not of deceit, nor of uncleanness, nor in guile:
4 But as we were allowed of God to be put in trust with the gospel, even so we speak; not as pleasing men, but God, which trieth our hearts.
5 For neither at any time used we flattering words, as you know, nor a cloke of covetousness; God is witness:
6 Nor of men sought we glory, neither of you, nor yet of others, when we might have been burdensome, as the apostles of Christ.
7 But we were gentle among you, even as a nurse cherisheth her children:
8 So being affectionately desirous of you, we were willing to have imparted unto you, not the gospel of God only, but also our own souls, because you were dear unto us.
9 For you remember, brethren, our labour and travail: for labouring night and day, because we would not be chargeable unto any of you, we preached unto you the gospel of God.
10 You are witnesses, and God also, how holily and justly and unblameably we behaved ourselves among you that believe:
11 As you know how we exhorted and comforted and charged every one of you, as a father doth his children,
12 That you would walk worthy of God, who has called you unto his kingdom and glory.
13 For this cause also thank we God without ceasing, because, when you received the word of God which you heard of us, you received it not as the word of men, but as it is in truth, the word of God, which effectually worketh also in you that believe.
14 For you, brethren, became followers of the churches of God which in Judaea are in Christ Jesus: for you also have suffered like things of your own countrymen, even as they have of the Jews:
15 Who both killed the LORD Jesus, and their own prophets, and have persecuted us; and they please not God, and are contrary to all men:
16 Forbidding us to speak to the Gentiles that they might be saved, to fill up their sins always: for the wrath is come upon them to the uttermost.
17 But we, brethren, being taken from you for a short time in presence, not in heart, endeavored the more abundantly to see your face with great desire.
18 Wherefore we would have come unto you, even I Paul, once and again; but Satan hindered us.
19 For what is our hope, or joy, or crown of rejoicing? Are not even you in the presence of our LORD Jesus Christ at his coming?
20 For you are our glory and joy.
2 Thessalonians 3
1 Finally, brethren, pray for us, that the word of the LORD may have free course, and be glorified, even as it is with you:
2 And that we may be delivered from unreasonable and wicked men: for all men have not faith.
3 But the LORD is faithful, who shall establish you, and keep you from evil.
4 And we have confidence in the LORD touching you, that you both do and will do the things which we command you.
5 And the LORD direct your hearts into the love of God, and into the patient waiting for Christ.
6 Now we command you, brethren, in the name of our LORD Jesus Christ, that you withdraw yourselves from every brother that walks disorderly, and not after the tradition which he received of us.
7 For yourselves know how you ought to follow us: for we behaved not ourselves disorderly among you;
8 Neither did we eat any man's bread for naught; but wrought with labor and travail night and day, that we might not be chargeable to any of you:
9 Not because we have not power, but to make ourselves an ensample unto you to follow us.
10 For even when we were with you, this we commanded you, that if any would not work, neither should he eat.
11 For we hear that there are some which walk among you disorderly, working not at all, but are busybodies.
12 Now them that are such we command and exhort by our LORD Jesus Christ, that with quietness they work, and eat their own bread.
13 But you, brethren, be not weary in well doing.
14 And if any man obey not our word by this epistle, note that man, and have no company with him, that he may be ashamed.
15 Yet count him not as an enemy, but admonish him as a brother.
16 Now the LORD of peace himself give you peace always by all means. The LORD be with you all.
17 The salutation of Paul with mine own hand, which is the token in every epistle: so I write.
18 The grace of our LORD Jesus Christ be with you all. Amen.
Psalms 71
1 In you, O LORD, do I put my trust: let me never be put to confusion.
2 Deliver me in your righteousness, and cause me to escape: incline your ear unto me, and save me.
3 Be you my strong habitation, whereunto I may continually resort: you havegiven commandment to save me; for you art my rock and my fortress.
4 Deliver me, O my God, out of the hand of the wicked, out of the hand of the unrighteous and cruel man.
5 For you art my hope, O LORD God: you art my trust from my youth.
6 By you have I been held up from the womb: you art he that took me out of my mother's bowels: my praise shall be continually of you.
7 I am as a wonder unto many; but you art my strong refuge.
8 Let my mouth be filled with your praise and with your honor all the day.
9 Cast me not off in the time of old age; forsake me not when my strength fails.
10 For mine enemies speak against me; and they that lay wait for my soul take counsel together,
11 Saying, God has forsaken him: persecute and take him; for there is none to deliver him.
12 O God, be not far from me: O my God, make haste for my help.
13 Let them be confounded and consumed that are adversaries to my soul; let them be covered with reproach and dishonor that seek my hurt.
14 But I will hope continually, and will yet praise you more and more.
15 My mouth shall show forth your righteousness and your salvation all the day; for I know not the numbers thereof.
16 I will go in the strength of the LORD God: I will make mention of your righteousness, even of yours only.
17 O God, you have taught me from my youth: and hitherto have I declared your wondrous works.
18 Now also when I am old and grey-headed, O God, forsake me not; until I have showed your strength unto this generation, and your power to every one that is to come.
19 Your righteousness also, O God, is very high, who has done great things: O God, who is like unto you!
20 You, which have showed me great and sore troubles, shalt quicken me again, and shalt bring me up again from the depths of the earth.
21 You shalt increase my greatness, and comfort me on every side.
22 I will also praise you with the psaltery, even your truth, O my God: unto you will I sing with the harp, O you Holy One of Israel.
23 My lips shall greatly rejoice when I sing unto you; and my soul, which you have redeemed.
24 My tongue also shall talk of your righteousness all the day long: for they are confounded, for they are brought unto shame, that seek my hurt.
Psalms 72
1 Give the king your judgments, O God, and your righteousness unto the king's son.
2 He shall judge your people with righteousness, and your poor with judgment.
3 The mountains shall bring peace to the people, and the little hills, by righteousness.
4 He shall judge the poor of the people, he shall save the children of the needy, and shall break in pieces the oppressor.
5 They shall fear you as long as the sun and moon endure, throughout all generations.
6 He shall come down like rain upon the mown grass: as showers that water the earth.
7 In his days shall the righteous flourish; and abundance of peace so long as the moon endures.
8 He shall have dominion also from sea to sea, and from the river unto the ends of the earth.
9 They that dwell in the wilderness shall bow before him; and his enemies shall lick the dust.
10 The kings of Tarshish and of the isles shall bring presents: the kings of Sheba and Seba shall offer gifts.
11 Yea, all kings shall fall down before him: all nations shall serve him.
12 For he shall deliver the needy when he cries; the poor also, and him that has no helper.
13 He shall spare the poor and needy, and shall save the souls of the needy.
14 He shall redeem their soul from deceit and violence: and precious shall their blood be in his sight.
15 And he shall live, and to him shall be given of the gold of Sheba: prayer also shall be made for him continually; and daily shall he be praised.
16 There shall be an handful of corn in the earth upon the top of the mountains; the fruit thereof shall shake like Lebanon: and they of the city shall flourish like grass of the earth.
17 His name shall endure for ever: his name shall be continued as long as the sun: and men shall be blessed in him: all nations shall call him blessed.
18 Blessed be the LORD God, the God of Israel, who only doeth wondrous things.
19 And blessed be his glorious name for ever: and let the whole earth be filled with his glory; Amen, and Amen.
20 The prayers of David the son of Jesse are ended.