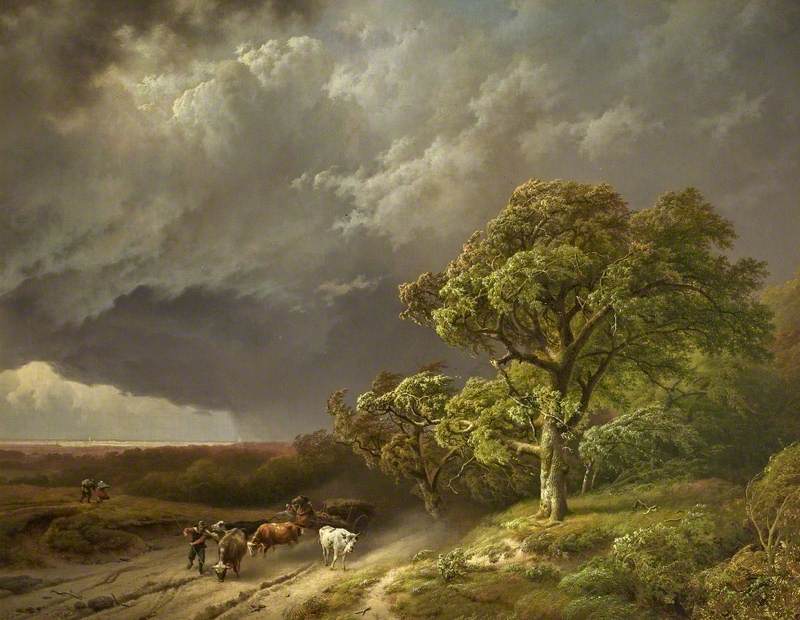 What do I think of the latest republican budget? Why is anyone surprised when a dung pile stinks? I am one who has known what they are filled with. This is their consistent tactic, lie as they run for election (claiming to be a good tree), and then produce the opposite after winning via their false promises (proving themselves the corrupt trees). Then (after they abandon and betray us, continue and repeat the process, relying on the ignorant, the blind sycophants, funded by party elites and their true masters, the professional corruptors who feed their love of money) they will win again with the same corrupted methods and tactic – as advised by the "experts."
What do I think? This says the LORD, there is a storm coming, because they became as dung for the earth.
11 Make their nobles [their tyrants] like [be seen as] Oreb [a the darkened sky], and like Zeeb [a wolf among the sheep]: yea, all their princes as Zebah [those who have slaughtered them], and as Zalmunna [(seen as such) denied the shade of the darkness they have created]:
12 Who said, Let us take to ourselves the houses of God in possession.
13 O my God, make them like a wheel; as the stubble before the wind.
14 As the fire burns a wood, and as the flame sets the mountains on fire;
15 So persecute them with thy tempest, and make them afraid with thy storm.
16 Fill their faces with shame; that they may seek thy name, O LORD.
17 Let them be confounded and troubled for ever; yea, let them be put to shame, and perish:
18 That men may know that you, whose name alone is Jehovah, art the Most High over all the earth.
And the LORD continues: Come out from among them and be not partaker in their evil deeds, for the cries of the oppressed have come up into my ear, and mine eyes have seen the repetitive evil.
Do the oppressors want my advice? Tell the truth and do as you say – abandon your covenant with death, come out from under your covering of lies and deception, where you have taken refuge. There is no place to hide; not even in your self-created self-justification and presumed self-righteousness, and even if it is all you hear in your echo chambers, and spewed from the fake news media. And this is the condemnation, that light is come into the world, and men loved darkness rather than light, because their deeds were evil. For every one that does evil hates the light, neither comes to the light, lest his deeds should be reproved.
21 But he that does truth comes to the [day] light, that his deeds may be made manifest, that they are wrought in God.
Isaiah 27
1 In that day the LORD with his sore and great and strong sword shall punish leviathan the piercing serpent, even leviathan that crooked serpent; and he shall slay the dragon that is in the sea [death in the waters – the "expert" advice, the lies and deception coming from all the places of information and power].
2 In that day sing you unto her, A vineyard of red wine.
3 I the LORD do keep it; I will water it every moment: lest any hurt it, I will keep it night and day.
4 Fury is not in me: who would set the briers and thorns against me in battle? I would go through them, I would burn them together.
5 Or let him take hold of my strength, that he may make peace with me; and he shall make peace with me.
6 He shall cause them that come of Jacob to take root: Israel shall blossom and bud, and fill the face of the world with fruit.
7 Hath he smitten him, as he smote those that smote him? or is he slain according to the slaughter of them that are slain by him?
8 In measure, when it shoots forth, you wilt debate with it: he stays his rough wind in the day of the east wind.
9 By this therefore shall the iniquity of Jacob be purged; and this is all the fruit to take away his sin; when he makes all the stones of the altar as chalkstones that are beaten in sunder, the groves and images shall not stand up.
10 Yet the defensed city shall be desolate, and the habitation forsaken, and left like a wilderness: there shall the calf feed, and there shall he lie down, and consume the branches thereof.
11 When the boughs thereof are withered, they shall be broken off: the women come, and set them on fire: for it is a people of no understanding: therefore he that made them will not have mercy on them, and he that formed them will shew them no favor.
12 And it shall come to pass in that day, that the LORD shall beat off from the channel of the river unto the stream of Egypt, and you shall be gathered one by one, O you children of Israel.
13 And it shall come to pass in that day, that the great trumpet shall be blown, and they shall come which were ready to perish in the land of Assyria, and the outcasts in the land of Egypt, and shall worship the LORD in the holy mount at Jerusalem.
Isaiah 28
1 Woe to the crown of pride, to the drunkards of Ephraim, whose glorious beauty is a fading flower, which are on the head of the fat valleys of them that are overcome with wine!
2 Behold, the LORD hath a mighty and strong one, which as a tempest of hail and a destroying storm, as a flood of mighty waters overflowing, shall cast down to the earth with the hand.
3 The crown of pride, the drunkards of Ephraim, shall be trodden under feet:
4 And the glorious beauty, which is on the head of the fat valley, shall be a fading flower, and as the hasty fruit before the summer; which when he that looks upon it sees, while it is yet in his hand he eats it up.
5 In that day shall the LORD of hosts be for a crown of glory, and for a diadem of beauty, unto the residue of his people,
6 And for a spirit of judgment to him that sits in judgment, and for strength to them that turn the battle to the gate.
7 But they also have erred through wine, and through strong drink are out of the way; the priest and the prophet have erred through strong drink, they are swallowed up of wine, they are out of the way through strong drink; they err in vision, they stumble in judgment.
8 For all tables are full of vomit and filthiness, so that there is no place clean.
9 Whom shall he teach knowledge? and whom shall he make to understand doctrine? them that are weaned from the milk, and drawn from the breasts.
10 For precept must be upon precept, precept upon precept; line upon line, line upon line; here a little, and there a little:
11 For with stammering lips and another tongue will he speak to this people.
12 To whom he said, This is the rest wherewith you may cause the weary to rest; and this is the refreshing: yet they would not hear.
13 But the word of the LORD was unto them precept upon precept, precept upon precept; line upon line, line upon line; here a little, and there a little; that they might go, and fall backward, and be broken, and snared, and taken.
14 Wherefore hear the word of the LORD, you scornful men, that rule this people which is in Jerusalem.
15 Because you have said, We have made a covenant with death, and with hell are we at agreement; when the overflowing scourge shall pass through, it shall not come unto us: for we have made lies our refuge, and under falsehood have we hid ourselves:
16 Therefore thus says the LORD God, Behold, I lay in Zion for a foundation a stone, a tried stone, a precious corner stone, a sure foundation: he that believeth shall not make haste.
17 Judgment also will I lay to the line, and righteousness to the plummet: and the hail shall sweep away the refuge of lies, and the waters shall overflow the hiding place.
18 And your covenant with death shall be disannulled, and your agreement with hell shall not stand; when the overflowing scourge shall pass through, then you shall be trodden down by it.
19 From the time that it goes forth it shall take you: for morning by morning shall it pass over, by day and by night: and it shall be a vexation only to understand the report.
20 For the bed is shorter than that a man can stretch himself on it: and the covering narrower than that he can wrap himself in it.
21 For the LORD shall rise up as in mount Perazim, he shall be wroth as in the valley of Gibeon, that he may do his work, his strange work; and bring to pass his act, his strange act.
22 Now therefore be you not mockers, lest your bands be made strong: for I have heard from the LORD God of hosts a consumption, even determined upon the whole earth.
23 Give you ear, and hear my voice; hearken, and hear my speech.
24 Doth the plowman plow all day to sow? doth he open and break the clods of his ground?
25 When he hath made plain the face thereof, doth he not cast abroad the fitches, and scatter the cummin, and cast in the principal wheat and the appointed barley and the rie in their place?
26 For his God doth instruct him to discretion, and doth teach him.
27 For the fitches are not threshed with a threshing instrument, neither is a cart wheel turned about upon the cummin; but the fitches are beaten out with a staff, and the cummin with a rod.
28 Bread corn is bruised; because he will not ever be threshing it, nor break it with the wheel of his cart, nor bruise it with his horsemen.
29 This also cometh forth from the LORD of hosts, which is wonderful in counsel, and excellent in working.
Psalm 84
1 How amiable are thy tabernacles, O LORD of hosts!
2 My soul longs, yea, even faints for the courts of the LORD: my heart and my flesh cries out for the living God.
3 Yea, the sparrow hath found an house, and the swallow a nest for herself, where she may lay her young, even thine altars, O LORD of hosts, my King, and my God.
4 Blessed are they that dwell in thy house: they will be still praising you. Selah.
5 Blessed is the man whose strength is in you; in whose heart are the ways of them.
6 Who passing through the valley of Baca make it a well; the rain also fills the pools.
7 They go from strength to strength, every one of them in Zion appears before God.
8 O LORD God of hosts, hear my prayer: give ear, O God of Jacob. Selah.
9 Behold, O God our shield, and look upon the face of thine anointed.
10 For a day in thy courts is better than a thousand. I had rather be a doorkeeper in the house of my God, than to dwell in the tents of wickedness.
11 For the LORD God is a sun and shield: the LORD will give grace and glory: no good thing will he withhold from them that walk uprightly.
12 O LORD of hosts, blessed is the man that trusts in you.