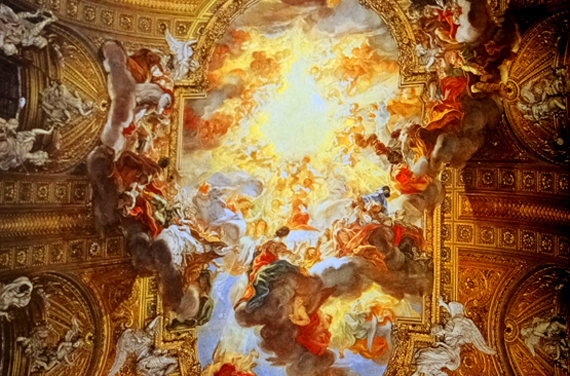 Continuing: The prior post ended with Psalms 2, and was titled with a quote from Hebrews 12 telling of the LORD again shaking the earth and also heaven. In Hebrews it is the one speaking from heaven that shakes the world, or more precisely shakes out of it the things created by men, referring to its earlier speaking of the LORD correcting those who, by receiving correction, have become His children in spirit and truth. In the fuller context we there see, as in 2 Peter 3, it is the ideas of men, their (those ruling over/by all these perverted philosophies of the world's popular culture) corrupted thinking (stoicheion), that both cause the agitation among the masses, and consumes them in the fire they themselves have created (the LORD's wrath is letting them go their own way in the fires, as they have chosen).
Psalms 2
1 Why do the heathen rage, and the people imagine a vain thing?
2 The kings of the earth set themselves, and the rulers take counsel together, against the LORD, and against his anointed, saying,
3 Let us break their bands asunder, and cast away their cords from us.
4 He that sits in the heavens shall laugh: the LORD shall have them in derision.
5 Then shall he speak unto them in his wrath, and vex them in his sore displeasure.
6 Yet have I set my king upon my holy hill of Zion.
7 I will declare the decree: the LORD has said unto me, You are my Son; this day have I begotten you.
8 Ask of me, and I shall give you the heathen for your inheritance, and the uttermost parts of the earth for your possession.
9 You shall break them with a rod of iron; you shall dash them in pieces like a potter's vessel.
10 Be wise now therefore, O you kings: be instructed, you judges of the earth.
11 Serve the LORD with fear, and rejoice with trembling.
12 Kiss the Son, lest he be angry, and you perish from the way, when his wrath is kindled but a little. Blessed are all they that put their trust in him.
Psalms 2 above speaks of these powers in the world, being called to see this and save themselves by serving the LORD. This not a call to serve Him as they force humanity to the serve, offering themselves and their children to be consumed by these corrupted men, to drain the life, liberty and property from humanity, by deception and corrupted means, all using forms of violence against the God given Rights of man to live under just government, which is equal to all through its blindness to their position or status.
Hearing of, and then seeing, this coming is what shakes the places of powers, as it is written in Acts 4:31, just after Psalms 2 is quoted in telling of it being the heathen raging, and the rulers of the world setting themselves to stand against the LORD and His Anointed at Their coming.
The chapter goes on to tell of those then understanding, and seeing the shaking, speaking the word of God, with boldness telling what they have witnessed being fulfilled. The following verses then tell of those possessing land and houses selling them and bringing all the proceeds and laying them at the apostles' feet. The passages continues into the following chapter and tells of Ananias and Sapphira his wife, who had committed to give the things they possessed to the common mission, and instead held back part for themselves. We read of this being said to be them lying to the Holy Spirit.
Suffer with me for a moment while I digress: Billy Graham has a place here in North Carolina called the Cove. It is a sprawling retreat and conference compound, which includes a chapel that is also designed as a monument to Billy Graham's many accomplishments. One of the many placards therein tells, in/as a quote from Mr. Graham, that all of the Cove, and if I remember correctly, it insinuates all the Graham empire, were built for the purpose of handing them over to the LORD at His coming.
I use this above example, not to specifically impugn Graham, but rather to more clearly illuminate the fact that all those who have built and accumulated these many disjointed fiefdoms, have done so based on this one overarching truth: "Occupy until He comes."
Friends, this is the time we have come to, and told of by the LORD in many parables stating its unavoidable truth. Whether it is His telling of the talents, the principle and proceeds of the gain that would eventually be handed back to the One giving them, or the more terrifying and sorrow filled case of those refusing to return the vineyard to its rightful owner, all point to this day.
I will without fear tell you that I am here to not only take control of these things, but of the world in total. This is what I was sent for. But not as men have foretold it in their fictions, but rather as one who seeks men of like mind, not looking to become lords over God's heritage, but rather of willing and sound minds, in spirit and truth putting the needs of God's people before their own. I am seeking out those who will shine and reflect God's glory through truth and equity, themselves seeking a new heaven and new earth, wherein dwells righteousness. This is my, our, manifesto. It begins with this nation, as One under God, and ends with many nations under Him as they are brought to health by these, His, better ideas.
The small minded will think to themselves, this is impossible and crazy. They will say it in public as it begins to appear, and deny it even once it has happened. They see only the smallness of what is now visible to mortal eyes, ever unable to comprehend the immensity of the unseen substance of the immortal.
Acts 4
8 Then Peter, filled with the Holy Ghost, said unto them, You rulers of the people, and elders of Israel,
9 If we this day be examined of the good deed done to the impotent man, by what means he is made whole;
10 Be it known unto you all, and to all the people of Israel, that by the name of Jesus Christ of Nazareth, whom you crucified, whom God raised from the dead, even by him does this man stand here before you whole.
11 This is the stone which was set at naught of you builders, which is become the head of the corner.
12 Neither is there salvation in any other: for there is none other name under heaven given among men, whereby we must be saved.
13 Now when they saw the boldness of Peter and John, and perceived that they were unlearned and ignorant men, they marveled; and they took knowledge of them, that they had been with Jesus.
14 And beholding the man which was healed standing with them, they could say nothing against it.
15 But when they had commanded them to go aside out of the council, they conferred among themselves,
16 Saying, What shall we do to these men? for that indeed a notable miracle has been done by them is manifest to all them that dwell in Jerusalem; and we cannot deny it.
17 But that it spread no further among the people, let us straitly [strictly] threaten them, that they speak henceforth to no man in this name.
18 And they called them, and commanded them not to speak at all nor teach in the name of Jesus.
19 But Peter and John answered and said unto them, Whether it be right in the sight of God to hearken unto you more than unto God, judge you.
20 For we cannot but speak the things which we have seen and heard.
21 So when they had further threatened them, they let them go, finding nothing how they might punish them, because of the people: for all men glorified God for that which was done.
22 For the man was above forty years old, on whom this miracle of healing was shewed.
23 And being let go, they went to their own company, and reported all that the chief priests and elders had said unto them.
24 And when they heard that, they lifted up their voice to God with one accord, and said, LORD, you are God, which have made heaven, and earth, and the sea, and all that in them is:
25 Who by the mouth of your servant David have said, Why did the heathen rage, and the people imagine vain things?
26 The kings of the earth stood up, and the rulers were gathered together against the LORD, and against his Christ.
27 For of a truth against your holy child Jesus, whom you have anointed, both Herod, and Pontius Pilate, with the Gentiles, and the people of Israel, were gathered together,
28 For to do whatsoever your hand and your counsel determined before to be done.
29 And now, LORD, behold their threatenings: and grant unto your servants, that with all boldness they may speak your word,
30 By stretching forth your hand to heal; and that signs and wonders may be done by the name of your holy child Jesus.
31 And when they had prayed, the place was shaken where they were assembled together; and they were all filled with the Holy Ghost, and they spoke the word of God with boldness.
32 And the multitude of them that believed were of one heart and of one soul: neither said any of them that ought of the things which he possessed was his own; but they had all things common.
33 And with great power gave the apostles witness of the resurrection of the LORD Jesus: and great grace was upon them all.
34 Neither was there any among them that lacked: for as many as were possessors of lands or houses sold them, and brought the prices of the things that were sold,
35 And laid them down at the apostles' feet: and distribution was made unto every man according as he had need.
36 And Joses, who by the apostles was surnamed Barnabas, (which is, being interpreted, The son of consolation,) a Levite, and of the country of Cyprus,
37 Having land, sold it, and brought the money, and laid it at the apostles' feet.
Acts 5
1 But a certain man named Ananias, with Sapphira his wife, sold a possession,
2 And kept back part of the price, his wife also being privy to it, and brought a certain part, and laid it at the apostles' feet.
3 But Peter said, Ananias, why has Satan filled your heart to lie to the Holy Ghost, and to keep back part of the price of the land?
4 Whiles it remained, was it not your own? and after it was sold, was it not in your own power? why have you conceived this thing in your heart? you have not lied unto men, but unto God.
5 And Ananias hearing these words fell down, and gave up the ghost: and great fear came on all them that heard these things.
6 And the young men arose, wound him up, and carried him out, and buried him.
7 And it was about the space of three hours after, when his wife, not knowing what was done, came in.
8 And Peter answered unto her, Tell me whether you sold the land for so much? And she said, Yea, for so much.
9 Then Peter said unto her, How is it that you have agreed together to tempt the Spirit of the LORD? behold, the feet of them which have buried your husband are at the door, and shall carry you out.
10 Then fell she down straightway at his feet, and yielded up the ghost: and the young men came in, and found her dead, and, carrying her forth, buried her by her husband.
11 And great fear came upon all the church, and upon as many as heard these things.
Proverbs 3
1 My son, forget not my law; but let your heart keep my commandments:
2 For length of days, and long life, and peace, shall they add to you.
3 Let not mercy and truth forsake you: bind them about your neck; write them upon the table of your heart:
4 So shall you find favor and good understanding in the sight of God and man.
5 Trust in the LORD with all your heart; and lean not unto your own understanding.
6 In all your ways acknowledge him, and he shall direct your paths.
7 Be not wise in your own eyes: fear the LORD, and depart from evil.
8 It shall be health to your navel, and marrow to your bones.
9 Honor the LORD with your substance, and with the first-fruits of all your increase:
10 So shall your barns be filled with plenty, and your presses shall burst out with new wine.
11 My son, despise not the chastening of the LORD; neither be weary of his correction:
12 For whom the LORD loves he corrects; even as a father the son in whom he delights.
13 Happy is the man that finds wisdom, and the man that gets understanding.
14 For the merchandise of it is better than the merchandise of silver, and the gain thereof than fine gold.
15 She is more precious than rubies: and all the things you canst desire are not to be compared unto her.
16 Length of days is in her right hand; and in her left hand riches and honor.
17 Her ways are ways of pleasantness, and all her paths are peace.
18 She is a tree of life to them that lay hold upon her: and happy is every one that retains her.
19 The LORD by wisdom has founded the earth; by understanding has he established the heavens.
20 By his knowledge the depths are broken up, and the clouds drop down the dew.
21 My son, let not them depart from your eyes: keep sound wisdom and discretion:
22 So shall they be life unto your soul, and grace to your neck.
23 Then shall you walk in your way safely, and your foot shall not stumble.
24 When you lies down, you shall not be afraid: yea, you shall lie down, and your sleep shall be sweet.
25 Be not afraid of sudden fear, neither of the desolation of the wicked, when it comes.
26 For the LORD shall be your confidence, and shall keep your foot from being taken.
27 Withhold not good from them to whom it is due, when it is in the power of your hand to do it.
28 Say not unto your neighbor, Go, and come again, and to morrow I will give; when you have it by you.
29 Devise not evil against your neighbor, seeing he dwells securely by you.
30 Strive not with a man without cause, if he have done you no harm.
31 Envy you not the oppressor, and choose none of his ways.
32 For the froward [to twist and pervert truth and justice] is abomination to the LORD: but his secret is with the righteous.
33 The curse of the LORD is in the house of the wicked: but he blesseth the habitation of the just.
34 Surely he scorns the scorners: but he giveth grace unto the lowly.
35 The wise shall inherit glory: but shame shall be the promotion of fools.
1 Peter 5
1 The elders which are among you I exhort, who am also an elder, and a witness of the sufferings of Christ, and also a partaker in [sharer in] the glory that shall be revealed:
2 Feed the flock of God which is among you, taking the oversight thereof, not by constraint, but willingly; not for filthy lucre [base and shameful gain], but of a ready mind;
3 Neither as being lords over God's heritage, but being examples to the flock.
4 And when the chief Shepherd shall appear, you shall receive a crown of glory that fades not away.
5 Likewise, you younger, submit yourselves unto the elder. Yea, all of you be subject one to another, and be clothed with humility: for God resists the proud, and giveth grace to the humble.
6 Humble yourselves therefore under the mighty hand of God, that he may exalt you in due time:
7 Casting all your care upon him; for he cares for you.
8 Be sober, be vigilant; because your adversary the devil, as a roaring lion, walks about, seeking whom he may devour:
9 Whom resist steadfast in the faith, knowing that the same afflictions are accomplished in your brethren that are in the world.
10 But the God of all grace, who has called us unto his eternal glory by Christ Jesus, after that you have suffered a while, make you perfect, stablish, strengthen, settle you.
11 To him be glory and dominion for ever and ever. Amen.
12 By Silvanus, a faithful brother unto you, as I suppose, I have written briefly, exhorting, and testifying that this is the true grace of God wherein you stand.
13 The church that is at Babylon, elected together with you, salutes you; and so does Marcus my son.
14 Greet you one another with a kiss of charity. Peace be with you all that are in Christ Jesus. Amen.