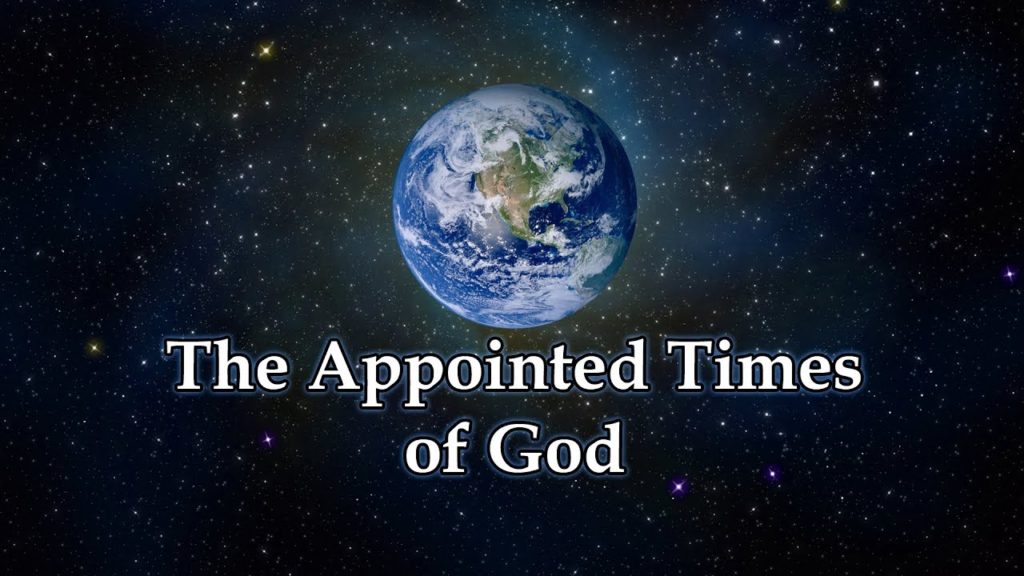 2019 will be the year (the day) of the LORD's (right) Judgment upon the earth. (I know because He, the Father, told me.)

Friends, this is good news. It is the reversal of the events (as patterns) described in 2 Kings 25 and Jeremiah 52. In both, we are told of when all the sons of Zedekiah, king of Judah in Jerusalem (meaning – all the rulers who were sons of Jehovah's righteousness – those possessing Jehovah's truth, correctness, and just judgment: the ways of God's peace and security) were killed before his eyes. We are told Zedekiah's eyes were then put out, he was bound in chains and cast into prison until his death.

The perpetrators of these acts, their names telling of what precipitated the events, are the king of Babylon, the confusion that rules over all the world, named Nebuchadrezzar, meaning the lies of the false prophets, which brought on the desolation of God's people.

We know from Jeremiah 14 there were false prophets among the people, even as there are false teachers among us (who have brought in damnable heresies, even denying the LORD who bought them). Chapter 14 tells of the abominations that bring the total desolation spoken of in Jeremiah 52, which results as seventy years of Jerusalem's destruction. The false prophets were telling the people there wouldn't be a famine or drought, of which they themselves were the cause and evidence of, who caused the waters and bread of heaven to be stopped by replacing God's truth with their lies (as it is and remains this day).

Jeremiah 14
1 The word of the LORD that came to Jeremiah concerning the dearth.
2 Judah mourns, and the gates thereof languish; they are black unto the ground; and the cry of Jerusalem is gone up.
3 And their nobles have sent their little ones to the waters: they came to the pits, and found no water; they returned with their vessels empty; they were ashamed and confounded, and covered their heads.
4 Because the ground is chapped, for there was no rain in the earth, the plowmen were ashamed, they covered their heads.
5 Yea, the hind also calved in the field, and forsook it, because there was no grass.
6 And the wild asses did stand in the high places, they snuffed up the wind like dragons; their eyes did fail, because there was no grass.
7 O LORD, though our iniquities testify against us, do you it for your name's sake: for our backslidings are many; we have sinned against you.
8 O the hope of Israel, the savior thereof in time of trouble, why should you be as a stranger in the land, and as a wayfaring man that turns aside to tarry for a night?
9 Why should you be as a man astonished, as a mighty man that cannot save? yet you, O LORD, are in the midst of us, and we are called by your name; leave us not.
10 Thus says the LORD unto this people, Thus have they loved to wander, they have not refrained their feet, therefore the LORD does not accept them; he will now remember their iniquity, and visit their sins [as He has these many days, and they rejected Him and His words that come by the mouth of His true prophets].
11 Then said the LORD unto me, Pray not for this people for their good.
12 When they fast, I will not hear their cry; and when they offer burnt offering and an oblation, I will not accept them: but I will consume them by the sword, and by the famine, and by the pestilence.
13 Then said I, Ah, LORD God! behold, the prophets say unto them, You shall not see the sword, neither shall you have famine; but I will give you assured peace in this place.
14 Then the LORD said unto me, The prophets prophesy lies in my name: I sent them not, neither have I commanded them, neither spoke unto them: they prophesy unto you a false vision and divination, and a thing of naught, and the deceit of their heart.
15 Therefore thus says the LORD concerning the prophets that prophesy in my name, and I sent them not, yet they say, Sword and famine shall not be in this land; By sword and famine shall those prophets be consumed [as it occurred in Jeremiah 52].
16 And the people to whom they prophesy shall be cast out in the streets of Jerusalem because of the famine and the sword; and they shall have none to bury them, them, their wives, nor their sons, nor their daughters: for I will pour their wickedness upon them.
17 Therefore you shall say this word unto them; Let mine eyes run down with tears night and day, and let them not cease: for the virgin daughter of my people is broken with a great breach, with a very grievous blow.
18 If I go forth into the field, then behold the slain with the sword! and if I enter into the city, then behold them that are sick with famine! yea, both the prophet and the priest go about into a land that they know not.
19 Have you utterly rejected Judah [again, speaking of the leaders – who are in chapter 52 described as the sons of Zedekiah]? has your soul loathed Zion? why have you smitten us, and there is no healing for us? we looked for peace, and there is no good; and for the time of healing, and behold trouble!
20 We acknowledge, O LORD, our wickedness, and the iniquity of our fathers: for we have sinned against you.
21 Do not abhor us, for your name's sake, do not disgrace the throne of your glory: remember, break not your covenant with us.
22 Are there any among the vanities of the Gentiles [the worthlessness of those who don't know God – who are ignorant of His knowledge] that can cause rain? or can the heavens give showers? are not you he, O LORD our God? therefore we will wait upon you: for you have made all these things.

2 Kings 25 and Jeremiah 52 say this end, when it comes, is in Riblah, which is from the words rab (or raba) and lah, telling of where God's people are the tail and not the head, in a sleep where there is no rest – it is speaking the state of being in Sheol, oppressed in the darkness of their own minds.

These chapters tell us it's the Chaldeans who've done this, who we know are those using their words to manipulate and control people, again speaking of the false teachers among us, who oppose and reject the LORD to justify themselves. These are the men the LORD says come upon us when we forget the source of blessing, which we know is following His law (His ideas found in the law of nature and nature's God), and by following His will (on earth, as it is in heaven) we have no other gods before Him.

This is the word, the warning, of the LORD, which appears in Deuteronomy 28, saying, "43 The stranger that is within [among] you shall get up above you very high; and you shall come down very low. 44 He shall lend to you, and you shall not lend to him: he shall be the head, and you shall be the tail. 45 Moreover all these curses shall come upon you, and shall pursue you, and overtake you, till you be destroyed; because you hearkened not unto the voice of the LORD your God, to keep his commandments and his statutes which he commanded you: 46 And they shall be upon you for a sign and for a wonder, and upon your seed for ever."

Friends, these men, who set up doctrines and control the thoughts of God's people, have been called to repentance, which means to return to the place from where they have strayed away from God. They have rejected these calls and instead think they will keep doing as they have done, teaching and preaching their abominations, which have led to this now total desolation of what is called His Church. They all look at every place, except their own, as needing to repent – they are all the self-righteous, swelled with pride, refusing to see they are the problem. "For all tables are full of vomit and filthiness, so that there is no place clean."

Isaiah 28
5 In that day shall the LORD of hosts be for a crown of glory, and for a diadem of beauty, unto the residue of his people,
6 And for a spirit of judgment to him that sits in judgment, and for strength to them that turn the battle to the gate.
7 But they also have erred through wine, and through strong drink are out of the way; the priest and the prophet have erred through strong drink, they are swallowed up of wine, they are out of the way through strong drink; they err in vision, they stumble in judgment.
8 For all tables are full of vomit and filthiness, so that there is no place clean.
9 Whom shall he teach knowledge? and whom shall he make to understand doctrine? them that are weaned from the milk, and drawn from the breasts.
10 For precept must be upon precept, precept upon precept; line upon line, line upon line; here a little, and there a little:
11 For with stammering lips and another tongue will he speak to this people.
12 To whom he said, This is the rest wherewith you may cause the weary to rest; and this is the refreshing: yet they would not hear.
13 But the word of the LORD was unto them precept upon precept, precept upon precept; line upon line, line upon line; here a little, and there a little; that they might go, and fall backward, and be broken, and snared, and taken.
14 Wherefore hear the word of the LORD, you scornful men, that rule this people which is in Jerusalem.
15 Because you have said, We have made a covenant with death, and with Sheol are we at agreement; when the overflowing scourge shall pass through, it shall not come unto us: for we have made lies our refuge, and under falsehood have we hid ourselves:
16 Therefore thus says the LORD God, Behold, I lay in Zion for a foundation a stone, a tried stone, a precious corner stone, a sure foundation: he that believes shall not make haste.
17 Judgment also will I lay to the line, and righteousness to the plummet: and the hail shall sweep away the refuge of lies, and the waters shall overflow the hiding place. [See Amos 5:8 & 24 and Daniel 9:26 & 27 below,]
18 And your covenant with death shall be disannulled, and your agreement with Sheol shall not stand; when the overflowing scourge shall pass through, then you shall be trodden down by it.
19 From the time that it goes forth it shall take you: for morning by morning shall it pass over, by day and by night: and it shall be a vexation only to understand the report.

Therefore, let judgment run down as waters, and righteousness as a mighty stream. Amen!

Amos 5
5 Hear you this word which I take up against you, even a lamentation, O house of Israel.
2 The virgin of Israel is fallen; she shall no more rise: she is forsaken upon her land; there is none to raise her up.
3 For thus says the LORD God; The city that went out by a thousand shall leave an hundred, and that which went forth by an hundred shall leave ten, to the house of Israel.
4 For thus says the LORD unto the house of Israel, Seek you me, and you shall live:
5 But seek not Bethel, nor enter into Gilgal, and pass not to Beersheba: for Gilgal shall surely go into captivity, and Bethel shall come to naught. [These are places where these same men have set up idols, their own words and ideas, which they have put in God's place and called them by His name.]
6 Seek the LORD [not these houses where the false prophets and false teachers refuse to repent], and you shall live; lest he break out like fire in the house of Joseph, and devour it, and there be none to quench it in Bethel.
7 You who turn judgment to wormwood, and leave off righteousness in the earth,
8 Seek him that makes the seven stars and Orion, and turns the shadow of death into the morning, and makes the day dark with night: that calls for the waters of the sea, and pours them out upon the face of the earth: The LORD is his name:
9 That strengthens the spoiled against the strong, so that the spoiled shall come against the fortress.
10 They [without cause] hate him that rebukes in the gate, and they abhor him that speaks uprightly.
11 Forasmuch therefore as your treading is upon the poor, and you take from him burdens of wheat: you have built houses of hewn stone, but you shall not dwell in them; you have planted pleasant vineyards, but you shall not drink wine of them.
12 For I know your manifold transgressions and your mighty sins: they afflict the just, they take a bribe, and they turn aside the poor in the gate from their right.
13 Therefore the prudent shall keep silence in that time; for it is an evil time.
14 Seek good, and not evil, that you may live: and so the LORD, the God of hosts, shall be with you, as you have spoken.
15 Hate the evil, and love the good, and establish judgment in the gate: it may be that the LORD God of hosts will be gracious unto the remnant of Joseph.
16 Therefore the LORD, the God of hosts, the LORD, says thus; Wailing shall be in all streets; and they shall say in all the highways, Alas! alas! and they shall call the husbandman to mourning, and such as are skillful of lamentation to wailing.
17 And in all vineyards shall be wailing: for I will pass through you, says the LORD.
18 Woe unto you that desire the day of the LORD! to what end is it for you? the day of the LORD is darkness, and not light.
19 As if a man did flee from a lion, and a bear met him; or went into the house, and leaned his hand on the wall, and a serpent bit him.
20 Shall not the day of the LORD be darkness, and not light? even very dark, and no brightness in it?
21 I hate, I despise your feast days, and I will not smell in your solemn assemblies.
22 Though you offer me burnt offerings and your meat offerings, I will not accept them: neither will I regard the peace offerings of your fat beasts.
23 Take you away from me the noise of your songs; for I will not hear the melody of your viols.
24 But let judgment run down as waters, and righteousness as a mighty stream.
25 Have you offered unto me sacrifices and offerings in the wilderness forty years, O house of Israel?
26 But you have borne the tabernacle of your Moloch and Chiun your images [the idols/ideas you have elevated to rule over those you teach – which have caused the fire in the earth], the star of your god, which you made to yourselves.
27 Therefore will I cause you to go into captivity beyond Damascus [beyond drunkenness and tears, into silence – beyond Babylon – as in Acts 7:43], says the LORD, whose name is The God of hosts.

Acts 7
33 Then said the LORD to him, Put off your shoes from your feet: for the place where you stand is holy ground.
34 I have seen, I have seen the affliction of my people which is in Egypt [which are now, in like manner, in captivity], and I have heard their groaning, and am come down to deliver them. And now come, I will send you into Egypt.
35 This [prophet like – see Deuteronomy 18:15 thru 19] Moses whom they refused, saying, Who made you a ruler and a judge? the same did God send to be a ruler and a deliverer by the hand of the angel which appeared to him in the bush [as a fire that continuously burned, never burning out – because the oil never ran out].
36 He brought them out, after that he had shewed wonders and signs in the land of Egypt, and in the Red sea, and in the wilderness forty years.
37 This is that Moses, which said unto the children of Israel, A prophet shall the LORD your God raise up unto you of your brethren, like unto me; him shall you hear [quoted from Deuteronomy 18:18].
38 This is he [the Rock, Christ in Moses speaking God's word, as received – see 1 Corinthians 10:1 thru 6], that was in the church in the wilderness with the angel which spoke to him in the mount Sina, and with our fathers: who received the lively oracles [the living word] to give unto us:
39 To whom our fathers would not obey, but thrust him from them, and in their hearts turned back again into Egypt,
40 Saying unto Aaron, Make us gods to go before us: for as for this Moses, which brought us out of the land of Egypt, we wot not what is become of him.
41 And they made a calf in those days, and offered sacrifice unto the idol, and rejoiced in the works of their own hands.
42 Then God turned, and gave them up to worship the host of heaven; as it is written in the book of the prophets, O you house of Israel, have you offered to me slain beasts and sacrifices by the space of forty years in the wilderness?
43 Yea, you took up the tabernacle of Moloch, and the star of your god Remphan, figures which you made to worship them: and I will carry you away beyond Babylon [beyond confusion, into delusion – as it is now].
44 Our fathers had the tabernacle of witness in the wilderness, as he had appointed, speaking unto Moses, that he should make it according to the fashion that he had seen.
45 Which also our fathers that came after brought in with Jesus [Joshua] into the possession of the Gentiles, whom God drove out before the face of our fathers, unto the days of David;
46 Who found favour before God, and desired to find a tabernacle for the God of Jacob.
47 But Solomon built him a house.
48 Howbeit the most High dwells not in temples made with hands; as says the prophet,
49 Heaven is my throne, and earth is my footstool: what house will you build me? says the LORD: or what is the place of my rest?
50 Has not my hand made all these things? [Verses 49 & 50 are quoted from Isaiah 66:1 & 2.]
51 You stiff-necked and uncircumcised in heart and ears, you do always resist the Holy Ghost: as your fathers did, so do you.
52 Which of the prophets have not your fathers persecuted? and they have slain them which shewed before of the coming of the Just One; of whom you have been now the betrayers and murderers:
53 Who have received the law by the disposition of angels, and have not kept it.

Isaiah 66
1 Thus says the LORD, The heaven is my throne, and the earth is my footstool: where is the house that you build unto me? and where is the place of my rest?
2 For all those things has mine hand made, and all those things have been, says the LORD: but to this man will I look, even to him that is poor and of a contrite spirit, and trembles at my word.
3 He that kills an ox is as if he slew a man; he that sacrifices a lamb, as if he cut off a dog's neck; he that offers an oblation, as if he offered swine's blood; he that burns incense, as if he blessed an idol. Yea, they have chosen their own ways, and their soul delights in their abominations.
4 I also will choose their delusions, and will bring their fears upon them; because when I called, none did answer; when I spoke, they did not hear: but they did evil before mine eyes, and chose that in which I delighted not.
5 Hear the word of the LORD, you that tremble at his word; Your brethren that hated you, that cast you out for my name's sake, said, Let the LORD be glorified: but he shall appear to your joy, and they shall be ashamed.
6 A voice of noise from the city, a voice from the temple, a voice of the LORD that renders recompense to his enemies.
7 Before she travailed, she brought forth; before her pain came, she was delivered of a man child.
8 Who has heard such a thing? who has seen such things? Shall the earth be made to bring forth in one day? or shall a nation be born at once? for as soon as Zion travailed, she brought forth her children.
9 Shall I bring to the birth, and not cause to bring forth? says the LORD: shall I cause to bring forth, and shut the womb? says your God.
10 Rejoice you with Jerusalem, and be glad with her, all you that love her: rejoice for joy with her, all you that mourn for her:
11 That you may suck, and be satisfied with the breasts of her consolations; that you may milk out, and be delighted with the abundance of her glory.
12 For thus says the LORD, Behold, I will extend peace to her like a river, and the glory of the Gentiles like a flowing stream: then shall you suck, you shall be borne upon her sides, and be dandled upon her knees.
13 As one whom his mother comforts, so will I comfort you; and you shall be comforted in Jerusalem.
14 And when you see this, your heart shall rejoice, and your bones shall flourish like an herb: and the hand of the LORD shall be known toward his servants, and his indignation toward his enemies.
15 For, behold, the LORD will come with fire, and with his chariots like a whirlwind, to render his anger with fury, and his rebuke with flames of fire.
16 For by fire and by his sword will the LORD plead with all flesh: and the slain of the LORD shall be many.
17 They that sanctify themselves, and purify themselves in the gardens behind one tree in the midst, eating swine's flesh, and the abomination, and the mouse, shall be consumed together, says the LORD.
18 For I know their works and their thoughts: it shall come, that I will gather all nations and tongues; and they shall come, and see my glory.
19 And I will set a sign among them, and I will send those that escape of them unto the nations, to Tarshish, Pul, and Lud, that draw the bow, to Tubal, and Javan, to the isles afar off, that have not heard my fame, neither have seen my glory; and they shall declare my glory among the Gentiles.
20 And they shall bring all your brethren for an offering unto the LORD out of all nations upon horses, and in chariots, and in litters, and upon mules, and upon swift beasts, to my holy mountain Jerusalem, says the LORD, as the children of Israel bring an offering in a clean vessel into the house of the LORD.
21 And I will also take of them for priests and for Levites, says the LORD.
22 For as the new heavens and the new earth, which I will make, shall remain before me, says the LORD, so shall your seed and your name remain.
23 And it shall come to pass, that from one new moon to another, and from one Sabbath to another, shall all flesh come to worship before me, says the LORD.
24 And they shall go forth, and look upon the carcasses of the men that have transgressed against me: for their worm shall not die, neither shall their fire be quenched; and they shall be an abhorring unto all flesh.

Daniel 9
1 In the first year of Darius [the leaders of God's people] the son of Ahasuerus [who are blind, silenced and poor], of the seed of the Medes [in the people who are neither hot or cold], which was made king over the realm of the Chaldeans [who were wise men and have now become sorcerers];

Revelation 3
14 And unto the angel of the church of the Laodiceans [those who are victorious over the people – the pop-culture] write; These things says the Amen, the faithful and true witness, the beginning of the creation of God;
15 I know your works, that you are neither cold nor hot: I would you were cold or hot.
16 So then because you are lukewarm, and neither cold nor hot, I will spew you out of my mouth.
17 Because you say, I am rich, and increased with goods, and have need of nothing; and know not that you are wretched, and miserable, and poor, and blind, and naked:
18 I counsel you to buy of me gold tried in the fire, that you may be rich; and white raiment, that you may be clothed, and that the shame of your nakedness do not appear; and anoint your eyes with eye-salve, that you may see.
19 As many as I love, I rebuke and chasten [correct]: be zealous therefore, and repent.
20 Behold, I stand at the door, and knock: if any man hear my voice, and open the door, I will come in to him, and will sup with him, and he with me.
21 To him that overcomes will I grant to sit with me in my throne [as Israel], even as I also overcame, and am set down with my Father in his throne.
22 He that has an ear, let him hear what the Spirit says unto the churches.

Daniels 9
2 In the first year of his reign I Daniel [the judge of God] understood by books the number of the years, whereof the word of the LORD came to Jeremiah the prophet, that he would accomplish seventy years in the desolations of Jerusalem.
3 And I set my face unto the LORD God, to seek by prayer and supplications, with fasting, and sackcloth, and ashes:
4 And I prayed unto the LORD my God, and made my confession, and said, O LORD, the great and dreadful God, keeping the covenant and mercy to them that love him, and to them that keep his commandments;
5 We have sinned, and have committed iniquity, and have done wickedly, and have rebelled, even by departing from your precepts and from your judgments:
6 Neither have we hearkened unto your servants the prophets, which spoke in your name to our kings, our princes, and our fathers, and to all the people of the land.
7 O LORD, righteousness belongs unto you, but unto us confusion of faces, as at this day; to the men of Judah, and to the inhabitants of Jerusalem, and unto all Israel, that are near, and that are far off, through all the countries whither you have driven them, because of their trespass that they have trespassed against you.
8 O LORD, to us belongs confusion of face, to our kings, to our princes, and to our fathers, because we have sinned against you.
9 To the LORD our God belong mercies and forgiveness, though we have rebelled against him;
10 Neither have we obeyed the voice of the LORD our God, to walk in his laws, which he set before us by his servants the prophets.
11 Yea, all Israel have transgressed your law, even by departing, that they might not obey your voice; therefore the curse is poured upon us, and the oath that is written in the law of Moses the servant of God, because we have sinned against him.
12 And he has confirmed his words, which he spoke against us, and against our judges that judged us, by bringing upon us a great evil: for under the whole heaven has not been done as has been done upon Jerusalem.
13 As it is written in the law of Moses, all this evil is come upon us: yet made we not our prayer before the LORD our God, that we might turn from our iniquities, and understand your truth.
14 Therefore has the LORD watched upon the evil, and brought it upon us: for the LORD our God is righteous in all his works which he does: for we obeyed not his voice.
15 And now, O LORD our God, that have brought your people forth out of the land of Egypt with a mighty hand, and have gotten you renown, as at this day; we have sinned, we have done wickedly.
16 O LORD, according to all your righteousness, I beseech you, let your anger and your fury be turned away from your city Jerusalem, your holy mountain: because for our sins, and for the iniquities of our fathers, Jerusalem and your people are become a reproach to all that are about us.
17 Now therefore, O our God, hear the prayer of your servant, and his supplications, and cause your face to shine upon your sanctuary that is desolate, for the LORD's sake.
18 O my God, incline your ear, and hear; open your eyes, and behold our desolations, and the city which is called by your name: for we do not present our supplications before you for our righteousness, but for your great mercies.
19 O LORD, hear; O LORD, forgive; O LORD, hearken and do; defer not, for your own sake, O my God: for your city and your people are called by your name.
20 And whiles I was speaking, and praying, and confessing my sin and the sin of my people Israel, and presenting my supplication before the LORD my God for the holy mountain of my God;
21 Yea, whiles I was speaking in prayer, even the man Gabriel, whom I had seen in the vision at the beginning, being caused to fly swiftly, touched me about the time of the evening oblation.
22 And he informed me, and talked with me, and said, O Daniel, I am now come forth to give you skill and understanding.
23 At the beginning of your supplications the commandment came forth, and I am come to show you; for you are greatly beloved: therefore understand the matter, and consider the vision.
24 Seventy weeks are determined upon your people and upon your holy city, to finish the transgression, and to make an end of sins, and to make reconciliation for iniquity, and to bring in everlasting righteousness, and to seal up the vision and prophecy, and to anoint the most Holy.
25 Know therefore and understand, that from the going forth of the commandment to restore and to build Jerusalem unto the Messiah the Prince shall be seven weeks, and threescore and two weeks: the street shall be built again, and the wall, even in troublous times.
26 And after threescore and two weeks shall Messiah be cut off, but not for himself [I know who I AM, even when you are tempted to not believe]: and the people of the prince [the corrupted leadership] that shall come shall destroy the city and the sanctuary; and the end thereof shall be with a flood, and unto the end of the war desolations are determined.
27 And he shall confirm the covenant with many for one week: and in the midst of the week he shall cause the sacrifice and the oblation to cease, and for the overspreading of abominations he shall make it desolate, even until the consummation, and that determined shall be poured [see the flood of verse 26, and Amos 5:8 & 24 above] upon the desolate.

Psalms 144
1 Blessed be the LORD my strength which teaches my hands to war, and my fingers to fight:
2 My goodness, and my fortress; my high tower, and my deliverer; my shield, and he in whom I trust; who subdues my people under me.
3 LORD, what is man, that you take knowledge of him! or the son of man, that you make account of him!
4 Man is like to vanity: his days are as a shadow that passes away.
5 Bow your heavens, O LORD, and come down: touch the mountains, and they shall smoke.
6 Cast forth lightning, and scatter them: shoot out your arrows, and destroy them.
7 Send your hand from above; rid me, and deliver me out of great waters, from the hand of strange children;
8 Whose mouth speaks vanity, and their right hand is a right hand of falsehood.
9 I will sing a new song unto you, O God: upon a psaltery and an instrument of ten strings will I sing praises unto you.
10 It is he that gives salvation unto kings: who delivers David his servant from the hurtful sword.
11 Rid me, and deliver me from the hand of strange children, whose mouth speaks vanity, and their right hand is a right hand of falsehood:
12 That our sons may be as plants grown up in their youth; that our daughters may be as corner stones, polished after the similitude of a palace:
13 That our garners may be full, affording all manner of store: that our sheep may bring forth thousands and ten thousands in our streets:
14 That our oxen may be strong to labor; that there be no breaking in, nor going out; that there be no complaining in our streets.
15 Happy is that people, that is in such a case: yea, happy is that people, whose God is the LORD.