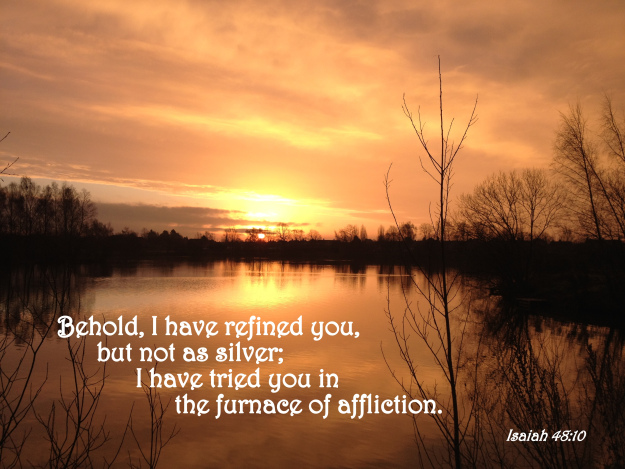 Then shall the LORD go forth, and fight against those nations, as when he fought in the day of battle.

The above is Zechariah 14:3 and the "then" it is speaking of is described in the first two verses, which tell of the division and desolation of Jerusalem. As we saw in the previous post, it is at the end of this desolation, when preaching has had its effect on the few who received it (the elect remnant), that the LORD accelerates and amplifies His glory and makes His presence undeniably obvious. Zechariah 14 goes onto describe the same such Advent, which we've many times discussed as when those who've caused the desolation are consumed by their own words and ways.

The LORD began this discussion, in 1 Corinthians 11, revealing the above is speaking of the division among God's people, and how and why they come. "18 For first of all, when you come together in the church, I hear that there be divisions among you; and I partly believe it. 19 For there must be also heresies among you, that they which are approved may be made manifest among you."

Friends, this is speaking of the LORD appearing in His Righteous Judgment, revealing those in whom is His light, as His apparent presence, by which He elevates them by showing they are those He has approved to end the argument by right judgment (rightly dividing the word of truth).

(If you haven't read along you're not going to see the fullness of this message – therefore it only lacks in what you lack by neglecting the word of God, which this is.)

The word "approved" in 1 Corinthians 11:19 above is the seven times used Greek word dokimos, a word literally meaning what remains after being assayed. It is speaking of the result of a full examination, and the thereby refined thinking. It is the word used in 2 Timothy 2:15, also rendered approved, describing showing one's self as such by study, and by purging self from "profane and vain babblings" and those teaching them. Paul also urges Timothy to avoid "foolish and unlearned questions" because they are meant to produce and continue endless arguments. These are the ways of the dividers of men, dividers of the body of Christ, who have brought in damnable heresies, even denying the LORD when He appears to end the division.

2 Timothy 2
1 You therefore, my son, be strong in the grace that is in Christ Jesus.
2 And the things that you have heard of me among many witnesses, the same commit you to faithful men, who shall be able to teach others also.
3 You therefore endure hardness, as a good soldier of Jesus Christ.
4 No man that wars entangles himself with the affairs of this life; that he may please him who has chosen him to be a soldier.
5 And if a man also strive for masteries, yet is he not crowned, except he strive lawfully.
6 The husbandman that labors must be first partaker of the fruits.
7 Consider what I say; and the LORD give you understanding in all things.
8 Remember that Jesus Christ of the seed of David was raised from the dead according to my gospel:
9 Wherein I suffer trouble, as an evil doer, even unto bonds; but the word of God is not bound.
10 Therefore I endure all things for the elect's sakes, that they may also obtain the salvation which is in Christ Jesus with eternal glory.
11 It is a faithful saying: For if we be dead with him, we shall also live with him:
12 If we suffer, we shall also reign with him: if we deny him, he also will deny us:
13 If we believe not, yet he abides faithful: he cannot deny himself.
14 Of these things put them in remembrance, charging them before the LORD that they strive not about words to no profit, but to the subverting of the hearers.
15 Study to shew yourself approved [dokimos] unto God, a workman that needs not to be ashamed, rightly dividing the word of truth.
16 But shun profane and vain babblings: for they will increase unto more ungodliness.
17 And their word will eat as does a canker: of whom is Hymenaeus and Philetus [as we know, these names contain the meaning saying they are those who forbid joining with Christ, and do so as they hide behind the false mask, the sheep's clothing, of love and caring];
18 Who concerning the truth have erred, saying that the resurrection is past [ginomai – come into being] already [they are saying the incorruptible state has been reached, which their own denial of the LORD, and their pride, contradict]; and overthrow the faith of some.
19 Nevertheless the foundation of God stands sure, having this seal, The LORD knows them that are his. And, let every one that names the name of Christ depart from iniquity.
20 But in a great house there are not only vessels of gold and of silver, but also of wood and of earth; and some to honor, and some to dishonor.
21 If a man therefore purge himself from these, he shall be a vessel unto honor, sanctified, and meet for the master's use, and prepared unto every good work.
22 Flee also youthful lusts: but follow righteousness, faith, charity, peace, with them that call on the LORD out of a pure heart.
23 But foolish and unlearned questions avoid, knowing that they do gender strife [they aren't looking for truth, rather they merely want to continue an argument they will never let end – "ever learning and never able to come to the knowledge of the truth."]
24 And the servant of the LORD must not strive; but be gentle unto all men, apt to teach, patient,
25 In meekness instructing those that oppose themselves; if God peradventure will give them repentance to the acknowledging of the truth;
26 And that they may recover themselves out of the snare of the devil [which is misleading advice, which causes men to stray away from God], who are taken captive by him at his will.

2 Peter 1
16 For we have not followed cunningly devised fables, when we made known unto you the power and coming of our LORD Jesus Christ, but were eyewitnesses of his majesty.
17 For he received from God the Father honor and glory, when there came such a voice to him from the excellent glory, This is my beloved Son, in whom I am well pleased.
18 And this voice which came from heaven we heard, when we were with him in the holy mount.
19 We have also a more sure word of prophecy; whereunto you do well that you take heed, as unto a light that shines in a dark place, until the day dawn, and the day star arise in your hearts:
20 Knowing this first, that no prophecy of the scripture is of any private interpretation.
21 For the prophecy came not in old time by the will of man: but holy men of God spake as they were moved by the Holy Ghost.

2 Peter 2
1 But there were false prophets also among the people, even as there shall be false teachers among you, who privily [from their own imaginations] shall bring in damnable heresies, even denying the LORD that bought them, and bring upon themselves swift destruction.
2 And many shall follow their pernicious ways; by reason of whom the way of truth shall be evil spoken of.
3 And through covetousness shall they with feigned words make merchandise of you: whose judgment now of a long time lingers not, and their damnation slumbers not.

This approval process also manifests itself in the approval of men, when we wait for the LORD's judgment, which is education that removes all errors. This appears as Zechariah 14 tells us, when these men's tongues consume away, meaning their words, which have set the fire of hell, are seen as worthless and divisive (or vain and profane babblings).

1 Corinthians 4
1 Let a man so account of us, as of the ministers of Christ, and stewards of the mysteries of God.
2 Moreover it is required in stewards, that a man be found faithful.
3 But with me it is a very small thing that I should be judged of you, or of man's judgment: yea, I judge not mine own self.
4 For I know nothing by myself; yet am I not hereby justified: but he that judges me is the LORD.
5 Therefore judge nothing before the time, until the LORD come, who both will bring to light the hidden things of darkness, and will make manifest the counsels of the hearts: and then shall every man have praise of God.

The above is speaking of the approval, understood as what Peter tells of hearing as the Father's voice from heaven, with which men of sound minds must agree. (see Romans 14:18 and 2 Corinthians 10:18 below)

Romans 14 begins by speaking of receiving those who are weak in the faith, and because of their weakness, they are judging one and other. The passage goes on to say that those who are strong in the faith should bear with the weak, who are the unlearned, long-suffering until they are educated into acknowledging the truth (see 2 Timothy 2:25 & 26 above).

Romans 14
10 But why do you judge your brother? or why do you set at naught your brother? for we shall all stand before the judgment seat of Christ.
11 For it is written, As I live, says the LORD, every knee shall bow to me, and every tongue shall confess to God.
12 So then every one of us shall give account of himself to God.
13 Let us not therefore judge one another any more: but judge this rather, that no man put a stumbling-block or an occasion to fall in his brother's way.
14 I know, and am persuaded by the LORD Jesus, that there is nothing unclean of itself: but to him that esteems any thing to be unclean, to him it is unclean.
15 But if your brother be grieved with your meat, now walk you not charitably. Destroy not him with your meat, for whom Christ died.
16 Let not then your good be evil spoken of:
17 For the kingdom of God is not meat and drink; but righteousness, and peace, and joy in the Holy Ghost.
18 For he that in these things serves Christ is acceptable to God, and approved [dokimos] of men.
19 Let us therefore follow after the things which make for peace, and things wherewith one may edify [educate] another.

In the above, we understand the strong as those who have studied to show themselves approved, able to rightly divide the word of truth, and the weak those judging while a beam (an imbalance) is clouding their vision. "2 For with what judgment you judge, you shall be judged: and with what measure you mete, it shall be measured to you again. 3 And why beholdest you the mote that is in your brother's eye, but consider not the beam that is in your own eye? 4 Or how will you say to your brother, Let me pull out the mote out of your eye; and, behold, a beam is in your own eye? 5 You hypocrite, first cast out the beam out of your own eye; and then shall you see clearly to cast out the mote out of your brother's eye." (Matthew 7)

2 Corinthians 10
1 Now I Paul myself beseech you by the meekness and gentleness of Christ, who in presence am base among you, but being absent am bold toward you:
2 But I beseech you, that I may not be bold when I am present with that confidence, wherewith I think to be bold against some, which think of us as if we walked according to the flesh.
3 For though we walk in the flesh, we do not war after the flesh:
4 (For the weapons of our warfare are not carnal, but mighty through God to the pulling down of strong holds;)
5 Casting down imaginations, and every high thing that exalts itself against the knowledge of God, and bringing into captivity every thought to the obedience of Christ;
6 And having in a readiness to revenge all disobedience, when your obedience is fulfilled.
7 Do you look on things after the outward appearance? if any man trust to himself that he is Christ's, let him of himself think this again, that, as he is Christ's, even so are we Christ's.
8 For though I should boast somewhat more of our authority, which the LORD has given us for edification, and not for your destruction, I should not be ashamed:
9 That I may not seem as if I would terrify you by letters.
10 For his letters, say they, are weighty and powerful; but his bodily presence is weak, and his speech contemptible.
11 Let such an one think this, that, such as we are in word by letters when we are absent, such will we be also in deed when we are present.
12 For we dare not make ourselves of the number, or compare ourselves with some that commend themselves: but they measuring themselves by themselves, and comparing themselves among themselves, are not wise.
13 But we will not boast of things without our measure, but according to the measure of the rule which God has distributed to us, a measure to reach even unto you.
14 For we stretch not ourselves beyond our measure, as though we reached not unto you: for we are come as far as to you also in preaching the gospel of Christ:
15 Not boasting of things without our measure, that is, of other men's labors; but having hope, when your faith is increased, that we shall be enlarged by you according to our rule abundantly,
16 To preach the gospel in the regions beyond you, and not to boast in another man's line of things made ready to our hand.
17 But he that glories, let him glory in the LORD.
18 For not he that commends himself is approved [dokimos], but whom the LORD commends.

These last verses are actually a reiteration of verses above, which speak of Christ in us as He who has prepared what will show us as approved. The word rendered "commends" is the word suniemi, meaning to be set together, here as joined with the LORD. In the prior post, we saw the last verse of Haggai saying this of Zerubbabel, the LORD saying He would put His signature upon him, to show He has chosen Him. We also saw this comes as the seal of the LORD shaking the wicked from the earth (Job 38:13 & 14), which we also saw from Hebrews 12 comes by His spoken word.

The pattern of Zerubbabel, the one who is born by coming out of confusion, who represents the LORD's Righteous Judgment returned to civil government, is also represented in the one Isaiah calls Cyrus. Cyrus is described in Isaiah 45, which Paul also quotes in Romans 14:11 above. The name Cyrus is from Hebrew words telling of being measured in the furnace – or tried in the fires, as in dokimos, what remains after assayal.

Malachi 3
1 Behold, I will send my messenger, and he shall prepare the way before me: and the LORD, whom you seek, shall suddenly come to his temple, even the messenger of the covenant, whom you delight in: behold, he shall come, says the LORD of hosts.
2 But who may abide the day of his coming? and who shall stand when he appears? for he is like a refiner's fire, and like fullers' soap:
3 And he shall sit as a refiner and purifier of silver: and he shall purify the sons of Levi, and purge them as gold and silver, that they may offer unto the LORD an offering in righteousness.

This is the context of James' use of dokimos, in James 1:12, saying, "Blessed is the man that endures temptation: for when he is tried [dokimos], he shall receive the crown of life, which the LORD has promised to them that love him."

This is the same crown Paul speaks of in 1 Thessalonians 2:19 & 20, which is those who have received the word he has preached and taught, as it is in spirit and truth, the word of God. "For what is our hope, or joy, or crown of rejoicing? Are not even you in the presence of our LORD Jesus Christ at his coming? For you are our glory and joy."

Friends, you who've believed this word I preach and teach is the word of God, you are my crown, and my joy. "And the LORD their God shall save them in that day as the flock of his people: for they shall be as the stones of a crown, lifted up as an ensign upon his land." (Zechariah 9:16) "17 And they shall be mine, says the LORD of hosts, in that day when I make up my jewels; and I will spare them, as a man spares his own son that serves him. 18 Then shall you return, and discern between the righteous and the wicked, between him that serves God and him that serves him not." (Malachi 3)

Isaiah 45
1 Thus says the LORD to his anointed, to Cyrus, whose right hand I have holden, to subdue nations before him; and I will loose the loins of kings, to open before him the two leaved gates; and the gates shall not be shut;
2 I will go before you, and make the crooked places straight: I will break in pieces the gates of brass, and cut in sunder the bars of iron:
3 And I will give you the treasures of darkness, and hidden riches of secret places, that you may know that I, the LORD, which call you by your name, am the God of Israel.
4 For Jacob my servant's sake, and Israel mine elect, I have even called you by your name: I have surnamed you, though you have not known me.
5 I am the LORD, and there is none else, there is no God beside me: I girded you, though you have not known me:
6 That they may know from the rising of the sun, and from the west, that there is none beside me. I am the LORD, and there is none else.
7 I form the light, and create darkness: I make peace, and create evil: I the LORD do all these things.
8 Drop down, you heavens, from above, and let the skies pour down righteousness: let the earth open, and let them bring forth salvation, and let righteousness spring up together; I the LORD have created it.
9 Woe unto him that strives with his Maker! Let the potsherd strive with the potsherds of the earth. Shall the clay say to him that fashioned it, What make you? or your work, He has no hands?
10 Woe unto him that says unto his father, What beget you? or to the woman, What have you brought forth?
11 Thus says the LORD, the Holy One of Israel, and his Maker, Ask me of things to come concerning my sons, and concerning the work of my hands command you me.
12 I have made the earth, and created man upon it: I, even my hands, have stretched out the heavens, and all their host have I commanded.
13 I have raised him up in righteousness, and I will direct all his ways: he shall build my city, and he shall let go my captives, not for price nor reward, says the LORD of hosts.
14 Thus says the LORD, The labor of Egypt, and merchandise of Ethiopia and of the Sabeans, men of stature, shall come over unto you, and they shall be yours: they shall come after you; in chains they shall come over, and they shall fall down unto you, they shall make supplication unto you, saying, Surely God is in you; and there is none else, there is no God.
15 Truly you are a God that hides yourself, O God of Israel, the Savior.
16 They shall be ashamed, and also confounded, all of them: they shall go to confusion together that are makers of idols.
17 But Israel shall be saved in the LORD with an everlasting salvation: you shall not be ashamed nor confounded world without end.
18 For thus says the LORD that created the heavens; God himself that formed the earth and made it; he has established it, he created it not in vain, he formed it to be inhabited: I am the LORD; and there is none else.
19 I have not spoken in secret, in a dark place of the earth: I said not unto the seed of Jacob, Seek you me in vain: I the LORD speak righteousness, I declare things that are right.
20 Assemble yourselves and come; draw near together, you that are escaped of the nations: they have no knowledge that set up the wood of their graven image, and pray unto a god that cannot save.
21 Tell you, and bring them near; yea, let them take counsel together: who has declared this from ancient time? who has told it from that time? have not I the LORD? and there is no God else beside me; a just God and a Savior; there is none beside me.
22 Look unto me, and be you saved, all the ends of the earth: for I am God, and there is none else.
23 I have sworn by myself, the word is gone out of my mouth in righteousness, and shall not return, That unto me every knee shall bow, every tongue shall swear.
24 Surely, shall one say, in the LORD have I righteousness and strength: even to him shall men come; and all that are incensed against him shall be ashamed.
25 In the LORD shall all the seed of Israel be justified, and shall glory.

Zechariah 14
1 Behold, the day of the LORD comes, and your spoil shall be divided in the midst of you.
2 For I will gather all nations against Jerusalem to battle; and the city shall be taken, and the houses rifled, and the women ravished; and half of the city shall go forth into captivity, and the residue of the people shall not be cut off from the city.
3 Then shall the LORD go forth, and fight against those nations, as when he fought in the day of battle.
4 And his feet shall stand in that day upon the mount of Olives, which is before Jerusalem on the east, and the mount of Olives shall cleave in the midst thereof toward the east and toward the west, and there shall be a very great valley; and half of the mountain shall remove toward the north, and half of it toward the south.
5 And you shall flee to the valley of the mountains; for the valley of the mountains shall reach unto Azal: yea, you shall flee, like as you fled from before the earthquake in the days of Uzziah king of Judah: and the LORD my God shall come, and all the saints with you.
6 And it shall come to pass in that day, that the light shall not be clear, nor dark:
7 But it shall be one day which shall be known to the LORD, not day, nor night: but it shall come to pass, that at evening time it shall be light.
8 And it shall be in that day, that living waters shall go out from Jerusalem; half of them toward the former sea, and half of them toward the hinder sea: in summer and in winter shall it be.
9 And the LORD shall be king over all the earth: in that day shall there be one LORD, and his name one.
10 All the land shall be turned as a plain from Geba to Rimmon south of Jerusalem: and it shall be lifted up, and inhabited in her place, from Benjamin's gate unto the place of the first gate, unto the corner gate, and from the tower of Hananeel unto the king's winepresses.
11 And men shall dwell in it, and there shall be no more utter destruction; but Jerusalem shall be safely inhabited.
12 And this shall be the plague wherewith the LORD will smite all the people that have fought against Jerusalem; Their flesh shall consume away while they stand upon their feet, and their eyes shall consume away in their holes, and their tongue shall consume away in their mouth.
13 And it shall come to pass in that day, that a great tumult from the LORD shall be among them; and they shall lay hold every one on the hand of his neighbour, and his hand shall rise up against the hand of his neighbour.
14 And Judah also shall fight at Jerusalem; and the wealth of all the heathen round about shall be gathered together, gold, and silver, and apparel, in great abundance.
15 And so shall be the plague of the horse, of the mule, of the camel, and of the donkey, and of all the beasts that shall be in these tents, as this plague.
16 And it shall come to pass, that every one that is left of all the nations which came against Jerusalem shall even go up from year to year to worship the King, the LORD of hosts, and to keep the feast of tabernacles.
17 And it shall be, that whoso will not come up of all the families of the earth unto Jerusalem to worship the King, the LORD of hosts, even upon them shall be no rain.
18 And if the family of Egypt go not up, and come not, that have no rain; there shall be the plague, wherewith the LORD will smite the heathen that come not up to keep the feast of tabernacles.
19 This shall be the punishment of Egypt, and the punishment of all nations that come not up to keep the feast of tabernacles.
20 In that day shall there be upon the bells of the horses, Holiness Unto The LORD; and the pots in the LORD's house shall be like the bowls before the altar.
21 Yea, every pot in Jerusalem and in Judah shall be holiness unto the LORD of hosts: and all they that sacrifice shall come and take of them, and seethe therein: and in that day there shall be no more the Canaanite in the house of the LORD of hosts.

Psalms 83
1 Keep not you silence, O God: hold not your peace, and be not still, O God.
2 For, lo, your enemies make a tumult: and they that hate you have lifted up the head.
3 They have taken crafty counsel against your people, and consulted against your hidden ones.
4 They have said, Come, and let us cut them off from being a nation; that the name of Israel may be no more in remembrance.
5 For they have consulted together with one consent: they are confederate against you:
6 The tabernacles of Edom, and the Ishmaelites; of Moab, and the Hagarenes;
7 Gebal, and Ammon, and Amalek; the Philistines with the inhabitants of Tyre;
8 Assur also is joined with them: they have helped the children of Lot. Selah.
9 Do unto them as unto the Midianites; as to Sisera, as to Jabin, at the brook of Kison:
10 Which perished at Endor: they became as dung for the earth.
11 Make their nobles like Oreb, and like Zeeb: yea, all their princes as Zebah, and as Zalmunna:
12 Who said, Let us take to ourselves the houses of God in possession.
13 O my God, make them like a wheel [as in these times past]; as the stubble before the wind.
14 As the fire burns a wood, and as the flame sets the mountains on fire;
15 So persecute them with your tempest, and make them afraid with your storm.
16 Fill their faces with shame; that they may seek your name, O LORD.
17 Let them be confounded and troubled for ever; yea, let them be put to shame, and perish:
18 That men may know that you, whose name alone is Jehovah, are the most high over all the earth.