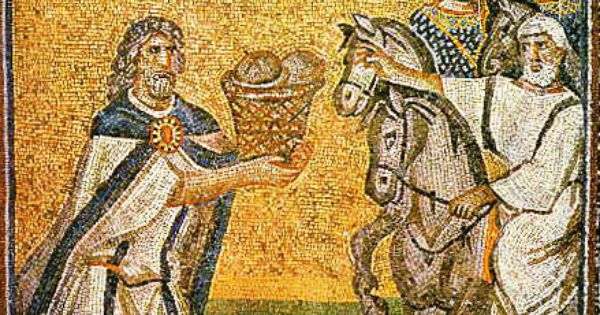 Again, he limits a certain day, saying in [through] David, "To day," after so long a time; as it is said, "To day if you will hear his voice, harden not your hearts."

The above is Hebrews 4:7, which speaks of the place of rest reached by those made perfect by correction into righteousness: purified into understanding all things, and thereby undefiled by erroneous teaching. As we saw in the previous post, entering this end state begins with order, accepting the one God sends with His truth, giving understand as the light of the sun rising in darkness, and this the anointing crowns on the person God appoints king, under who all others must subordinate their ideas. This person is the Son of man, who God first perfects, raising the mind of Christ in him, and saying, "You are My son, today have I begotten you."

We are told of this order in Hebrews: of following the son into the presence of God, as he, the first-born from the dead, leads many children into the same glory. The quote ending the last paragraph is Hebrews 5:5, the following verse telling us it is, "As he says also in another place, 'You are a priest forever after the order of Melchisedec.'"

These passages are describing of the one given the authority God has given me, the one who, in this pattern, is spoken of throughout the book of Hebrews, in whom Christ has first risen. (Friends, I don't take this lightly, nor do I deny Him. I have done as I ask you to do; subordinate your will to the Most High God, the Father of Spirit who gives life to all who receive Him. Receiving His word as His word; understanding it is truly Him, calling all to be reconciled to Him by correcting our mind into agreement with His.)

This is the pattern, the order, seen in Christ, whose example we are called to follow.

Hebrews 5
7 Who in the days of his flesh, when he had offered up prayers and supplications with strong crying and tears unto him that was able to save him from death, and was heard in that he feared;
8 Though he were a Son, yet learned he obedience by the things which he suffered;
9 And being made perfect, he became the author of eternal salvation unto all them that obey him;
10 Called of God an high priest after the order [taxis] of Melchisedec.
11 Of whom we have many things to say, and hard to be uttered, seeing you are dull of hearing.
12 For when for the time you ought to be teachers, you have need that one teach you again which be the first principles [stoicheion – elements] of the oracles of God; and are become such as have need of milk, and not of strong meat.
13 For every one that uses milk is unskillful in the word of righteousness: for he is a babe.
14 But strong meat belongs to them that are of full age, even those who by reason of use have their senses exercised to discern both good and evil.

As we know, the word stoicheion above, speaking of the foundation principles of God, teaching upon which we base all our reasoning (heart), is referring us to Peter's use of the word in 2 Peter 3. There they are the elements, the corrupted ideas upon which fallen man bases his decisions, which both cause the fires of hell and melt away in the heat. There Peter tells us these fires end the world they've produced, as the defiled works based on them are burned up. He says from this we look for the new heaven and earth, wherein dwells righteousness, which again alludes back to Melchisedec, the king (melek) of righteousness (tsedeq), in whose order we are led into rest.

As we know, the last verse of Hebrews 5 referrer us to the last verse of Job 38, where we are told of those who have wandered away from God, because the imposters in His place have not been able to provide the meat only He can. Job 38 is the LORD telling us of this meat, teaching by which He creates the new heaven and earth: revelation of ideas and mysteries that have become unknown by the ignorance and neglect by corrupting the order. There He tells us these things are what points to Him, speaking and working in and through those He has enlightened. He tells us in verses 12 thru 16 he does this to free us from the hold the wicked now have on all the world: controlling His people through lies: the creations of men, intended to manipulate the masses into doing their self-centered will.

Job 38
12 Have you commanded the morning since your days; and caused the dayspring to know his place; [have you sent understand that bring the new day, as He has]
13 That it might take hold of the ends of the earth [that end the age so the new can begin], that the wicked might be shaken out of it?
14 It is turned as clay to the seal [this is God's signature]; and they stand as a garment [distinctively rising to cover us]
15 And from the wicked their light [understanding] is withheld, and the high arm shall be broken [the hold those in power have over all people, is broken].
16 Have you entered into the springs of the sea [do you understand what has befallen the masses]? or have you walked in the search of the depth [do you understand the deep causes and cures]?

The later verses go on to plainly say these are His works, the order (ordinances) of heaven, which reveal Him.

Job 38
33 Know you the ordinances of heaven? can you set the dominion thereof in the earth?
34 Can you lift up your voice to the clouds, that abundance of waters may cover you?
35 Can you send lightning [understanding], that they may go and say unto you, Here we are?
36 Who has put wisdom in the inward parts? or who has given understanding to the heart?
37 Who can number the clouds [where the word of God as a vapor waits in heaven] in wisdom? or who can stay the bottles of heaven [stop the water from being poured on the earth from the cloud where they are held],
38 When the dust grows into hardness [which produces the drought and famine on the earth], and the clods cleave fast together [when the authentic word of God is withheld]?
39 Will you hunt the prey for the lion? or fill the appetite of the young lions,
40 When they couch in their dens, and abide in the covert to lie in wait [for this meat]?
41 Who provides for the raven [those covered in blackness – darkness as ignorance of God word] his food? when his young ones cry unto God, they wander for lack of meat.

Isaiah 49
7 Thus says the LORD, the Redeemer of Israel, and his Holy One, to him whom man despises, to him whom the nation abhors, to a servant of rulers, Kings shall see and arise, princes also shall worship, because of the LORD that is faithful, and the Holy One of Israel, and he shall choose you.
8 Thus says the LORD, In an acceptable time have I heard you, and in a day of salvation have I helped you: and I will preserve you, and give you for a covenant of the people, to establish the earth, to cause to inherit the desolate heritages;
9 That you may say to the prisoners, Go forth; to them that are in darkness, Shew yourselves. They shall feed in the ways, and their pastures shall be in all high places.
10 They shall not hunger nor thirst; neither shall the heat nor sun smite them: for he that has mercy on them shall lead them, even by the springs of water shall he guide them.
11 And I will make all my mountains a way, and my highways shall be exalted.
12 Behold, these shall come from far: and, lo, these from the north and from the west; and these from the land of Sinim [the second blessing].
13 Sing, O heavens; and be joyful, O earth; and break forth into singing, O mountains: for the LORD has comforted his people, and will have mercy upon his afflicted.
14 But Zion said, The LORD has forsaken me, and my LORD has forgotten me.
15 Can a woman forget her sucking child, that she should not have compassion on the son of her womb? yea, they may forget, yet will I not forget you.
16 Behold, I have graven you upon the palms of my hands; your walls are continually before me.
17 Your children shall make haste; your destroyers and they that made you waste shall go forth of you.
18 Lift up your eyes round about, and behold: all these gather themselves together, and come to you. As I live, says the LORD, you shall surely clothe you with them all, as with an ornament, and bind them on you, as a bride does.
19 For your waste and your desolate places, and the land of your destruction, shall even now be too narrow by reason of the inhabitants, and they that swallowed you up shall be far away.
20 The children which you shall have, after you have lost the other, shall say again in your ears, The place is too strait for me: give place to me that I may dwell.
21 Then shall you say in your heart, Who has begotten me these, seeing I have lost my children, and am desolate, a captive, and removing to and fro? and who has brought up these? Behold, I was left alone; these, where had they been?
22 Thus says the LORD God, Behold, I will lift up mine hand to the Gentiles, and set up my standard to the people: and they shall bring your sons in their arms, and your daughters shall be carried upon their shoulders.
23 And kings shall be your nursing fathers, and their queens your nursing mothers: they shall bow down to you with their face toward the earth, and lick up the dust of your feet; and you shall know that I am the LORD: for they shall not be ashamed that wait for me.
24 Shall the prey be taken from the mighty, or the lawful captive delivered?
25 But thus says the LORD, Even the captives of the mighty shall be taken away, and the prey of the terrible shall be delivered: for I will contend with him that contends with you, and I will save your children.
26 And I will feed them that oppress you with their own flesh; and they shall be drunken with their own blood, as with sweet wine: and all flesh shall know that I the LORD am your Savior and your Redeemer, the mighty One of Jacob.

When the book of Hebrews describes the "order" of Melchisedec, it uses the Greek word taxis, the same as taktos, which was discussed in the prior post. Taxis appears ten times in scripture, seven of those in Hebrews chapters 5 thru 7, six telling of the order of Melchisedec, and once in saying it replaces the order of Aaron.

This order is speaking of our entering into rest, which is prefaced by chapter 4 saying only those who believe are able to, by faith, enter. The place we enter is what is later described in Hebrews 12, heavenly Jerusalem, by this correction, which comes by the voice of God heard and heeded. This is the same voice Hebrews 1 begin by describing.

Hebrews 1
1 God, who at sundry times and in divers manners spoke in time past unto the fathers by the prophets [speaking His word in portions, without full understanding],
2 Has in these last days spoken unto us by his Son, whom he has appointed heir of all things, by whom also he made the worlds;
3 Who being the brightness of his glory [the understanding that shows His presence], and the express image of his person, and upholding all things by the word of his power, when he had by himself purged our sins, sat down on the right hand of the Majesty on high:
4 Being made so much better than the angels [more than merely a bearer of a message], as he has by inheritance obtained a more excellent name than they.
5 For unto which of the angels [messengers] said he at any time, You are my Son, this day have I begotten you? And again, I will be to him a Father, and he shall be to me a Son?
6 And again, when he brings in the first-begotten into the world, he says, And let all the angels [messengers] of God worship him [subordinate under Him].
7 And of the angels [messengers] he says, Who makes his angels spirits, and his ministers a flame of fire.
8 But unto the Son he says, Your throne, O God, is for ever and ever: a scepter of righteousness [a complete correctness and understanding] is the scepter of your kingdom.
9 You have loved righteousness, and hated iniquity [straying from God ways and better ideas]; therefore God, even your God, has anointed you with the oil of gladness above your fellows.

Subordinating to the Most High, God the Father, and His authority in the son He sends in His name (I Am), is what Hebrews 4 says we must believe, because only in believing do we follow His leading into rest.

Hebrews 4
1 Let us therefore fear, lest, a promise being left us of entering into his rest, any of you should seem to come short of it.
2 For unto us was the gospel preached, as well as unto them: but the word preached did not profit them, not being mixed with faith in them that heard it.
3 For we which have believed do enter into rest, as he said, As I have sworn in my wrath, if they shall enter into my rest: although the works were finished from the foundation of the world.
4 For he spoke in a certain place of the seventh day on this wise, And God did rest the seventh day from all his works.
5 And in this place again, If they shall enter into my rest.
6 Seeing therefore it remains that some must enter therein, and they to whom it was first preached entered not in because of unbelief:
7 Again, he limits a certain day, saying in David, To day, after so long a time; as it is said, To day if you will hear his voice, harden not your hearts.
8 For if Jesus had given them rest, then would he not afterward have spoken of another day.
9 There remains therefore a rest to the people of God.
10 For he that is entered into his rest, he also has ceased from his own works, as God did from his.
11 Let us labor therefore to enter into that rest, lest any man fall after the same example of unbelief.
12 For the word of God is quick, and powerful, and sharper than any two-edged sword, piercing even to the dividing asunder of soul and spirit, and of the joints and marrow, and is a discerner of the thoughts and intents of the heart.
13 Neither is there any creature that is not manifest in his sight: but all things are naked and opened unto the eyes of him with whom we have to do.
14 Seeing then that we have a great high priest, that is passed into the heavens, Jesus the Son of God, let us hold fast our profession.
15 For we have not an high priest which cannot be touched with the feeling of our infirmities; but was in all points tempted like as we are, yet without sin.
16 Let us therefore come boldly unto the throne of grace, that we may obtain mercy, and find grace to help in time of need.

Hebrews 5
1 For every high priest taken from among men is ordained for men in things pertaining to God, that he may offer both gifts and sacrifices for sins:
2 Who can have compassion on the ignorant, and on them that are out of the way [who have strayed from God]; for that he himself also is compassed with infirmity.
3 And by reason hereof he ought, as for the people, so also for himself, to offer for sins.
4 And no man taketh this honor unto himself, but he that is called of God, as was Aaron.
5 So also Christ glorified not himself to be made a high priest; but he that said unto him, You are my Son, to day have I begotten you. [Psalms 2:7]
6 As he says also in another place, You are a priest for ever after the order [taxis] of Melchisedec. [Psalms 110:

Psalms 2
1 Why do the heathen rage, and the people imagine a vain thing?
2 The kings of the earth set themselves, and the rulers take counsel together, against the LORD, and against his anointed, saying,
3 Let us break their bands asunder, and cast away their cords from us.
4 He that sits in the heavens shall laugh: the LORD shall have them in derision.
5 Then shall he speak unto them in his wrath, and vex them in his sore displeasure.
6 Yet have I set my king upon my holy hill of Zion.
7 I will declare the decree: the LORD has said unto me, You are my Son; this day have I begotten you.
8 Ask of me, and I shall give you the heathen for your inheritance, and the uttermost parts of the earth for your possession.
9 You shall break them with a rod of iron; you shall dash them in pieces like a potter's vessel.
10 Be wise now therefore, O you kings: be instructed, you judges of the earth.
11 Serve the LORD with fear, and rejoice with trembling.
12 Kiss the Son, lest he be angry, and you perish from the way, when his wrath is kindled but a little. Blessed are all they that put their trust in him.

Psalms 110
1 The LORD said unto my LORD, Sit you at my right hand, until I make your enemies your footstool.
2 The LORD shall send the rod of your strength out of Zion: rule you in the midst of your enemies.
3 Your people shall be willing in the day of your power, in the beauties of holiness from the womb of the morning: you have the dew of your youth.
4 The LORD has sworn, and will not repent, You are a priest for ever after the order of Melchizedek.
5 The LORD at your right hand shall strike through kings in the day of his wrath.
6 He shall judge among the heathen, he shall fill the places with the dead bodies; he shall wound the heads over many countries.
7 He shall drink of the brook in the way: therefore shall he lift up the head.

The willingness is the objective, because it produces the order that follows commandments – such as "Repent" and "Come out from among them." After the commandments are kept, then we go on into perfection: the blessing and the promise, as we draw near to God.

Hebrews 6
1 Therefore leaving the principles of the doctrine of Christ, let us go on unto perfection; not laying again the foundation of repentance from dead works, and of faith toward God,
2 Of the doctrine of baptisms, and of laying on of hands, and of resurrection of the dead, and of eternal judgment.
3 And this will we do, if God permit.
4 For it is impossible for those who were once enlightened, and have tasted of the heavenly gift, and were made partakers of the Holy Ghost,
5 And have tasted the good word of God, and the powers of the world to come,
6 If they shall fall away, to renew them again unto repentance; seeing they crucify to themselves the Son of God afresh, and put him to an open shame.
7 For the earth which drinketh in the rain that comes oft upon it, and bringeth forth herbs meet for them by whom it is dressed, receiveth blessing from God:
8 But that which beareth thorns and briers is rejected, and is nigh unto cursing; whose end is to be burned.
9 But, beloved, we are persuaded better things of you, and things that accompany salvation, though we thus speak.
10 For God is not unrighteous to forget your work and labor of love, which you have shewed toward his name, in that you have ministered to the saints, and do minister.
11 And we desire that every one of you do shew the same diligence to the full assurance of hope unto the end:
12 That you be not slothful, but followers of them who through faith and patience inherit the promises.
13 For when God made promise to Abraham, because he could swear by no greater, he swore by himself,
14 Saying, Surely blessing I will bless you, and multiplying I will multiply you.
15 And so, after he had patiently endured, he obtained the promise.
16 For men truly swear by the greater: and an oath for confirmation is to them an end of all strife.
17 Wherein God, willing more abundantly to shew unto the heirs of promise the immutability of his counsel, confirmed it by an oath:
18 That by two immutable things, in which it was impossible for God to lie, we might have a strong consolation, who have fled for refuge to lay hold upon the hope set before us:
19 Which hope we have as an anchor of the soul, both sure and steadfast, and which enters into that within the veil;
20 Whither the forerunner is for us entered, even Jesus, made an high priest for ever after the order [taxis] of Melchisedec.

Hebrews 7
1 For this Melchisedec, king of Salem, priest of the Most High God, who met Abraham returning from the slaughter of the kings, and blessed him;
2 To whom also Abraham gave a tenth part of all; first being by interpretation King of righteousness, and after that also King of Salem, which is, King of peace;
3 Without father, without mother, without descent, having neither beginning of days, nor end of life; but made like unto the Son of God; abides a priest continually.
4 Now consider how great this man was, unto whom even the patriarch Abraham gave the tenth of the spoils.
5 And truly they that are of the sons of Levi, who receive the office of the priesthood, have a commandment to take tithes of the people according to the law, that is, of their brethren, though they come out of the loins of Abraham:
6 But he whose descent is not counted from them received tithes of Abraham, and blessed him that had the promises.
7 And without all contradiction the less is blessed of the better.
8 And here men that die receive tithes; but there he receives them, of whom it is witnessed that he lives.
9 And as I may so say, Levi also, who received tithes, payed tithes in Abraham.
10 For he was yet in the loins of his father, when Melchisedec met him.
11 If therefore perfection were by the Levitical priesthood, (for under it the people received the law,) what further need was there that another priest should rise after the order [taxis] of Melchisedec, and not be called after the order [taxi] of Aaron?
12 For the priesthood being changed, there is made of necessity a change also of the law.
13 For he of whom these things are spoken pertains to another tribe, of which no man gave attendance at the altar.
14 For it is evident that our LORD sprang out of Judah; of which tribe Moses spoke nothing concerning priesthood.
15 And it is yet far more evident: for that after the similitude of Melchisedec there arises another priest,
16 Who is made, not after the law of a carnal commandment, but after the power of an endless life.
17 For he testifies, You are a priest for ever after the order [taxis] of Melchisedec.
18 For there is truly a disannulling of the commandment going before for the weakness and un-profitableness thereof.
19 For the law made nothing perfect, but the bringing in of a better hope did; by the which we draw nigh unto God.
20 And inasmuch as not without an oath he was made priest:
21 (For those priests were made without an oath; but this with an oath by him that said unto him, The LORD swore and will not repent, You are a priest for ever after the order [taxis] of Melchisedec:)
22 By so much was Jesus made a surety of a better testament.
23 And they truly were many priests, because they were not suffered to continue by reason of death:
24 But this man, because he continues ever, has an unchangeable priesthood.
25 Wherefore he is able also to save them to the uttermost that come unto God by him, seeing he ever lives to make intercession for them.
26 For such an high priest became us, who is holy, harmless, undefiled, separate from sinners, and made higher than the heavens;
27 Who needs not daily, as those high priests, to offer up sacrifice, first for his own sins, and then for the people's: for this he did once, when he offered up himself.
28 For the law makes men high priests which have infirmity; but the word of the oath, which was since the law, makes the Son, who is consecrated for evermore.

The Hebrew word rendered "order," in Psalms 110:4, is dibrah, which is then rendered taxis when quoting it in Hebrews. Dibrah is used four other time and its appearances we understand the purpose of the order of Melchisedec, which is to raise up and bless those who believe and commit their keeping, their cause, to the LORD's keeping, to raise up the lowly and to bring down the proud who oppose Him.

The first use comes as Eliphaz (meaning his god is gold/wealth) is speaking what he knows, while being ignorant that, by his own words, he is judging himself and not Job. This is the pattern of our time, those who think they know God, know doctrines and scripture, but are ignorant of their deeper purpose in revealing Christ. They are therefore unable to recognize His voice and word when they see them, because they always think it is correction meant for someone else. This is why the correction always comes from outside the existing orders, where the minds of men are not held captive in corruption.

Eliphaz is telling Job of the correction of God, how it produces good, but he doesn't understand God sometimes allow the righteous to be tried, to draw out self-righteousness and to expose the ignorance of the powerful.

Job 5
7 Yet man is born unto trouble, as the sparks fly upward.
8 I would seek unto God, and unto God would I commit my cause [dibrah – he is saying he would order his ways under God – which he did, under his god, his gold]:
9 Which does great things and unsearchable; marvelous things without number:
10 Who gives rain upon the earth, and sends waters upon the fields:
11 To set up on high those that be low; that those which mourn may be exalted to safety.
12 He disappoints the devices of the crafty, so that their hands cannot perform their enterprise.
13 He taketh the wise in their own craftiness [quoted in 1 Corinthians 3:19]: and the counsel of the froward [those who twist God truth] is carried headlong [carried unknowingly into the consequences of his own folly].
14 They meet with darkness in the day time, and grope in the noonday as in the night.
15 But he saves the poor from the sword, from their mouth, and from the hand of the mighty.
16 So the poor has hope, and iniquity stops her mouth.
17 Behold, happy is the man whom God corrects [quoted in Hebrews 12:5]: therefore despise not you the chastening of the Almighty:

This last portion is ignorance of God's ways of accomplishing His plan through the suffering of His saint, and finishing it through the suffering of His son, and the children God has given me, which makes those blessed by it, perfect.

Isaiah 52
10 The LORD has made bare his holy arm in the eyes of all the nations; and all the ends of the earth shall see the salvation of our God.
11 Depart you, depart you, go you out from thence, touch no unclean thing; go you out of the midst of her; be you clean, that bear the vessels of the LORD.
12 For you shall not go out with haste, nor go by flight: for the LORD will go before you; and the God of Israel will be your reward.
13 Behold, my servant shall deal prudently, he shall be exalted and extolled, and be very high.
14 As many were astonished at you; his visage was so marred more than any man, and his form more than the sons of men:
15 So shall he sprinkle many nations; the kings shall shut their mouths at him: for that which had not been told them shall they see; and that which they had not heard shall they consider.

Isaiah 53
1 Who has believed our report? and to whom is the arm of the LORD revealed?
2 For he shall grow up before him as a tender plant, and as a root out of a dry ground: he has no form nor comeliness; and when we shall see him, there is no beauty that we should desire him.
3 He is despised and rejected of men; a man of sorrows, and acquainted with grief: and we hid as it were our faces from him; he was despised, and we esteemed him not.
4 Surely he has borne our griefs, and carried our sorrows: yet we did esteem him stricken, smitten of God, and afflicted.
5 But he was wounded for our transgressions, he was bruised for our iniquities: the chastisement of our peace was upon him; and with his stripes we are healed.
6 All we like sheep have gone astray; we have turned every one to his own way; and the LORD has laid on him the iniquity of us all.

Ecclesiastes 8
1 Who is as the wise man? and who knows the interpretation of a thing? a man's wisdom makes his face to shine, and the boldness of his face shall be changed.
2 I counsel you to keep the king's commandment, and that in regard [bibrah – order] of the oath of God.
3 Be not hasty to go out of his sight: stand not in an evil thing; for he does whatsoever pleases him.
4 Where the word of a king is, there is power: and who may say unto him, What do you?
5 Whoso keeps the commandment shall feel no evil thing: and a wise man's heart discerns both time and judgment.
6 Because to every purpose there is time and judgment, therefore the misery of man is great upon him.
7 For he knows not that which shall be: for who can tell him when it shall be?
8 There is no man that has power over the spirit to retain the spirit; neither has he power in the day of death: and there is no discharge in that war; neither shall wickedness deliver those that are given to it.