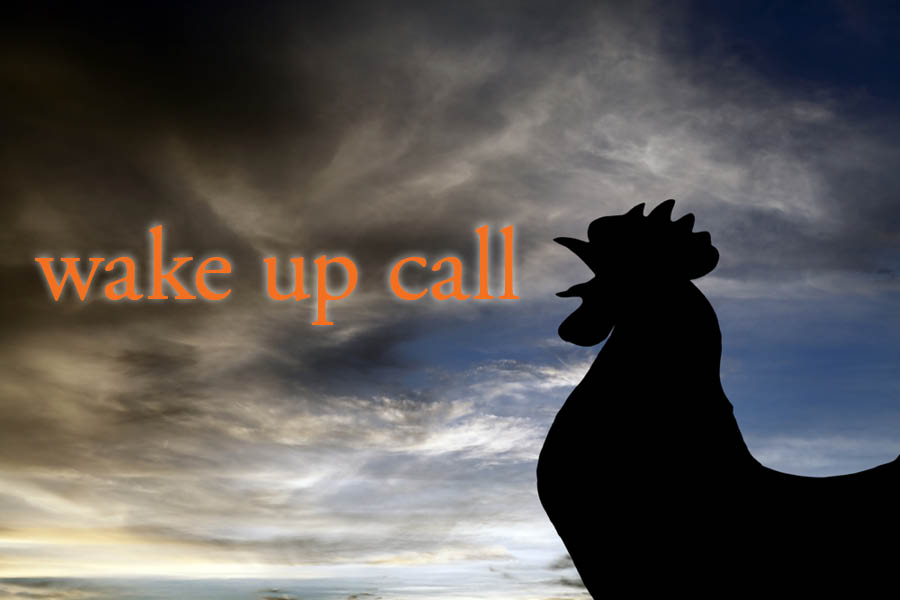 Now it is high time to awake out of sleep: for now is our salvation nearer than when we believed.

Today's title is Romans 13:11, from a chapter that begins with telling us to be in order, defining it as being subject to the Higher Power. It continues from the title statement describing it as when we "put on the armor of light" and "put on the LORD Jesus Christ," an event Paul, in 1 Corinthians 15, describes as the mystery of the change that must occur in all, when the corrupt has put on the uncorrupted, and the mortal has put on immortality.

Romans 13
9 For this, You shall not commit adultery, You shall not kill, You shall not steal, You shall not bear false witness, You shall not covet; and if there be any other commandment, it is briefly comprehended in this saying, namely, You shall love your neighbor as yourself.
10 Love works no ill to his neighbor: therefore love is the fulfilling of the law.
11 And that, knowing the time, that now it is high time to awake out of sleep: for now is our salvation nearer than when we believed [pisteuo].
12 The night is far spent, the day is at hand: let us therefore cast off the works of darkness [ignorance], and let us put on the armor of light [understanding].
13 Let us walk honestly, as in the day; not in rioting and drunkenness, not in chambering and wantonness, not in strife and envying.
14 But put you on the LORD Jesus Christ, and make not provision for the flesh, to fulfill the lusts thereof.

The Greek word rendered "high time" is kairos, meaning an occasion, as a set or proper time. It is speaking of this time, when all men waken out of their sleep, some into the salvation that has come, and others not [Daniel 12:1 thru 3]. When Paul says it is "nearer than when we believed" he is saying it is at hand and no longer a matter of faith – because we have received what we had faith [pisteuo] would come. He then says we must put on what has come, which is understanding (light) that protects us from the power of darkness; and the LORD Jesus Christ whose one body we are. It is spoken of as a "high time" because it is when we rise to meet the LORD where we shall ever be joined with Him.

As we know, Paul says the place we meet the LORD is in the air, the power of word effectually working in us, His Spirit breathed in as His life-giving word, and exhaled in the same manner, giving His life to those who receive it. In 1 Thessalonians 2:12 & 13 Paul describes this as when those called into the kingdom received His word as the word of God, saying, "12 That you would walk worthy of God, who has called you unto his kingdom and glory. 13 For this cause also thank we God without ceasing, because, when you received the word of God which you heard of us, you received it not as the word of men, but as it is in truth, the word of God, which effectually works also in you that believe [pisteuo]."

These are the same people, Paul, in verse 19, asks if they understand they are, by this, in the presence of the LORD at His coming. He asks as I ask, "Are not even you in the presence of our LORD Jesus Christ at his coming?"

They are the same people He speaks to in 1 Thessalonians 4, the living brought to life by putting on understanding and the LORD Jesus Christ, who were losing hope that the sleeping would ever awaken. He tells them of our time, when all the dead will rise, when this trumpet sounds calling all God's people to gather into one body. Those now alive and remaining are the elect remnant, who the LORD has first awakened and raised into His marvelous light.

Paul uses the word kairos in Romans 3:26 to tell of this time, and in Romans 11:5 in speaking of there being a remnant even now, to speak His word and by it reconcile God's sleeping people into life.

Romans 3
9 What then? are we better than they? No, in no wise: for we have before proved both Jews and Gentiles, that they are all under sin;
10 As it is written, There is none righteous, no, not one:
11 There is none that understands, there is none that seeks after God.
12 They are all gone out of the way, they are together become unprofitable; there is none that does good, no, not one.
13 Their throat is an open sepulcher; with their tongues they have used deceit; the poison of asps is under their lips:
14 Whose mouth is full of cursing and bitterness:
15 Their feet are swift to shed blood:
16 Destruction and misery are in their ways:
17 And the way of peace have they not known:
18 There is no fear of God before their eyes.
19 Now we know that what things soever the law says, it says to them who are under the law: that every mouth may be stopped, and all the world may become guilty before God.
20 Therefore by the deeds of the law there shall no flesh be justified in his sight: for by the law is the knowledge of sin.
21 But now the righteousness of God without the law is manifested, being witnessed by the law and the prophets;
22 Even the righteousness of God which is by faith of Jesus Christ unto all and upon all them that believe: for there is no difference:
23 For all have sinned, and come short of the glory of God;
24 Being justified freely by his grace through the redemption that is in Christ Jesus:
25 Whom God has set forth to be a propitiation through faith in his blood, to declare his righteousness for the remission of sins that are past, through the forbearance of God;
26 To declare, I say, at this time [kairos] His righteousness: that he might be just, and the justifier of him which believes in Jesus.
27 Where is boasting then? It is excluded. By what law? of works? Nay: but by the law of faith.
28 Therefore we conclude that a man is justified by faith without the deeds of the law.
29 Is he the God of the Jews only? is he not also of the Gentiles? Yes, of the Gentiles also:
30 Seeing it is one God, which shall justify the circumcision by faith, and uncircumcision through [our] faith.
31 Do we then make void the law through [our] faith? God forbid: yea, we establish the law.

Romans 10 then speaks of God's people having a zeal for Him, but not according to knowledge. As we have seen in previous posts, the word "according" is kata, which tells us these people have not subordinated their ideas to the LORD's. the chapter goes on to say they are going about trying to declare themselves right, rather than submitting to the fact that the LORD is correct and they are not. Those who have not submitted to it are those who remain under the law and have faith in themselves. It says they are failing to understand the LORD is risen and is the one speaking His word to them through Paul, to justify them by correction of their error. He is speaking to them about confessing this, as verse 26 above says, "To declare, I say, at this time [kairos] His righteousness: that he might be just, and the justifier of him which believes in Jesus [Jehovah's Salvation manifested in the flesh]."

Romans 10
1 Brethren, my heart's desire and prayer to God for Israel is, that they might be saved.
2 For I bear them record that they have a zeal of God, but not according [kata] to knowledge.
3 For they being ignorant [in darkness – without understanding] of God's righteousness, and going about to establish their own righteousness, have not submitted [hupotasso – under order – as in being "subject" to the higher power] themselves unto the righteousness of God. [this is speaking of God's people exalting their errors above His truth, and being zealous in doing it]
4 For Christ is the end of the law for righteousness to every one that believes.
5 For Moses describes the righteousness which is of the law, That the man which does those things shall live by them.
6 But the righteousness which is of faith speaks on this wise, Say not in your heart, Who shall ascend into heaven? (that is, to bring Christ down from above:)
7 Or, Who shall descend into the deep? (that is, to bring up Christ again from the dead.)
8 But what says it? The word is nigh you, even in your mouth, and in your heart: that is, the word of faith, which we preach;
9 That if you shall confess with your mouth the LORD Jesus, and shall believe in your heart that God has raised him from the dead, you shall be saved.
10 For with the heart man believes unto righteousness; and with the mouth confession is made unto salvation.

Romans 11
1 I say then, Has God cast away his people? God forbid. For I also am an Israelite, of the seed of Abraham, of the tribe of Benjamin.
2 God has not cast away his people which he foreknew. Wot you not what the scripture says of Eliajah? how he made intercession to God against Israel saying,
3 LORD, they have killed your prophets, and digged down your altars; and I am left alone, and they seek my life.
4 But what says the answer of God unto him? I have reserved to myself seven thousand men, who have not bowed the knee to the image of Baal.
5 Even so then at this present time [kairos] also there is a remnant according to the election of grace.
6 And if by grace, then is it no more of works: otherwise grace is no more grace. But if it be of works, then it is no more grace: otherwise work is no more work.
7 What then? Israel has not obtained that which he seeks for; but the election has obtained it, and the rest were blinded.
8 (According as it is written, God has given them the spirit of slumber, eyes that they should not see, and ears that they should not hear;) unto this day.
9 And David says, Let their table be made a snare, and a trap, and a stumbling-block, and a recompense unto them:
10 Let their eyes be darkened, that they may not see, and bow down their back always.
11 I say then, Have they stumbled that they should fall? God forbid: but rather through their fall salvation is come unto the Gentiles, for to provoke them to jealousy.
12 Now if the fall of them be the riches of the world, and the diminishing of them the riches of the Gentiles; how much more their fullness?
13 For I speak to you Gentiles, inasmuch as I am the apostle of the Gentiles, I magnify mine office:
14 If by any means I may provoke to emulation them which are my flesh, and might save some of them.
15 For if the casting away of them be the reconciling of the world, what shall the receiving of them be, but life from the dead?

Ephesians 1 tells of this time when the LORD has made know His will to those who've loved and kept His word and believed it is Him speaking. Read it in the simplicity of this understanding.

Ephesians 1
1 Paul, an apostle of Jesus Christ by the will of God, to the saints which are at Ephesus, and to the faithful in Christ Jesus:
2 Grace be to you, and peace, from God our Father, and from the LORD Jesus Christ.
3 Blessed be the God and Father of our LORD Jesus Christ, who has blessed us with all spiritual blessings in heavenly places in Christ:
4 According as he has chosen us in him before the foundation of the world, that we should be holy and without blame before him in love:
5 Having predestinated us unto the adoption of children by Jesus Christ to himself, according to the good pleasure of his will,
6 To the praise of the glory of his grace, wherein he has made us accepted in the beloved.
7 In whom we have redemption through his blood, the forgiveness of sins, according to the riches of his grace;
8 Wherein he has abounded toward us in all wisdom and prudence;
9 Having made known unto us the mystery of his will, according to his good pleasure which he has purposed in himself:
10 That in the dispensation of the fulness of times [karios] he might gather together in one all things in Christ, both which are in heaven, and which are on earth; even in him:
11 In whom also we have obtained an inheritance, being predestinated according to the purpose of him who works all things after the counsel of his own will:
12 That we should be to the praise of his glory, who first trusted in Christ.
13 In whom you also trusted, after that you heard the word of truth, the gospel of your salvation: in whom also after that you believed, you were sealed with that holy Spirit of promise,
14 Which is the earnest of our inheritance until the redemption of the purchased possession, unto the praise of his glory.
15 Wherefore I also, after I heard of your faith in the LORD Jesus, and love unto all the saints,
16 Cease not to give thanks for you, making mention of you in my prayers;
17 That the God of our LORD Jesus Christ, the Father of glory, may give unto you the spirit of wisdom and revelation in the knowledge of him:
18 The eyes of your understanding being enlightened; that you may know what is the hope of his calling, and what the riches of the glory of his inheritance in the saints,
19 And what is the exceeding greatness of his power to us-ward who believe, according to the working of his mighty power,
20 Which he wrought in Christ, when he raised him from the dead, and set him at his own right hand in the heavenly places,
21 Far above all principality, and power, and might, and dominion, and every name that is named, not only in this world, but also in that which is to come:
22 And has put all things under his feet, and gave him to be the head over all things to the church,
23 Which is his body, the fullness of him that fills all in all.

Ephesians 2
1 And you has he quickened, who were dead in trespasses and sins;
2 Wherein in time past you walked according to the course of this world, according to the prince of the power of the air, the spirit that now works in the children of disobedience:
3 Among whom also we all had our conversation in times past in the lusts of our flesh, fulfilling the desires of the flesh and of the mind; and were by nature the children of wrath, even as others.
4 But God, who is rich in mercy, for his great love wherewith he loved us,
5 Even when we were dead in sins, has quickened us together with Christ, (by grace you are saved;)
6 And has raised us up together, and made us sit together in heavenly places in Christ Jesus:
7 That in the ages to come he might shew the exceeding riches of his grace in his kindness toward us through Christ Jesus.
8 For by grace are you saved through faith; and that not of yourselves: it is the gift of God:
9 Not of works, lest any man should boast.
10 For we are his workmanship, created in Christ Jesus unto good works, which God has before ordained that we should walk in them.
11 Wherefore remember, that you being in time past Gentiles in the flesh, who are called Uncircumcision by that which is called the Circumcision in the flesh made by hands;
12 That at that time [kairos] you were without Christ, being aliens from the commonwealth of Israel, and strangers from the covenants of promise, having no hope, and without God in the world:
13 But now in Christ Jesus you who sometimes were far off are made nigh by the blood of Christ.
14 For he is our peace, who has made both one, and has broken down the middle wall of partition between us;
15 Having abolished in his flesh the enmity, even the law of commandments contained in ordinances; for to make in himself of twain one new man, so making peace;
16 And that he might reconcile both unto God in one body by the cross, having slain the enmity thereby:
17 And came and preached peace to you which were afar off, and to them that were nigh.
18 For through him we both have access by one Spirit unto the Father.
19 Now therefore you are no more strangers and foreigners, but fellow-citizens with the saints, and of the household of God;
20 And are built upon the foundation of the apostles and prophets, Jesus Christ himself being the chief corner stone;
21 In whom all the building fitly framed together grows unto an holy temple in the LORD:
22 In whom you also are built together for an habitation of God through the Spirit.

Ephesian 1:22 & 23 appear almost identically in 1 Corinthians 15:27 & 28, where they are speaking of the resurrection, as above, when all things are in order and subordinated to God the Father. In each of these two instances, we are also being referred to Psalms 8 and 18, the first speaking of all things put the feet of those who God has visited, the second of darkness put under the same feet.

1 Corinthians 15
1 Moreover, brethren, I declare unto you the gospel which I preached unto you, which also you have received, and wherein you stand;
2 By which also you are saved, if you keep in memory what I preached unto you, unless you have believed in vain.
3 For I delivered unto you first of all that which I also received, how that Christ died for our sins according [kata] to the scriptures;
4 And that he was buried, and that he rose again the third day according [kata] to the scriptures:
5 And that he was seen of Cephas, then of the twelve:
6 After that, he was seen of above five hundred brethren at once; of whom the greater part remain unto this present, but some are fallen asleep.
7 After that, he was seen of James; then of all the apostles.
8 And last of all he was seen of me also, as of one born out of due time.
9 For I am the least of the apostles, that am not meet to be called an apostle, because I persecuted the church of God.
10 But by the grace of God I am what I am: and his grace which was bestowed upon me was not in vain; but I labored more abundantly than they all: yet not I, but the grace of God which was with me.
11 Therefore whether it were I or they, so we preach, and so you believed.
12 Now if Christ be preached that he rose from the dead, how say some among you that there is no resurrection of the dead?
13 But if there be no resurrection of the dead, then is Christ not risen:
14 And if Christ be not risen, then is our preaching vain, and your faith is also vain.
15 Yea, and we are found false witnesses of God; because we have testified of God that he raised up Christ: whom he raised not up, if so be that the dead rise not.
16 For if the dead rise not, then is not Christ raised:
17 And if Christ be not raised, your faith is vain; you are yet in your sins.
18 Then they also which are fallen asleep in Christ are perished.
19 If in this life only we have hope in Christ, we are of all men most miserable.
20 But now is Christ risen from the dead, and become the first-fruits of them that slept.
21 For since by man came death, by man came also the resurrection of the dead.
22 For as in Adam all die, even so in Christ shall all be made alive.
23 But every man in his own order: Christ the first-fruits; afterward they that are Christ's at his coming.
24 Then comes the end, when he shall have delivered up the kingdom to God, even the Father; when he shall have put down all rule and all authority and power.
25 For he must reign, till he has put all enemies under his feet.
26 The last enemy that shall be destroyed is death.
27 For he has put all things under his feet. But when he says all things are put under him, it is manifest that he is excepted, which did put all things under him.
28 And when all things shall be subdued unto him, then shall the Son also himself be subject unto him that put all things under him, that God may be all in all.
29 Else what shall they do which are baptized for the dead, if the dead rise not at all? why are they then baptized for the dead? [Romans 6:3 Know you not, that so many of us as were baptized into Jesus Christ were baptized into his death?]
30 And why stand we in jeopardy every hour?
31 I protest by your rejoicing which I have in Christ Jesus our LORD, I die daily.
32 If after the manner of men I have fought with beasts at Ephesus, what advantages it me, if the dead rise not? let us eat and drink; for to morrow we die.
33 Be not deceived: evil communications corrupt good manners.
34 Awake to righteousness, and sin not; for some have not the knowledge of God [see Romans 10:2 above]: I speak this to your shame.
35 But some man will say, How are the dead raised up? and with what body do they come?
36 You fool, that which you sow is not quickened, except it die:
37 And that which you sow, you sow not that body that shall be, but bare grain, it may chance of wheat, or of some other grain:
38 But God gives it a body as it has pleased him, and to every seed his own body.
39 All flesh is not the same flesh: but there is one kind of flesh of men, another flesh of beasts, another of fishes, and another of birds.
40 There are also celestial bodies, and bodies terrestrial: but the glory of the celestial is one, and the glory of the terrestrial is another.
41 There is one glory of the sun, and another glory of the moon, and another glory of the stars: for one star differs from another star in glory.
42 So also is the resurrection of the dead. It is sown in corruption; it is raised in incorruption:
43 It is sown in dishonor; it is raised in glory: it is sown in weakness; it is raised in power:
44 It is sown a natural body; it is raised a spiritual body. There is a natural body, and there is a spiritual body.
45 And so it is written, The first man Adam was made a living soul; the last Adam was made a quickening spirit.
46 Howbeit that was not first which is spiritual, but that which is natural; and afterward that which is spiritual.
47 The first man is of the earth, earthy; the second man is the LORD from heaven.
48 As is the earthy, such are they also that are earthy: and as is the heavenly, such are they also that are heavenly.
49 And as we have borne the image of the earthy, we shall also bear the image of the heavenly.
50 Now this I say, brethren, that flesh and blood cannot inherit the kingdom of God; neither does corruption inherit incorruption.
51 Behold, I shew you a mystery; We shall not all sleep, but we shall all be changed,
52 In a moment, in the twinkling of an eye, at the last trump: for the trumpet shall sound, and the dead shall be raised incorruptible, and we shall be changed.
53 For this corruptible must put on incorruption, and this mortal must put on immortality.
54 So when this corruptible shall have put on incorruption, and this mortal shall have put on immortality, then shall be brought to pass the saying that is written, Death is swallowed up in victory.
55 O death, where is your sting? O grave, where is your victory?
56 The sting of death is sin; and the strength of sin is the law.
57 But thanks be to God, which gives us the victory through our LORD Jesus Christ.
58 Therefore, my beloved brethren, be you steadfast, immoveable, always abounding in the work of the LORD, forasmuch as you know that your labor is not in vain in the LORD.

As discussed in the past, verse 54 above quote Isaiah 25:8, and verse 55 quotes from Hosea 13:14, all speaking in this same context of the orderly arrangement of events, according to these scriptures. They show events and the time all thing become subordinate to God; now declared by those He has raised, so God is seen as all in all. "To declare, I say, at this time [kairos] his righteousness: that he might be just [right], and the justifier of him which believes in Jesus."

Isaiah 25
1 O LORD, you are my God; I will exalt you, I will praise your name; for you have done wonderful things; your counsels of old are faithfulness and truth.
2 For you have made of a city an heap; of a defensed city a ruin: a palace of strangers to be no city; it shall never be built.
3 Therefore shall the strong people glorify you, the city of the terrible nations shall fear you.
4 For you have been a strength to the poor, a strength to the needy in his distress, a refuge from the storm, a shadow from the heat, when the blast of the terrible ones is as a storm against the wall.
5 You shall bring down the noise of strangers, as the heat in a dry place; even the heat with the shadow of a cloud: the branch of the terrible ones shall be brought low.
6 And in this mountain shall the LORD of hosts make unto all people a feast of fat things, a feast of wines on the lees, of fat things full of marrow, of wines on the lees well refined.
7 And he will destroy in this mountain the face of the covering cast over all people, and the vail that is spread over all nations.
8 He will swallow up death in victory; and the LORD God will wipe away tears from off all faces; and the rebuke of his people shall he take away from off all the earth: for the LORD has spoken it.
9 And it shall be said in that day, Lo, this is our God; we have waited for him, and he will save us: this is the LORD; we have waited for him, we will be glad and rejoice in his salvation.
10 For in this mountain shall the hand of the LORD rest, and Moab shall be trodden down under him, even as straw is trodden down for the dunghill.
11 And he shall spread forth his hands in the midst of them, as he that swims spreads forth his hands to swim: and he shall bring down their pride together with the spoils of their hands.
12 And the fortress of the high fort of your walls shall he bring down, lay low, and bring to the ground, even to the dust.

Hosea 13
9 O Israel, you have destroyed yourself; but in me is your help.
10 I will be your king: where is any other that may save you in all your cities? and your judges of whom you said, Give me a king and princes?
11 I gave you a king in mine anger, and took him away in my wrath.
12 The iniquity of Ephraim is bound up; his sin is hid.
13 The sorrows of a travailing woman shall come upon him: he is an unwise son; for he should not stay long in the place of the breaking forth of children.
14 I will ransom them from the power of the grave; I will redeem them from death: O death, I will be your plagues; O grave, I will be your destruction: repentance shall be hid from mine eyes.
15 Though he be fruitful among his brethren, an east wind shall come, the wind of the LORD shall come up from the wilderness, and his spring shall become dry, and his fountain shall be dried up: he shall spoil the treasure of all pleasant vessels.
16 Samaria shall become desolate; for she has rebelled against her God: they shall fall by the sword: their infants shall be dashed in pieces, and their women with child shall be ripped up.

Hosea 14
1 O Israel, return unto the LORD your God; for you have fallen by your iniquity.
2 Take with you words, and turn to the LORD: say unto him, Take away all iniquity, and receive us graciously: so will we render the calves of our lips.
3 Asshur shall not save us; we will not ride upon horses: neither will we say any more to the work of our hands, You are our gods: for in you [LORD] the fatherless find mercy.
4 I will heal their backsliding, I will love them freely: for mine anger is turned away from him.
5 I will be as the dew unto Israel: he shall grow as the lily, and cast forth his roots as Lebanon.
6 His branches shall spread, and his beauty shall be as the olive tree, and his smell as Lebanon.
7 They that dwell under his shadow shall return; they shall revive as the corn, and grow as the vine: the scent thereof shall be as the wine of Lebanon.
8 Ephraim shall say, What have I to do any more with idols? I have heard him, and observed him: I am like a green fir tree. From me is your fruit found.
9 Who is wise, and he shall understand these things? prudent, and he shall know them? for the ways of the LORD are right, and the just shall walk in them: but the transgressors shall fall therein.

Psalms 8
1 O LORD, our LORD, how excellent is your name in all the earth! who has set your glory above the heavens.
2 Out of the mouth of babes and sucklings have you ordained strength because of your enemies, that you might still the enemy and the avenger.
3 When I consider your heavens, the work of your fingers, the moon and the stars, which you have ordained;
4 What is man, that you are mindful of him? and the son of man, that you visit him?
5 For you have made him a little lower than the angels, and have crowned him with glory and honor.
6 You made him to have dominion over the works of your hands; you have put all things under his feet:
7 All sheep and oxen, yea, and the beasts of the field;
8 The fowl of the air, and the fish of the sea, and whatsoever passes through the paths of the seas.
9 O LORD our LORD, how excellent is your name in all the earth!

Psalms 18
1 I will love you, O LORD, my strength.
2 The LORD is my rock, and my fortress, and my deliverer; my God, my strength, in whom I will trust; my buckler, and the horn of my salvation, and my high tower.
3 I will call upon the LORD, who is worthy to be praised: so shall I be saved from mine enemies.
4 The sorrows of death compassed me, and the floods of ungodly men made me afraid.
5 The sorrows of hell compassed me about: the snares of death prevented me.
6 In my distress I called upon the LORD, and cried unto my God: he heard my voice out of his temple, and my cry came before him, even into his ears.
7 Then the earth shook and trembled; the foundations also of the hills moved and were shaken, because he was wroth.
8 There went up a smoke out of his nostrils, and fire out of his mouth devoured: coals were kindled by it.
9 He bowed the heavens also, and came down: and darkness was under his feet.
10 And he rode upon a cherub, and did fly: yea, he did fly upon the wings of the wind.
11 He made darkness his secret place; his pavilion round about him were dark waters and thick clouds of the skies.
12 At the brightness that was before him his thick clouds passed, hail stones and coals of fire.
13 The LORD also thundered in the heavens, and the Highest gave his voice; hail stones and coals of fire.
14 Yea, he sent out his arrows, and scattered them; and he shot out lightnings, and discomfited them.
15 Then the channels of waters were seen, and the foundations of the world were discovered at your rebuke, O LORD, at the blast of the breath of your nostrils.
16 He sent from above, he took me, he drew me out of many waters.
17 He delivered me from my strong enemy, and from them which hated me: for they were too strong for me.
18 They prevented me in the day of my calamity: but the LORD was my stay.
19 He brought me forth also into a large place; he delivered me, because he delighted in me.
20 The LORD rewarded me according to my righteousness; according to the cleanness of my hands has he recompensed me.
21 For I have kept the ways of the LORD, and have not wickedly departed from my God.
22 For all his judgments were before me, and I did not put away his statutes from me.
23 I was also upright before him, and I kept myself from mine iniquity.
24 Therefore has the LORD recompensed me according to my righteousness, according to the cleanness of my hands in his eyesight.
25 With the merciful you will shew yourself merciful; with an upright man you will shew yourself upright;
26 With the pure you will shew yourself pure; and with the froward you will shew yourself froward.
27 For you will save the afflicted people; but will bring down high looks.
28 For you will light my candle: the LORD my God will enlighten my darkness.
29 For by you I have run through a troop; and by my God have I leaped over a wall.
30 As for God, his way is perfect: the word of the LORD is tried: he is a buckler to all those that trust in him.
31 For who is God save the LORD? or who is a rock save our God?
32 It is God that gird me with strength, and makes my way perfect.
33 He makes my feet like hinds' feet, and sets me upon my high places.
34 He teaches my hands to war, so that a bow of steel is broken by mine arms.
35 You have also given me the shield of your salvation: and your right hand has held me up, and your gentleness has made me great.
36 You have enlarged my steps under me, that my feet did not slip.
37 I have pursued mine enemies, and overtaken them: neither did I turn again till they were consumed.
38 I have wounded them that they were not able to rise: they are fallen under my feet.
39 For you have girded me with strength unto the battle: you have subdued under me those that rose up against me.
40 You have also given me the necks of mine enemies; that I might destroy them that hate me.
41 They cried, but there was none to save them: even unto the LORD, but he answered them not.
42 Then did I beat them small as the dust before the wind: I did cast them out as the dirt in the streets.
43 You have delivered me from the strivings of the people; and you have made me the head of the heathen: a people whom I have not known shall serve me.
44 As soon as they hear of me, they shall obey me: the strangers shall submit themselves unto me.
45 The strangers shall fade away, and be afraid out of their close places.
46 The LORD lives; and blessed be my rock; and let the God of my salvation be exalted.
47 It is God that avenges me, and subdues the people under me.
48 He delivers me from mine enemies: yea, you lift me up above those that rise up against me: you have delivered me from the violent man.
49 Therefore will I give thanks unto you, O LORD, among the heathen, and sing praises unto your name.
50 Great deliverance gives he to his king; and shews mercy to his anointed, to David, and to his seed for evermore.