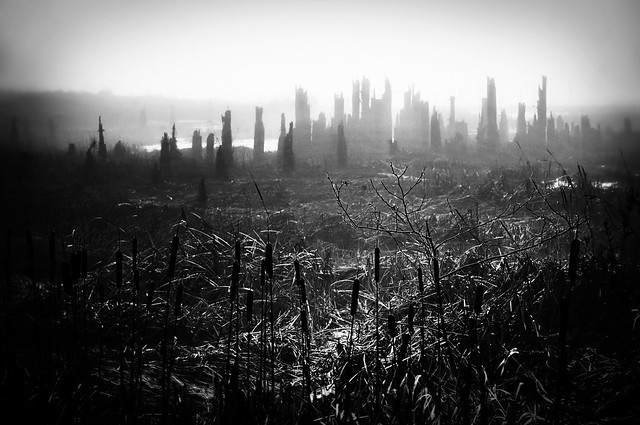 Your country is desolate, your cities are burned with fire: your land, strangers devour it in your presence, and it is desolate, as overthrown by strangers. And the daughter of Zion is left as a cottage in a vineyard, as a lodge in a garden of cucumbers, as a besieged city.
Continuing: the title is speaking of the evil day, when the LORD, for the sake of His elect remnant (as a lodge in a garden of cucumbers: which grow wildly over everything), shortens the days in the consummation determined. The statement is Isaiah 1:7 & 8, which is followed by saying, "Except the LORD of hosts had left unto us a very small remnant, we should have been as Sodom, and we should have been like unto Gomorrah." This is quoted by Paul in Romans 9:29, just after he quotes Isaiah 10:22 & 23, thereby telling us he is speaking of the kalah charats, the consumption determined, which was discussed in detail in the previous post.
Isaiah 10
12 Wherefore it shall come to pass, that when the LORD has performed his whole work upon mount Zion and on Jerusalem, I will punish the fruit of the stout heart of the king of Assyria, and the glory of his high looks.
13 For he says, By the strength of my hand I have done it, and by my wisdom; for I am prudent: and I have removed the bounds of the people, and have robbed their treasures, and I have put down the inhabitants like a valiant man:
14 And my hand has found as a nest the riches of the people: and as one gathers eggs that are left, have I gathered all the earth; and there was none that moved the wing, or opened the mouth, or peeped.
15 Shall the ax boast itself against him that hews therewith? or shall the saw magnify itself against him that shakes it? as if the rod should shake itself against them that lift it up, or as if the staff should lift up itself, as if it were no wood.
16 Therefore shall the LORD, the LORD of hosts, send among his fat ones leanness; and under his glory he shall kindle a burning like the burning of a fire.
17 And the light of Israel shall be for a fire, and his Holy One for a flame: and it shall burn and devour his thorns and his briers in one day;
18 And shall consume the glory of his forest, and of his fruitful field, both soul and body: and they shall be as when a standard-bearer faints.
19 And the rest of the trees of his forest shall be few, that a child may write them.
20 And it shall come to pass in that day, that the remnant of Israel, and such as are escaped of the house of Jacob, shall no more again stay upon him that smote them; but shall stay upon the LORD, the Holy One of Israel, in truth.
21 The remnant shall return, even the remnant of Jacob, unto the mighty God.
22 For though your people Israel be as the sand of the sea, yet a remnant of them shall return: the consumption decreed [charats] shall overflow with righteousness.
23 For the LORD God of hosts shall make a consumption [kalah], even determined [charats], in the midst of all the land.
24 Therefore thus says the LORD God of hosts, O my people that dwell in Zion, be not afraid of the Assyrian: he shall smite you with a rod, and shall lift up his staff against you, after the manner of Egypt.
25 For yet a very little while, and the indignation shall cease, and mine anger in their destruction.
26 And the LORD of hosts shall stir up a scourge for him according to the slaughter of Midian at the rock of Oreb: and as his rod was upon the sea, so shall he lift it up after the manner of Egypt. [these tell of God's people called to come out against the enemies, to overflow them as the sea did the Egyptians who ignorantly pursued them]
27 And it shall come to pass in that day, that his burden shall be taken away from off your shoulder, and his yoke from off your neck, and the yoke shall be destroyed because of the anointing.
Isaiah 1
7 Your country is desolate, your cities are burned with fire: your land, strangers devour it in your presence, and it is desolate, as overthrown by strangers.
8 And the daughter of Zion is left as a cottage in a vineyard, as a lodge in a garden of cucumbers, as a besieged city.
9 Except the LORD of hosts had left unto us a very small remnant, we should have been as Sodom, and we should have been like unto Gomorrah.
10 Hear the word of the LORD, you rulers of Sodom; give ear unto the law of our God, you people of Gomorrah.
11 To what purpose is the multitude of your sacrifices unto me? says the LORD: I am full of the burnt offerings of rams, and the fat of fed beasts; and I delight not in the blood of bullocks, or of lambs, or of he goats.
12 When you come to appear before me, who has required this at your hand, to tread my courts?
13 Bring no more vain oblations; incense is an abomination unto me; the new moons and sabbaths, the calling of assemblies, I cannot away with; it is iniquity, even the solemn meeting.
14 Your new moons and your appointed feasts my soul hates: they are a trouble unto me; I am weary to bear them.
15 And when you spread forth your hands, I will hide mine eyes from you: yea, when you make many prayers, I will not hear: your hands are full of blood.
16 Wash you, make you clean; put away the evil of your doings from before mine eyes; cease to do evil;
17 Learn to do well; seek judgment, relieve the oppressed, judge the fatherless, plead for the widow.
18 Come now, and let us reason together, says the LORD: though your sins be as scarlet, they shall be as white as snow; though they be red like crimson, they shall be as wool.
19 If you be willing and obedient, you shall eat the good of the land:
20 But if you refuse and rebel, you shall be devoured with the sword: for the mouth of the LORD has spoken it.
21 How is the faithful city become an harlot! it was full of judgment; righteousness lodged in it; but now murderers.
22 Your silver is become dross, your wine mixed with water:
23 Your princes are rebellious, and companions of thieves: every one loves gifts, and follows after rewards: they judge not the fatherless, neither does the cause of the widow come unto them.
24 Therefore says the LORD, the LORD of hosts, the mighty One of Israel, Ah, I will ease me of mine adversaries, and avenge me of mine enemies:
25 And I will turn my hand upon you, and purely purge away your dross, and take away all your tin:
26 And I will restore your judges as at the first, and your counselors as at the beginning: afterward you shall be called, The city of righteousness, the faithful city.
27 Zion shall be redeemed with judgment, and her converts with righteousness.
28 And the destruction of the transgressors and of the sinners shall be together, and they that forsake the LORD shall be consumed.
29 For they shall be ashamed of the oaks which you have desired, and you shall be confounded for the gardens that you have chosen.
30 For you shall be as an oak whose leaf fades, and as a garden that has no water.
31 And the strong shall be as tow, and the maker of it as a spark, and they shall both burn together, and none shall quench them.
Friends, these men have chosen their end, their own works testifying that they are the children of God's wrath, the incorrigibles who've refused His word in which only is life and correction.
2 Corinthians 11
13 For such are false apostles, deceitful workers, transforming themselves into the apostles of Christ.
14 And no marvel; for Satan himself is transformed into an angel of light.
15 Therefore it is no great thing if his ministers also be transformed as the ministers of righteousness; whose end shall be according to their works.
Jude
3 Beloved, when I gave all diligence to write unto you of the common salvation, it was needful for me to write unto you, and exhort you that you should earnestly contend for the faith which was once delivered unto the saints.
4 For there are certain men crept in unawares, who were before of old ordained to this condemnation, ungodly men, turning the grace of our God into lasciviousness, and denying the only LORD God, and our LORD Jesus Christ.
5 I will therefore put you in remembrance, though you once knew this, how that the LORD, having saved the people out of the land of Egypt, afterward destroyed them that believed not.
6 And the angels which kept not their first estate, but left their own habitation, he has reserved in everlasting chains under darkness unto the judgment of the great day.
7 Even as Sodom and Gomorrah, and the cities about them in like manner, giving themselves over to fornication, and going after strange flesh, are set forth for an example, suffering the vengeance of eternal fire.
8 Likewise also these filthy dreamers defile the flesh, despise dominion, and speak evil of dignities.
9 Yet Michael the archangel, when contending with the devil he disputed about the body of Moses, durst not bring against him a railing accusation, but said, The LORD rebuke you.
10 But these speak evil of those things which they know not: but what they know naturally, as brute beasts, in those things they corrupt themselves.
11 Woe unto them! for they have gone in the way of Cain, and ran greedily after the error of Balaam for reward, and perished in the gainsaying of Core.
12 These are spots in your feasts of charity, when they feast with you, feeding themselves without fear: clouds they are without water, carried about of winds; trees whose fruit withers, without fruit, twice dead, plucked up by the roots;
13 Raging waves of the sea, foaming out their own shame; wandering stars, to whom is reserved the blackness of darkness for ever.
14 And Enoch also, the seventh from Adam, prophesied of these, saying, Behold, the LORD comes with ten thousands of his saints,
15 To execute judgment upon all, and to convince all that are ungodly among them of all their ungodly deeds which they have ungodly committed, and of all their hard speeches which ungodly sinners have spoken against him.
16 These are murmurers, complainers, walking after their own lusts; and their mouth speaks great swelling words, having men's persons in admiration because of advantage.
17 But, beloved, remember you the words which were spoken before of the apostles of our LORD Jesus Christ;
18 How that they told you there should be mockers in the last time, who should walk after their own ungodly lusts.
19 These be they who separate themselves, sensual, having not the Spirit.
20 But you, beloved, building up yourselves on your most holy faith, praying in the Holy Ghost,
21 Keep yourselves in the love of God, looking for the mercy of our LORD Jesus Christ unto eternal life.
Romans 9
13 As it is written, Jacob have I loved, but Esau have I hated.
14 What shall we say then? Is there unrighteousness with God? God forbid.
15 For he said to Moses, I will have mercy on whom I will have mercy, and I will have compassion on whom I will have compassion.
16 So then it is not of him that wills, nor of him that runs, but of God that shews mercy.
17 For the scripture said unto Pharaoh, Even for this same purpose have I raised you up, that I might show my power in you, and that my name might be declared throughout all the earth.
18 Therefore has he mercy on whom he will have mercy, and whom he will he hardens.
19 You will say then unto me, Why does he yet find fault? For who has resisted his will?
20 Nay but, O man, who are you that replies against God? Shall the thing formed say to him that formed it, Why have you made me thus?
21 Has not the potter power over the clay, of the same lump to make one vessel unto honor, and another unto dishonor?
22 What if God, willing to show his wrath, and to make his power known, endured with much longsuffering the vessels of wrath fitted to destruction:
23 And that he might make known the riches of his glory on the vessels of mercy, which he had afore prepared unto glory,
24 Even us, whom he has called, not of the Jews only, but also of the Gentiles?
25 As he says also in Hosea, I will call them my people, which were not my people; and her beloved, which was not beloved.
26 And it shall come to pass, that in the place where it was said unto them, You are not my people; there shall they be called the children of the living God.
27 Isaiah also cries concerning Israel, Though the number of the children of Israel be as the sand of the sea, a remnant shall be saved:
28 For he will finish the work, and cut it short in righteousness: because a short work will the LORD make upon the earth.
29 And as Isaiah said before, Except the LORD of Sabaoth had left us a seed, we had been as Sodom, and been made like unto Gomorrah.
30 What shall we say then? That the Gentiles, which followed not after righteousness, have attained to righteousness, even the righteousness which is of faith.
31 But Israel, which followed after the law of righteousness, has not attained to the law of righteousness.
32 Wherefore? Because they sought it not by faith, but as it were by the works of the law. For they stumbled at that stumbling-stone;
33 As it is written, Behold, I lay in Sion a stumbling-stone and rock of offence: and whosoever believes on him shall not be ashamed.
Romans 10
1 Brethren, my heart's desire and prayer to God for Israel is, that they might be saved.
2 For I bear them record that they have a zeal of God, but not according to knowledge.
3 For they being ignorant of God's righteousness, and going about to establish their own righteousness, have not submitted themselves unto the righteousness of God.
4 For Christ is the end of the law for righteousness to every one that believes.
5 For Moses describes the righteousness which is of the law, That the man which does those things shall live by them.
6 But the righteousness which is of faith speaks on this wise, Say not in your heart, Who shall ascend into heaven? (that is, to bring Christ down from above:)
7 Or, Who shall descend into the deep? (that is, to bring up Christ again from the dead.)
8 But what says it? The word is nigh you, even in your mouth, and in your heart: that is, the word of faith, which we preach;
9 That if you shall confess with your mouth the LORD Jesus, and shall believe in your heart that God has raised him from the dead, you shall be saved.
10 For with the heart man believes unto righteousness; and with the mouth confession is made unto salvation.
11 For the scripture says, Whosoever believes on him shall not be ashamed.
12 For there is no difference between the Jew and the Greek: for the same LORD over all is rich unto all that call upon him.
13 For whosoever shall call upon the name of the LORD shall be saved.
14 How then shall they call on him in whom they have not believed? and how shall they believe in him of whom they have not heard? and how shall they hear without a preacher?
15 And how shall they preach, except they be sent? as it is written, How beautiful are the feet of them that preach the gospel of peace, and bring glad tidings of good things!
16 But they have not all obeyed the gospel. For Isaiah says, LORD, who has believed our report?
17 So then faith comes by hearing, and hearing by the word of God.
18 But I say, Have they not heard? Yes truly, their sound went into all the earth, and their words unto the ends of the world.
19 But I say, Did not Israel know? First Moses said, I will provoke you to jealousy by them that are no people, and by a foolish nation I will anger you.
20 But Isaiah is very bold, and says, I was found of them that sought me not; I was made manifest unto them that asked not after me.
21 But to Israel he says, All day long I have stretched forth my hands unto a disobedient and gainsaying people.
Romans 11
1 I say then, Has God cast away his people? God forbid. For I also am an Israelite, of the seed of Abraham, of the tribe of Benjamin.
2 God has not cast away his people which he foreknew. Wot you not what the scripture says of Elijah? how he made intercession to God against Israel saying,
3 LORD, they have killed your prophets, and digged down your altars; and I am left alone, and they seek my life.
4 But what says the answer of God unto him? I have reserved to myself seven thousand men, who have not bowed the knee to the image of Baal [to the idols they have raised in God's place].
5 Even so then at this present time also there is a remnant according to the election of grace.
6 And if by grace, then is it no more of works: otherwise grace is no more grace. But if it be of works, then it is no more grace: otherwise work is no more work.
7 What then? Israel has not obtained that which he seeks for; but the election has obtained it, and the rest were blinded.
8 (According as it is written, God has given them the spirit of slumber, eyes that they should not see, and ears that they should not hear;) unto this day.
9 And David says, Let their table be made a snare, and a trap, and a stumbling-block, and a recompense unto them:
10 Let their eyes be darkened, that they may not see, and bow down their back always.
11 I say then, Have they stumbled that they should fall? God forbid: but rather through their fall salvation is come unto the Gentiles, for to provoke them to jealousy.
12 Now if the fall of them be the riches of the world, and the diminishing of them the riches of the Gentiles; how much more their fullness?
13 For I speak to you Gentiles, inasmuch as I am the apostle of the Gentiles, I magnify mine office:
14 If by any means I may provoke to emulation them which are my flesh, and might save some of them.
15 For if the casting away of them be the reconciling of the world, what shall the receiving of them be, but life from the dead?
16 For if the first-fruit be holy, the lump is also holy: and if the root be holy, so are the branches.
17 And if some of the branches be broken off, and you, being a wild olive tree, wert grafted in among them, and with them partake of the root and fatness of the olive tree;
18 Boast not against the branches. But if you boast, you bear not the root, but the root you.
19 You will say then, The branches were broken off, that I might be grafted in.
20 Well; because of unbelief they were broken off, and you stand by faith. Be not highminded, but fear:
21 For if God spared not the natural branches, take heed lest he also spare not you.
22 Behold therefore the goodness and severity of God: on them which fell, severity; but toward you, goodness, if you continue in his goodness: otherwise you also shall be cut off.
23 And they also, if they abide not still in unbelief, shall be grafted in: for God is able to graft them in again.
24 For if you were cut out of the olive tree which is wild by nature, and wert grafted contrary to nature into a good olive tree: how much more shall these, which be the natural branches, be grafted into their own olive tree?
25 For I would not, brethren, that you should be ignorant of this mystery, lest you should be wise in your own conceits; that blindness in part is happened to Israel, until the fullness of the Gentiles be come in.
26 And so all Israel shall be saved: as it is written, There shall come out of Zion the Deliverer, and shall turn away ungodliness from Jacob:
27 For this is my covenant unto them, when I shall take away their sins.
28 As concerning the gospel, they are enemies for your sakes: but as touching the election, they are beloved for the father's sakes.
29 For the gifts and calling of God are without repentance.
30 For as you in times past have not believed God, yet have now obtained mercy through their unbelief:
31 Even so have these also now not believed, that through your mercy they also may obtain mercy.
32 For God has concluded them all in unbelief, that he might have mercy upon all.
33 O the depth of the riches both of the wisdom and knowledge of God! how unsearchable are his judgments, and his ways past finding out!
34 For who has known the mind of the LORD? or who has been his counselor?
35 Or who has first given to him, and it shall be recompensed unto him again?
36 For of him, and through him, and to him, are all things: to whom be glory for ever. Amen.
Ephesians 6
10 Finally, my brethren, be strong in the LORD, and in the power of his might.
11 Put on the whole armor of God, that you may be able to stand against the wiles of the devil.
12 For we wrestle not against flesh and blood, but against principalities, against powers, against the rulers of the darkness of this world, against spiritual wickedness in high places.
13 Wherefore take unto you the whole armor of God, that you may be able to withstand in the evil day, and having done all, to stand.
14 Stand therefore, having your loins girt about with truth, and having on the breastplate of righteousness;
15 And your feet shod with the preparation of the gospel of peace;
16 Above all, taking the shield of faith, wherewith you shall be able to quench all the fiery darts of the wicked.
17 And take the helmet of salvation, and the sword of the Spirit, which is the word of God:
18 Praying always with all prayer and supplication in the Spirit, and watching thereunto with all perseverance and supplication for all saints;
19 And for me, that utterance may be given unto me, that I may open my mouth boldly, to make known the mystery of the gospel,
20 For which I am an ambassador in bonds: that therein I may speak boldly, as I ought to speak.
Psalms 44
1 We have heard with our ears, O God, our fathers have told us, what work you did in their days, in the times of old.
2 How you did drive out the heathen with your hand, and planted them; how you did afflict the people, and cast them out.
3 For they got not the land in possession by their own sword, neither did their own arm save them: but your right hand, and your arm, and the light of your countenance, because you had a favor unto them.
4 You are my King, O God: command deliverances for Jacob.
5 Through you will we push down our enemies: through your name will we tread them under that rise up against us.
6 For I will not trust in my bow, neither shall my sword save me.
7 But you have saved us from our enemies, and have put them to shame that hated us.
8 In God we boast all the day long, and praise your name for ever. Selah.
9 But you have cast off, and put us to shame; and go not forth with our armies.
10 You make us to turn back from the enemy: and they which hate us spoil for themselves.
11 You have given us like sheep appointed for meat; and have scattered us among the heathen.
12 You sell your people for naught, and do not increase your wealth by their price.
13 You make us a reproach to our neighbors, a scorn and a derision to them that are round about us.
14 You make us a byword among the heathen, a shaking of the head among the people.
15 My confusion is continually before me, and the shame of my face has covered me,
16 For the voice of him that reproaches and blasphemes; by reason of the enemy and avenger.
17 All this is come upon us; yet have we not forgotten you, neither have we dealt falsely in your covenant.
18 Our heart is not turned back, neither have our steps declined from your way;
19 Though you have sore broken us in the place of dragons, and covered us with the shadow of death.
20 If we have forgotten the name of our God, or stretched out our hands to a strange god;
21 Shall not God search this out? for he knows the secrets of the heart.
22 Yea, for your sake are we killed all the day long; we are counted as sheep for the slaughter.
23 Awake, why sleep you, O LORD? arise, cast us not off for ever.
24 Wherefore hide you your face, and forget our affliction and our oppression?
25 For our soul is bowed down to the dust: our belly cleaves unto the earth.
26 Arise for our help, and redeem us for your mercies' sake.