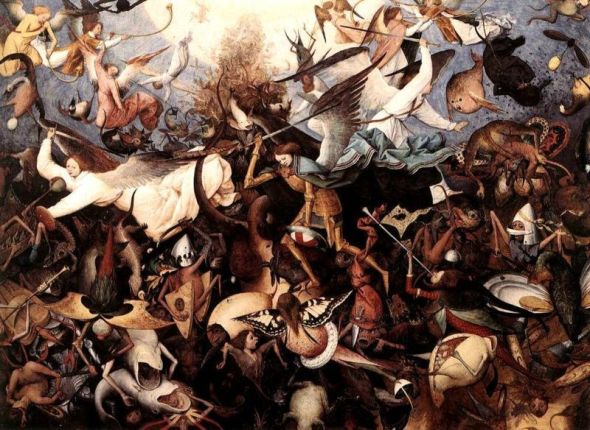 But watch you in all things, endure afflictions, do the work of an evangelist, make full proof of your ministry.
As we've discussed, the only way to prove a ministry is preaching the truth God gives us, and He follows it with events confirming it supernaturally. The revelation first comes as if a rumor, said (confessed) to be from the LORD, or if evil, from some other said to be valid source, unverified because their proof is yet future. These ideas in our time have been very conspicuously pronounced in the events unfolded in recent decades.
One is comprised of godless leftists, globalists, and self-interested powerful elites, who have been proven over time to be children of the lie, willfully or ignorantly Satanic. They are the Democrat Party, denying and then proven to be communists; the financially and politically motivated elite establishment denying and then proven to be unprincipled; the news and social media cultivating a new moral standard to which all must submit, proven to be ignorant manipulators whose end utopia is a world on fire (hell).
The other side, conservative, warning against the reckless ideas and the misleading of these self-centered utopian theorists, as they pushed ideas and ways on the world that have been proven failures through time. These conservatives are those who understand because they've listened to and learned from history's patterns of failures and success, of which our own country's rise and decline are the latest and greatest validation.
The time before these leftist's ideas became the popular culture and destroyed our sound moral footing, is the time conservative should have more vigorously fought to preserve. It is the greatness to which we are and should be seeking to return. The proof we now see is that the ideas we surrendered cannot be improved upon, they are final, and as President Calvin Coolidge prophetically stated when realizing the decline away from them was underway, "all our material prosperity, overwhelming though it may appear, will turn [has turned] to a barren scepter in our grasp."
As often discussed here, the way back is teaching the same ideas, as solders knowing the enemy will and does resist us at every word. This aspect, fighting this war as soldiers whose only charge is vigilance, to accomplish this mission, is what Paul speaks to Timothy of in, 2 Timothy 4:5, the title.
Calvin Coolidge's words on 5 July 1926 are speaking of the ideas written into our Declaration of Independence, upon which this nation was founded. This document says these are the station into which all men are entitled to live and be governed, in ways that secure their continuation, to us, and to our posterity.
One of the above groups seeks to destroy this state and return us to a more primitive time, in the name of progress toward communism and globalism, with them at the top and all others in misery. The other, conservatism, seeks to, through education and accepting reality, teach the laws of nature and nature's God, which elevate men into achievement, and lifts, any who pursue it, into happiness.
Coolidge reminds us it is these better ideas that have produced our material prosperity, and not the reverse: our prosperity didn't produce our ideas, nor should it. He says in closing his speech:
"No other theory ['the influence of a great spiritual development and acquired a great moral power'] is adequate to explain or comprehend the Declaration of Independence. It is the product of the spiritual insight of the people. We live in an age of science and of abounding accumulation of material things. These did not create [the ideas of] our Declaration. [The ideas of] Our Declaration created them. The things of the spirit come first. Unless we cling to that, all our material prosperity, overwhelming though it may appear, will turn to a barren scepter in our grasp. If we are to maintain the great heritage which has been bequeathed to us, we must be like-minded as the fathers who created it. We must not sink into a pagan materialism. We must cultivate the reverence which they had for the things that are holy. We must follow the spiritual and moral leadership which they showed. We must keep replenished, that they may glow with a more compelling flame, the altar fires before which they worshiped."
If we are truly conservative, these are the ideas and ways, self-evident truths, we seek to conserve; not some diminished form or alternative replacements. They are those, the only way, by which we will and can "Make America Great Again."
2 Timothy 3
1 This know also, that in the last days perilous times shall come.
2 For men shall be lovers of their own selves, covetous, boasters, proud, blasphemers, disobedient to parents, unthankful, unholy,
3 Without natural affection, trucebreakers, false accusers, incontinent, fierce, despisers of those that are good,
4 Traitors, heady, high-minded, lovers of pleasures more than lovers of God;
5 Having a form of godliness, but denying the power thereof: from such turn away.
6 For of this sort are they which creep into houses, and lead captive silly women laden with sins, led away with divers lusts,
7 Ever learning, and never able to come to the knowledge of the truth.
8 Now as Jannes and Jambres withstood Moses, so do these also resist the truth: men of corrupt minds, reprobate concerning the faith.
9 But they shall proceed no further: for their folly shall be manifest unto all men, as theirs also was.
10 But you have fully known my doctrine, manner of life, purpose, faith, longsuffering, charity, patience,
11 Persecutions, afflictions, which came unto me at Antioch, at Iconium, at Lystra; what persecutions I endured: but out of them all the LORD delivered me.
12 Yea, and all that will live godly in Christ Jesus shall suffer persecution.
13 But evil men and seducers shall wax worse and worse, deceiving, and being deceived.
14 But continue you in the things which you have learned and have been assured of, knowing of whom you have learned them;
15 And that from a child you have known the holy scriptures, which are able to make you wise unto salvation through faith which is in Christ Jesus.
16 All scripture is given by inspiration of God, and is profitable for doctrine, for reproof, for correction, for instruction in righteousness:
17 That the man of God may be perfect, thoroughly furnished unto all good works.
2 Timothy 4
1 I charge you therefore before God, and the LORD Jesus Christ, who shall judge the quick and the dead at his appearing and his kingdom;
2 Preach the word; be instant in season, out of season; reprove, rebuke, exhort with all long suffering and doctrine.
3 For the time will come when they will not endure sound doctrine; but after their own lusts shall they heap to themselves teachers, having itching ears;
4 And they shall turn away their ears from the truth, and shall be turned unto fables.
5 But watch you in all things, endure afflictions, do the work of an evangelist, make full proof of your ministry.
Friends, as we have heard from the LORD, the enemies now among us, our fellow countrymen, have been, and are, trying to destroy this nation by destroying the ideas and ways upon which it was founded. They thought they were there and became reckless in their exuberance. Thinking themselves the highest powers, in arrogance and hubris, their lies became openly apparent, and they destroyed themselves (the dead don't know they are dead). This has been the rumor now shown to be true, proven as the domestic enemies among us, as Esau, sold their birthright for mere morsels. They have self-destructed, even while, from it, they were continuously warned away. "Who has believed our report [shmuw'ah]? and to whom is the arm of the LORD revealed?" Isaiah 53:1
Isaiah 52
1 Awake, awake; put on your strength, O Zion; put on your beautiful garments, O Jerusalem, the holy city: for henceforth there shall no more come into you the uncircumcised and the unclean.
2 Shake yourself from the dust; arise, and sit down, O Jerusalem: loose yourself from the bands of your neck, O captive daughter of Zion.
3 For thus says the LORD, You have sold yourselves for naught; and you shall be redeemed without money.
4 For thus says the LORD God, My people went down aforetime into Egypt to sojourn there; and the Assyrian oppressed them without cause.
5 Now therefore, what have I here, says the LORD, that my people is taken away for naught? they that rule over them make them to howl, says the LORD; and my name continually every day is blasphemed.
6 Therefore my people shall know my name: therefore they shall know in that day that I am he that does speak: behold, it is I.
7 How beautiful upon the mountains are the feet of him that brings good tidings, that publishes peace; that brings good tidings of good, that publishes salvation; that says unto Zion, Your God reigns!
8 Your watchmen shall lift up the voice; with the voice together shall they sing: for they shall see eye to eye, when the LORD shall bring again Zion.
9 Break forth into joy, sing together, you waste places of Jerusalem: for the LORD has comforted his people, he has redeemed Jerusalem.
10 The LORD has made bare his holy arm in the eyes of all the nations; and all the ends of the earth shall see the salvation of our God.
11 Depart you, depart you, go you out from thence, touch no unclean thing; go you out of the midst of her; be you clean, that bear the vessels of the LORD.
12 For you shall not go out with haste, nor go by flight: for the LORD will go before you; and the God of Israel will be your reward.
13 Behold, my servant shall deal prudently, he shall be exalted and extolled, and be very high.
14 As many were astonished at you; his visage was so marred more than any man, and his form more than the sons of men:
15 So shall he sprinkle many nations; the kings shall shut their mouths at him: for that which had not been told them shall they see; and that which they had not heard shall they consider.
Jeremiah 49
1 Concerning the Ammonites [those who have exalted themselves above and against God], thus says the LORD; Has Israel no sons? has he no heir? why then does their king inherit Gad [the crowd, the people of God at large], and his people dwell in his cities?
2 Therefore, behold, the days come, says the LORD, that I will cause an alarm of war to be heard in Rabbah [among the great men of this age] of the Ammonites; and it shall be a desolate heap, and her daughters shall be burned with fire: then shall Israel be heir unto them that were his heirs, says the LORD.
3 Howl, O Heshbon [the strongholds of the wicked], for Ai [your strength – you ability to deceive] is spoiled: cry, you daughters of Rabbah, gird you with sackcloth; lament, and run to and fro by the hedges; for their king shall go into captivity, and his priests and his princes together.
4 Wherefore glories you in the valleys, your flowing valley, O backsliding daughter? that trusted in her treasures, saying, Who shall come unto me?
5 Behold, I will bring a fear upon you, says the LORD God of hosts, from all those that be about you; and you shall be driven out every man right forth; and none shall gather up him that wanders.
6 And afterward I will bring again the captivity of the children of Ammon, says the LORD.
7 Concerning Edom, thus says the LORD of hosts; Is wisdom no more in Teman [the south, where God's presence and wisdom are manifested – the place of the Theophany]? is counsel perished from the prudent? is their wisdom vanished?
8 Flee you, turn back, dwell deep, O inhabitants of Dedan [upon who the judgment of God has come]; for I will bring the calamity of Esau upon him, the time that I will visit him.
9 If grape-gatherers come to you, would they not leave some gleaning grapes? if thieves by night, they will destroy till they have enough.
10 But I have made Esau bare, I have uncovered his secret places, and he shall not be able to hide himself: his seed is spoiled, and his brethren, and his neighbors, and he is not.
11 Leave your fatherless children, I will preserve them alive; and let your widows trust in me.
12 For thus says the LORD; Behold, they whose judgment was not to drink of the cup have assuredly drunken; and are you he that shall altogether go unpunished? you shall not go unpunished, but you shall surely drink of it.
13 For I have sworn by myself, says the LORD, that Bozrah [their sheepfold] shall become a desolation, a reproach, a waste, and a curse; and all the cities thereof shall be perpetual wastes.
14 I have heard a rumor [shmuw'ah] from the LORD, and an ambassador is sent unto the heathen, saying, Gather you together, and come against her, and rise up to the battle.
15 For, lo, I will make you small among the heathen, and despised among men.
16 Your terribleness has deceived you, and the pride of thine heart, O you that dwell in the clefts of the rock, that holds the height of the hill: though you should make your nest as high as the eagle, I will bring you down from thence, says the LORD.
17 Also Edom shall be a desolation: every one that goes by it shall be astonished, and shall hiss at all the plagues thereof.
18 As in the overthrow of Sodom and Gomorrah and the neighbor cities thereof, says the LORD, no man shall abide there, neither shall a son of man dwell in it.
19 Behold, he shall come up like a lion from the swelling of Jordan [when the dead rise up in the pride of their own ignorance] against the habitation of the strong: but I will suddenly make him run away from her: and who is a chosen man, that I may appoint over her? for who is like me? and who will appoint me the time? and who is that shepherd that will stand before me?
20 Therefore hear the counsel of the LORD, that he has taken against Edom; and his purposes, that he has purposed against the inhabitants of Teman: Surely the least of the flock shall draw them out: surely he shall make their habitations desolate with them.
21 The earth is moved at the noise of their fall, at the cry the noise thereof was heard in the Red sea.
22 Behold, he shall come up and fly as the eagle, and spread his wings over Bozrah: and at that day shall the heart of the mighty men of Edom be as the heart of a woman in her pangs.
23 Concerning Damascus [where the work has ceased, and where God's word has been silenced]. Hamath [this enemy stronghold] is confounded, and Arpad [those that have spread, broadcast, their corrupt ideas and ways]: for they have heard evil tidings: they are fainthearted; there is sorrow on the sea; it cannot be quiet.
24 Damascus is waxed feeble, and turns herself to flee, and fear has seized on her: anguish and sorrows have taken her, as a woman in travail.
25 How is the city of praise not left, the city of my joy!
26 Therefore her young men shall fall in her streets, and all the men of war shall be cut off in that day, says the LORD of hosts.
27 And I will kindle a fire in the wall of Damascus, and it shall consume the palaces of Benhadad [the offspring of the idols men have put in God's place].
28 Concerning Kedar [the darkness, ignorance, these men's ideas and ways have created], and concerning the kingdoms of Hazor [their high castles], which Nebuchadrezzar king of Babylon [their own lie, that have ruled over the world] shall smite, thus says the LORD; Arise you, go up to Kedar [invade their ignorance with truth], and spoil the men of the east.
29 Their tents and their flocks shall they take away: they shall take to themselves their curtains, and all their vessels, and their camels; and they shall cry unto them, Fear is on every side.
30 Flee, get you far off, dwell deep, O you inhabitants of Hazor, says the LORD; for Nebuchadrezzar king of Babylon [your own confusion now turned to delusion] has taken counsel against you, and has conceived a purpose against you.
31 Arise, get you up unto the wealthy nation, that dwells without care, says the LORD, which have neither gates nor bars, which dwell alone.
32 And their camels shall be a booty, and the multitude of their cattle a spoil: and I will scatter into all winds them that are in the utmost corners; and I will bring their calamity from all sides thereof, says the LORD.
33 And Hazor shall be a dwelling for dragons, and a desolation for ever: there shall no man abide there, nor any son of man dwell in it.
34 The word of the LORD that came to Jeremiah the prophet against Elam [those who have fought against God throughout history] in the beginning of the reign of Zedekiah king of Judah, saying,
35 Thus says the LORD of hosts; Behold, I will break the bow of Elam, the chief of their might.
36 And upon Elam will I bring the four winds from the four quarters of heaven, and will scatter them toward all those winds; and there shall be no nation whither the outcasts of Elam shall not come.
37 For I will cause Elam to be dismayed before their enemies, and before them that seek their life: and I will bring evil upon them, even my fierce anger, says the LORD; and I will send the sword after them, till I have consumed them:
38 And I will set my throne in Elam [the perfection of all history before – see Hebrews 11:40], and will destroy from thence the king and the princes, says the LORD.
39 But it shall come to pass in the latter days, that I will bring again the captivity of Elam, says the LORD.
Obadiah
1 The vision of Obadiah [the servant of Jehovah]. Thus says the LORD God concerning Edom; We have heard a rumor [shmuw'ah] from the LORD, and an ambassador is sent among the heathen, Arise you, and let us rise up against her in battle.
2 Behold, I have made you small among the heathen: you are greatly despised.
3 The pride of thine heart has deceived you, you that dwell in the clefts of the rock, whose habitation is high; that says in his heart, Who shall bring me down to the ground?
4 Though you exalt yourself as the eagle, and though you set your nest among the stars, thence will I bring you down, says the LORD.
5 If thieves came to you, if robbers by night, (how are you cut off!) would they not have stolen till they had enough? if the grape-gatherers came to you, would they not leave some grapes?
6 How are the things of Esau searched out! how are his hidden things sought up!
7 All the men of your confederacy have brought you even to the border: the men that were at peace with you have deceived you, and prevailed against you; they that eat your bread have laid a wound under you: there is none understanding in him.
8 Shall I not in that day, says the LORD, even destroy the wise men out of Edom, and understanding out of the mount of Esau?
9 And your mighty men, O Teman, shall be dismayed, to the end that every one of the mount of Esau may be cut off by slaughter.
10 For your violence against your brother Jacob shame shall cover you, and you shall be cut off forever.
11 In the day that you stood on the other side, in the day that the strangers carried away captive his forces, and foreigners entered into his gates, and cast lots upon Jerusalem, even you were as one of them.
12 But you should not have looked on the day of your brother in the day that he became a stranger; neither should you have rejoiced over the children of Judah in the day of their destruction; neither should you have spoken proudly in the day of distress.
13 You should not have entered into the gate of my people in the day of their calamity; yea, you should not have looked on their affliction in the day of their calamity, nor have laid hands on their substance in the day of their calamity;
14 Neither should you have stood in the crossway, to cut off those of his that did escape; neither should you have delivered up those of his that did remain in the day of distress.
15 For the day of the LORD is near upon all the heathen: as you have done, it shall be done unto you: your reward shall return upon thine own head.
16 For as you have drunk upon my holy mountain, so shall all the heathen drink continually, yea, they shall drink, and they shall swallow down, and they shall be as though they had not been.
17 But upon mount Zion shall be deliverance, and there shall be holiness; and the house of Jacob shall possess their possessions.
18 And the house of Jacob shall be a fire, and the house of Joseph a flame, and the house of Esau for stubble, and they shall kindle in them, and devour them; and there shall not be any remaining of the house of Esau; for the LORD has spoken it.
19 And they of the south shall possess the mount of Esau; and they of the plain the Philistines: and they shall possess the fields of Ephraim, and the fields of Samaria: and Benjamin shall possess Gilead.
20 And the captivity of this host of the children of Israel shall possess that of the Canaanites [those who've bee zealous against us], even unto Zarephath [unto their refining, purifying]; and the captivity of Jerusalem, which is in Sepharad [when they are separated to the LORD], shall possess the cities of the south.
21 And saviors shall come up on mount Zion to judge the mount of Esau; and the kingdom shall be the LORD's.
Psalms 112
1 Praise you the LORD. Blessed is the man that fears the LORD, that delights greatly in his commandments.
2 His seed shall be mighty upon earth: the generation of the upright shall be blessed.
3 Wealth and riches shall be in his house: and his righteousness endures forever.
4 Unto the upright there arises light [understanding] in the darkness: he is gracious, and full of compassion, and righteous.
5 A good man shows favor, and lends: he will guide his affairs with discretion.
6 Surely he shall not be moved forever: the righteous shall be in everlasting remembrance.
7 He shall not be afraid of evil tidings [shmuw'ah]: his heart is fixed, trusting in the LORD.
8 His heart is established, he shall not be afraid, until he see his desire upon his enemies.
9 He has dispersed, he has given to the poor; his righteousness endures forever; his horn shall be exalted with honor.
10 The wicked shall see it, and be grieved; he shall gnash with his teeth, and melt away: the desire of the wicked shall perish.