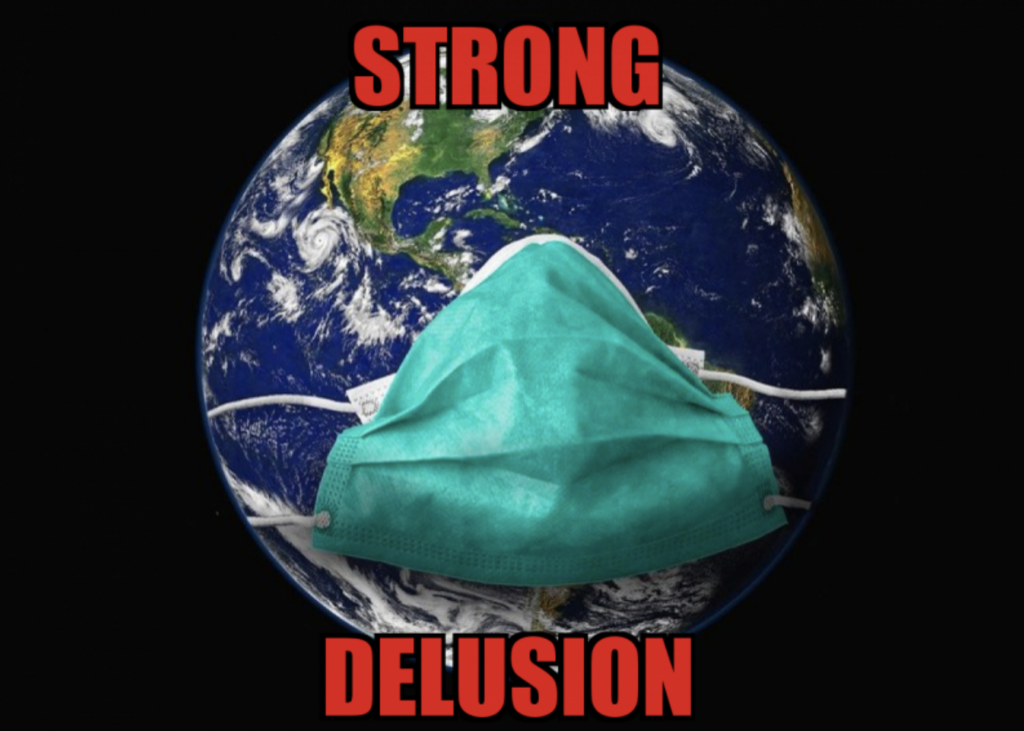 They believed not in God, and trusted not in his salvation: though he had commanded the clouds from above, and opened the doors of heaven, and had rained down manna upon them to eat, and had given them of the corn of heaven. Man did eat angels' food.
As we know, manna is God's word coming from Moses' mouth, God's angel, meaning the message is His. It is the LORD in Moses, unknown, as is the meaning of the word manna. It is the rain from heaven, from the cloud where understanding is held when it leaves the earth. It is in the firmament, the expansion of the meaning that rightly divided the word of God from the corrupted words of men below, separating truth from lies.
Friends, I tell you the truth, the world is experiencing the "strong delusion," spoken of by the LORD in Isaiah 66:4 and later by Paul in 2 Thessalonians 2:11. It has come after this generation lost touch with reality, and all those in power trusted in lies as their ways of communication, to manipulate men into doing their will. As foretold, it's now reached a point where it's outright delusion, when and where truth is evil spoken of. Peter says this, as He tells of the false teachers who are now among is, coming after the working of Satan, as Paul says, with lying signs and wonders.
The problem with the church, is they don't see it because they have been lost, blinded by the gods of this world, the false teachers among them. These wicked men, like the false prophets in the fake news media, have created and warned of things that will never happen. They have people looking at signs and wonders they've created from their imaginations, blinding all to the obvious existential threat of the greater evil of the moment.
The good news is the LORD has sent His word, His sword against the lies and deception of the spiritually wicked sitting in all the seats of power, in God's seat. He has opened the heavens! Amen!
Revelation 19
5 And a voice came out of the throne, saying, Praise our God, all you his servants, and you that fear him, both small and great.
6 And I heard as it were the voice of a great multitude, and as the voice of many waters, and as the voice of mighty thundering, saying, Alleluia: for the LORD God omnipotent reigns.
7 Let us be glad and rejoice, and give honor to him: for the marriage of the Lamb is come, and his wife has made herself ready.
8 And to her was granted that she should be arrayed in fine linen, clean and white: for the fine linen is the righteousness of saints.
9 And he said unto me, Write, Blessed are they which are called unto the marriage supper of the Lamb. And he said unto me, These are the true sayings of God.
10 And I fell at his feet to worship him. And he said unto me, See you do it not: I am your fellow-servant, and of your brethren that have the testimony of Jesus: worship God: for the testimony of Jesus is the spirit of prophecy.
11 And I saw heaven opened, and behold a white horse; and he that sat upon him was called Faithful and True, and in righteousness he does judge and make war.
12 His eyes were as a flame of fire, and on his head were many crowns; and he had a name written, that no man knew, but he himself.
13 And he was clothed with a vesture dipped in blood: and his name is called The Word of God.
14 And the armies which were in heaven followed him upon white horses, clothed in fine linen, white and clean.
15 And out of his mouth goes a sharp sword, that with it he should smite the nations: and he shall rule them with a rod of iron: and he treads the winepress of the fierceness and wrath of Almighty God.
16 And he has on his vesture and on his thigh a name written, King Of Kings, And LORD Of Lords.
17 And I saw an angel standing in the sun; and he cried with a loud voice, saying to all the fowls that fly in the midst of heaven, Come and gather yourselves together unto the supper of the great God;
18 That you may eat the flesh of kings, and the flesh of captains, and the flesh of mighty men, and the flesh of horses, and of them that sit on them, and the flesh of all men, both free and bond, both small and great.
19 And I saw the beast, and the kings of the earth, and their armies, gathered together to make war against him that sat on the horse, and against his army.
20 And the beast was taken, and with him the false prophet that wrought miracles before him, with which he deceived them that had received the mark of the beast, and them that worshipped his image. These both were cast alive into a lake of fire burning with brimstone.
21 And the remnant were slain with the sword of him that sat upon the horse, which sword proceeded out of his mouth: and all the fowls were filled with their flesh.
The Greek word Paul uses in 2 Thessalonians 2:11, rendered "strong delusion," is plane, from the word planos, and with the same meaning and origin as planao, which was discussed in the post of 9 January 2020. From that post:
"It tells of wandering stars in the night sky, the planets that don't maintain in fixed positions in the night sky, and therefore if relied on to navigate lead astray. When the LORD, in Job 38:31 & 32, asks if men can bring forth the constellations of stars, he is talking about those who can be depended upon to navigate in the darkness and blindness of the ignorance caused by the gods of the world. These are those the LORD, by giving understanding, raises from the ashes of the earth, into the firmament where He has rightly divided His word, to shine as the dependable stars of heaven."
Job 38
31 Can you bind the sweet influences of Pleiades, or loose the bands of Orion?
32 Can you bring forth Mazzaroth in his season? or can you guide Arcturus with his sons? [the stars of heaven, of which Daniel 12 speaks]
33 Know you the ordinances of heaven? can you set the dominion thereof in the earth?
34 Can you lift up your voice to the clouds, that abundance of waters may cover you?
35 Can you send lightnings [understanding], that they may go and say unto you, Here we are?
36 Who has put wisdom in the inward parts? or who has given understanding to the heart?
Daniel 12
2 And many of them that sleep in the dust of the earth shall awake, some to everlasting life, and some to shame and everlasting contempt.
3 And they that be wise shall shine as the brightness of the firmament; and they that turn many to righteousness as the stars forever and ever.
John 5
25 Truly, truly, I say unto you, The hour is coming, and now is, when the dead shall hear the voice of the Son of God: and they that hear shall live.
26 For as the Father has life in himself; so has he given to the Son to have life in himself;
27 And has given him authority to execute judgment also, because he is the Son of man.
28 Marvel not at this: for the hour is coming, in the which all that are in the graves shall hear his voice,
29 And shall come forth; they that have done good, unto the resurrection [anastasis] of life; and they that have done evil, unto the resurrection [anastasis] of damnation.
30 I can of mine own self do nothing: as I hear, I judge: and my judgment is just; because I seek not mine own will, but the will of the Father which has sent me.
Isaiah 66
…Yea, they have chosen their own ways, and their soul delights in their abominations.
4 I also will choose their delusions [ta'aluwl], and will bring their fears upon them; because when I called, none did answer; when I spoke, they did not hear: but they did evil before mine eyes, and chose that in which I delighted not.
5 Hear the word of the LORD, you that tremble at his word; Your brethren that hated you, that cast you out for my name's sake, said, Let the LORD be glorified: but he shall appear to your joy, and they shall be ashamed.
6 A voice of noise from the city, a voice from the temple, a voice of the LORD that renders recompense to his enemies.
7 Before she travailed, she brought forth; before her pain came, she was delivered of a man child.
8 Who has heard such a thing? who has seen such things? Shall the earth be made to bring forth in one day? or shall a nation be born at once? for as soon as Zion travailed, she brought forth her children.
9 Shall I bring to the birth, and not cause to bring forth? says the LORD: shall I cause to bring forth, and shut the womb? says your God.
1 Corinthians 10
1 Moreover, brethren, I would not that you should be ignorant, how that all our fathers were under the cloud, and all passed through the sea;
2 And were all baptized unto Moses in the cloud and in the sea;
3 And did all eat the same spiritual meat;
4 And did all drink the same spiritual drink: for they drank of that spiritual Rock that followed them: and that Rock was Christ.
5 But with many of them God was not well pleased: for they were overthrown in the wilderness.
6 Now these things were our examples, to the intent we should not lust after evil things, as they also lusted.
7 Neither be you idolaters, as were some of them; as it is written, The people sat down to eat and drink, and rose up to play.
8 Neither let us commit fornication, as some of them committed, and fell in one day three and twenty thousand.
9 Neither let us tempt Christ, as some of them also tempted, and were destroyed of serpents.
10 Neither murmur you, as some of them also murmured, and were destroyed of the destroyer.
11 Now all these things happened unto them for examples: and they are written for our admonition, upon whom the ends of the world are come.
12 Wherefore let him that thinks he stands take heed lest he fall.
13 There has no temptation taken you but such as is common to man: but God is faithful, who will not suffer you to be tempted above that you are able; but will with the temptation also make a way to escape, that you may be able to bear it.
14 Wherefore, my dearly beloved, flee from idolatry.
15 I speak as to wise men; judge you what I say.
16 The cup of blessing which we bless, is it not the communion of the blood of Christ? The bread which we break, is it not the communion of the body of Christ?
17 For we being many are one bread, and one body: for we are all partakers of that one bread.
18 Behold Israel after the flesh: are not they which eat of the sacrifices partakers of the altar?
19 What say I then? that the idol is any thing, or that which is offered in sacrifice to idols is any thing?
20 But I say, that the things which the Gentiles sacrifice, they sacrifice to devils [the gods of the world, the misleaders, the false stars, who lead men astray], and not to God: and I would not that you should have fellowship with devils [misleaders].
21 You cannot drink the cup of the LORD, and the cup of devils: you cannot be partakers of the LORD's table, and of the table of devils.
2 Corinthians 3
14 But their minds were blinded: for until this day remains the same vail untaken away in the reading of the old testament; which vail is done away in Christ.
15 But even unto this day, when Moses is read, the vail is upon their heart.
16 Nevertheless when it shall turn to the LORD, the vail shall be taken away.
17 Now the LORD is that Spirit: and where the Spirit of the LORD is, there is liberty.
18 But we all, with open face beholding as in a glass the glory of the LORD, are changed into the same image from glory to glory, even as by the Spirit of the LORD.
2 Corinthians 4
1 Therefore seeing we have this ministry, as we have received mercy, we faint not;
2 But have renounced the hidden things of dishonesty, not walking in craftiness, nor handling the word of God deceitfully; but by manifestation of the truth commending ourselves to every man's conscience in the sight of God.
3 But if our gospel be hid, it is hid to them that are lost:
4 In whom the god of this world has blinded the minds of them which believe not, lest the light of the glorious gospel of Christ, who is the image of God, should shine unto them.
5 For we preach not ourselves, but Christ Jesus the LORD; and ourselves your servants for Jesus' sake.
6 For God, who commanded the light to shine out of darkness, has shined in our hearts, to give the light of the knowledge of the glory of God in the face of Jesus Christ.
7 But we have this treasure in earthen vessels, that the excellency of the power may be of God, and not of us.
8 We are troubled on every side, yet not distressed; we are perplexed, but not in despair;
9 Persecuted, but not forsaken; cast down, but not destroyed;
10 Always bearing about in the body the dying of the LORD Jesus, that the life also of Jesus might be made manifest in our body.
The word plane is used nine other times in precisely defining the "strong delusion."
Romans 1
18 For the wrath of God is revealed from heaven against all ungodliness and unrighteousness of men, who hold the truth in unrighteousness;
19 Because that which may be known of God is manifest in them; for God has shown it unto them.
20 For the invisible things of him from the creation of the world are clearly seen, being understood by the things that are made, even his eternal power and Godhead; so that they are without excuse:
21 Because that, when they knew God, they glorified him not as God, neither were thankful; but became vain in their imaginations, and their foolish heart was darkened.
22 Professing themselves to be wise, they became fools,
23 And changed the glory of the un-corruptible God into an image made like to corruptible man, and to birds, and four-footed beasts, and creeping things.
24 Wherefore God also gave them up to uncleanness through the lusts of their own hearts, to dishonor their own bodies between themselves:
25 Who changed the truth of God into a lie, and worshipped and served the creature more than the Creator, who is blessed for ever. Amen.
26 For this cause God gave them up unto vile affections: for even their women did change the natural use into that which is against nature:
27 And likewise also the men, leaving the natural use of the woman, burned in their lust one toward another; men with men working that which is unseemly, and receiving in themselves that recompense of their error [plane] which was meet [which they deserved].
28 And even as they did not like to retain God in their knowledge, God gave them over to a reprobate mind, to do those things which are not convenient;
29 Being filled with all unrighteousness, fornication, wickedness, covetousness, maliciousness; full of envy, murder, debate, deceit, malignity; whisperers,
30 Backbiters, haters of God, despiteful, proud, boasters, inventors of evil things, disobedient to parents,
31 Without understanding, covenant-breakers, without natural affection, implacable, unmerciful:
32 Who knowing the judgment of God, that they which commit such things are worthy of death, not only do the same, but have pleasure in them that do them.
Ephesians 4
13 Till we all come in the unity of the faith, and of the knowledge of the Son of God, unto a perfect man, unto the measure of the stature of the fulness of Christ:
14 That we henceforth be no more children, tossed to and fro, and carried about with every wind of doctrine, by the sleight of men, and cunning craftiness, whereby they lie in wait to deceive [plane];
15 But speaking the truth in love, may grow up into him in all things, which is the head, even Christ:
16 From whom the whole body fitly joined together and compacted by that which every joint supplies, according to the effectual working in the measure of every part, makes increase of the body unto the edifying [educating] of itself in love.
17 This I say therefore, and testify in the LORD, that you henceforth walk not as other Gentiles walk, in the vanity of their mind,
18 Having the understanding darkened, being alienated from the life of God through the ignorance that is in them, because of the blindness of their heart:
19 Who being past feeling have given themselves over unto lasciviousness, to work all uncleanness with greediness.
20 But you have not so learned Christ;
21 If so be that you have heard him, and have been taught by him, as the truth is in Jesus:
22 That you put off concerning the former conversation the old man, which is corrupt according to the deceitful lusts;
23 And be renewed in the spirit of your mind;
24 And that you put on the new man, which after God is created in righteousness and true holiness.
25 Wherefore putting away lying, speak every man truth with his neighbor: for we are members one of another.
26 Be you angry, and sin not: let not the sun go down upon your wrath:
27 Neither give place to the devil [misleaders among us].
1 Thessalonians 2
3 For our exhortation was not of deceit [plane], nor of uncleanness, nor in guile:
4 But as we were allowed of God to be put in trust with the gospel, even so we speak; not as pleasing men, but God, which tries our hearts.
5 For neither at any time used we flattering words, as you know, nor a cloak of covetousness; God is witness:
6 Nor of men sought we glory, neither of you, nor yet of others, when we might have been burdensome, as the apostles of Christ.
7 But we were gentle among you, even as a nurse cherishes her children:
8 So being affectionately desirous of you, we were willing to have imparted unto you, not the gospel of God only, but also our own souls, because you were dear unto us.
9 For you remember, brethren, our labor and travail: for laboring night and day, because we would not be chargeable unto any of you, we preached unto you the gospel of God.
10 You are witnesses, and God also, how holily and justly and un-blamably we behaved ourselves among you that believe:
11 As you know how we exhorted and comforted and charged every one of you, as a father does his children,
12 That you would walk worthy of God, who has called you unto his kingdom and glory.
13 For this cause also thank we God without ceasing, because, when you received the word of God which you heard of us, you received it not as the word of men, but as it is in truth, the word of God, which effectually works also in you that believe [this word of God, which has the effect on you, revealing His glory, by which you realize you are in the presence of the LORD at His coming].
2 Thessalonians 2
8 And then shall that Wicked be revealed, whom the LORD shall consume with the spirit of his mouth, and shall destroy with the brightness [understanding] of his coming:
9 Even him, whose coming is after the working of Satan with all power and signs and lying wonders,
10 And with all deceivableness of unrighteousness in them that perish; because they received not the love of the truth, that they might be saved.
11 And for this cause God shall send them strong delusion [plane], that they should believe a lie:
12 That they all might be damned who believed not the truth, but had pleasure in unrighteousness.
13 But we are bound to give thanks always to God for you, brethren beloved of the LORD, because God has from the beginning chosen you to salvation through sanctification of the Spirit and belief of the truth:
14 Whereunto he called you by our gospel, to the obtaining of the glory of our LORD Jesus Christ.
James 5
1 Go to now, you rich men, weep and howl for your miseries that shall come upon you.
2 Your riches are corrupted, and your garments are moth-eaten.
3 Your gold and silver is cankered; and the rust of them shall be a witness against you, and shall eat your flesh as it were fire. You have heaped treasure together for the last days.
4 Behold, the hire of the laborers who have reaped down your fields, which is of you kept back by fraud, cries: and the cries of them which have reaped are entered into the ears of the LORD of Sabaoth [the LORD of Hosts, of the armies of heaven].
5 You have lived in pleasure on the earth, and been wanton; you have nourished your hearts, as in a day of slaughter.
6 You have condemned and killed the just; and he does not resist you.
7 Be patient therefore, brethren, unto the coming of the LORD. Behold, the husbandman waits for the precious fruit of the earth, and has long patience for it, until he receive the early and latter rain.
8 Be you also patient; stablish your hearts: for the coming of the LORD draws nigh.
9 Grudge not one against another, brethren, lest you be condemned: behold, the judge stands before the door.
10 Take, my brethren, the prophets, who have spoken in the name of the LORD, for an example of suffering affliction, and of patience.
11 Behold, we count them happy which endure. You have heard of the patience of Job, and have seen the end of the LORD; that the LORD is very pitiful, and of tender mercy.
12 But above all things, my brethren, swear not, neither by heaven, neither by the earth, neither by any other oath: but let your yea be yea; and your nay, nay; lest you fall into condemnation.
13 Is any among you afflicted? let him pray. Is any merry? let him sing psalms.
14 Is any sick among you? let him call for the elders of the church; and let them pray over him, anointing him with oil in the name of the LORD:
15 And the prayer of faith shall save the sick, and the LORD shall raise him up; and if he have committed sins, they shall be forgiven him.
16 Confess your faults one to another, and pray one for another, that you may be healed. The effectual fervent prayer of a righteous man avails much.
17 Elijah was a man subject to like passions as we are, and he prayed earnestly that it might not rain: and it rained not on the earth by the space of three years and six months.
18 And he prayed again, and the heaven gave rain, and the earth brought forth her fruit.
19 Brethren, if any of you do err from the truth, and one convert him;
20 Let him know, that he which converts the sinner from the error [plane] of his way shall save a soul from death, and shall hide a multitude of sins.
1 Peter 2
17 These are wells without water, clouds that are carried with a tempest; to whom the mist of darkness is reserved for ever.
18 For when they speak great swelling words of vanity, they allure through the lusts of the flesh, through much wantonness, those that were clean escaped from them who live in error [plane].
19 While they promise them liberty, they themselves are the servants of corruption: for of whom a man is overcome, of the same is he brought in bondage.
20 For if after they have escaped the pollutions of the world through the knowledge of the LORD and Savior Jesus Christ, they are again entangled therein, and overcome, the latter end is worse with them than the beginning.
21 For it had been better for them not to have known the way of righteousness, than, after they have known it, to turn from the holy commandment delivered unto them.
22 But it is happened unto them according to the true proverb, The dog is turned to his own vomit again; and the sow that was washed to her wallowing in the mire.
2 Peter 3
10 But the day of the LORD will come as a thief in the night; in the which the heavens shall pass away with a great noise, and the elements [stoicheion – these men's misleading, their foundation of lies] shall melt with fervent heat, the earth also and the works that are therein shall be burned up.
11 Seeing then that all these things shall be dissolved, what manner of persons ought you to be in all holy conversation and godliness,
12 Looking for and hasting unto the coming of the day of God, wherein the heavens being on fire shall be dissolved, and the elements [stoicheion] shall melt with fervent heat? [we now see these men's lies are the strong delusion now burning up the world – see Revelation 18 where Babylon burns]
13 Nevertheless we, according to his promise, look for new heavens and a new earth, wherein dwells righteousness.
14 Wherefore, beloved, seeing that you look for such things, be diligent that you may be found of him in peace, without spot, and blameless.
15 And account that the longsuffering of our LORD is salvation; even as our beloved brother Paul also according to the wisdom given unto him has written unto you;
16 As also in all his epistles, speaking in them of these things; in which are some things hard to be understood, which they that are unlearned and unstable wrestle, as they do also the other scriptures, unto their own destruction [apoleia – perdition].
17 You therefore, beloved, seeing you know these things before, beware lest you also, being led away with the error [plane] of the wicked, fall from your own steadfastness.
18 But grow in grace, and in the knowledge of our LORD and Savior Jesus Christ. To him be glory both now and forever. Amen.
1 John 4
1 Beloved, believe not every spirit, but try the spirits whether they are of God: because many false prophets are gone out into the world.
2 Hereby know you the Spirit of God: Every spirit that confesses that Jesus Christ is come in the flesh is of God:
3 And every spirit that confesses not that Jesus Christ is come in the flesh is not of God: and this is that spirit of antichrist, whereof you have heard that it should come; and even now already is it in the world.
4 You are of God, little children, and have overcome them: because greater is he that is in you, than he that is in the world.
5 They are of the world: therefore speak they of the world, and the world hears them.
6 We are of God: he that knows God hears us; he that is not of God hears not us. Hereby know we the spirit of truth, and the spirit of error [plane – of the great misleading, the strong delusion].
Jude
11 Woe unto them! for they have gone in the way of Cain, and ran greedily after the error [plane – the delusion that kept him from seeing the angel of the LORD telling him he was going astray] of Balaam for reward, and perished in the gainsaying [antilogia – His word opposing the LORD, and cursing God's people] of Core.
12 These are spots in your feasts of charity, when they feast with you, feeding themselves without fear: clouds they are without water, carried about of winds; trees whose fruit withers, without fruit, twice dead, plucked up by the roots;
13 Raging waves of the sea, foaming out their own shame; wandering stars, to whom is reserved the blackness of darkness forever.
14 And Enoch also, the seventh from Adam, prophesied of these, saying, Behold, the LORD cometh with ten thousands of his saints,
15 To execute judgment upon all, and to convince all that are ungodly among them of all their ungodly deeds which they have ungodly committed, and of all their hard speeches which ungodly sinners have spoken against him.
16 These are murmurers, complainers, walking after their own lusts; and their mouth speaks great swelling words, having men's persons in admiration because of advantage.
17 But, beloved, remember you the words which were spoken before of the apostles of our LORD Jesus Christ;
18 How that they told you there should be mockers in the last time, who should walk after their own ungodly lusts.
19 These be they who separate themselves, sensual, having not the Spirit.
20 But you, beloved, building up yourselves on your most holy faith, praying in the Holy Ghost,
21 Keep yourselves in the love of God, looking for the mercy of our LORD Jesus Christ unto eternal life.
22 And of some have compassion, making a difference:
23 And others save with fear, pulling them out of the fire [harpazo – the word rendered "caught up" in 1 Thessalonians 4:17 – the event now occurring, which the false prophets claim is an off the planet rapture, which is also blinding confusion and delusion they've created from their own imaginations]; hating even the garment spotted by the flesh.
24 Now unto him that is able to keep you from falling, and to present you faultless before the presence of his glory with exceeding joy,
25 To the only wise God our Savior, be glory and majesty, dominion and power, both now and ever. Amen.
Revelation 18
1 And after these things I saw another angel come down from heaven, having great power; and the earth was lightened [was given understanding] with his glory.
2 And he cried mightily with a strong voice, saying, Babylon the great [confusion's rule] is fallen, is fallen, and is become the habitation of devils [misleaders], and the hold of every foul spirit, and a cage of every unclean and hateful bird.
3 For all nations have drunk of the wine of the wrath of her fornication, and the kings of the earth have committed fornication with her, and the merchants of the earth are waxed rich through the abundance of her delicacies.
4 And I heard another voice from heaven, saying, Come out of her, my people, that you be not partakers of her sins, and that you receive not of her plagues.
5 For her sins have reached unto heaven, and God has remembered her iniquities.
6 Reward her even as she rewarded you, and double unto her double according to her works: in the cup which she has filled fill to her double.
7 How much she has glorified herself, and lived deliciously, so much torment and sorrow give her: for she said in her heart, I sit a queen, and am no widow, and shall see no sorrow.
8 Therefore shall her plagues come in one day, death, and mourning, and famine; and she shall be utterly burned with fire: for strong is the LORD God who judges her.
9 And the kings of the earth, who have committed fornication and lived deliciously with her, shall bewail her, and lament for her, when they shall see the smoke of her burning,
10 Standing afar off for the fear of her torment, saying, Alas, alas that great city Babylon, that mighty city! for in one hour is your judgment come.
Psalms 78
13 He divided the sea, and caused them to pass through; and he made the waters to stand as a heap.
14 In the daytime also he led them with a cloud, and all the night with a light of fire.
15 He clave the rocks in the wilderness, and gave them drink as out of the great depths.
16 He brought streams also out of the rock, and caused waters to run down like rivers.
17 And they sinned yet more against him by provoking the Most High in the wilderness.
18 And they tempted God in their heart by asking meat for their lust.
19 Yea, they spoke against God; they said, Can God furnish a table in the wilderness?
20 Behold, he smote the rock, that the waters gushed out, and the streams overflowed; can he give bread also? can he provide flesh for his people?
21 Therefore the LORD heard this, and was wroth: so a fire was kindled against Jacob, and anger also came up against Israel;
22 Because they believed not in God, and trusted not in his salvation:
23 Though he had commanded the clouds from above, and opened the doors of heaven,
24 And had rained down manna upon them to eat, and had given them of the corn of heaven.
25 Man did eat angels' food: he sent them meat to the full.
26 He caused an east wind to blow in the heaven: and by his power he brought in the south wind.
27 He rained flesh also upon them as dust, and feathered fowls like as the sand of the sea:
28 And he let it fall in the midst of their camp, round about their habitations.
29 So they did eat, and were well filled: for he gave them their own desire;
30 They were not estranged from their lust. But while their meat was yet in their mouths,
31 The wrath of God came upon them, and slew the fattest of them, and smote down the chosen men of Israel.
32 For all this they sinned still, and believed not for his wondrous works.
33 Therefore their days did he consume in vanity, and their years in trouble.
34 When he slew them, then they sought him: and they returned and enquired early after God.
35 And they remembered that God was their rock, and the high God their redeemer.
36 Nevertheless they did flatter him with their mouth, and they lied unto him with their tongues.
37 For their heart was not right with him, neither were they steadfast in his covenant.
38 But he, being full of compassion, forgave their iniquity, and destroyed them not: yea, many a time turned he his anger away, and did not stir up all his wrath.