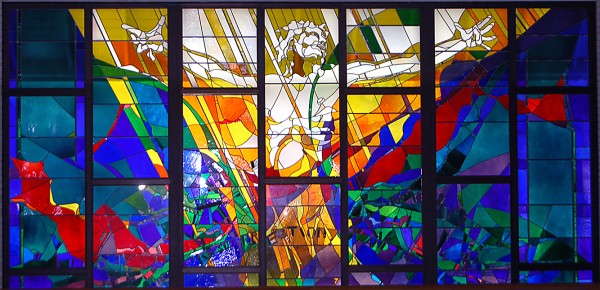 Continuing: in the prior post, we discussed Daniel 3 as the pattern of the false prophets of our time and the abominations they've created. We saw they force all to bow to their words and ideas, and any who refuse are cast into the fiery furnace of their false accusations, ridicule, and demonization. This speaks of the false teachers, the TV preachers of church and state spewing their false reports and agenda driven advice and warnings. We saw in Numbers 22, Balaam called to curse God's people, met by the Angel of the LORD, and hearing the words of the ass, both telling Him to alter his ways. We know the ass spoke because he saw the Angel of the LORD standing in the way, who Balaam the false prophet couldn't see. In Daniel 3 we discussed Nebuchadnezzar seeing a fourth man in the fire, who he said was like the son of God, and who he later describes as the Angel of God sent to deliver those cast in the fires.
We saw in these, and other passages, the destruction of these men's works comes as their ways return upon them. In Daniel 3 it is when the fires are made seven times hotter and consume those trying the throw God's people in them, the "seven" telling us they were unwittingly doing God's work. When we read on into Numbers 23 we see that Balaam continues to work for Balak, with the intention to curse God's people, but the LORD instead puts His words in his mouth. We are told several time in the chapter of Balaam telling Balak to build him seven altars, again "seven" showing he is unwillingly and unwittingly doing the LORD's work, which will eventually be the end of those resisting God's plan for His people (blessing).
Balak is the king of Moab, the names and the pattern telling of Balak as the gatekeeper of the wilderness (Moab): the false lights that come to tempt and try God's people. In Daniel 3, and Numbers 22 thru 25 where Balak and Balaam are described, respectively, neither Daniel nor Moses are mentioned. In Numbers Moses is spoken of in every chapter except in these, where he is instead, showing the LORD's silence during the test, represents himself as the ass and the Angel of the LORD. In Daniel 3 we saw, in his absence by name, he is represented as the fourth man in the fire, in the form of the son of God, and as the Angel sent for the salvation of God's faithful and obedient children. Daniel is likewise not mentioned in chapter 11 where Gabriel is speaking, who is Daniel as the Angel of the LORD on that side of the river (that physical life). We know Gabriel speaks of Michael as Daniel himself in resurrection on the other side of the river, where he will again stand as the Angel of the LORD to awaken those who are sleeping in the dust (ruin or ashes) of the earth.
Both Daniel and Moses are speaking of the same time when the same pattern appear and expose (uncover – apocalypse) the false teaching and misleading in our time. In the modern church these false prophets teach that they and those who bow to their abomination will be saved while all others are cast into hell. The truth is they are those who have started the fire and cause all to pass through them. It is out of their hand the LORD comes to catch us away and back to Himself.
When James tells of the tongue being what set the fire of hell, as he says all thing except the tongue can be tamed, he is speaking in this same context. This is the point of Numbers 22 and Daniel 3, it is in this trial we see who the faithful are, who deny themselves and allow the LORD to speak through them. This is what we see in man and beast in these chapters. Even if these men are unwilling, they will be made to speak and perform the means (works) of their own end.
So, it is a trial, and the LORD is silent so the spirit of disobedience will show itself in the open, and then the LORD appears with healing in His wings.
29 At the time appointed he shall return, and come toward the south; but it shall not be as the former, or as the latter.
30 For the ships of Chittim shall come against him: therefore he shall be grieved, and return, and have indignation against the holy covenant: so shall he do; he shall even return, and have intelligence with them that forsake the holy covenant.
31 And arms shall stand on his part, and they shall pollute the sanctuary of strength, and shall take away the daily sacrifice, and they shall place the abomination that makes desolate.
32 And such as do wickedly against the covenant shall he corrupt by flatteries: but the people that do know their God shall be strong, and do exploits.
33 And they that understand among the people shall instruct many: yet they shall fall by the sword, and by flame, by captivity, and by spoil, many days.
34 Now when they shall fall, they shall be helped with a little help: but many shall cleave to them with flatteries.
35 And some of them of understanding shall fall, to try them, and to purge, and to make them white, even to the time of the end: because it is yet for a time appointed.
36 And the king shall do according to his will; and he shall exalt himself, and magnify himself above every god, and shall speak marvelous things against the God of gods, and shall prosper till the indignation be accomplished: for that that is determined shall be done.
37 Neither shall he regard the God of his fathers, nor the desire of women, nor regard any god: for he shall magnify himself above all.
38 But in his estate shall he honor the God of forces: and a god whom his fathers knew not shall he honor with gold, and silver, and with precious stones, and pleasant things.
39 Thus shall he do in the most strong holds with a strange god, whom he shall acknowledge and increase with glory: and he shall cause them to rule over many, and shall divide the land for gain.
40 And at the time of the end shall the king of the south push at him: and the king of the north shall come against him like a whirlwind, with chariots, and with horsemen, and with many ships; and he shall enter into the countries, and shall overflow and pass over.
41 He shall enter also into the glorious land, and many countries shall be overthrown: but these shall escape out of his hand, even Edom, and Moab, and the chief of the children of Ammon.
42 He shall stretch forth his hand also upon the countries: and the land of Egypt shall not escape.
43 But he shall have power over the treasures of gold and of silver, and over all the precious things of Egypt: and the Libyans and the Ethiopians shall be at his steps.
44 But tidings out of the east and out of the north shall trouble him: therefore he shall go forth with great fury to destroy, and utterly to make away many.
45 And he shall plant the tabernacles of his palace between the seas in the glorious holy mountain; yet he shall come to his end, and none shall help him.
Daniel is speaking of what is written in the words Balaam was made to speak, even if he didn't want to. (Balaam was hired by Balak when Balak saw that Israel had defeated the Ammonites. This is the same hire of false prophets and false teacher who now ill advise those God is leading to victory – over death. It is the same point made in Psalms 88:14, only the living praise God by showing His glory in speaking His word. Life is found in the open mouth that speaks the word of God willingly.)
Psalms 88 [Do you hear the words of Jonah 2 in this Psalm?]
1 O LORD God of my salvation, I have cried day and night before you:
2 Let my prayer come before you: incline your ear unto my cry;
3 For my soul is full of troubles: and my life draws nigh unto the grave.
4 I am counted with them that go down into the pit: I am as a man that has no strength:
5 Free among the dead, like the slain that lie in the grave, whom you remember no more: and they are cut off from your hand.
6 You have laid me in the lowest pit, in darkness, in the deeps.
7 Your wrath lies hard upon me, and you have afflicted me with all your waves. Selah.
8 You have put away mine acquaintance far from me; you have made me an abomination unto them: I am shut up, and I cannot come forth.
9 Mine eye mourns by reason of affliction: LORD, I have called daily upon you, I have stretched out my hands unto you.
10 Will you shew wonders to the dead? shall the dead arise and praise you? Selah.
11 Shall your lovingkindness be declared in the grave? or your faithfulness in destruction?
12 Shall your wonders be known in the dark? and your righteousness in the land of forgetfulness?
13 But unto you have I cried, O LORD; and in the morning shall my prayer prevent you.
14 LORD, why casts you off my soul? why hides you your face from me?
15 I am afflicted and ready to die from my youth up: while I suffer your terrors I am distracted.
16 Your fierce wrath goes over me; your terrors have cut me off.
17 They came round about me daily like water; they compassed me about together.
18 Lover and friend have you put far from me, and mine acquaintance into darkness.
6 But the righteousness which is of faith speaks on this wise, Say not in your heart, Who shall ascend into heaven? (that is, to bring Christ down from above:)
7 Or, Who shall descend into the deep? (that is, to bring up Christ again from the dead.)
8 But what says it? The word is nigh you, even in your mouth, and in your heart: that is, the word of faith, which we preach;
9 That if you shall confess with your mouth the LORD Jesus, and shall believe in your heart that God has raised him from the dead, you shall be saved.
10 For with the heart man believes unto righteousness; and with the mouth confession is made unto salvation.
11 For the scripture says, Whosoever believes on him shall not be ashamed.
12 For there is no difference between the Jew and the Greek: for the same LORD over all is rich unto all that call upon him.
13 For whosoever shall call upon the name of the LORD shall be saved.
14 How then shall they call on him in whom they have not believed? and how shall they believe in him of whom they have not heard? and how shall they hear without a preacher?
15 And how shall they preach, except they be sent? as it is written, How beautiful are the feet of them that preach the gospel of peace, and bring glad tidings of good things!
16 But they have not all obeyed the gospel. For Isaiah says, LORD, who has believed our report?
17 So then faith comes by hearing, and hearing by the word of God.
18 But I say, Have they not heard? Yes verily, their sound went into all the earth, and their words unto the ends of the world.
19 But I say, Did not Israel know? First Moses says, I will provoke you to jealousy by them that are no people, and by a foolish nation I will anger you.
20 But Isaiah is very bold, and says, I was found of them that sought me not; I was made manifest unto them that asked not after me.
21 But to Israel he says, All day long I have stretched forth my hands unto a disobedient and gainsaying people.
1 My brethren, be not many masters, knowing that we shall receive the greater condemnation.
2 For in many things we offend all. If any man offend not in word, the same is a perfect man, and able also to bridle the whole body.
3 Behold, we put bits in the horses' mouths, that they may obey us; and we turn about their whole body.
4 Behold also the ships, which though they be so great, and are driven of fierce winds, yet are they turned about with a very small helm, whithersoever the governor lists [wills].
5 Even so the tongue is a little member, and boasts great things. Behold, how great a matter a little fire kindles!
6 And the tongue is a fire, a world of iniquity: so is the tongue among our members, that it defiles the whole body, and sets on fire the course of nature; and it is set on fire of hell.
7 For every kind of beasts, and of birds, and of serpents, and of things in the sea, is tamed, and has been tamed of mankind:
8 But the tongue can no man tame; it is an unruly evil, full of deadly poison.
9 Therewith bless we God, even the Father; and therewith curse we men, which are made after the similitude of God.
10 Out of the same mouth proceeds blessing and cursing. My brethren, these things ought not so to be.
11 Does a fountain send forth at the same place sweet water and bitter?
12 Can the fig tree, my brethren, bear olive berries? either a vine, figs? so can no fountain both yield salt water and fresh.
13 Who is a wise man and endued with knowledge among you? let him shew out of a good conversation his works with meekness of wisdom.
14 But if you have bitter envying and strife in your hearts, glory not, and lie not against the truth.
15 This wisdom descends not from above, but is earthly, sensual, devilish.
16 For where envying and strife is, there is confusion and every evil work.
17 But the wisdom that is from above is first pure, then peaceable, gentle, and easy to be entreated, full of mercy and good fruits, without partiality, and without hypocrisy.
18 And the fruit of righteousness is sown in peace of them that make peace.
11 Now no chastening [correction] for the present seemeth to be joyous, but grievous: nevertheless afterward it yieldeth the peaceable fruit of righteousness unto them which are exercised thereby.
12 Wherefore lift up the hands which hang down, and the feeble knees;
13 And make straight paths for your feet, lest that which is lame be turned out of the way; but let it rather be healed.
14 Follow peace with all men, and holiness, without which no man shall see the LORD:
15 Looking diligently lest any man fail of the grace of God; lest any root of bitterness springing up trouble you, and thereby many be defiled;
16 Lest there be any fornicator, or profane person, as Esau, who for one morsel of meat sold his birthright.
17 For you know how that afterward, when he would have inherited the blessing, he was rejected: for he found no place of repentance, though he sought it carefully with tears.
18 For you are not come unto the mount that might be touched, and that burned with fire, nor unto blackness, and darkness, and tempest,
19 And the sound of a trumpet, and the voice of words; which voice they that heard entreated that the word should not be spoken to them any more:
20 (For they could not endure that which was commanded, And if so much as a beast touch the mountain, it shall be stoned, or thrust through with a dart:
21 And so terrible was the sight, that Moses said, I exceedingly fear and quake:)
22 But you are come unto mount Zion, and unto the city of the living God, the heavenly Jerusalem, and to an innumerable company of angels,
23 To the general assembly and church of the firstborn, which are written in heaven, and to God the Judge of all, and to the spirits of just men made perfect,
24 And to Jesus the mediator of the new covenant, and to the blood of sprinkling, that speaks better things than that of Abel.
25 See that you refuse not him that speaks. For if they escaped not who refused him that spoke on earth, much more shall not we escape, if we turn away from him that speaks from heaven:
26 Whose voice then shook the earth: but now he has promised, saying, Yet once more I shake not the earth only, but also heaven.
27 And this word, Yet once more, signifies the removing of those things that are shaken, as of things that are made, that those things which cannot be shaken may remain.
28 Wherefore we receiving a kingdom which cannot be moved, let us have grace, whereby we may serve God acceptably with reverence and godly fear:
29 For our God is a consuming fire.
Friends, I tell you the truth, those spewing their own ideas on the airways, who refuse to release the prey, are the enemies of God. Their power is in the air that surrounds them, the spirit now at work in the children of disobedience.
1 For, behold, the day comes [has now come], that shall burn as an oven; and all the proud, yea, and all that do wickedly, shall be stubble: and the day that comes shall burn them up, says the LORD of hosts, that it shall leave them neither root nor branch.
2 But unto you that fear my name shall the Sun of righteousness arise with healing in his wings; and you shall go forth, and grow up as calves of the stall.
3 And you shall tread down the wicked; for they shall be ashes under the soles of your feet in the day that I shall do this, says the LORD of hosts.
4 Remember you the law of Moses my servant, which I commanded unto him in Horeb [the wilderness were you unlearned the ways of your bondage] for all Israel, with the statutes and judgments.
5 Behold, I will send you Elijah the prophet before the coming of the great and dreadful day of the LORD:
6 And he shall turn the heart of the fathers to the children, and the heart of the children to their fathers, lest I come and smite the earth with a curse.
This last verse tells of the option which the LORD doesn't allow, because of the prophet, as Elijah, meaning the LORD is God, successfully turning the hearts (the reasoning minds to understand the former and the latter).
The "curse" spoken of here is from the Hebrew word cherem, which is the equivalent of the Greek word anathema. It is the word rendered "destruction" in Zachariah 14:11 where it tells of when there shall be no more utter destruction. It goes on to tell of the false ones' tongues and eyes consuming away as they stand on the feet. It is describing their words, and what they say they have seen, consuming away as the LORD appears among them. This stand, with or apart from the LORD, is what Daniel speaks of in Daniel 12: 1 – 4. "1 And at that time shall Michael stand up, the great prince which standeth for the children of your people: and there shall be a time of trouble, such as never was since there was a nation even to that same time: and at that time your people shall be delivered, every one that shall be found written in the book. 2 And many of them that sleep in the dust of the earth shall awake, some to everlasting life, and some to shame and everlasting contempt. 3 And they that be wise shall shine as the brightness of the firmament; and they that turn many to righteousness as the stars for ever and ever. 4 But you, O Daniel, shut up the words, and seal the book, even to the time of the end: many shall run to and fro, and knowledge shall be increased."
6 And it shall come to pass in that day, that the light shall not be clear, nor dark:
7 But it shall be one day which shall be known to the LORD, not day, nor night: but it shall come to pass, that at evening time it shall be light.
8 And it shall be in that day, that living waters shall go out from Jerusalem; half of them toward the former sea, and half of them toward the hinder sea: in summer and in winter shall it be.
9 And the LORD shall be king over all the earth: in that day shall there be one LORD, and his name one.
10 All the land shall be turned as a plain from Geba to Rimmon south of Jerusalem: and it shall be lifted up, and inhabited in her place, from Benjamin's gate unto the place of the first gate, unto the corner gate, and from the tower of Hananeel unto the king's winepresses.
11 And men shall dwell in it, and there shall be no more utter destruction; but Jerusalem shall be safely inhabited.
12 And this shall be the plague wherewith the LORD will smite all the people that have fought against Jerusalem; Their flesh shall consume away while they stand upon their feet, and their eyes shall consume away in their holes, and their tongue shall consume away in their mouth.
13 And it shall come to pass in that day, that a great tumult from the LORD shall be among them; and they shall lay hold every one on the hand of his neighbor, and his hand shall rise up against the hand of his neighbor.
14 And Judah also shall fight at Jerusalem; and the wealth of all the heathen round about shall be gathered together, gold, and silver, and apparel, in great abundance.
15 And so shall be the plague of the horse, of the mule, of the camel, and of the ass, and of all the beasts that shall be in these tents, as this plague.
16 And it shall come to pass, that every one that is left of all the nations which came against Jerusalem shall even go up from year to year to worship the King, the LORD of hosts, and to keep the feast of tabernacles.
17 And it shall be, that whoso will not come up of all the families of the earth unto Jerusalem to worship the King, the LORD of hosts, even upon them shall be no rain.
18 And if the family of Egypt go not up, and come not, that have no rain; there shall be the plague, wherewith the LORD will smite the heathen that come not up to keep the feast of tabernacles.
19 This shall be the punishment of Egypt, and the punishment of all nations that come not up to keep the feast of tabernacles.
20 In that day shall there be upon the bells of the horses, Holiness Unto The LORD; and the pots in the LORD's house shall be like the bowls before the altar.
21 Yea, every pot in Jerusalem and in Judah shall be holiness unto the LORD of hosts: and all they that sacrifice shall come and take of them, and seethe therein: and in that day there shall be no more the Canaanite in the house of the LORD of hosts.
The cherem (destruction and curse) that is turned back by this word of the LORD, is the word translated as "their nets" in Habakkuk 1:15, 16, & 17. It comes as Habakkuk is asking some of the same questions we see above in Psalms 88, and the LORD immediately answers by telling that He is working a work, which they are seeing and refusing to believe, and as Acts 13:41 says when quoting it, "though a man declare it unto you." The LORD tells of raising up those who come manipulating people with their words (the Chaldeans), whose dignity proceeds from themselves (men approving men – evil agreeing with evil). It tells of these men's minds being changed, but instead of changing in accord with God's mind, they continue to transgress, and to their transgression (their idols) they impute even more power.
Habakkuk then tells of realizing the LORD has not done this to kill his people, but rather He has ordained judgment and established the correction for those in error. Habakkuk then again asks why the LORD doesn't do something, and why He holds His tongue when the wicked devour a man more righteous than he. He speaks of these manipulators making their nets to catch men in their destruction and worship this means of catching them. He ends asking if they will empty their nets, which we know they will by what is written in Zechariah 14:11.
Habakkuk 2 then begins with Habakkuk waiting to hear the LORD's answer, which comes as this one has, made plain, so those who read it may run from these men's destructive grasp. We know this chapter goes on tell of now, when the earth is filled with the knowledge and glory of the LORD: as waters cover the sea (His words have gone out to all). It ends warning against looking to these men, the dead wood, to teach their corrupted ideas in which there is no breath (life). "But the LORD is in His holy temple: let all the earth keep silent before him."
1 The burden which Habakkuk the prophet did see.
2 O LORD, how long shall I cry, and you will not hear! even cry out unto you of violence, and you will not save!
3 Why dost you shew me iniquity, and cause me to behold grievance? for spoiling and violence are before me: and there are that raise up strife and contention.
4 Therefore the law is slacked, and judgment does never go forth: for the wicked does compass about the righteous; therefore wrong judgment proceeds.
5 Behold you among the heathen, and regard, and wonder marvelously: for I will work a work in your days which you will not believe, though it be told you.
6 For, lo, I raise up the Chaldeans, that bitter and hasty nation, which shall march through the breadth of the land, to possess the dwelling-places that are not theirs.
7 They are terrible and dreadful: their judgment and their dignity shall proceed of themselves.
8 Their horses also are swifter than the leopards, and are more fierce than the evening wolves: and their horsemen shall spread themselves, and their horsemen shall come from far; they shall fly as the eagle that hastes to eat.
9 They shall come all for violence: their faces shall sup up as the east wind, and they shall gather the captivity as the sand.
10 And they shall scoff at the kings, and the princes shall be a scorn unto them: they shall deride every strong hold; for they shall heap dust, and take it.
11 Then shall his mind change, and he shall pass over, and offend, imputing this his power unto his god [the idol they have created].
12 Are you not from everlasting, O LORD my God, mine Holy One? we shall not die. O LORD, you have ordained them for judgment; and, O mighty God, you have established them for correction.
13 You are of purer eyes than to behold evil, and can not look on iniquity: wherefore look you upon them that deal treacherously [it is their eyes that aren't seeing], and holds your tongue when the wicked devours the man that is more righteous than he [He is telling them through a man – who they aren't hearing as God speaking – see verse 5]?
14 And makes men as the fishes of the sea, as the creeping things, that have no ruler over them?
15 They take up all of them with the angle, they catch them in their net [cherem], and gather them in their drag: therefore they rejoice and are glad.
16 Therefore they sacrifice unto their net [cherem], and burn incense unto their drag; because by them their portion is fat, and their meat plenteous.
17 Shall they therefore empty their net [cherem], and not spare continually to slay the nations?
1 I will stand upon my watch, and set me upon the tower, and will watch to see what he will say unto me, and what I shall answer when I am reproved.
2 And the LORD answered me, and said, Write the vision, and make it plain upon tables, that he may run that reads it.
3 For the vision is yet for an appointed time, but at the end it shall speak, and not lie: though it tarry, wait for it; because it will surely come, it will not tarry.
4 Behold, his soul which is lifted up is not upright in him: but the just shall live by his faith.
5 Yea also, because he transgresses by wine, he is a proud man, neither keeps at home, who enlarges his desire as hell, and is as death, and cannot be satisfied, but gathers unto him all nations, and heaps unto him all people:
6 Shall not all these take up a parable against him, and a taunting proverb against him, and say, Woe to him that increases that which is not his! how long? and to him that lades himself with thick clay!
7 Shall they not rise up suddenly that shall bite you, and awake that shall vex you, and you shall be for booties unto them?
8 Because you have spoiled many nations, all the remnant of the people shall spoil you; because of men's blood, and for the violence of the land, of the city, and of all that dwell therein.
9 Woe to him that covets an evil covetousness to his house, that he may set his nest on high, that he may be delivered from the power of evil!
10 You have consulted shame to your house by cutting off many people, and have sinned against your soul.
11 For the stone shall cry out of the wall, and the beam out of the timber shall answer it.
12 Woe to him that builds a town with blood, and stablishes a city by iniquity!
13 Behold, is it not of the LORD of hosts that the people shall labor in the very fire, and the people shall weary themselves for very vanity?
14 For the earth shall be filled with the knowledge of the glory of the LORD, as the waters cover the sea.
15 Woe unto him that gives his neighbor drink, that puts your bottle to him, and makes him drunken also, that you may look on their nakedness!
16 You are filled with shame for glory: drink you also, and let your foreskin be uncovered: the cup of the LORD's right hand shall be turned unto you, and shameful spewing shall be on your glory.
17 For the violence of Lebanon shall cover you, and the spoil of beasts, which made them afraid, because of men's blood, and for the violence of the land, of the city, and of all that dwell therein.
18 What profits the graven image that the maker thereof has graven it; the molten image, and a teacher of lies, that the maker of his work trusts therein, to make dumb idols?
19 Woe unto him that says to the wood, Awake; to the dumb stone, Arise, it shall teach! Behold, it is laid over with gold and silver, and there is no breath at all in the midst of it.
20 But the LORD is in his holy temple: let all the earth keep silence before him.