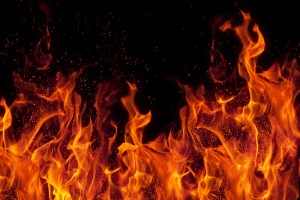 Continuing: Yesterday we looked what is restraining God's people and we see it identified in His word as being those sitting in the places of power. The power is in the false doctrine they preach – claiming everything and therefore everyone in "their" place listening to "their" truth is safe and will escape judgment while resting in peace. We saw those under this spell having no idea they are in death's grasp. We see it in the warning from the Lord to the seventh church just prior the destruction of them all and falling away into total apostasy and the replica eighth [anti church – no truth or spirit (life)]. The eighth is the now "so called" churches, not knowing or caring they are in the hidden world of the dead (Sheol), remaining held down by the grasp of false doctrine men have created. "15 I know your works, that you are neither cold nor hot: I would prefer you were cold or hot. 16 So then because you are lukewarm, and neither cold nor hot, I will spue you out of my mouth. 17 Because you say, I am rich, and increased with goods, and have need of nothing; and know not that you are wretched, and miserable, and poor, and blind, and naked: 18 I counsel you to buy of me gold tried in the fire, that thou may be rich; and white raiment, that thou may be clothed, and that the shame of your nakedness do not appear; and anoint your eyes with eye-salve, that you may see. 19 As many as I love, I rebuke and correct: be zealous therefore, and repent. 20 Behold, I stand at the door, and knock: if any man hear my voice, and open the door, I will come in to him, and will sup with him, and he with me. 21 To him that overcomes will I grant to sit with me in my throne, even as I also overcame, and am set down with my Father in his throne. 22 He that hath an ear, let him hear what the Spirit says unto the churches." (Sup – think Luke 24, eating and opening the scriptures)
The lie is directed toward those listening to keep them in death's hold. "But thanks be to God, which gives us the victory through of Lord Jesus Christ." When 1 Corinthians 15:57 says this it is preceded by telling us of rising from the dead. It says that we must go from corruption and "put on" incorruption, and from mortality and "put on" immortality. The word "put on" is translated from the Greek word enduo, meaning to be clothed. See verse 18 above, from Revelation 3:
From Strong's Greek Dictionary: Strong's #1746: enduo (pronounced en-doo'-o) from 1722 and 1416 (in the sense of sinking into a garment); to invest with clothing (literally or figuratively):–array, clothe (with), endue, have (put) on.
This is the word (used 28 times total) translated in Luke 24:49 as "ye be endued" in telling of our remaining steadfast ("tarry") until we are clothed with power from on high. The word "tarry" is from kathizo, which is also the word translated "sitteth" in telling 2 Thessalonians 2:4 of the place of those having brought in the doctrine opposing God. This is the place we should have remained and left (fallen away from), is also the context of what Paul says [and is recorded] in the last verse of 1 Corinthians 15, "58 Therefore, my beloved brethren, be ye steadfast, un-moveable, always abounding in the work of the Lord, forasmuch as you know that your labor is not in vain in the Lord." The place is Jerusalem – instructed (foundation established) in peace. Luke 24:49, "And, behold, I send the promise of my Father upon you: but tarry you in the city of Jerusalem, until ye be endued with power from on high."
The word enduo is used three times in Revelation, and all as "clothed." First in 1:13 it is describing the Son of man, second in 15:6 of the seven angels who come from the temple, and third we see it clothing the Word of God in 19:14. Luke uses the word two other times; in 12:22 it is in telling us not to think about worldly things we "put on" but rather the riches of heaven (which the Father know we need and freely gives), which then he describe in 15:22 in telling of the finest things the Father cloths the prodigal son with as he returns to the place he had fallen away from.
Luke 15
10 Likewise, I say unto you, there is joy in the presence of the angels of God over one sinner that repenteth.
11 And he said, A certain man had two sons:
12 And the younger of them said to his father, Father, give me the portion of goods that falleth to me. And he divided unto them his living.
13 And not many days after the younger son gathered all together, and took his journey into a far country, and there wasted his substance with riotous living.
14 And when he had spent all, there arose a mighty famine in that land; and he began to be in want.
15 And he went and joined himself to a citizen of that country; and he sent him into his fields to feed swine.
16 And he would fain have filled his belly with the husks that the swine did eat: and no man gave unto him.
17 And when he came to himself, he said, How many hired servants of my father's have bread enough and to spare, and I perish with hunger!
18 I will arise and go to my father, and will say unto him, Father, I have sinned against heaven, and before thee,
19 And am no more worthy to be called thy son: make me as one of thy hired servants.
20 And he arose, and came to his father. But when he was yet a great way off, his father saw him, and had compassion, and ran, and fell on his neck, and kissed him.
21 And the son said unto him, Father, I have sinned against heaven, and in thy sight, and am no more worthy to be called thy son.
22 But the father said to his servants, Bring forth the best robe, and put it on him; and put a ring on his hand, and shoes on his feet:
23 And bring hither the fatted calf, and kill it; and let us eat, and be merry:
24 For this my son was dead, and is alive again; he was lost, and is found. And they began to be merry.
25 Now his elder son was in the field: and as he came and drew nigh to the house, he heard musick and dancing.
26 And he called one of the servants, and asked what these things meant.
27 And he said unto him, Thy brother is come; and thy father hath killed the fatted calf, because he hath received him safe and sound.
28 And he was angry, and would not go in: therefore came his father out, and intreated him.
29 And he answering said to his father, Lo, these many years do I serve thee, neither transgressed I at any time thy commandment: and yet thou never gavest me a kid, that I might make merry with my friends:
30 But as soon as this thy son was come, which hath devoured thy living with harlots, thou hast killed for him the fatted calf.
31 And he said unto him, Son, thou art ever with me, and all that I have is thine.
32 It was meet that we should make merry, and be glad: for this thy brother was dead, and is alive again; and was lost, and is found.
Above we also see the actions of the two sons as representing the meaning of what Paul also writes in the last verse of 1 Corinthians 15 when telling of the sting of the letter of the law and the Father's grace in the victory [of mercy]. The law said the Father didn't have to receive him back from the consequences of his poor judgment. The self-inflicted consequences were the needed correction bringing repentance. (Think in terms of liberty to fail being necessary, and equally so (consequences keep liberty alive).)
1 Corinthians 15
51 Behold, I shew you a mystery; We shall not all sleep, but we shall all be changed,
52 In a moment, in the twinkling of an eye, at the last trump: for the trumpet shall sound, and the dead shall be raised incorruptible, and we shall be changed.
53 For this corruptible must put on incorruption, and this mortal must put on immortality.
54 So when this corruptible shall have put on incorruption, and this mortal shall have put on immortality, then shall be brought to pass the saying that is written, Death is swallowed up in victory.
55 O death, where is thy sting? O grave, where is thy victory?
56 The sting of death is sin; and the strength of sin is the law.
57 But thanks be to God, which giveth us the victory through our Lord Jesus Christ.
58 Therefore, my beloved brethren, be ye stedfast, unmoveable, always abounding in the work of the Lord, forasmuch as ye know that your labour is not in vain in the Lord.
Again, verse 55 & 56 contain quotes from Isaiah 25:8 and Hosea 13:14. In reading the original language we see the "sting" is the means of the poison getting in to be able to rot the mind, the "strength" is the hold, the grasp sin has, like poison, brings degeneration, and [when systemic] death. We can read [in Revelation 9] of the sting that comes from the scorpion like tail (effect) of the locust, and then the horsemen with tails like serpents – that bring death. The victory is the Lord's as we are told in John 3, "11 Truly, truly, I say unto you, We speak that we do know, and testify that we have seen; and you receive not our witness. 12 If I have told you earthly things, and ye believe not, how shall ye believe, if I tell you of heavenly things? 13 And no man hath ascended up to heaven, but he that came down from heaven, even the Son of man which is in heaven. 14 And as Moses lifted up the serpent in the wilderness, even so must the Son of man be lifted up: 15 That whosoever believes in him should not perish, but have eternal life." "And this mortal must put on immortality!"
Isaiah 25
1 O Lord, thou art my God; I will exalt thee, I will praise thy name; for thou hast done wonderful things; thy counsels of old are faithfulness and truth.
2 For thou hast made of a city an heap; of a defenced city a ruin: a palace of strangers to be no city; it shall never be built.
3 Therefore shall the strong people glorify thee, the city of the terrible nations shall fear thee.
4 For thou hast been a strength to the poor, a strength to the needy in his distress, a refuge from the storm, a shadow from the heat, when the blast of the terrible ones is as a storm against the wall.
5 Thou shalt bring down the noise of strangers, as the heat in a dry place; even the heat with the shadow of a cloud: the branch of the terrible ones shall be brought low.
6 And in this mountain shall the Lord of hosts make unto all people a feast of fat things, a feast of wines on the lees, of fat things full of marrow, of wines on the lees well refined.
7 And he will destroy in this mountain the face of the covering cast over all people, and the vail that is spread over all nations.
8 He will swallow up death in victory; and the Lord God will wipe away tears from off all faces; and the rebuke of his people shall he take away from off all the earth: for the Lord hath spoken it.
9 And it shall be said in that day, Lo, this is our God; we have waited for him, and he will save us: this is the Lord; we have waited for him, we will be glad and rejoice in his salvation.
10 For in this mountain shall the hand of the Lord rest, and Moab shall be trodden down under him, even as straw is trodden down for the dunghill.
11 And he shall spread forth his hands in the midst of them, as he that swimmeth spreadeth forth his hands to swim: and he shall bring down their pride together with the spoils of their hands.
12 And the fortress of the high fort of thy walls shall he bring down, lay low, and bring to the ground, even to the dust.
Hosea 13
9 O Israel, thou hast destroyed thyself; but in me is thine help.
10 I will be thy king: where is any other that may save thee in all thy cities? and thy judges of whom thou saidst, Give me a king and princes?
11 I gave thee a king in mine anger, and took him away in my wrath.
12 The iniquity of Ephraim is bound up; his sin is hid.
13 The sorrows of a travailing woman shall come upon him: he is an unwise son; for he should not stay long in the place of the breaking forth of children.
14 I will ransom them from the power of the grave; I will redeem them from death: O death, I will be thy plagues; O grave, I will be thy destruction: repentance shall be hid from mine eyes.
15 Though he be fruitful among his brethren, an east wind shall come, the wind of the Lord shall come up from the wilderness, and his spring shall become dry, and his fountain shall be dried up: he shall spoil the treasure of all pleasant vessels.
16 Samaria shall become desolate; for she hath rebelled against her God: they shall fall by the sword: their infants shall be dashed in pieces, and their women with child shall be ripped up.
Hosea 14
1 O Israel, return unto the Lord thy God; for thou hast fallen by thine iniquity.
2 Take with you words, and turn to the Lord: say unto him, Take away all iniquity, and receive us graciously: so will we render the calves of our lips.
3 Asshur shall not save us; we will not ride upon horses: neither will we say any more to the work of our hands, Ye are our gods: for in thee the fatherless findeth mercy.
4 I will heal their backsliding, I will love them freely: for mine anger is turned away from him.
5 I will be as the dew unto Israel: he shall grow as the lily, and cast forth his roots as Lebanon.
6 His branches shall spread, and his beauty shall be as the olive tree, and his smell as Lebanon.
7 They that dwell under his shadow shall return; they shall revive as the corn, and grow as the vine: the scent thereof shall be as the wine of Lebanon.
8 Ephraim shall say, What have I to do any more with idols? I have heard him, and observed him: I am like a green fir tree. From me is thy fruit found.
9 Who is wise, and he shall understand these things? prudent, and he shall know them? for the ways of the Lord are right, and the just shall walk in them: but the transgressors shall fall therein.
John 4
14 But whosoever drinketh of the water that I shall give him shall never thirst; but the water that I shall give him shall be in him a well of water springing up into everlasting life.
15 The woman saith unto him, Sir, give me this water, that I thirst not, neither come hither to draw.
16 Jesus saith unto her, Go, call thy husband, and come hither.
17 The woman answered and said, I have no husband. Jesus said unto her, Thou hast well said, I have no husband:
18 For thou hast had five husbands; and he whom thou now hast is not thy husband: in that saidst thou truly.
19 The woman saith unto him, Sir, I perceive that thou art a prophet.
20 Our fathers worshipped in this mountain; and ye say, that in Jerusalem is the place where men ought to worship.
21 Jesus saith unto her, Woman, believe me, the hour cometh, when ye shall neither in this mountain, nor yet at Jerusalem, worship the Father.
22 Ye worship ye know not what: we know what we worship: for salvation is of the Jews.
23 But the hour cometh, and now is, when the true worshippers shall worship the Father in spirit and in truth: for the Father seeketh such to worship him.
24 God is a Spirit: and they that worship him must worship him in spirit and in truth.
25 The woman saith unto him, I know that Messias cometh, which is called Christ: when he is come, he will tell us all things.
26 Jesus saith unto her, I that speak unto thee am he.
27 And upon this came his disciples, and marvelled that he talked with the woman: yet no man said, What seekest thou? or, Why talkest thou with her?
28 The woman then left her waterpot, and went her way into the city, and saith to the men,
29 Come, see a man, which told me all things that ever I did: is not this the Christ?
30 Then they went out of the city, and came unto him.
31 In the mean while his disciples prayed him, saying, Master, eat.
32 But he said unto them, I have meat to eat that ye know not of.
33 Therefore said the disciples one to another, Hath any man brought him ought to eat?
34 Jesus saith unto them, My meat is to do the will of him that sent me, and to finish his work.
35 Say not ye, There are yet four months, and then cometh harvest? behold, I say unto you, Lift up your eyes, and look on the fields; for they are white already to harvest.
36 And he that reapeth receiveth wages, and gathereth fruit unto life eternal: that both he that soweth and he that reapeth may rejoice together.
37 And herein is that saying true, One soweth, and another reapeth.
38 I sent you to reap that whereon ye bestowed no labour: other men laboured, and ye are entered into their labours.
39 And many of the Samaritans of that city believed on him for the saying of the woman, which testified, He told me all that ever I did.
40 So when the Samaritans were come unto him, they besought him that he would tarry with them: and he abode there two days.
41 And many more believed because of his own word;
42 And said unto the woman, Now we believe, not because of thy saying: for we have heard him ourselves, and know that this is indeed the Christ, the Saviour of the world.
43 Now after two days he departed thence, and went into Galilee.
44 For Jesus himself testified, that a prophet hath no honour in his own country.
John 14
16 And I will pray the Father, and he shall give you another Comforter, that he may abide with you for ever;
17 Even the Spirit of truth; whom the world cannot receive, because it seeth him not, neither knoweth him: but ye know him; for he dwelleth with you, and shall be in you.
18 I will not leave you comfortless: I will come to you.
19 Yet a little while, and the world seeth me no more; but ye see me: because I live, ye shall live also.
20 At that day ye shall know that I am in my Father, and ye in me, and I in you.
21 He that hath my commandments, and keepeth them, he it is that loveth me: and he that loveth me shall be loved of my Father, and I will love him, and will manifest myself to him.
John 16
8 And when he is come, he will reprove the world of sin, and of righteousness, and of judgment:
9 Of sin, because they believe not on me;
10 Of righteousness, because I go to my Father, and ye see me no more;
11 Of judgment, because the prince of this world is judged.
12 I have yet many things to say unto you, but ye cannot bear them now.
13 Howbeit when he, the Spirit of truth, is come, he will guide you into all truth: for he shall not speak of himself; but whatsoever he shall hear, that shall he speak: and he will shew you things to come.
14 He shall glorify me: for he shall receive of mine, and shall shew it unto you.
15 All things that the Father hath are mine: therefore said I, that he shall take of mine, and shall shew it unto you.
16 A little while, and ye shall not see me: and again, a little while, and ye shall see me, because I go to the Father.