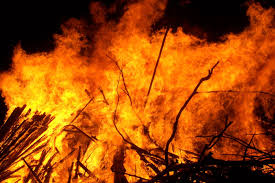 Yesterday's post title defined the subject of the post, the Truth of God as the consuming fire of the Apocalypse. If you frequently read the "Message" posts you know what is burned up are the lies created by men who oppose the truth of the word God, and the fire (Spirit) is produced by the mind of Christ in those who thereby know the [actual] truth (because He has shown it to us). These are also defining the sword of the Spirit. We also know these [truths] as rivers of living waters first poured into us, and then pouring out. They are living waters to those who accept them as the truth, and to those who reject the light they are fires ever burning while they live ever inescapably separated from God by lies – remaining in death.
John 7
37 In the last day, that great day of the feast, Jesus stood and cried, saying, If any man thirst, let him come unto me, and drink.
38 He that believeth on me, as the scripture hath said, out of his belly shall flow rivers of living water.
39 (But this spake he of the Spirit, which they that believe on him should receive: for the Holy Ghost was not yet given; because that Jesus was not yet glorified.)
1 Corinthians 15
45 And so it is written, The first man Adam was made a living soul; the last Adam was made a quickening spirit.
46 Howbeit that was not first which is spiritual, but that which is natural; and afterward that which is spiritual.
47 The first man is of the earth, earthy; the second man is the Lord from heaven.
48 As is the earthy, such are they also that are earthy: and as is the heavenly, such are they also that are heavenly.
49 And as we have borne the image of the earthy, we shall also bear the image of the heavenly.
50 Now this I say, brethren, that flesh and blood cannot inherit the kingdom of God; neither doth corruption inherit incorruption.
51 Behold, I shew you a mystery; We shall not all sleep, but we shall all be changed,
52 In a moment, in the twinkling of an eye, at the last trump: for the trumpet shall sound, and the dead shall be raised incorruptible, and we shall be changed.
53 For this corruptible must put on incorruption, and this mortal must put on immortality.
54 So when this corruptible shall have put on incorruption, and this mortal shall have put on immortality, then shall be brought to pass the saying that is written, Death is swallowed up in victory.
55 O death, where is thy sting? O grave, where is thy victory?
56 The sting of death is sin; and the strength of sin is the law.
57 But thanks be to God, which giveth us the victory through our Lord Jesus Christ.
58 Therefore, my beloved brethren, be ye stedfast, unmoveable, always abounding in the work of the Lord, forasmuch as ye know that your labour is not in vain in the Lord.
In this context we read 2 Peter 3 of the waters that overflowed in ending the age before the one ending now, as in truth entered a world void of any law. It then tells of the fire that would end the age that has now ended as again truth rises from the midst of the dead world (resurrected as root out of dry ground by watering). These are what we hear of when Paul mentions the three heavens (and the three earth ages).
2 Peter 3 is a very detailed description of the apocalyptic fires, which end the age and begin next. They are defined as of "the day of judgment and perdition of ungodly men." It goes on to tell of it being the "elements" melting away from the heat, and the works that are produced by those on the earth (the ungodly) shall be burned up. We are next told of heavens being on fire, as we are again told of the "elements" melting with fervent heat.
To better see we look at 1 Peter 5 where Peter tells of where these "ungodly" men are melted away by the "fiery trial." We are told about those suffering because of ungodliness and those suffering as Christians (Christ nous – mind or intellect). This is contrasting (our time) as it is written by the two types of Ephesians 6, the fiery darts of the wicked that are stopped by the shield of faith (in knowing Christ), and our weapon of offence, the sword of the Spirit which is the word of God. This is the fiery sword that defeats the corruption of man creation (their mind they think themselves wise – but (ungodly) removing God from their knowledge they become fool and don't even know it – because the dead don't know they are dead).
1 Peter 5
11 If any man speak, let him speak as the oracles of God; if any man minister, let him do it as of the ability which God giveth: that God in all things may be glorified through Jesus Christ, to whom be praise and dominion for ever and ever. Amen.
12 Beloved, think it not strange concerning the fiery trial which is to try you, as though some strange thing happened unto you:
13 But rejoice, inasmuch as ye are partakers of Christ's sufferings; that, when his glory shall be revealed, ye may be glad also with exceeding joy.
14 If ye be reproached for the name of Christ, happy are ye; for the spirit of glory and of God resteth upon you: on their part he is evil spoken of, but on your part he is glorified.
15 But let none of you suffer as a murderer, or as a thief, or as an evildoer, or as a busybody in other men's matters.
16 Yet if any man suffer as a Christian, let him not be ashamed; but let him glorify God on this behalf.
17 For the time is come that judgment must begin at the house of God: and if it first begin at us, what shall the end be of them that obey not the gospel of God?
18 And if the righteous scarcely be saved, where shall the ungodly and the sinner appear?
19 Wherefore let them that suffer according to the will of God commit the keeping of their souls to him in well doing, as unto a faithful Creator.
Ephesians 6
10 Finally, my brethren, be strong in the Lord, and in the power of his might.
11 Put on the whole armour of God, that ye may be able to stand against the wiles of the devil.
12 For we wrestle not against flesh and blood, but against principalities, against powers, against the rulers of the darkness of this world, against spiritual wickedness in high places.
13 Wherefore take unto you the whole armour of God, that ye may be able to withstand in the evil day, and having done all, to stand.
14 Stand therefore, having your loins girt about with truth, and having on the breastplate of righteousness;
15 And your feet shod with the preparation of the gospel of peace;
16 Above all, taking the shield of faith, wherewith ye shall be able to quench all the fiery darts of the wicked.
17 And take the helmet of salvation, and the sword of the Spirit, which is the word of God:
Both of the above are spoken of in the context best defined by he Lord's words telling us in Luke 21, "14 Settle it therefore in your hearts, not to meditate before what ye shall answer: 15 For I will give you a mouth and wisdom, which all your adversaries shall not be able to gainsay nor resist." These are part of what Luke perfectly understood and was pouring forward, as he also wrote in Acts 2 of the "tongues like as of fire" in telling of the Holy Spirit coming upon men. We are told there of the "sound from heaven" that preceded the fire, and just as Peter tells us in 2 Peter 3:10 of the "great noise" which also preceded the fire.
In Acts 2 Luke describes this by quoting from Joel 2 where just prior the LORD says this is something that happens when He is in the midst [of the minds] of His people.
Acts 2 (the quote is verses 17 – 21)
14 But Peter, standing up with the eleven, lifted up his voice, and said unto them, Ye men of Judaea, and all ye that dwell at Jerusalem, be this known unto you, and hearken to my words:
15 For these are not drunken, as ye suppose, seeing it is but the third hour of the day.
16 But this is that which was spoken by the prophet Joel;
17 And it shall come to pass in the last days, saith God, I will pour out of my Spirit upon all flesh: and your sons and your daughters shall prophesy, and your young men shall see visions, and your old men shall dream dreams:
18 And on my servants and on my handmaidens I will pour out in those days of my Spirit; and they shall prophesy:
19 And I will shew wonders in heaven above, and signs in the earth beneath; blood, and fire, and vapour of smoke:
20 The sun shall be turned into darkness, and the moon into blood, before the great and notable day of the Lord come:
21 And it shall come to pass, that whosoever shall call on the name of the Lord shall be saved.
22 Ye men of Israel, hear these words; Jesus of Nazareth, a man approved of God among you by miracles and wonders and signs, which God did by him in the midst of you, as ye yourselves also know:
23 Him, being delivered by the determinate counsel and foreknowledge of God, ye have taken, and by wicked hands have crucified and slain:
24 Whom God hath raised up, having loosed the pains of death: because it was not possible that he should be holden of it.
25 For David speaketh concerning him, I foresaw the Lord always before my face, for he is on my right hand, that I should not be moved:
26 Therefore did my heart rejoice, and my tongue was glad; moreover also my flesh shall rest in hope:
27 Because thou wilt not leave my soul in hell, neither wilt thou suffer thine Holy One to see corruption.
28 Thou hast made known to me the ways of life; thou shalt make me full of joy with thy countenance.
29 Men and brethren, let me freely speak unto you of the patriarch David, that he is both dead and buried, and his sepulchre is with us unto this day.
30 Therefore being a prophet, and knowing that God had sworn with an oath to him, that of the fruit of his loins, according to the flesh, he would raise up Christ to sit on his throne;
31 He seeing this before spake of the resurrection of Christ, that his soul was not left in hell, neither his flesh did see corruption.
32 This Jesus hath God raised up, whereof we all are witnesses.
The "elements" Peter tells of melting away by the fire is from the Greek word stoicheion, from the word stoicheo. The meaning is – a primary foundation upon which others rely and are constructed. Stoicheo is used five times and all translated as the [orderly] "walk" in describing our faith. It is best defined by its use in Galatians 5:24 & 25, "If we live in the Spirit, let us also walk in the Spirit. Let us not be desirous of vain glory, provoking one another, envying one another." The word stoicheion is used seven times, its most defining use is in telling in Hebrews 5:12 of it as the "first principles" when instructing teachers of what we teach before we move on to the deeper meaning. Here as in 1 Peter 5:11 we are told of this being specifically in reference to the "oracles of God."
Hebrews 5
5 So also Christ glorified not himself to be made an high priest; but he that said unto him, Thou art my Son, to day have I begotten thee.
6 As he saith also in another place, Thou art a priest for ever after the order of Melchisedec.
7 Who in the days of his flesh, when he had offered up prayers and supplications with strong crying and tears unto him that was able to save him from death, and was heard in that he feared;
8 Though he were a Son, yet learned he obedience by the things which he suffered;
9 And being made perfect, he became the author of eternal salvation unto all them that obey him;
10 Called of God an high priest after the order of Melchisedec.
11 Of whom we have many things to say, and hard to be uttered, seeing ye are dull of hearing.
12 For when for the time ye ought to be teachers, ye have need that one teach you again which be the first principles of the oracles of God; and are become such as have need of milk, and not of strong meat.
13 For every one that useth milk is unskilful in the word of righteousness: for he is a babe.
14 But strong meat belongeth to them that are of full age, even those who by reason of use have their senses exercised to discern both good and evil.
The ungodly are those who have no "fear" of God, meaning no reverence. The word "feared" in verse 7 above, in telling of being heard because of un-demanded respect and willing subordination, is the Greek word eulabeia. It is only here and in Hebrews 12:28, where it is translated as "godly fear."
Hebrews 12
28 Wherefore we receiving a kingdom which cannot be moved, let us have grace, whereby we may serve God acceptably with reverence and godly fear:
29 For our God is a consuming fire.
2 Peter 3
1 This second epistle, beloved, I now write unto you; in both which I stir up your pure minds by way of remembrance:
2 That ye may be mindful of the words which were spoken before by the holy prophets, and of the commandment of us the apostles of the Lord and Saviour:
3 Knowing this first, that there shall come in the last days scoffers, walking after their own lusts,
4 And saying, Where is the promise of his coming? for since the fathers fell asleep, all things continue as they were from the beginning of the creation.
5 For this they willingly are ignorant of, that by the word of God the heavens were of old, and the earth standing out of the water and in the water:
6 Whereby the world that then was, being overflowed with water, perished:
7 But the heavens and the earth, which are now, by the same word are kept in store, reserved unto fire against the day of judgment and perdition of ungodly men.
8 But, beloved, be not ignorant of this one thing, that one day is with the Lord as a thousand years, and a thousand years as one day.
9 The Lord is not slack concerning his promise, as some men count slackness; but is longsuffering to us-ward, not willing that any should perish, but that all should come to repentance.
10 But the day of the Lord will come as a thief in the night; in the which the heavens shall pass away with a great noise, and the elements shall melt with fervent heat, the earth also and the works that are therein shall be burned up.
11 Seeing then that all these things shall be dissolved, what manner of persons ought ye to be in all holy conversation and godliness,
12 Looking for and hasting unto the coming of the day of God, wherein the heavens being on fire shall be dissolved, and the elements shall melt with fervent heat?
13 Nevertheless we, according to his promise, look for new heavens and a new earth, wherein dwelleth righteousness.
14 Wherefore, beloved, seeing that ye look for such things, be diligent that ye may be found of him in peace, without spot, and blameless.
15 And account that the longsuffering of our Lord is salvation; even as our beloved brother Paul also according to the wisdom given unto him hath written unto you;
16 As also in all his epistles, speaking in them of these things; in which are some things hard to be understood, which they that are unlearned and unstable wrest, as they do also the other scriptures, unto their own destruction.
17 Ye therefore, beloved, seeing ye know these things before, beware lest ye also, being led away with the error of the wicked, fall from your own stedfastness.
18 But grow in grace, and in the knowledge of our Lord and Saviour Jesus Christ. To him be glory both now and for ever. Amen.