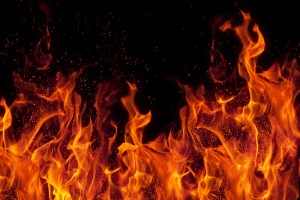 Continuing: I don't think yesterday's message will cause many [of the "experts"] to repent and give up their lies nor will they discontinue robbing God. They will however claim the grace as they totally alter the terms so to continue their lawless rebellion. Here is an analogy, the dog has returned to his own vomit, and the swine that were washed return to their wallowing in the mire.
The LORD started my day today with the following, and it is in reference to the apostate leaders of the revolt against God.
Ezekiel 28
12 Son of man, take up a lamentation upon the king of Tyrus, and say unto him, Thus saith the Lord God; Thou sealest up the sum, full of wisdom, and perfect in beauty.
13 Thou hast been in Eden the garden of God; every precious stone was thy covering, the sardius, topaz, and the diamond, the beryl, the onyx, and the jasper, the sapphire, the emerald, and the carbuncle, and gold: the workmanship of thy tabrets and of thy pipes was prepared in thee in the day that thou wast created.
14 Thou art the anointed cherub that covereth; and I have set thee so: thou wast upon the holy mountain of God; thou hast walked up and down in the midst of the stones of fire.
15 Thou wast perfect in thy ways from the day that thou wast created, till iniquity was found in thee.
16 By the multitude of thy merchandise they have filled the midst of thee with violence, and thou hast sinned: therefore I will cast thee as profane out of the mountain of God: and I will destroy thee, O covering cherub, from the midst of the stones of fire.
17 Thine heart was lifted up because of thy beauty, thou hast corrupted thy wisdom by reason of thy brightness: I will cast thee to the ground, I will lay thee before kings, that they may behold thee.
18 Thou hast defiled thy sanctuaries by the multitude of thine iniquities, by the iniquity of thy traffick; therefore will I bring forth a fire from the midst of thee, it shall devour thee, and I will bring thee to ashes upon the earth in the sight of all them that behold thee.
19 All they that know thee among the people shall be astonished at thee: thou shalt be a terror, and never shalt thou be any more.
20 Again the word of the Lord came unto me, saying,
21 Son of man, set thy face against Zidon, and prophesy against it,
22 And say, Thus saith the Lord God; Behold, I am against thee, O Zidon; and I will be glorified in the midst of thee: and they shall know that I am the Lord, when I shall have executed judgments in her, and shall be sanctified in her.
23 For I will send into her pestilence, and blood into her streets; and the wounded shall be judged in the midst of her by the sword upon her on every side; and they shall know that I am the Lord.
24 And there shall be no more a pricking brier unto the house of Israel, nor any grieving thorn of all that are round about them, that despised them; and they shall know that I am the Lord God.
25 Thus saith the Lord God; When I shall have gathered the house of Israel from the people among whom they are scattered, and shall be sanctified in them in the sight of the heathen, then shall they dwell in their land that I have given to my servant Jacob.
26 And they shall dwell safely therein, and shall build houses, and plant vineyards; yea, they shall dwell with confidence, when I have executed judgments upon all those that despise them round about them; and they shall know that I am the Lord their God.
These (Tyrus and Zidon) are patterns of the religious and national governments (sun and moon) in fallen from. They are adorned with all the outward beauty but inwardly they have corrupted themselves away from God's intended state. These apostate replicas are the pattern of who the Lord speaks to in our time when telling of those who He is calling to repentance and their refusing so great a salvation.
Matthew 11
20 Then began he to upbraid the cities wherein most of his mighty works were done, because they repented not:
21 Woe unto thee, Chorazin! woe unto thee, Bethsaida! for if the mighty works, which were done in you, had been done in Tyre and Sidon, they would have repented long ago in sackcloth and ashes.
22 But I say unto you, It shall be more tolerable for Tyre and Sidon at the day of judgment, than for you.
23 And thou, Capernaum, which art exalted unto heaven, shalt be brought down to hell: for if the mighty works, which have been done in thee, had been done in Sodom, it would have remained until this day.
24 But I say unto you, That it shall be more tolerable for the land of Sodom in the day of judgment, than for thee.
25 At that time Jesus answered and said, I thank thee, O Father, Lord of heaven and earth, because thou hast hid these things from the wise and prudent, and hast revealed them unto babes.
26 Even so, Father: for so it seemed good in thy sight.
27 All things are delivered unto me of my Father: and no man knoweth the Son, but the Father; neither knoweth any man the Father, save the Son, and he to whomsoever the Son will reveal him.
28 Come unto me, all ye that labour and are heavy laden, and I will give you rest.
29 Take my yoke upon you, and learn of me; for I am meek and lowly in heart: and ye shall find rest unto your souls.
30 For my yoke is easy, and my burden is light.
Hebrews 2
1 Therefore we ought to give the more earnest heed to the things which we have heard, lest at any time we should let them slip.
2 For if the word spoken by angels was stedfast, and every transgression and disobedience received a just recompence of reward;
3 How shall we escape, if we neglect so great salvation; which at the first began to be spoken by the Lord, and was confirmed unto us by them that heard him;
4 God also bearing them witness, both with signs and wonders, and with divers miracles, and gifts of the Holy Ghost, according to his own will?
5 For unto the angels hath he not put in subjection the world to come, whereof we speak.
What does the Lord mean when He tells of the many that will come saying, "I am Christ?" He also says there will be many of them and they will deceive many. Here is the quote from Matthew 24:5, "For many shall come in my name, saying, I am Christ; and shall deceive many." The first thing in identifying these He speaks of is they come in His name, Jesus, Secondly they are "saying," I am the Christos. Here we have a very descriptive cross-reference hidden (simplistically) in plain site. The word translated "saying" is said to be the word lego, meaning a discourse in the form of laying out a position. It is written in the original text as legontes. The words translated "many" are forms of the Greek word pollos. This is by Divine intention meant to point to (Mark 5:9) the many devils that tormented the man alive in the place of the dead (pattern of Sheol – among the tombs). He told his name was Legeon (legion), and he says that is his name because he is many (same form of pollos). (see yesterday's post)
These are men who claim and lay out the case that they have the way to salvation but are ignorant of the fact that they are embodied by the same spirit that led the fall. There is a spirit in them by it isn't Christ (the mind of). They have a message but it isn't the LORD's (plan).
Mark 5
1 And they came over unto the other side of the sea, into the country of the Gadarenes.
2 And when he was come out of the ship, immediately there met him out of the tombs a man with an unclean spirit,
3 Who had his dwelling among the tombs; and no man could bind him, no, not with chains:
4 Because that he had been often bound with fetters and chains, and the chains had been plucked asunder by him, and the fetters broken in pieces: neither could any man tame him.
5 And always, night and day, he was in the mountains, and in the tombs, crying, and cutting himself with stones.
6 But when he saw Jesus afar off, he ran and worshipped him,
7 And cried with a loud voice, and said, What have I to do with thee, Jesus, thou Son of the most high God? I adjure thee by God, that thou torment me not.
8 For he said unto him, Come out of the man, thou unclean spirit.
9 And he asked him, What is thy name? And he answered, saying, My name is Legion: for we are many.
10 And he besought him much that he would not send them away out of the country.
11 Now there was there nigh unto the mountains a great herd of swine feeding.
12 And all the devils besought him, saying, Send us into the swine, that we may enter into them.
13 And forthwith Jesus gave them leave. And the unclean spirits went out, and entered into the swine: and the herd ran violently down a steep place into the sea, (they were about two thousand;) and were choked in the sea.
14 And they that fed the swine fled, and told it in the city, and in the country. And they went out to see what it was that was done.
15 And they come to Jesus, and see him that was possessed with the devil, and had the legion, sitting, and clothed, and in his right mind: and they were afraid.
16 And they that saw it told them how it befell to him that was possessed with the devil, and also concerning the swine.
17 And they began to pray him to depart out of their coasts.
2 Corinthians 11
1 Would to God ye could bear with me a little in my folly: and indeed bear with me.
2 For I am jealous over you with godly jealousy: for I have espoused you to one husband, that I may present you as a chaste virgin to Christ.
3 But I fear, lest by any means, as the serpent beguiled Eve through his subtilty, so your minds should be corrupted from the simplicity that is in Christ.
4 For if he that cometh preacheth another Jesus, whom we have not preached, or if ye receive another spirit, which ye have not received, or another gospel, which ye have not accepted, ye might well bear with him.
5 For I suppose I was not a whit behind the very chiefest apostles.
6 But though I be rude in speech, yet not in knowledge; but we have been throughly made manifest among you in all things.
7 Have I committed an offence in abasing myself that ye might be exalted, because I have preached to you the gospel of God freely?
Philippians 3
17 Brethren, be followers together of me, and mark them which walk so as ye have us for an ensample.
18 (For many walk, of whom I have told you often, and now tell you even weeping, that they are the enemies of the cross of Christ:
19 Whose end is destruction, whose God is their belly, and whose glory is in their shame, who mind earthly things.)
20 For our conversation is in heaven; from whence also we look for the Saviour, the Lord Jesus Christ:
21 Who shall change our vile body, that it may be fashioned like unto his glorious body, according to the working whereby he is able even to subdue all things unto himself.
1 Corinthians 4:15 say that though we have myriads of teachers in Christ, we have Not many (pollos) fathers, for in Christ Jesus I have fathered you through the gospel. Paul goes on to call us to follow him, and then tells of sending Timothy for this purpose (to father in like manner).
1 Corinthians 4
14 I write not these things to shame you, but as my beloved sons I warn you.
15 For though ye have ten thousand instructers in Christ, yet have ye not many fathers: for in Christ Jesus I have begotten you through the gospel.
16 Wherefore I beseech you, be ye followers of me.
17 For this cause have I sent unto you Timotheus, who is my beloved son, and faithful in the Lord, who shall bring you into remembrance of my ways which be in Christ, as I teach every where in every church.
18 Now some are puffed up, as though I would not come to you.
19 But I will come to you shortly, if the Lord will, and will know, not the speech of them which are puffed up, but the power.
20 For the kingdom of God is not in word, but in power.
21 What will ye? shall I come unto you with a rod, or in love, and in the spirit of meekness?
Philippians 2
1 If there be therefore any consolation in Christ, if any comfort of love, if any fellowship of the Spirit, if any bowels and mercies,
2 Fulfil ye my joy, that ye be likeminded, having the same love, being of one accord, of one mind.
3 Let nothing be done through strife or vainglory; but in lowliness of mind let each esteem other better than themselves.
4 Look not every man on his own things, but every man also on the things of others.
5 Let this mind be in you, which was also in Christ Jesus:
6 Who, being in the form of God, thought it not robbery to be equal with God:
7 But made himself of no reputation, and took upon him the form of a servant, and was made in the likeness of men:
8 And being found in fashion as a man, he humbled himself, and became obedient unto death, even the death of the cross.
9 Wherefore God also hath highly exalted him, and given him a name which is above every name:
10 That at the name of Jesus every knee should bow, of things in heaven, and things in earth, and things under the earth;
11 And that every tongue should confess that Jesus Christ is Lord, to the glory of God the Father.
12 Wherefore, my beloved, as ye have always obeyed, not as in my presence only, but now much more in my absence, work out your own salvation with fear and trembling.
13 For it is God which worketh in you both to will and to do of his good pleasure.
14 Do all things without murmurings and disputings:
15 That ye may be blameless and harmless, the sons of God, without rebuke, in the midst of a crooked and perverse nation, among whom ye shine as lights in the world;
16 Holding forth the word of life; that I may rejoice in the day of Christ, that I have not run in vain, neither laboured in vain.
17 Yea, and if I be offered upon the sacrifice and service of your faith, I joy, and rejoice with you all.
18 For the same cause also do ye joy, and rejoice with me.
19 But I trust in the Lord Jesus to send Timotheus shortly unto you, that I also may be of good comfort, when I know your state.
20 For I have no man likeminded, who will naturally care for your state.
21 For all seek their own, not the things which are Jesus Christ's.
22 But ye know the proof of him, that, as a son with the father, he hath served with me in the gospel.
23 Him therefore I hope to send presently, so soon as I shall see how it will go with me.
24 But I trust in the Lord that I also myself shall come shortly.
25 Yet I supposed it necessary to send to you Epaphroditus, my brother, and companion in labour, and fellowsoldier, but your messenger, and he that ministered to my wants.
26 For he longed after you all, and was full of heaviness, because that ye had heard that he had been sick.
27 For indeed he was sick nigh unto death: but God had mercy on him; and not on him only, but on me also, lest I should have sorrow upon sorrow.
28 I sent him therefore the more carefully, that, when ye see him again, ye may rejoice, and that I may be the less sorrowful.
29 Receive him therefore in the Lord with all gladness; and hold such in reputation:
30 Because for the work of Christ he was nigh unto death, not regarding his life, to supply your lack of service toward me.
Hebrews 13
7 Remember them which have the rule over you, who have spoken unto you the word of God: whose faith follow, considering the end of their conversation.
8 Jesus Christ the same yesterday, and to day, and for ever.
9 Be not carried about with divers and strange doctrines. For it is a good thing that the heart be established with grace; not with meats, which have not profited them that have been occupied therein.
10 We have an altar, whereof they have no right to eat which serve the tabernacle.
11 For the bodies of those beasts, whose blood is brought into the sanctuary by the high priest for sin, are burned without the camp.
12 Wherefore Jesus also, that he might sanctify the people with his own blood, suffered without the gate.
13 Let us go forth therefore unto him without the camp, bearing his reproach.
14 For here have we no continuing city, but we seek one to come.
15 By him therefore let us offer the sacrifice of praise to God continually, that is, the fruit of our lips giving thanks to his name.
16 But to do good and to communicate forget not: for with such sacrifices God is well pleased.
17 Obey them that have the rule over you, and submit yourselves: for they watch for your souls, as they that must give account, that they may do it with joy, and not with grief: for that is unprofitable for you.
Hebrews 12
6 For whom the Lord loveth he chasteneth, and scourgeth every son whom he receiveth.
7 If ye endure chastening, God dealeth with you as with sons; for what son is he whom the father chasteneth not?
8 But if ye be without chastisement, whereof all are partakers, then are ye bastards, and not sons.
9 Furthermore we have had fathers of our flesh which corrected us, and we gave them reverence: shall we not much rather be in subjection unto the Father of spirits, and live?
10 For they verily for a few days chastened us after their own pleasure; but he for our profit, that we might be partakers of his holiness.
11 Now no chastening for the present seemeth to be joyous, but grievous: nevertheless afterward it yieldeth the peaceable fruit of righteousness unto them which are exercised thereby.
12 Wherefore lift up the hands which hang down, and the feeble knees;
13 And make straight paths for your feet, lest that which is lame be turned out of the way; but let it rather be healed.
14 Follow peace with all men, and holiness, without which no man shall see the Lord:
15 Looking diligently lest any man fail of the grace of God; lest any root of bitterness springing up trouble you, and thereby many be defiled;
16 Lest there be any fornicator, or profane person, as Esau, who for one morsel of meat sold his birthright.
17 For ye know how that afterward, when he would have inherited the blessing, he was rejected: for he found no place of repentance, though he sought it carefully with tears.
18 For ye are not come unto the mount that might be touched, and that burned with fire, nor unto blackness, and darkness, and tempest,
19 And the sound of a trumpet, and the voice of words; which voice they that heard intreated that the word should not be spoken to them any more:
20 (For they could not endure that which was commanded, And if so much as a beast touch the mountain, it shall be stoned, or thrust through with a dart:
21 And so terrible was the sight, that Moses said, I exceedingly fear and quake:)
22 But ye are come unto mount Sion, and unto the city of the living God, the heavenly Jerusalem, and to an innumerable company of angels,
23 To the general assembly and church of the firstborn, which are written in heaven, and to God the Judge of all, and to the spirits of just men made perfect,
24 And to Jesus the mediator of the new covenant, and to the blood of sprinkling, that speaketh better things than that of Abel.
25 See that ye refuse not him that speaketh. For if they escaped not who refused him that spake on earth, much more shall not we escape, if we turn away from him that speaketh from heaven:
26 Whose voice then shook the earth: but now he hath promised, saying, Yet once more I shake not the earth only, but also heaven.
27 And this word, Yet once more, signifieth the removing of those things that are shaken, as of things that are made, that those things which cannot be shaken may remain.
28 Wherefore we receiving a kingdom which cannot be moved, let us have grace, whereby we may serve God acceptably with reverence and godly fear:
29 For our God is a consuming fire.