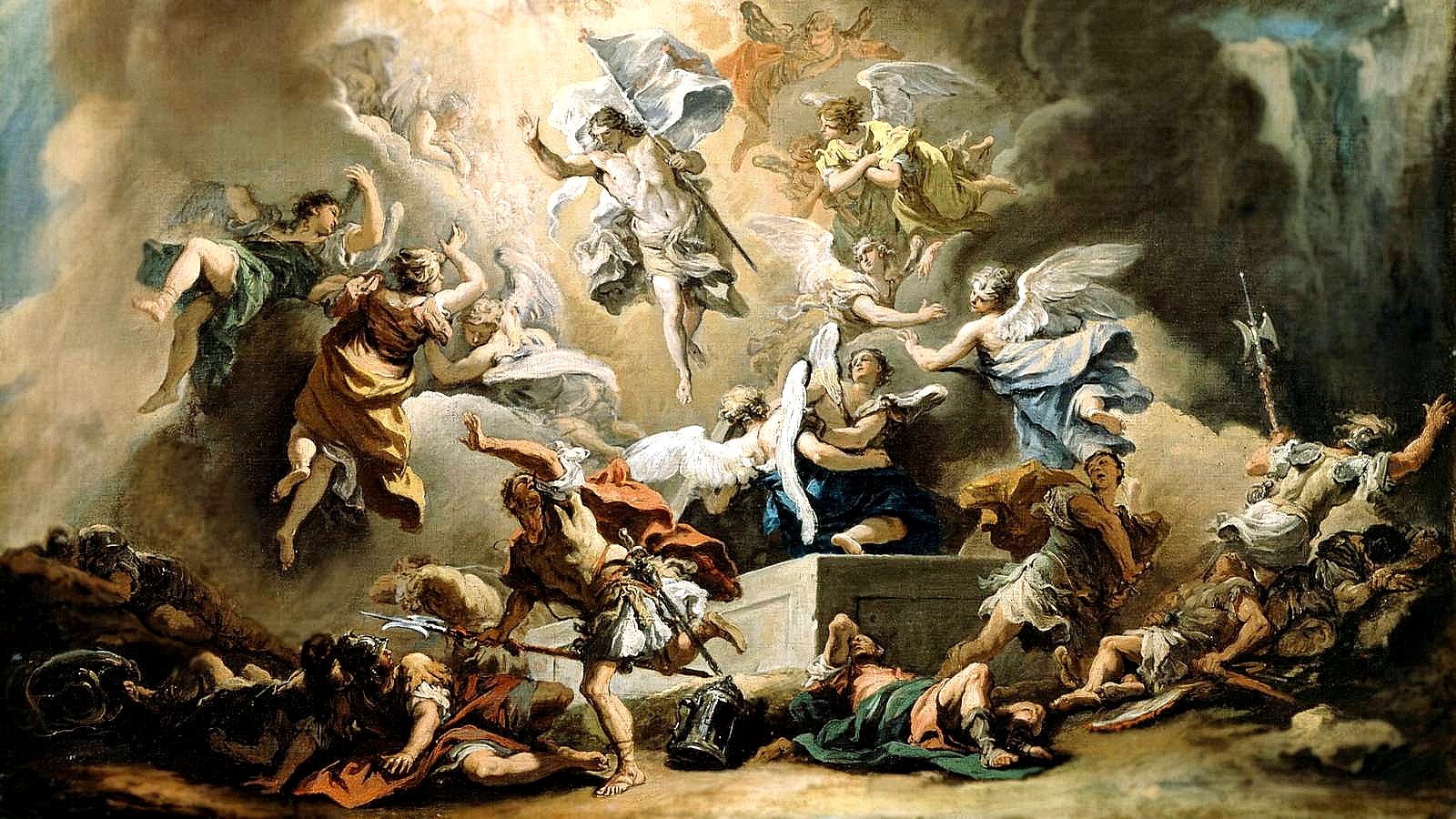 Continuing from yesterday and our further understanding the LORD's judgment being to free us from the grip of now corrupted religious and civil governments. Let's begin with a summation of the prior post, and then today proceed with a deeper understand of what is incorrectly defined as the "return" of the LORD.
In the prior post we explored the idea of truth that is covered up and slandered, while it never being created, destroyed or even altered. We read this as explained in Isaiah 25:7 where we are told of the LORD removing the cover over all the people and removing the veil over all nations. We saw the full understanding in the following verse then telling of this being humanities resurrection from the dead as one rising from a night's sleep. As we saw and therefor know it is speaking of the resurrection by a portion of Isaiah 25:8, "Death is swallowed up in victory," being quoted specifically in 1 Corinthians 15:55 in telling of the our rising by saying, "this mortal shall put on immortality," and prior telling us it is when we have put off corruption (death) and put on incorruption. We also saw this corruption as defining our relationship to truth, not that it (truth) had been corrupted but that we (humanity) had corrupted away from it. We saw this as what is written in 2 Thessalonians 2:3 when it tells us of the falling away that would come, now having come, before the day of the LORD's judgment.
In all these points we read of those holding us down as we are trying to rise, and the final uncovering of truth being when these men doing so are removed. We saw the method of their holding us down being deception from within with the intention to cover truth and slandering it as it appears. We also saw that the final victory is when truth is uncovered, and those perishing do so because they receive not the love of the truth, as it is written in 2 Thessalonians 2:10.
I encourage you to go back and read yesterday's post and those prior, if you haven't.
Isaiah 25:5 defines these proud men now inhabiting God's mountain (place of government) and having covered truth from within, as "terrible ones."
Isaiah 25
1 O LORD, you are my God; I will exalt you, I will praise your name; for you have done wonderful things; your counsels of old are faithfulness and truth.
2 For you have made of a city an heap; of a defensed city a ruin: a palace of strangers to be no city; it shall never be built.
3 Therefore shall the strong people glorify you, the city of the terrible nations shall fear you.
4 For you have been a strength to the poor, a strength to the needy in his distress, a refuge from the storm, a shadow from the heat, when the blast of the terrible ones is as a storm against the wall.
5 You shall bring down the noise of strangers, as the heat in a dry place; even the heat with the shadow of a cloud: the branch of the terrible ones shall be brought low.
6 And in this mountain shall the LORD of hosts make unto all people a feast of fat things, a feast of wines on the lees, of fat things full of marrow, of wines on the lees well refined.
7 And he will destroy in this mountain the face of the covering cast over all people, and the veil that is spread over all nations.
8 He will swallow up death in victory; and the LORD God will wipe away tears from off all faces; and the rebuke of his people shall he take away from off all the earth: for the LORD has spoken it.
9 And it shall be said in that day, Lo, this is our God; we have waited for him, and he will save us: this is the LORD; we have waited for him, we will be glad and rejoice in his salvation.
10 For in this mountain shall the hand of the LORD rest, and Moab (the corrupted blood line) shall be trodden down under him, even as straw is trodden down for the dunghill.
11 And he shall spread forth his hands in the midst of them, as he that swims spreads forth his hands to swim: and he shall bring down their pride together with the spoils of their hands.
12 And the fortress of the high fort of your walls shall he bring down, lay low, and bring to the ground, even to the dust.
The Hebrew word translated "terrible ones" in verse 5 above is 'ariyts, meaning ruthless users of power. Here is the Strong's Hebrew Dictionary defintion: Strong's #6184: `ariyts (pronounced aw-reets') from 6206; fearful, i.e. powerful or tyrannical:–[translated as] mighty, oppressor, in great power, strong, terrible, violent.
(There was a time I would have said these descriptions accurately depicted the modern Marxist Socialist Alinsky democrats and their Ministry of Information the lap dog new media. With experience I now know it also describes the Republican Establishment which, although in denial, now posses and exhibits the same corrupt character traits. I could make a much lesser but similar analogy to Islam, and the now corruption of all "Jewish" and "Christian" religion.)
'ariyts is also translated as "the terrible" in Jeremiah 15:21 where the LORD tells us it is from the hand of these terrible men He will redeem us. Earlier in verse 11 we are told of these redeemed being the remnant that are the few we are told in verse 19 return unto Jeremiah. We also read there of the LORD telling Jeremiah he is acting as the mouth of the LORD. If you study along you know Jeremiah means, JAH (Jehovah) will rise. The chapter begins by telling us that no groups will be saved, and the language used tells of the same time describe in Revelation 22:11 when it says, "He that is unjust, let him be unjust still: and he which is filthy, let him be filthy still: and he that is righteous, let him be righteous still: and he that is holy, let him be holy still."
What we see in Jeremiah 15 is the LORD calling us to return to Him. This is the day of the LORD's judgment.
Jeremiah 15 ('ariyts in verse 21)
19 Therefore thus says the LORD, If you return, then will I bring you again, and you shall stand before me: and if you take forth the precious from the vile, you shall be as my mouth: let them return unto you; but return not you unto them.
20 And I will make you unto this people a fenced brazen wall: and they shall fight against you, but they shall not prevail against you: for I am with you to save you and to deliver you, says the LORD.
21 And I will deliver you out of the hand of the wicked, and I will redeem you out of the hand of the terrible.
Jeremiah (JAH rising – as the Sun in a new day) is when the LORD chooses, prepares and sends a Son of man to speak as His mouth. This is the archangel, also written of as the angel of the LORD. The word angel is from the Hebrew word mal'ak,
Here is the Strong's Hebrew Dictionary definition: Strong's #4397: mal'ak (pronounced mal-awk') from an unused root meaning to dispatch as a deputy; a messenger; specifically, of God, i.e. an angel (also a prophet, priest or teacher):–[translated as] ambassador, angel, king, messenger.
Read the following in the context of these messages and the call to return (from our sleep) to the LORD.
1 Thessalonians 4
13 But I would not have you to be ignorant, brethren, concerning them which are asleep, that you sorrow not, even as others which have no hope.
14 For if we believe that Jesus died and rose again, even so them also which sleep in Jesus will God bring with him.
15 For this we say unto you by the word of the LORD, that we which are alive and remain unto the coming of the LORD shall not prevent them which are asleep.
16 For the LORD himself shall descend from heaven with a shout, with the voice of the archangel, and with the trump of God: and the dead in Christ shall rise first:
17 Then we which are alive and remain shall be caught up together with them in the clouds, to meet the LORD in the air: and so shall we ever be with the LORD.
Hebrews 13
1 Let brotherly love (Philadelphia) continue.
2 Be not forgetful to entertain strangers: for thereby some have entertained angels unawares.
3 Remember them that are in bonds, as bound with them; and them which suffer adversity, as being yourselves also in the body.
4 Marriage is honorable in all, and the bed undefiled: but whoremongers and adulterers God will judge.
5 Let your conversation be without covetousness; and be content with such things as you have: for he hath said, I will never leave you, nor forsake you.
6 So that we may boldly say, The LORD is my helper, and I will not fear what man shall do unto me.
7 Remember them which have the rule over you, who have spoken unto you the word of God: whose faith follow, considering the end of their conversation.
8 Jesus Christ the same yesterday, and to day, and for ever.
9 Be not carried about with divers and strange doctrines. For it is a good thing that the heart be established with grace; not with meats, which have not profited them that have been occupied therein.
10 We have an altar, whereof they have no right to eat which serve the tabernacle.
11 For the bodies of those beasts, whose blood is brought into the sanctuary by the high priest for sin, are burned without the camp.
12 Wherefore Jesus also, that he might sanctify the people with his own blood, suffered without the gate.
13 Let us go forth therefore unto him without the camp, bearing his reproach.
14 For here have we no continuing city, but we seek one to come.
15 By him therefore let us offer the sacrifice of praise to God continually, that is, the fruit of our lips giving thanks to his name.
16 But to do good and to communicate forget not: for with such sacrifices God is well pleased.
17 Obey them that have the rule over you, and submit yourselves: for they watch for your souls, as they that must give account, that they may do it with joy, and not with grief: for that is unprofitable for you.
18 Pray for us: for we trust we have a good conscience, in all things willing to live honestly.
19 But I beseech you the rather to do this, that I may be restored to you the sooner.
20 Now the God of peace, that brought again from the dead our LORD Jesus, that great shepherd of the sheep, through the blood of the everlasting covenant,
21 Make you perfect in every good work to do his will, working in you that which is well-pleasing in his sight, through Jesus Christ; to whom be glory for ever and ever. Amen.
22 And I beseech you, brethren, suffer the word of exhortation: for I have written a letter unto you in few words.
23 Know you that our brother Timothy is set at liberty (sent on a mission – dispatched to represent); with whom, if he come shortly, I will see you.
24 Salute all them that have the rule over you, and all the saints. They of Italy salute you.
25 Grace be with you all. Amen.
I will plainly tell you I have been sent as the LORD's ambassador with His message. This is my only purpose in this life. I am the Son of man and the son of God, and in me Jehovah is rising.
I don't really care about who believes it or doesn't, nor do I care what you think or how you feel about it; and I absolutely don't care about your criticisms or contrary opinions. I am what I am, no matter how you cover it up and no matter how you slander me.
Jeremiah 15
15 O LORD, You know: remember me, and visit me, and revenge me of my persecutors; take me not away in Your longsuffering: know that for Your sake I have suffered rebuke.
16 Your words were found, and I did eat them; and Your word was unto me the joy and rejoicing of mine heart: for I am called by Your name, O Lord God of hosts.
17 I sat not in the assembly of the mockers, nor rejoiced; I sat alone because of Your hand: for You have filled me with indignation.
18 Why is my pain perpetual, and my wound incurable, which refuses to be healed? will You be altogether unto me as a liar, and as waters that fail?
Revelation 22
1 And he showed me a pure river of water of life, clear as crystal, proceeding out of the throne of God and of the Lamb.
2 In the midst of the street of it, and on either side of the river, was there the tree of life, which bare twelve manner of fruits, and yielded her fruit every month: and the leaves of the tree were for the healing of the nations.
3 And there shall be no more curse: but the throne of God and of the Lamb shall be in it; and his servants shall serve him:
4 And they shall see his face; and his name shall be in their foreheads.
5 And there shall be no night there; and they need no candle, neither light of the sun; for the LORD God gives them light: and they shall reign for ever and ever.
6 And he said unto me, These sayings are faithful and true: and the LORD God of the holy prophets sent his angel to show unto his servants the things which must shortly be done.
7 Behold, I come quickly: blessed is he that keeps the sayings of the prophecy of this book.
8 And I John saw these things, and heard them. And when I had heard and seen, I fell down to worship before the feet of the angel which showed me these things.
9 Then said he unto me, See you do it not: for I am your fellow-servant, and of your brethren the prophets, and of them which keep the sayings of this book: worship God.
10 And he said unto me, Seal not the sayings of the prophecy of this book: for the time is at hand.
11 He that is unjust, let him be unjust still: and he which is filthy, let him be filthy still: and he that is righteous, let him be righteous still: and he that is holy, let him be holy still.
12 And, behold, I come quickly; and my reward is with me, to give every man according as his work shall be.
13 I am Alpha and Omega, the beginning and the end, the first and the last.
14 Blessed are they that do his commandments, that they may have right to the tree of life, and may enter in through the gates into the city.
15 For without are dogs, and sorcerers, and whoremongers, and murderers, and idolaters, and whosoever loves and makes a lie.
16 I Jesus have sent mine angel to testify unto you these things in the churches. I am the root and the offspring of David, and the bright and morning star.
17 And the Spirit and the bride say, Come. And let him that hears say, Come. And let him that is athirst come. And whosoever will, let him take the water of life freely.
18 For I testify unto every man that hears the words of the prophecy of this book, If any man shall add unto these things, God shall add unto him the plagues that are written in this book:
19 And if any man shall take away from the words of the book of this prophecy, God shall take away his part out of the book of life, and out of the holy city, and from the things which are written in this book.
20 He which testifies these things says, Surely I come quickly. Amen. Even so, come, LORD Jesus.
21 The grace of our LORD Jesus Christ be with you all. Amen.
Malachi 4
1 For, behold, the day cometh, that shall burn as an oven; and all the proud, yea, and all that do wickedly, shall be stubble: and the day that cometh shall burn them up, says the LORD of hosts, that it shall leave them neither root nor branch. [For our God is a consuming fire.]
2 But unto you that fear my name shall the Sun of righteousness arise with healing in his wings; and you shall go forth, and grow up as calves of the stall.
3 And you shall tread down the wicked; for they shall be ashes under the soles of your feet in the day that I shall do this, says the LORD of hosts.
The word 'ariyts is translated as "great power" in Psalms 37:35 in telling of seeing the wicked in great power, and then he was gone.
Psalms 37
27 Depart from evil, and do good; and dwell for evermore.
28 For the LORD loves judgment, and forsakes not his saints; they are preserved for ever: but the seed of the wicked shall be cut off.
29 The righteous shall inherit the land, and dwell therein for ever.
30 The mouth of the righteous speaks wisdom, and his tongue talks of judgment.
31 The law of his God is in his heart; none of his steps shall slide.
32 The wicked watches the righteous, and seeks to slay him.
33 The LORD will not leave him in his hand, nor condemn him when he is judged.
34 Wait on the LORD, and keep his way, and he shall exalt you to inherit the land: when the wicked are cut off, you shall see it.
35 I have seen the wicked in great power, and spreading himself like a green bay tree.
36 Yet he passed away, and, lo, he was not: yea, I sought him, but he could not be found.
37 Mark the perfect man, and behold the upright: for the end of that man is peace.
38 But the transgressors shall be destroyed together: the end of the wicked shall be cut off.
39 But the salvation of the righteous is of the LORD: he is their strength in the time of trouble.
40 And the LORD shall help them, and deliver them: he shall deliver them from the wicked, and save them, because they trust in him.