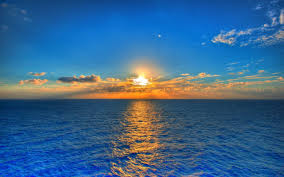 Continuing: Yesterday we looked at the way to the holiest of places and our changed state as we as God's people come out of the corrupted [world]. Today we will examine it in the context of the Lord's payer. The process we are discussing is, in "theological" terms, called "sanctification." The Greek word translated "sanctify" is hagiazo, and is the word used when the Lord very plainly tells us in John 17 of truth being the means by which it is achieved. It is that which, though we are in the world, takes us out of it, as the Lord is victorious over the world's power over our minds. This is the glory of the Father, in the Lord, and his passing it onto – pouring it into us.
John 17
9 I pray for them: I pray not for the world, but for them which thou hast given me; for they are thine.
10 And all mine are thine, and thine are mine; and I am glorified in them.
11 And now I am no more in the world, but these are in the world, and I come to thee. Holy Father, keep through thine own name those whom thou hast given me, that they may be one, as we are.
12 While I was with them in the world, I kept them in thy name: those that thou gave me I have kept, and none of them is lost, but the son of perdition; that the scripture might be fulfilled.
13 And now come I to thee; and these things I speak in the world, that they might have my joy fulfilled in themselves.
14 I have given them thy word; and the world hath hated them, because they are not of the world, even as I am not of the world.
15 I pray not that thou should take them out of the world, but that thou should keep them from the evil.
16 They are not of the world, even as I am not of the world.
17 Sanctify them through thy truth: thy word is truth.
18 As thou hast sent me into the world, even so have I also sent them into the world.
19 And for their sakes I sanctify myself, that they also might be sanctified through the truth.
20 Neither pray I for these alone, but for them also which shall believe on me through their word;
21 That they all may be one; as thou, Father, art in me, and I in thee, that they also may be one in us: that the world may believe that thou hast sent me.
22 And the glory which thou gave me I have given them; that they may be one, even as we are one:
23 I in them, and thou in me, that they may be made perfect in one; and that the world may know that thou hast sent me, and hast loved them, as thou hast loved me.
In Ephesians 5:26 we see this (hagiazo) as cleansing that comes from "washing of water by the word," by the Lord as He prepares us (our minds) to come into His presence. Rheme (utterance) is the Greek word translated here "word," and the same used when (Matthew 4:4) the Lord is confronted by the devil and responds, "Man shall not live by bread alone, but by every 'word' that proceeds out of the mouth of God."
Ephesians 5
14 Wherefore he says, Awake thou that sleeps, and arise from the dead, and Christ shall give thee light.
15 See then that ye walk circumspectly, not as fools, but as wise,
16 Redeeming the time, because the days are evil.
17 Wherefore be ye not unwise, but understanding what the will of the Lord is.
18 And be not drunk with wine, wherein is excess; but be filled with the Spirit;
19 Speaking to yourselves in psalms and hymns and spiritual songs, singing and making melody in your heart to the Lord;
20 Giving thanks always for all things unto God and the Father in the name of our Lord Jesus Christ;
21 Submitting yourselves one to another in the fear of God.
22 Wives, submit yourselves unto your own husbands, as unto the Lord.
23 For the husband is the head of the wife, even as Christ is the head of the church: and he is the saviour of the body.
24 Therefore as the church is subject unto Christ, so let the wives be to their own husbands in every thing.
25 Husbands, love your wives, even as Christ also loved the church, and gave himself for it;
26 That he might sanctify and cleanse it with the washing of water by the word,
27 That he might present it to himself a glorious church, not having spot, or wrinkle, or any such thing; but that it should be holy and without blemish.
28 So ought men to love their wives as their own bodies. He that loves his wife loves himself.
29 For no man ever yet hated his own flesh; but nourishes and cherishes it, even as the Lord the church:
30 For we are members of his body, of his flesh, and of his bones.
31 For this cause shall a man leave his father and mother, and shall be joined unto his wife, and they two shall be one flesh.
32 This is a great mystery: but I speak concerning Christ and the church.
33 Nevertheless let every one of you in particular so love his wife even as himself; and the wife see that she reverence her husband.
The use in Ephesians is in the context of our being members of His body. We see it begin with calling us to wake out of our sleep, rise from the dead, and Christ shall give us light. This a direct reference to Ezekiel 37 and the bones coming together and awakening from death as life enters.
Ezekiel 37
1 The hand of the Lord was upon me, and carried me out in the spirit of the Lord, and set me down in the midst of the valley which was full of bones,
2 And caused me to pass by them round about: and, behold, there were very many in the open valley; and, lo, they were very dry.
3 And he said unto me, Son of man, can these bones live? And I answered, O Lord God, thou knowest.
4 Again he said unto me, Prophesy upon these bones, and say unto them, O ye dry bones, hear the word of the Lord.
5 Thus saith the Lord God unto these bones; Behold, I will cause breath to enter into you, and ye shall live:
6 And I will lay sinews upon you, and will bring up flesh upon you, and cover you with skin, and put breath in you, and ye shall live; and ye shall know that I am the Lord.
7 So I prophesied as I was commanded: and as I prophesied, there was a noise, and behold a shaking, and the bones came together, bone to his bone.
8 And when I beheld, lo, the sinews and the flesh came up upon them, and the skin covered them above: but there was no breath in them.
9 Then said he unto me, Prophesy unto the wind, prophesy, son of man, and say to the wind, Thus saith the Lord God; Come from the four winds, O breath, and breathe upon these slain, that they may live.
10 So I prophesied as he commanded me, and the breath came into them, and they lived, and stood up upon their feet, an exceeding great army.
11 Then he said unto me, Son of man, these bones are the whole house of Israel: behold, they say, Our bones are dried, and our hope is lost: we are cut off for our parts.
12 Therefore prophesy and say unto them, Thus saith the Lord God; Behold, O my people, I will open your graves, and cause you to come up out of your graves, and bring you into the land of Israel.
13 And ye shall know that I am the Lord, when I have opened your graves, O my people, and brought you up out of your graves,
14 And shall put my spirit in you, and ye shall live, and I shall place you in your own land: then shall ye know that I the Lord have spoken it, and performed it, saith the Lord.
The above is also directly related to the Lord's words in John 5 as He tells of the dead hearing his voice. (See yesterday's post – And as always, if there are things here you don't comprehend it's because you haven't laid the foundation by reading along daily.)
John 5
19 Then answered Jesus and said unto them, Truly, Truly, I say unto you, The Son can do nothing of himself, but what he sees the Father do: for what things soever he doeth, these also doeth the Son likewise.
20 For the Father loves the Son, and shows him all things that himself doeth: and he will show him greater works than these, that ye may marvel.
21 For as the Father raises up the dead, and quickens them; even so the Son quickens whom he will.
22 For the Father judges no man, but hath committed all judgment unto the Son:
23 That all men should honour the Son, even as they honour the Father. He that honours not the Son honours not the Father which hath sent him.
24 Truly, Truly, I say unto you, He that hears my word, and believeth on him that sent me, hath everlasting life, and shall not come into condemnation; but is passed from death unto life.
25 Truly, Truly, I say unto you, The hour is coming, and now is, when the dead shall hear the voice of the Son of God: and they that hear shall live.
26 For as the Father hath life in himself; so hath he given to the Son to have life in himself;
27 And hath given him authority to execute judgment also, because he is the Son of man.
28 Marvel not at this: for the hour is coming, in the which all that are in the graves shall hear his voice,
29 And shall come forth; they that have done good, unto the resurrection of life; and they that have done evil, unto the resurrection of damnation.
30 I can of mine own self do nothing: as I hear, I judge: and my judgment is just; because I seek not mine own will, but the will of the Father which hath sent me.
Hagiazo is written as "sanctified" in 1 Timothy 4:5 and in 2 Timothy 2:21 telling of it being by the word of God and through teaching Truth (sound doctrine).
1 Timothy 4
1 Now the Spirit speaks expressly, that in the latter times some shall depart from the faith, giving heed to seducing spirits, and doctrines of devils;
2 Speaking lies in hypocrisy; having their conscience seared with a hot iron;
3 Forbidding to marry, and commanding to abstain from meats, which God hath created to be received with thanksgiving of them which believe and know the truth.
4 For every creature of God is good, and nothing to be refused, if it be received with thanksgiving:
5 For it is sanctified by the word of God and prayer.
6 If thou put the brethren in remembrance of these things, thou shalt be a good minister of Jesus Christ, nourished up in the words of faith and of good doctrine, whereunto thou hast attained.
7 But refuse profane and old wives' fables, and exercise thyself rather unto godliness.
8 For bodily exercise profiteth little: but godliness is profitable unto all things, having promise of the life that now is, and of that which is to come.
9 This is a faithful saying and worthy of all acceptation.
10 For therefore we both labour and suffer reproach, because we trust in the living God, who is the Saviour of all men, specially of those that believe.
11 These things command and teach.
2 Timothy 2
11 It is a faithful saying: For if we be dead with him, we shall also live with him:
12 If we suffer, we shall also reign with him: if we deny him, he also will deny us:
13 If we believe not, yet he abideth faithful: he cannot deny himself.
14 Of these things put them in remembrance, charging them before the Lord that they strive not about words to no profit, but to the subverting of the hearers.
15 Study to shew thyself approved unto God, a workman that needeth not to be ashamed, rightly dividing the word of truth.
16 But shun profane and vain babblings: for they will increase unto more ungodliness.
17 And their word will eat as doth a canker: of whom is Hymenaeus and Philetus;
18 Who concerning the truth have erred, saying that the resurrection is past already; and overthrow the faith of some.
19 Nevertheless the foundation of God standeth sure, having this seal, The Lord knoweth them that are his. And, let every one that nameth the name of Christ depart from iniquity.
20 But in a great house there are not only vessels of gold and of silver, but also of wood and of earth; and some to honour, and some to dishonour.
21 If a man therefore purge himself from these, he shall be a vessel unto honour, sanctified, and meet for the master's use, and prepared unto every good work.
22 Flee also youthful lusts: but follow righteousness, faith, charity, peace, with them that call on the Lord out of a pure heart.
23 But foolish and unlearned questions avoid, knowing that they do gender strifes.
24 And the servant of the Lord must not strive; but be gentle unto all men, apt to teach, patient,
25 In meekness instructing those that oppose themselves; if God peradventure will give them repentance to the acknowledging of the truth;
26 And that they may recover themselves out of the snare of the devil, who are taken captive by him at his will.
Now we need to read Hebrews 10 again in the context of changing us away from a corrupted state by this teaching and purifying, and with the intention of our seeing God as He is (Spirit and Truth). I am the Son of man, the Spirit in me is [the Son of] God, and I am sent [by my Father] for this one specific purpose. (And if it isn't the way they told you it would be then take it up with "them.")
Hebrews 10 (Hagiazo is "sanctified" in verse 10, 14 & 29)
9 Then said he, Lo, I come to do thy will, O God. He takes away the first, that he may establish the second.
10 By the which will we are sanctified through the offering of the body of Jesus Christ once for all.
11 And every priest stands daily ministering and offering oftentimes the same sacrifices, which can never take away sins:
12 But this man, after he had offered one sacrifice for sins for ever, sat down on the right hand of God;
13 From henceforth expecting till his enemies be made his footstool.
14 For by one offering he hath perfected for ever them that are sanctified.
15 Whereof the Holy Ghost also is a witness to us: for after that he had said before,
16 This is the covenant that I will make with them after those days, says the Lord, I will put my laws into their hearts, and in their minds will I write them;
17 And their sins and iniquities will I remember no more.
18 Now where remission of these is, there is no more offering for sin.
19 Having therefore, brethren, boldness to enter into the holiest by the blood of Jesus,
20 By a new and living way, which he hath consecrated for us, through the veil, that is to say, his flesh;
21 And having an high priest over the house of God;
22 Let us draw near with a true heart in full assurance of faith, having our hearts sprinkled from an evil conscience, and our bodies washed with pure water.
23 Let us hold fast the profession of our faith without wavering; (for he is faithful that promised;)
24 And let us consider one another to provoke unto love and to good works:
25 Not forsaking the assembling of ourselves together, as the manner of some is; but exhorting one another: and so much the more, as ye see the day approaching.
26 For if we sin willfully after that we have received the knowledge of the truth, there remains no more sacrifice for sins,
27 But a certain fearful looking for of judgment and fiery indignation, which shall devour the adversaries.
28 He that despised Moses' law died without mercy under two or three witnesses:
29 Of how much sorer punishment, suppose ye, shall he be thought worthy, who hath trodden under foot the Son of God, and hath counted the blood of the covenant, wherewith he was sanctified, an unholy thing, and hath done despite unto the Spirit of grace?
Now, going back to 1 Timothy 4:5 and it following telling of this purifying being by the word of God with telling it is also with "prayer." The deepest meaning of payer is to order our thoughts with the Father's, becoming One as the mind of Christ is fully formed in us. It is the idea of the co-perspective (conscience) with God and not with the world. (Again see yesterday's post)
This takes us to the Lord's Prayer as He explains it is our will aligned with the will of the Father. This is what brings His kingdom [reign] on the earth as it is in heaven. The word "hallowed" is hagiazo, and a direct reference to Ezekiel 36, where we see the LORD himself telling us that in this day He will sanctify His own name, which was profaned among the nations. There we see the pattern of sanctification (Hallowed be thy name) as His kingdom on earth follows, therein said to be again as Eden. This is the first state as it replace by the second, as the age of ignorance ends and the next (like Eden) begins. (And we see it described in different word in Ezekiel 37.)
Luke 11
2 And He said unto them, When ye pray, say, Our Father which art in heaven, Hallowed be Thy name. Thy kingdom come. Thy will be done, as in heaven, so in earth.
3 Give us day by day our daily bread.
4 And forgive us our sins; for we also forgive every one that is indebted to us. And lead us not into temptation; but deliver us from evil.
Ezekiel 36 ("Sanctify" here is the Hebrew word qadash, meaning to be clean or cleansed, or to pronounce or recognize it as such)
22 Therefore say unto the house of Israel, thus says the Lord God; I do not this for your sakes, O house of Israel, but for mine holy name's sake, which ye have profaned among the heathen, whither ye went.
23 And I will sanctify my great name, which was profaned among the heathen, which ye have profaned in the midst of them; and the heathen shall know that I am the Lord, says the Lord God, when I shall be sanctified in you before their eyes.
24 For I will take you from among the heathen, and gather you out of all countries, and will bring you into your own land.
25 Then will I sprinkle clean water upon you, and ye shall be clean: from all your filthiness, and from all your idols, will I cleanse you.
26 A new heart also will I give you, and a new spirit will I put within you: and I will take away the stony heart out of your flesh, and I will give you an heart of flesh.
27 And I will put my spirit within you, and cause you to walk in my statutes, and ye shall keep my judgments, and do them.
28 And ye shall dwell in the land that I gave to your fathers; and ye shall be my people, and I will be your God.
29 I will also save you from all your uncleannesses: and I will call for the corn, and will increase it, and lay no famine upon you.
30 And I will multiply the fruit of the tree, and the increase of the field, that ye shall receive no more reproach of famine among the heathen.
31 Then shall ye remember your own evil ways, and your doings that were not good, and shall lothe yourselves in your own sight for your iniquities and for your abominations.
32 Not for your sakes do I this, says the Lord God, be it known unto you: be ashamed and confounded for your own ways, O house of Israel.
33 Thus says the Lord God; In the day that I shall have cleansed you from all your iniquities I will also cause you to dwell in the cities, and the wastes shall be builded.
34 And the desolate land shall be tilled, whereas it lay desolate in the sight of all that passed by.
35 And they shall say, This land that was desolate is become like the garden of Eden; and the waste and desolate and ruined cities are become fenced, and are inhabited.
36 Then the heathen that are left round about you shall know that I the Lord build the ruined places, and plant that that was desolate: I the Lord have spoken it, and I will do it.
37 Thus says the Lord God; I will yet for this be enquired of by the house of Israel, to do it for them; I will increase them with men like a flock.
38 As the holy flock, as the flock of Jerusalem in her solemn feasts; so shall the waste cities be filled with flocks of men: and they shall know that I am the Lord.