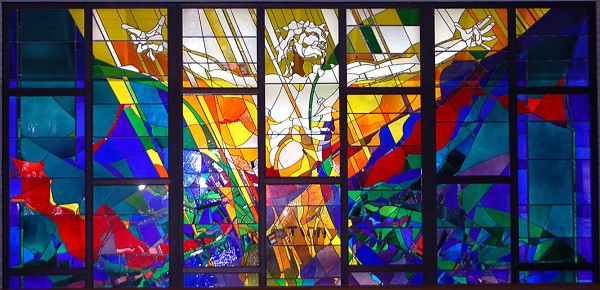 Continuing: beginning with a deeper examination of Hebrews 4, and the concept of "today" being the time we enter into the rest God has prepared for us, wherein dwells those who have put on the righteousness of Christ.
6 Seeing therefore it remains that some must enter therein, and they to whom it was first preached entered not in because of unbelief:
7 Again, he limits a certain day, saying in David, To day, after so long a time; as it is said, To day if you will hear his voice, harden not your hearts.
8 For if Jesus had given them rest, then would he not afterward have spoken of another day.
9 There remains therefore a rest to the people of God.
10 For he that is entered into his rest, he also has ceased from his own works, as God did from his.
11 Let us labor therefore to enter into that rest, lest any man fall after the same example of unbelief.
The idea, as discussed in the prior post, of our working toward this "rest" is found in the Greek word it is translated from; katapausis, literally meaning to pause and sit down (eight of the nine times it is used are here in Hebrews 4 – the other Acts 7:49). Eiserchomai is the one word translated as "enter into," meaning to reach a point, which is the "limit" we are told of in verse 7, from the Greek word horizo (horizon). This "horizon" is what is meant when today is written as "to day,"
These words are telling of a time when we will sit down and pause, having heard the voice (of God) bringing us to day, having reached this horizon (sun rise), and now in the day we must work toward this rest.
The word horizo, the "limit" set by God, is used eight times; three as "determined," twice as "ordained," once as "determinate," and once as "declared." These are all used in telling of the time when God will reap the earth with His judgment (rightly dividing the word and wielding it as His two-edged sword cutting fiction away from truth).
Luke in Acts 17 records Paul speaking to those who ignorantly worship God, ignorance proven in their ways. Paul speaks of the time "determined" to end this ignorance, and goes on to define it as when God will judge the earth by the man He has "ordained" to do so.
22 Then Paul stood in the midst of Mars' hill, and said, You men of Athens, I perceive that in all things you are too superstitious.
23 For as I passed by, and beheld your devotions, I found an altar with this inscription, To The Unknown God. Whom therefore you ignorantly worship, him declare I unto you.
24 God that made the world and all things therein, seeing that he is LORD of heaven and earth, dwells not in temples made with hands;
25 Neither is worshipped with men's hands, as though he needed any thing, seeing he giveth to all life, and breath, and all things;
26 And has made of one blood all nations of men for to dwell on all the face of the earth, and has determined the times before appointed, and the bounds of their habitation;
27 That they should seek the LORD, if haply they might feel after him, and find him, though he be not far from every one of us:
28 For in him we live, and move, and have our being; as certain also of your own poets have said, For we are also his offspring.
29 Forasmuch then as we are the offspring of God, we ought not to think that the Godhead is like unto gold, or silver, or stone, graven by art and man's device.
30 And the times of this ignorance God winked at; but now commands all men every where to repent:
31 Because he has appointed a day, in the which he will judge the world in righteousness by that man whom he has ordained; whereof he has given assurance unto all men, in that he has raised him from the dead.
32 And when they heard of the resurrection of the dead, some mocked: and others said, We will hear you again of this matter.
Luke 22:22 first used "horizo" in speaking of those who it was "determined" (by their then rebellion and rejection of the grace of God's correction), to betray the Son of man. "22 And truly the Son of man goes, as it was determined: but woe unto that man by whom he is betrayed!" He (Luke) further explains this as he next uses the word in Act 2:23 in telling of the "determinate" counsel and foreknowledge of God, which sent the deliverer in the time of need, and man rejecting His counsel took Him to be crucified (public mocking and ridicule, even into death's silence).
21 And it shall come to pass, that whosoever shall call on the name of the LORD shall be saved.
22 You men of Israel, hear these words; Jesus of Nazareth, a man approved of God among you by miracles and wonders and signs, which God did by him in the midst of you, as you yourselves also know:
23 Him, being delivered by the determinate counsel and foreknowledge of God, you have taken, and by wicked hands have crucified and slain:
24 Whom God has raised up, having loosed the pains of death: because it was not possible that he should be held of it.
25 For David speaks concerning him, I foresaw the LORD always before my face, for he is on my right hand, that I should not be moved:
26 Therefore did my heart rejoice, and my tongue was glad; moreover also my flesh shall rest in hope:
27 Because you will not leave my soul in hell, neither will you suffer your Holy One to see corruption.
28 You have made known to me the ways of life; you shall make me full of joy with your countenance.
Luke then uses it (horizo) in Acts 10:42 as Peter speaks, also telling of God raising Christ, and our being witnesses, at this point (limit – today) to proclaim the Son who God has ordained to judge the quick (those who have come to life) and the dead (those who choose to remain in death).
39 And we are witnesses of all things which he did both in the land of the Jews, and in Jerusalem; whom they slew and hanged on a tree:
40 Him God raised up the third day, and shewed him openly;
41 Not to all the people, but unto witnesses chosen before God, even to us, who did eat and drink with him after he rose from the dead.
42 And he commanded us to preach unto the people, and to testify that it is he which was ordained of God to be the Judge of quick and dead.
43 To him give all the prophets witness, that through his name whosoever believeth in him shall receive remission of sins.
44 While Peter yet spoke these words, the Holy Ghost fell on all them which heard the word.
45 And they of the circumcision which believed were astonished, as many as came with Peter, because that on the Gentiles also was poured out the gift of the Holy Ghost.
In the context of what I declared in the prior post, reluctantly speaking of myself, Paul uses horizo to tell of such a declaration, in Romans 1:4.
Romans 1 (Rome means strength – spiritually as in those formerly in confusion brought back to health: quickened)
1 Paul, a servant of Jesus Christ, called to be an apostle, separated unto the gospel of God,
2 (Which he had promised afore by his prophets in the holy scriptures,)
3 Concerning his Son Jesus Christ our LORD, which was made of the seed of David according to the flesh;
4 And declared to be the Son of God with power, according to the spirit of holiness, by the resurrection from the dead:
5 By whom we have received grace and apostleship, for obedience to the faith among all nations, for his name:
6 Among whom are you also the called of Jesus Christ:
7 To all that be in Rome, beloved of God, called to be saints: Grace to you and peace from God our Father, and the LORD Jesus Christ.
8 First, I thank my God through Jesus Christ for you all, that your faith is spoken of throughout the whole world.
9 For God is my witness, whom I serve with my spirit in the gospel of his Son, that without ceasing I make mention of you always in my prayers;
10 Making request, if by any means now at length I might have a prosperous journey by the will of God to come unto you.
11 For I long to see you, that I may impart unto you some spiritual gift, to the end you may be established;
12 That is, that I may be comforted together with you by the mutual faith both of you and me.
13 Now I would not have you ignorant, brethren, that oftentimes I purposed to come unto you, (but was let hitherto,) that I might have some fruit among you also, even as among other Gentiles.
14 I am debtor both to the Greeks, and to the Barbarians; both to the wise, and to the unwise.
15 So, as much as in me is, I am ready to preach the gospel to you that are at Rome also.
16 For I am not ashamed of the gospel of Christ: for it is the power of God unto salvation to every one that believes; to the Jew first, and also to the Greek.
17 For therein is the righteousness of God revealed from faith to faith: as it is written, The just shall live by faith.
18 For the wrath of God is revealed from heaven against all ungodliness and unrighteousness of men, who hold the truth in unrighteousness;
19 Because that which may be known of God is manifest in them; for God has shewed it unto them.
20 For the invisible things of him from the creation of the world are clearly seen, being understood by the things that are made, even his eternal power and Godhead; so that they are without excuse:
21 Because that, when they knew God, they glorified him not as God, neither were thankful; but became vain in their imaginations, and their foolish heart was darkened.
22 Professing themselves to be wise, they became fools,
23 And changed the glory of the un-corruptible God into an image made like to corruptible man, and to birds, and four-footed beasts, and creeping things.
24 Wherefore God also gave them up to uncleanness through the lusts of their own hearts, to dishonor their own bodies between themselves:
25 Who changed the truth of God into a lie, and worshipped and served the creature more than the Creator, who is blessed for ever. Amen.
26 For this cause God gave them up unto vile affections: for even their women did change the natural use into that which is against nature:
27 And likewise also the men, leaving the natural use of the woman, burned in their lust one toward another; men with men working that which is unseemly, and receiving in themselves that recompense of their error which was meet.
28 And even as they did not like to retain God in their knowledge, God gave them over to a reprobate mind, to do those things which are not convenient;
29 Being filled with all unrighteousness, fornication, wickedness, covetousness, maliciousness; full of envy, murder, debate, deceit, malignity; whisperers,
30 Backbiters, haters of God, despiteful, proud, boasters, inventors of evil things, disobedient to parents,
31 Without understanding, covenant-breakers, without natural affection, implacable, unmerciful:
32 Who knowing the judgment of God, that they which commit such things are worthy of death, not only do the same, but have pleasure in them that do them.
1 O come, let us sing unto the LORD: let us make a joyful noise to the rock of our salvation.
2 Let us come before his presence with thanksgiving, and make a joyful noise unto him with psalms.
3 For the LORD is a great God, and a great King above all gods.
4 In his hand are the deep places of the earth: the strength of the hills is his also.
5 The sea is his, and he made it: and his hands formed the dry land.
6 O come, let us worship and bow down: let us kneel before the LORD our maker.
7 For he is our God; and we are the people of his pasture, and the sheep of his hand. To day if you will hear his voice,
8 Harden not your heart, as in the provocation, and as in the day of temptation in the wilderness:
9 When your fathers tempted me, proved me, and saw my work.
10 Forty years long was I grieved with this generation, and said, It is a people that do err in their heart, and they have not known my ways:
11 Unto whom I swore in my wrath that they should not enter into my rest.