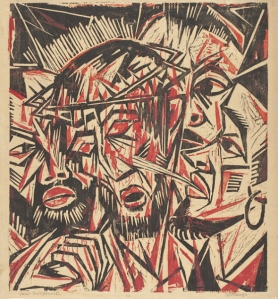 And a man's foes shall be they of his own household.
The word "foes" above is the Greek word echthros, meaning (from the Strong's Greek Dictionary): "from a primary echtho (to hate); hateful (passively, odious, or actively, hostile); usually as a noun, an adversary (especially Satan)."
The Thayer's Greek Lexicon adds several other definitions: "used of men as at enmity with God by their sin" and "the devil who is the most bitter enemy of the divine government."
Many people, through who the spirit of Satan works, say they are merely presenting the other side of an argument, some even saying they are just playing "devil's advocate." Those stating such things, in most cases, are entirely correct as they make arguments that oppose and reject basic truth by reducing them (the truth and their oppositions) to "opinions."
As we saw in the previous post, before the title verse, Matthew 10:36, the LORD says, in verses 18 thru 20, that when we testify against this iniquity, it is Him speaking through us, for which they hate Him and us. He tells of this happening in public, when we offer ourselves (for public mocking) for the sake of speaking His truth.
Matthew 10
16 Behold, I send you forth as sheep in the midst of wolves [who've scattered the sheep]: be you therefore wise as serpents, and harmless as doves [calling all to repentance, which is the sign of the end of the old world].
17 But beware of men: for they will deliver you up to the councils, and they will scourge you in their synagogues [and churches];
18 And you shall be brought before governors and kings for my sake, for a testimony against them and the Gentiles [those who don't know God, even those who are worshipping idols put in His place and called by His name].
19 But when they deliver you up, take no thought how or what you shall speak: for it shall be given you in that same hour what you shall speak.
20 For it is not you that speak, but the Spirit of your Father which speaks in you.
21 And the brother shall deliver up the brother to death, and the father the child: and the children shall rise up against their parents [as it is this day], and cause them to be put to death.
22 And you shall be hated of all men for my name's sake: but he that endures to the end shall be saved.
23 But when they persecute you in this city, flee you into another: for truly I say unto you, You shall not have gone over the cities of Israel, till the Son of man be come.
24 The disciple is not above his master, nor the servant above his LORD.
25 It is enough for the disciple that he be as his master, and the servant as his LORD. If they have called the master of the house Beelzebub, how much more shall they call them of his household [which you are]?
26 Fear them not therefore: for there is nothing covered [kalupto], that shall not be revealed [apokalupto]; and hid [kruptos], that shall not be known.
27 What I tell you in darkness [things the LORD has uncovered for us, of which we were ignorant], that speak you in light [giving understanding as you have been freely given]: and what you hear in the ear, that preach you upon the housetops.
28 And fear not them which kill the body, but are not able to kill the soul: but rather fear him which is able to destroy both soul and body in hell.
29 Are not two sparrows sold for a farthing? and one of them shall not fall on the ground without your Father.
30 But the very hairs of your head are all numbered.
31 Fear you not therefore, you are of more value than many sparrows.
32 Whosoever therefore shall confess me before men, him will I confess also before my Father which is in heaven.
33 But whosoever shall deny me before men, him will I also deny before my Father which is in heaven.
34 Think not that I am come to send peace on earth: I came not to send peace, but a sword [this word of God from my mouth].
35 For I am come to set a man at variance against his father, and the daughter against her mother, and the daughter in law against her mother in law.
36 And a man's foes [echthros] shall be they of his own household [as Esau: Edom].
37 He that loves father or mother more than me is not worthy of me: and he that loves son or daughter more than me is not worthy of me.
38 And he that takes not his cross, and follows after me, is not worthy of me.
39 He that finds his life shall lose it: and he that loses his life for my sake shall find it.
40 He that receives you receives me, and he that receives me receives him that sent me.
41 He that receives a prophet in the name of a prophet shall receive a prophet's reward; and he that receives a righteous man in the name of a righteous man shall receive a righteous man's reward.
42 And whosoever shall give to drink unto one of these little ones a cup of cold water only in the name of a disciple, truly I say unto you, he shall in no wise lose his reward.
The origin of the name Satan is the Hebrew word satan (7853), meaning "to attack, (figuratively) accuse:– (be an) adversary, resist." The Brown-Driver-Briggs Hebrew Lexicon gives the definition as, "to be or act as an adversary, resist, oppose."
The word (7853 satan) is only used six times, five in the Psalms, and once in Zechariah 3:1, where it tells of Satan standing at the right hand of Joshua (Jesus) to resist (satan – oppose) the LORD's word and work.
Zechariah 3
1 And he showed me Joshua [Jesus] the high priest [the priesthood – the ONE BODY of Christ] standing before the angel of the LORD, and Satan standing at his right hand to resist [satan – oppose] him.
2 And the LORD said unto Satan, The LORD rebuke you, O Satan; even the LORD that has chosen Jerusalem rebuke you: is not this a brand plucked [natsal – caught up] out of the fire ["hating even the garment spotted by the flesh" Jude 1:23]?
3 Now Joshua was clothed with filthy garments, and stood before the angel [who is speaking the LORD's correction to cleanse the ONE BODY].
4 And he [the LORD] answered and spoke unto those [the ONE BODY] that stood before him, saying, Take away the filthy garments from him [the priesthood]. And unto him he said, Behold, I have caused your iniquity to pass from you, and I will clothe you with change of raiment. [When the corruptible shall have put on incorruption, and this mortal shall have put on immortality, then shall be brought to pass the saying that is written, "Death is swallowed up in victory." 1 Corinthians 15:54]
5 And I said, Let them set a fair mitre upon his head. So they set a fair mitre upon his head, and clothed him with garments [the garments of the cleansed priest]. And the angel of the LORD stood by.
6 And the angel of the LORD protested [reiterated] unto Joshua [Jesus – the ONE BODY of the risen LORD], saying,
7 Thus says the LORD of hosts; If you will walk in my ways, and if you will keep my charge, then you shall also judge my house, and shall also keep my courts, and I will give you places to walk among these that stand by.
8 Hear now, O Joshua the high priest, you, and your fellows that sit before you: for they are men wondered at: for, behold, I will bring forth my servant the Branch [who shall grow, has grown, into David].
9 For behold the [foundation] stone [which the builders have rejected] that I have laid before [paniym – My presence in] Joshua [the ONE BODY]; upon one stone shall be seven eyes [seeing as the LORD sees]: behold, I will engrave the graving thereof [the word of God from the stone], says the LORD of hosts [who is a man of war], and I will remove the iniquity of that land in one day [when the multitude, hearing the elect remnant, comes out of the fires of tribulation].
10 In that day, says the LORD of hosts, shall you call every man his neighbor under [to join with the LORD as branches grafted into] His vine and under [into] His fig tree.
Romans 11
2 God has not cast away his people which he foreknew. Know you not what the scripture says of Elijah? how he made intercession to God against Israel saying,
3 LORD, they have killed your prophets, and digged down your altars; and I am left alone, and they seek my life.
4 But what says the answer of God unto him? I have reserved to myself seven thousand men, who have not bowed the knee to the image of Baal [to the idols put in God's place].
5 Even so then at this present time also there is a remnant according to the election of grace.
6 And if by grace, then is it no more of works: otherwise grace is no more grace [the free gift is no longer a free gift]. But if it be of works, then it is no more grace: otherwise work is no more work.
7 What then? Israel [God's people at large] has not obtained that which he seeks for; but the election has obtained it, and the rest were blinded.
8 (According as it is written [in Isaiah 29:10], God has given them the spirit of slumber, eyes that they should not see, and ears that they should not hear;) unto this day.
9 And David says [in Psalms 69:23], Let their table be made a snare, and a trap, and a stumbling-block, and a recompense unto them:
10 Let their eyes be darkened, that they may not see, and bow down their back always.
11 I say then, Have they stumbled that they should fall? God forbid: but rather through their fall salvation is come unto the Gentiles, for to provoke them to jealousy.
12 Now if the fall of them be the riches of the world, and the diminishing of them the riches of the Gentiles; how much more their fulness?
13 For I speak to you Gentiles, inasmuch as I am the apostle of the Gentiles, I magnify mine office:
14 If by any means I may provoke to emulation them which are my flesh, and might save some of them.
15 For if the casting away of them be the reconciling of the world, what shall the receiving of them be, but life from the dead?
16 For if the first-fruit be holy, the lump is also holy: and if the root be holy, so are the branches.
17 And if some of the branches be broken off, and you, being a wild olive tree, were grafted in among them, and with them partake of the root and fatness of the olive tree;
18 Boast not against the branches. But if you boast, you bear not the root, but the root you.
19 You will say then, The branches were broken off, that I might be grafted in.
20 Well; because of unbelief they were broken off, and you stand by faith. Be not high-minded, but fear:
21 For if God spared not the natural branches, take heed lest he also spares not you.
22 Behold, therefore, the goodness and severity of God: on them which fell, severity; but toward you, goodness, if you continue in his goodness: otherwise you also shall be cut off.
23 And they also, if they abide not still in unbelief, shall be grafted in: for God is able to graft them in again.
24 For if you were cut out of the olive tree which is wild by nature, and were grafted contrary to nature into a good olive tree: how much more shall these, which be the natural branches, be grafted into their own olive tree?
25 For I would not, brethren, that you should be ignorant of this mystery, lest you should be wise in your own conceits; that blindness in part is happened to Israel, until the fulness of the Gentiles be come in.
26 And so all Israel shall be saved: as it is written [Isaiah 59:20], There shall come out of Zion the Deliverer, and shall turn away ungodliness from Jacob:
27 For this is my covenant unto them, when I shall take away their sins [the purge spoken of in Isaiah 27:9].
28 As concerning the gospel, they are enemies [echthros – foes] for your sakes: but as touching the election, they are beloved for the father's sakes.
29 For the gifts and calling of God are without repentance.
30 For as you in times past have not believed God, yet have now obtained mercy through their unbelief:
31 Even so have these also now not believed, that through your mercy they also may obtain mercy.
32 For God has concluded them ALL [except the elect remnant] in unbelief, that he might have mercy upon all.
33 O the depth of the riches both of the wisdom and knowledge of God! how unsearchable are his judgments, and his ways past finding out!
34 For who has known the mind of the LORD? or who has been his counselor?
35 Or who has first given to him, and it shall be recompensed unto him again? [see Isaiah 40:13 & 14]
36 For of him, and through him, and to him, are all things: to whom be glory forever. Amen.
Do you understand yet, the LORD, in Paul, in Romans above, in the quotes therein, is telling the story of His appearing and kingdom?
Isaiah 40
9 O Zion [out of you comes the Deliverer], that brings good tidings, get you up into the high mountain; O Jerusalem, that brings good tidings, lift up your voice with strength; lift it up, be not afraid; say unto the cities of Judah, Behold your God!
10 Behold, the LORD God will come with strong hand, and his arm [whom He reveals] shall rule for him: behold, his reward is with him, and his work before him.
11 He shall feed his flock like a shepherd: he shall gather the lambs with his arm, and carry them in his bosom, and shall gently lead those that are with young.
12 Who has measured the waters in the hollow of his hand, and meted out heaven with the span, and comprehended the dust [the ruin from where man is formed] of the earth in a measure, and weighed the mountains in scales, and the hills in a balance?
13 Who has directed the Spirit of the LORD, or being his counsellor has taught him?
14 With whom took he counsel, and who instructed him, and taught him in the path of judgment, and taught him knowledge, and showed to him the way of understanding?
Isaiah 27
8 In measure, when it shoots forth, you will debate with it: he stayed his rough wind [His anger] in the day of the east wind [His Spirit that comes from where the sun/son has risen, and from where His light shines].
9 By this therefore shall the iniquity of Jacob be purged; and this is all the fruit [that shoots forth] to take away his sin; when he makes all the stones of the altar as chalkstones that are beaten in sunder, the groves and images shall not stand up.
10 Yet the defensed city shall be desolate, and the habitation forsaken, and left like a wilderness: there shall the calf feed, and there shall he lie down, and consume the [dead] branches thereof.
11 When the boughs thereof are withered, they shall be broken off: the women come, and set them on fire: for it is a people of no understanding: therefore he that made them will not have mercy on them, and he that formed them will show them no favor.
Isaiah 59
6 Their webs shall not become garments, neither shall they cover [hide] themselves with their works: their works are works of iniquity, and the act of violence is in their hands.
7 Their feet run to evil, and they make haste to shed innocent blood: their thoughts are thoughts of iniquity; wasting and destruction are in their paths.
8 The way of peace they know not; and there is no judgment in their goings: they have made them crooked paths: whosoever goes therein shall not know peace.
9 Therefore is judgment far from us, neither does justice overtake us: we wait for light, but behold obscurity; for brightness, but we walk in darkness.
10 We grope for the wall like the blind, and we grope as if we had no eyes: we stumble at noonday as in the night; we are in desolate places as dead men.
11 We roar all like bears, and mourn sore like doves: we look for judgment, but there is none; for salvation, but it is far off from us.
12 For our transgressions are multiplied before you, and our sins testify against us: for our transgressions are with us; and as for our iniquities, we know them;
13 In transgressing and lying against the LORD, and departing away from our God, speaking oppression and revolt, conceiving and uttering from the heart words of falsehood.
14 And judgment is turned away backward, and justice stands afar off: for truth is fallen in the street, and equity cannot enter.
15 Yea, truth fails; and he that departs from evil makes himself a prey: and the LORD saw it, and it displeased him that there was no judgment.
16 And he saw that there was no man, and wondered that there was no intercessor: therefore his arm brought salvation unto him; and his righteousness, it sustained him.
17 For he put on righteousness as a breastplate, and a helmet of salvation upon his head; and he put on the garments of vengeance for clothing, and was clad with zeal as a cloak.
18 According to their deeds, accordingly he will repay, fury to his adversaries, recompense to his enemies; to the islands he will repay recompense.
19 So shall they fear the name of the LORD from the west, and his glory from the rising of the sun. When the enemy shall come in like a flood, the Spirit of the LORD shall lift up a standard against him.
20 And the Redeemer shall come to Zion, and unto them that turn from transgression in Jacob, says the LORD.
21 As for me, this is my covenant with them, says the LORD; My spirit that is upon you, and my words which I have put in your mouth, shall not depart out of your mouth, nor out of the mouth of your seed, nor out of the mouth of your seed's seed, says the LORD, from henceforth and forever.
Psalms 69
4 They that hate me without a cause are more than the hairs of mine head: they that would destroy me, being mine enemies wrongfully, are mighty: then I restored that which [understanding] I took not away.
5 O God, you know my foolishness; and my sins are not hid from you.
6 Let not them that wait on you, O LORD God of hosts, be ashamed for my sake: let not those that seek you be confounded for my sake, O God of Israel.
7 Because for your sake I have borne reproach; shame has covered my face.
8 I am become a stranger unto my brethren, and an alien unto my mother's children.
9 For the zeal of your house has eaten me up; and the reproaches of them that reproached you are fallen upon me.
10 When I wept, and chastened my soul with fasting, that was to my reproach.
11 I made sackcloth also my garment; and I became a proverb to them.
12 They that sit in the gate speak against me; and I was the song of the drunkards.
13 But as for me, my prayer is unto you, O LORD, in an acceptable time: O God, in the multitude of your mercy hear me, in the truth of your salvation.
14 Deliver me out of the mire, and let me not sink: let me be delivered from them that hate me, and out of the deep waters.
15 Let not the waterflood overflow me, neither let the deep swallow me up, and let not the pit shut her mouth upon me.
16 Hear me, O LORD; for your lovingkindness is good: turn unto me according to the multitude of your tender mercies.
17 And hide not your face from your servant; for I am in trouble: hear me speedily.
18 Draw nigh unto my soul, and redeem it: deliver me because of mine enemies.
19 You have known my reproach, and my shame, and my dishonor: mine adversaries are all before you.
20 Reproach has broken my heart; and I am full of heaviness: and I looked for some to take pity, but there was none; and for comforters, but I found none.
21 They gave me also gall for my meat; and in my thirst they gave me vinegar to drink.
22 Let their table become a snare before them: and that which should have been for their welfare, let it become a trap.
23 Let their eyes be darkened, that they see not; and make their loins continually to shake.
24 Pour out your indignation upon them, and let your wrathful anger take hold of them.
25 Let their habitation be desolate; and let none dwell in their tents.
26 For they persecute him whom you have smitten; and they talk to the grief of those whom you have wounded.
27 Add iniquity unto their iniquity: and let them not come into your righteousness.
28 Let them be blotted out of the book of the living, and not be written with the righteous.
29 But I am poor and sorrowful: let your salvation, O God, set me up on high.
30 I will praise the name of God with a song, and will magnify him with thanksgiving.
Psalms 38
1 O LORD, rebuke me not in your wrath: neither chasten me in your hot displeasure.
2 For your arrows stick fast in me, and your hand presseth me sore.
3 There is no soundness in my flesh because of your anger; neither is there any rest in my bones because of my sin.
4 For mine iniquities are gone over mine head: as a heavy burden, they are too heavy for me.
5 My wounds stink and are corrupt because of my foolishness.
6 I am troubled; I am bowed down greatly; I go mourning all the day long.
7 For my loins are filled with a loathsome disease: and there is no soundness in my flesh.
8 I am feeble and sore broken: I have roared by reason of the disquietness of my heart.
9 LORD, all my desire is before you; and my groaning is not hid from you.
10 My heart panteth, my strength faileth me: as for the light of mine eyes, it also is gone from me.
11 My lovers and my friends stand aloof from my sore; and my kinsmen stand afar off.
12 They also that seek after my life lay snares for me: and they that seek my hurt speak mischievous things, and imagine deceits all the day long.
13 But I, as a deaf man, heard not; and I was as a dumb man that opens not his mouth.
14 Thus I was as a man that heareth not, and in whose mouth are no reproofs.
15 For in you, O LORD, do I hope: you will hear, O LORD my God.
16 For I said, Hear me, lest otherwise they should rejoice over me: when my foot slips, they magnify themselves against me.
17 For I am ready to halt, and my sorrow is continually before me.
18 For I will declare mine iniquity; I will be sorry for my sin.
19 But mine enemies ['oyeb] are lively, and they are strong: and they that hate me wrongfully are multiplied.
20 They also that render evil for good are mine adversaries [satan]; because I follow the thing that good is.
21 Forsake me not, O LORD: O my God, be not far from me.
22 Make haste to help me, O LORD my salvation.
Psalms 71
1 In you, O LORD, do I put my trust: let me never be put to confusion.
2 Deliver me in your righteousness, and cause me to escape: incline your ear unto me, and save me.
3 Be you my strong habitation, whereunto I may continually resort: you have given commandment to save me; for you are my rock and my fortress.
4 Deliver me, O my God, out of the hand of the wicked, out of the hand of the unrighteous and cruel man.
5 For you are my hope, O LORD God: you are my trust from my youth.
6 By you have I been holden up from the womb: you are he that took me out of my mother's bowels: my praise shall be continually of you.
7 I am as a wonder unto many; but you are my strong refuge.
8 Let my mouth be filled with your praise and with your honor all the day.
9 Cast me not off in the time of old age; forsake me not when my strength fails.
10 For mine enemies ['oyeb]speak against me; and they that lay wait for my soul take counsel together,
11 Saying, God has forsaken him: persecute and take him; for there is none to deliver him.
12 O God, be not far from me: O my God, make haste for my help.
13 Let them be confounded and consumed that are adversaries [satan] to my soul; let them be covered with reproach and dishonor that seek my hurt.
14 But I will hope continually, and will yet praise you more and more.
15 My mouth shall show forth your righteousness and your salvation all the day; for I know not the numbers thereof.
16 I will go in the strength of the LORD God: I will make mention of your righteousness, even of yours only.
17 O God, you have taught me from my youth: and hitherto have I declared your wondrous works.
18 Now also when I am old and grey-headed, O God, forsake me not; until I have showed your strength unto this generation, and your power to everyone that is to come.
19 Your righteousness also, O God, is very high, who have done great things: O God, who is like unto you!
20 You, which have shown me great and sore troubles, shall quicken me again, and shall bring me up again from the depths of the earth.
21 You shall increase my greatness, and comfort me on every side.
22 I will also praise you with the psaltery, even your truth, O my God: unto you will I sing with the harp, O you Holy One of Israel.
23 My lips shall greatly rejoice when I sing unto you; and my soul, which you have redeemed.
24 My tongue also shall talk of your righteousness all the day long: for they are confounded, for they are brought unto shame, that seek my hurt.
Psalms 109
1 Hold not your peace, O God of my praise;
2 For the mouth of the wicked and the mouth of the deceitful are opened against me: they have spoken against me with a lying tongue.
3 They compassed me about also with words of hatred; and fought against me without a cause.
4 For my love they are my adversaries [satan]: but I give myself unto prayer.
5 And they have rewarded me evil for good, and hatred for my love.
6 Set you a wicked man over him: and let Satan stand at his right hand.
7 When he shall be judged, let him be condemned: and let his prayer become sin.
8 Let his days be few; and let another take his office.
9 Let his children be fatherless, and his wife a widow.
10 Let his children be continually vagabonds, and beg: let them seek their bread also out of their desolate places.
11 Let the extortioner catch all that he has; and let the strangers spoil his labor.
12 Let there be none to extend mercy unto him: neither let there be any to favor his fatherless children.
13 Let his posterity be cut off; and in the generation following let their name be blotted out.
14 Let the iniquity of his fathers be remembered with the LORD; and let not the sin of his mother be blotted out.
15 Let them be before the LORD continually, that he may cut off the memory of them from the earth.
16 Because that he remembered not to show mercy, but persecuted the poor and needy man, that he might even slay the broken in heart.
17 As he loved cursing, so let it come unto him: as he delighted not in blessing, so let it be far from him.
18 As he clothed himself with cursing like as with his garment, so let it come into his bowels like water, and like oil into his bones.
19 Let it be unto him as the garment which coveres him, and for a girdle wherewith he is girded continually.
20 Let this be the reward of mine adversaries [satan] from the LORD, and of them that speak evil against my soul.
21 But do you for me, O God the LORD, for your name's sake: because your mercy is good, deliver you me.
22 For I am poor and needy, and my heart is wounded within me.
23 I am gone like the shadow when it declines: I am tossed up and down as the locust.
24 My knees are weak through fasting; and my flesh fails of fatness.
25 I became also a reproach unto them: when they looked upon me they shook their heads.
26 Help me, O LORD my God: O save me according to your mercy:
27 That they may know that this is your hand; that you, LORD, have done it.
28 Let them curse, but bless you: when they arise, let them be ashamed; but let your servant rejoice.
29 Let mine adversaries [satan] be clothed with shame, and let them cover themselves with their own confusion, as with a mantle.
30 I will greatly praise the LORD with my mouth; yea, I will praise him among the multitude.
31 For he shall stand at the right hand of the poor, to save him from those that condemn his soul.
Hebrews 10
6 In burnt offerings and sacrifices for sin you have had no pleasure.
7 Then said I, Lo, I come (in the volume of the book it is written of me,) to do your will, O God.
8 Above when he said, Sacrifice and offering and burnt offerings and offering for sin you would not, neither had pleasure therein; which are offered by the law;
9 Then said he, Lo, I come to do your will, O God. He taketh away the first [the offering by the law], that he may establish the second [doing God's will].
10 By the which will we are sanctified [by grace, the free gift of God's righteousness, declaring us holy, and separated to do His will] through the offering of the body of Jesus Christ once for all.
11 And every priest stands daily ministering and offering oftentimes the same sacrifices, which can never take away sins:
12 But this man, after he had offered one sacrifice for sins forever, sat down on the right hand of God;
13 From henceforth expecting till his enemies [echthros] be made his footstool.
14 For by one offering he has perfected forever them that are sanctified [separated to do His will].
15 Whereof the Holy Ghost also is a witness to us: for after that he had said before,
16 This is the covenant that I will make with them after those days, says the LORD, [rendering us His righteousness] I will put my laws into their hearts, and in their minds will I write them;
17 And their sins and iniquities will I remember no more [which is our sanctification, His declaring us cleansed and holy].
18 Now where remission of these is, there is no more offering for sin.
19 Having therefore, brethren, boldness to enter into the holiest [the presence of God] by the blood of Jesus,
20 By a new and living way, which he has consecrated for us, through the veil, that is to say, his flesh [the body sanctified to do His will];
21 And having a high priest over the house of God;
22 Let us draw near with a true heart in full assurance of faith, having our hearts sprinkled from an evil conscience, and our bodies washed with pure water.
23 Let us hold fast the profession of our faith without wavering; (for he is faithful that promised;)
24 And let us consider one another to provoke unto love and to good works:
25 Not forsaking the assembling of ourselves together [into His ONE BODY], as the manner of some is; but exhorting one another: and so much the more, as you see the day approaching.
26 For if we sin willfully after that we have received the knowledge of the truth, there remains no more sacrifice for sins,
27 But a certain fearful looking for of judgment and fiery indignation, which shall devour the adversaries.
28 He that despised Moses' law died without mercy under two or three witnesses:
29 Of how much sorer punishment, suppose you, shall he be thought worthy, who has trodden under foot the Son of God, and has counted the blood of the covenant, wherewith he was sanctified, an unholy thing, and has done despite unto the Spirit of grace?
30 For we know him that has said, Vengeance belongs unto me, I will recompense, says the LORD. And again, The LORD shall judge his people.
31 It is a fearful thing to fall into the hands of the living God.
32 But call to remembrance the former days, in which, after you were illuminated, you endured a great fight of afflictions;
33 Partly, whilst you were made a gazing-stock [raised up for public mocked] both by reproaches and afflictions; and partly, whilst you became companions of them that were so used.
34 For you had compassion of me in my bonds, and took joyfully the spoiling of your goods, knowing in yourselves that you have in heaven a better and an enduring substance.
35 Cast not away therefore, your confidence, which has great recompense of reward.
36 For you have need of patience, that, after you have done the will of God, you might receive the promise.
37 For yet a little while, and he that shall come will come, and will not tarry.
38 Now the just shall live by faith: but if any man draw back, my soul shall have no pleasure in him.
39 But we are not of them who draw back unto perdition [apoleia]; but of them that believe to the saving of the soul.
Psalms 110
1 The LORD said unto my LORD, Sit you at my right hand, until I make your enemies ['oyeb] your footstool.
2 The LORD shall send the rod of your strength out of Zion: rule you in the midst of your enemies ['oyes].
3 Your people shall be willing in the day of your power, in the beauties of holiness from the womb of the morning: you have the dew of your youth.
4 The LORD has sworn, and will not repent, You are a priest forever after the order of Melchizedek.
5 The LORD at your right hand shall strike through kings in the day of his wrath.
6 He shall judge among the heathen, he shall fill the places with the dead bodies; he shall wound the heads over many countries.
7 He shall drink of the brook in the way: therefore shall he lift up the head.