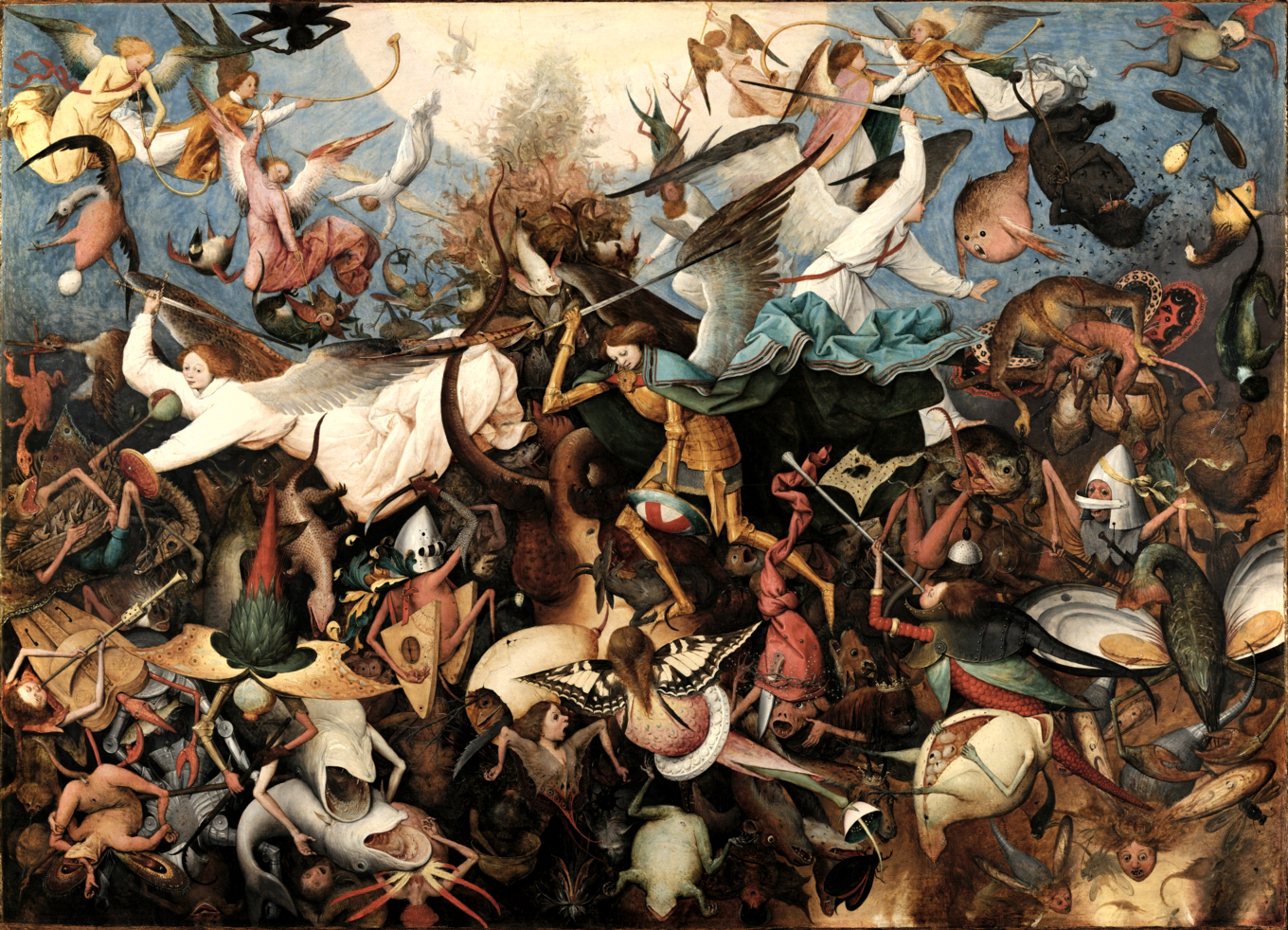 Isaiah 54:16 Behold, I have created the smith that blows the coals in the fire, and that brings forth an instrument for his work; and I have created the waster to destroy. 17 No weapon that is formed against you shall prosper; and every tongue that shall rise against you in judgment you shall condemn. This is the heritage of the servants of the LORD, and their righteousness is of Me, says the LORD.
Continuing today from Colossians 3 where we read of our being dead until Christ is come (the anointed one and His anointing on us), and raises us into life. In this context, we must first examine chapter 2, while additionally considering what we've many times discussed from 2 Peter 3, with regard to the fires burning up the world. We know the fire as being caused by the principles upon which the misleaders and deceivers controlling the culture (kosmos – the things at present adorning the world) rely when making all decisions. We know the principles there are defined using the Greek word stoicheion, rendered "elements," and are both what cause the fires, and in realizing them as the cause they themselves melt away in the heat. We know, because we are therein plainly told, it is the world and the works thereof that self-destruct. Peter, as he is telling of this old world, asks, knowing all these are coming to pass, what sort of people should we be?
9 The LORD is not slack concerning his promise, as some men count slackness; but is longsuffering to us-ward, not willing that any should perish, but that all should come to repentance.
10 But the day of the LORD will come as a thief in the night; in the which the heavens shall pass away with a great noise, and the elements [stoicheion] shall melt with fervent heat, the earth also and the works that are therein shall be burned up.
11 Seeing then that all these things shall be dissolved, what manner of persons ought you to be in all holy conversation and godliness,
12 Looking for and hasting unto the coming of the day of God, wherein the heavens being on fire shall be dissolved, and the elements shall melt with fervent heat?
13 Nevertheless we, according to his promise, look for new heavens and a new earth, wherein dwells righteousness.
We know earlier Peter very plainly tells of the fires being reserved for, "the day of judgment and perdition [perishing] of ungodly men." We know this is just prior to our being told of the longsuffering of the LORD, and of His not wanting any to perish. In the prior post, we looked at James 5 and his telling of the long-patience of the LORD, and closing he speaks of our being those who the LORD uses us to convert those being destroyed by their own errors, to the truth and the saving of their soul from death.
7 Be patient therefore, brethren, unto the coming of the LORD. Behold, the husbandman waits for the precious fruit of the earth, and has long patience for it, until he receive the early and latter rain.
8 Be you also patient; stablish your hearts: for the coming of the LORD draws nigh.
9 Grudge not one against another, brethren, lest you be condemned: behold, the judge stands before the door.
10 Take, my brethren, the prophets, who have spoken in the name of the LORD, for an example of suffering affliction, and of patience.
11 Behold, we count them happy which endure. You have heard of the patience of Job, and have seen the end of the LORD; that the LORD is very pitiful, and of tender mercy.
12 But above all things, my brethren, swear not, neither by heaven, neither by the earth, neither by any other oath: but let your yea be yea; and your nay, nay; lest you fall into condemnation.
13 Is any among you afflicted? let him pray. Is any merry? let him sing psalms.
14 Is any sick among you? let him call for the elders of the church; and let them pray over him, anointing him with oil in the name of the LORD:
15 And the prayer of faith shall save the sick, and the LORD shall raise him up; and if he have committed sins, they shall be forgiven him.
16 Confess your faults one to another, and pray one for another, that you may be healed. The effectual fervent prayer of a righteous man avails much.
17 Elias was a man subject to like passions as we are, and he prayed earnestly that it might not rain: and it rained not on the earth by the space of three years and six months.
18 And he prayed again, and the heaven gave rain, and the earth brought forth her fruit.
19 Brethren, if any of you do err from the truth, and one convert him;
20 Let him know, that he which converts the sinner from the error of his way shall save a soul from death, and shall hide a multitude of sins.
This is what we read in Colossians 2, that we, in speaking truth, are the LORD's voice converting those in error, because error is his way, and his ways are the ways of the world, which are destroying it.
In this context, we begin with Colossians 2:18 where we are warned not to let ourselves be "beguiled," by an outward appearance of humility, into worshiping angels, and in doing trespassing with them into things they haven't seen or heard (from the LORD). It is what Paul also describes in 2 Corinthians 11, where he first tells of what is thought of as his folly, and he then boasts of his boldness being focused on delivering us to Christ, as chaste virgins, not being beguiled by the subtlety of those also described (by Peter) as the "false teachers" who shall be (are) among us. These are those Paul later describes in 2 Corinthians 11 as those hiding behind the false appearance of minsters of righteousness. "13 For such are false apostles, deceitful workers, transforming themselves into the apostles of Christ. 14 And no marvel; for Satan himself is transformed into an angel of light. 15 Therefore it is no great thing if his ministers also be transformed as the ministers of righteousness; whose end shall be according to their works. 16 I say again, let no man think me a fool; if otherwise, yet as a fool receive me, that I may boast myself a little."
Colossians 2:19 then goes on to tell of these men not holding the Head, meaning not holding steadfast and immovable to the LORD, by which (holding to the LORD and not being led away by these deceivers) the whole body is knit together, and only by this does it increase. 2 Corinthians 11:4 For if he that comes preaches another Jesus, whom we have not preached, or if you receive another spirit, which you have not received, or another gospel, which you have not accepted, you might well bear with him. 5 For I suppose I was not a whit behind the very chiefest apostles. 6 But though I be rude in speech, yet not in knowledge; but we have been thoroughly made manifest among you in all things. 7 Have I committed an offence in abasing myself that you might be exalted, because I have preached to you the gospel of God freely?"
Colossians 2:20 then tells us if we are dead with Christ, from the "rudiments of the world," why then do we constrain ourselves by their man created rules, placed upon us by these false teachers. This is speaking of the "show" that has become modern corrupted Christianity and our national perverted (twisted and reversed) culture, and the self-righteous contempt they have for the actual truth.
24 You blind guides, which strain at a gnat, and swallow a camel.
25 Woe unto you, scribes and Pharisees [those who write the rules and those who preach these deceptive doctrines of men], hypocrites! for you make clean the outside of the cup and of the platter, but within they are full of extortion [redistribution by fraud – tithe and tax] and excess [to feed their material lust – gluttony].
26 You blind Pharisee, cleanse first that which is within the cup and platter, that the outside of them may be clean also.
27 Woe unto you, scribes and Pharisees, hypocrites! for you are like unto whited sepulchers [tombs], which indeed appear beautiful outward, but are within full of dead men's bones, and of all uncleanness.
28 Even so you also outwardly appear righteous unto men, but within you are full of hypocrisy and iniquity.
29 Woe unto you, scribes and Pharisees, hypocrites! because you build the tombs of the prophets, and garnish the sepulchers of the righteous,
30 And say, If we had been in the days of our fathers, we would not have been partakers with them in the blood of the prophets.
31 Wherefore you be witnesses unto yourselves, that you are the children of them which killed the prophets.
32 Fill you up then the measure of your fathers.
33 You serpents, you generation of vipers, how can you escape the damnation of hell?
34 Wherefore, behold, I send unto you prophets, and wise men, and scribes: and some of them you shall kill and crucify; and some of them shall you scourge in your synagogues, and persecute them from city to city:
35 That upon you may come all the righteous blood shed upon the earth, from the blood of righteous Abel unto the blood of Zacharias son of Barachias, whom you slew between the temple and the altar.
36 Verily I say unto you, All these things shall come upon this generation.
37 O Jerusalem, Jerusalem, you that kill the prophets, and stone them which are sent unto you, how often would I have gathered your children together, even as a hen gathers her chickens under her wings, and you would not!
38 Behold, your house is left unto you desolate.
39 For I say unto you, You shall not see me henceforth, till you shall say, Blessed is he that comes in the name of the LORD.
These are the "rudiment" (stoicheion – elements; foundational principles) upon which this would relies when making all its decisions, and they go on blind to the fact that they are destroying themselves and those who follow in their folly. They are equally as blind to the fact that God will not hold those harmless who refuse to repent from these evil deceptions and free His people to following Him, in Spirit and Truth.
8 And then shall that Wicked be revealed, whom the LORD shall consume with the spirit of his mouth, and shall destroy with the brightness of his coming:
9 Even him [these false teachers and fake news reporters], whose coming is after the working of Satan with all power and signs and lying wonders,
10 And with all deceivableness of unrighteousness in them that perish; because they received not the love of the truth, that they might be saved.
11 And for this cause God shall send them strong delusion, that they should believe a lie:
12 That they all might be damned who believed not the truth, but had pleasure in unrighteousness, [bringing upon themselves swift destruction].
13 But we are bound to give thanks always to God for you, brethren beloved of the LORD, because God has from the beginning chosen you to salvation through sanctification of the Spirit and belief of the truth:
14 Whereunto he called you by our gospel, to the obtaining of the glory of our LORD Jesus Christ.
15 Therefore, brethren, stand fast, and hold the traditions which you have been taught, whether by word, or our epistle.
16 Now our LORD Jesus Christ himself, and God, even our Father, which has loved us, and has given us everlasting consolation and good hope through grace,
17 Comfort your hearts, and stablish you in every good word and work.
1 But there were false prophets also among the people, even as there shall be false teachers among you, who privily [from their own evil imaginations, trespassing into things they have neither seen nor heard from the LORD] shall bring in damnable heresies, even denying the LORD that bought them, and bring upon themselves swift destruction.
2 And many shall follow their pernicious ways; by reason of whom the way of truth shall be evil spoken of.
3 And through covetousness shall they with feigned words make merchandise of you: whose judgment now of a long time lingers not, and their damnation slumbers not.
4 For if God spared not the angels that sinned, but cast them down to hell, and delivered them into chains of darkness, to be reserved unto judgment;
5 And spared not the old world, but saved Noah the eighth person, a preacher of righteousness, bringing in the flood upon the world of the ungodly;
6 And turning the cities of Sodom and Gomorrah into ashes condemned them with an overthrow, making them an ensample unto those that after should live ungodly;
7 And delivered just Lot, vexed with the filthy conversation of the wicked:
8 (For that righteous man dwelling among them, in seeing and hearing, vexed his righteous soul from day to day with their unlawful deeds;)
9 The LORD knows how to deliver the godly out of temptations, and to reserve the unjust unto the day of judgment to be punished:
10 But chiefly them that walk after the flesh in the lust of uncleanness, and despise government. Presumptuous are they, self-willed, they are not afraid to speak evil of dignities.
3 Knowing this first, that there shall come in the last days scoffers, walking after their own lusts,
4 And saying, Where is the promise of his coming? for since the fathers fell asleep, all things continue as they were from the beginning of the creation.
5 For this they willingly are ignorant of, that by the word of God the heavens were of old, and the earth standing out of the water and in the water:
6 Whereby the world that then was, being overflowed with water, perished:
7 But the heavens and the earth, which are now, by the same word are kept in store, reserved unto fire against the day of judgment and perdition of ungodly men.
8 But, beloved, be not ignorant of this one thing, that one day is with the LORD as a thousand years, and a thousand years as one day.
9 The LORD is not slack concerning his promise, as some men count slackness; but is longsuffering to us-ward, not willing that any should perish, but that all should come to repentance.
10 But the day of the LORD will come as a thief in the night; in the which the heavens shall pass away with a great noise, and the elements shall melt with fervent heat, the earth also and the works that are therein shall be burned up.
11 Seeing then that all these things shall be dissolved, what manner of persons ought you to be in all holy conversation and godliness,
12 Looking for and hasting unto the coming of the day of God, wherein the heavens being on fire shall be dissolved, and the elements shall melt with fervent heat?
13 Nevertheless we, according to his promise, look for new heavens and a new earth, wherein dwells righteousness.
Friends, For those of us who have died to the corrupted rudiments and are now risen with Christ, this is where Colossian 3 begins. Let us continuing in the LORD's charity, giving nourishment to those hungering for it, and life to the world in need.
1 If you then be risen with Christ, seek those things which are above, where Christ sits on the right hand of God.
2 Set your affection on things above, not on things on the earth.
3 For you are dead, and your life is hid with Christ in God.
4 When Christ, who is our life, shall appear, then shall you also appear with him in glory.
5 Mortify therefore your members which are upon the earth; fornication, uncleanness, inordinate affection, evil concupiscence, and covetousness, which is idolatry:
6 For which things' sake the wrath of God comes on the children of disobedience:
7 In the which you also walked some time, when you lived in them.
8 But now you also put off all these; anger, wrath, malice, blasphemy, filthy communication out of your mouth.
9 Lie not one to another [give no fake news report (manipulated to manipulate) or false teaching], seeing that you have put off the old man with his deeds;
10 And have put on the new man, which is renewed in knowledge after the image of him that created him:
11 Where there is neither Greek nor Jew, circumcision nor uncircumcision, Barbarian, Scythian, bond nor free: but Christ is all, and in all.
12 Put on therefore, as the elect of God, holy and beloved, bowels of mercies, kindness, humbleness of mind, meekness, longsuffering;
13 Forbearing one another, and forgiving one another, if any man have a quarrel against any: even as Christ forgave you, so also do you.
14 And above all these things put on charity, which is the bond of perfectness.
15 And let the peace of God rule in your hearts, to the which also you are called in one body; and be you thankful.
16 Let the word of Christ dwell in you richly in all wisdom; teaching and admonishing one another in psalms and hymns and spiritual songs, singing with grace in your hearts to the LORD.
17 And whatsoever you do in word or deed, do all in the name of the LORD Jesus, giving thanks to God and the Father by him.
18 Wives, submit yourselves unto your own husbands, as it is fit in the LORD.
19 Husbands, love your wives, and be not bitter against them.
20 Children, obey your parents in all things: for this is well pleasing unto the LORD.
21 Fathers, provoke not your children to anger, lest they be discouraged.
22 Servants, obey in all things your masters according to the flesh; not with eye-service, as men-pleasers; but in singleness of heart, fearing God;
23 And whatsoever you do, do it heartily, as to the LORD, and not unto men;
24 Knowing that of the LORD you shall receive the reward of the inheritance: for you serve the LORD Christ.
25 But he that does wrong shall receive for the wrong which he has done: and there is no respect of persons.
1 Listen, O isles, unto me; and hearken, you people, from far; The LORD has called me from the womb; from the bowels of my mother has he made mention of my name.
2 And he has made my mouth like a sharp sword; in the shadow of his hand has he hid me, and made me a polished shaft; in his quiver has he hid me;
3 And said unto me, You are my servant, O Israel, in whom I will be glorified.
4 Then I said, I have laboured in vain, I have spent my strength for nought, and in vain: yet surely my judgment is with the LORD, and my work with my God.
5 And now, saith the LORD that formed me from the womb to be his servant, to bring Jacob again to him, Though Israel be not gathered, yet shall I be glorious in the eyes of the LORD, and my God shall be my strength.
6 And he said, It is a light thing that you shouldest be my servant to raise up the tribes of Jacob, and to restore the preserved of Israel: I will also give you for a light to the Gentiles, that you mayest be my salvation unto the end of the earth.
7 Thus saith the LORD, the Redeemer of Israel, and his Holy One, to him whom man despiseth, to him whom the nation abhorreth, to a servant of rulers, Kings shall see and arise, princes also shall worship, because of the LORD that is faithful, and the Holy One of Israel, and he shall choose you.
8 Thus saith the LORD, In an acceptable time have I heard you, and in a day of salvation have I helped you: and I will preserve you, and give you for a covenant of the people, to establish the earth, to cause to inherit the desolate heritages;
9 That you mayest say to the prisoners, Go forth; to them that are in darkness, Shew yourselves. They shall feed in the ways, and their pastures shall be in all high places.
10 They shall not hunger nor thirst; neither shall the heat nor sun smite them: for he that has mercy on them shall lead them, even by the springs of water shall he guide them.
11 And I will make all my mountains a way, and my highways shall be exalted.
12 Behold, these shall come from far: and, lo, these from the north and from the west; and these from the land of Sinim.
13 Sing, O heavens; and be joyful, O earth; and break forth into singing, O mountains: for the LORD has comforted his people, and will have mercy upon his afflicted.
14 But Zion said, The LORD has forsaken me, and my LORD has forgotten me.
15 Can a woman forget her sucking child, that she should not have compassion on the son of her womb? yea, they may forget, yet will I not forget you.
16 Behold, I have graven you upon the palms of my hands; your walls are continually before me.
17 Your children shall make haste; your destroyers and they that made you waste shall go forth of you.
18 Lift up your eyes round about, and behold: all these gather themselves together, and come to you. As I live, saith the LORD, you shall surely clothe you with them all, as with an ornament, and bind them on you, as a bride does.
19 For your waste and your desolate places, and the land of your destruction, shall even now be too narrow by reason of the inhabitants, and they that swallowed you up shall be far away.
20 The children which you shall have, after you have lost the other, shall say again in your ears, The place is too strait for me: give place to me that I may dwell.
21 Then shall you say in your heart, Who has begotten me these, seeing I have lost my children, and am desolate, a captive, and removing to and fro? and who has brought up these? Behold, I was left alone; these, where had they been?
22 Thus saith the LORD God, Behold, I will lift up mine hand to the Gentiles, and set up my standard to the people: and they shall bring your sons in their arms, and your daughters shall be carried upon their shoulders.
23 And kings shall be your nursing fathers, and their queens your nursing mothers: they shall bow down to you with their face toward the earth, and lick up the dust of your feet; and you shall know that I am the LORD: for they shall not be ashamed that wait for me.
24 Shall the prey be taken from the mighty, or the lawful captive delivered?
25 But thus saith the LORD, Even the captives of the mighty shall be taken away, and the prey of the terrible shall be delivered: for I will contend with him that contendeth with you, and I will save your children.
26 And I will feed them that oppress you with their own flesh; and they shall be drunken with their own blood, as with sweet wine: and all flesh shall know that I the LORD am your Saviour and your Redeemer, the mighty One of Jacob.