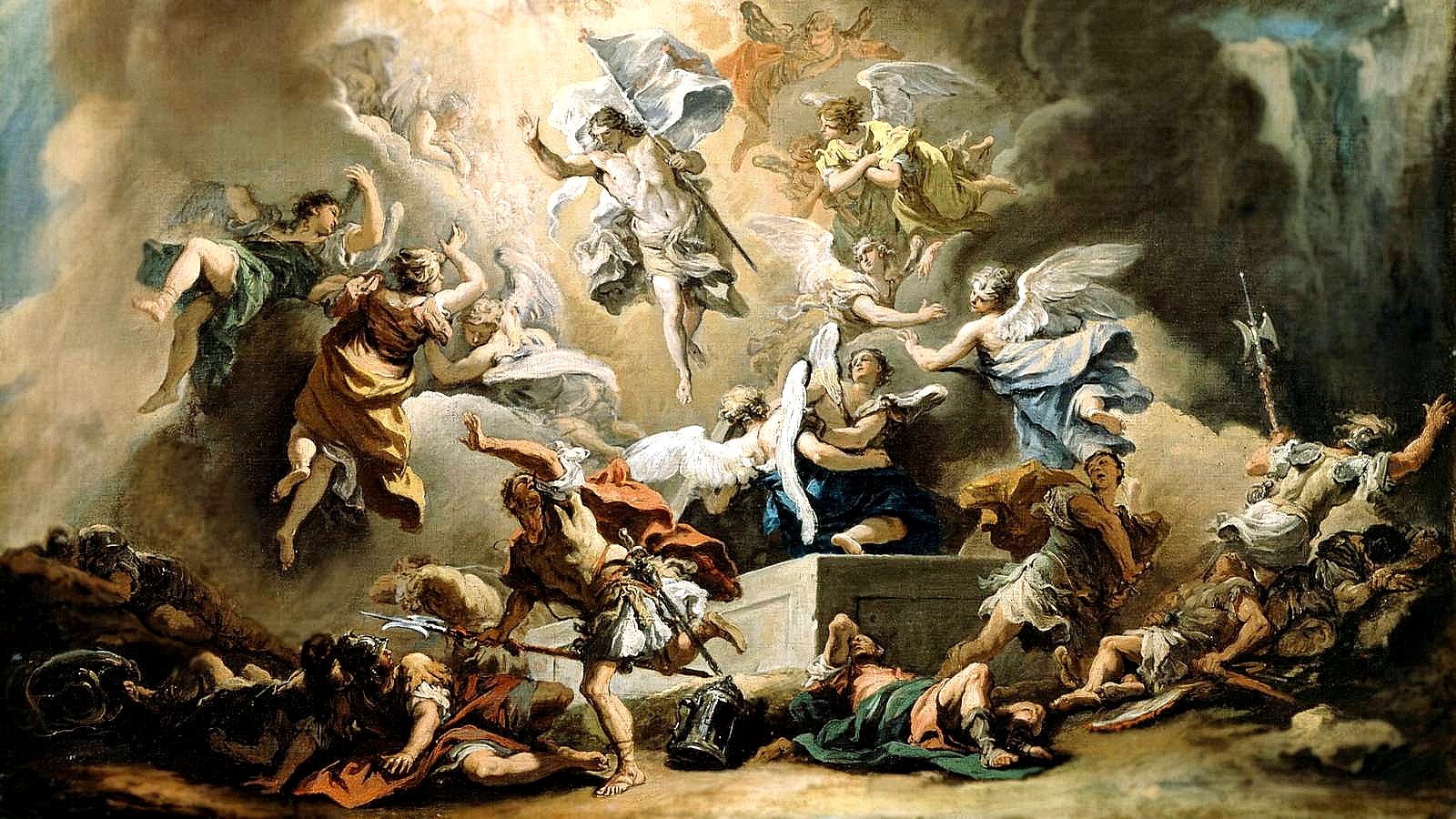 Humble yourselves therefore under the mighty hand of God, that he may exalt you in due time: Casting all your care upon Him; for He cares for you.
Continuing: the mind of Christ is to depend on the Father for our "care," meaning His advice and guidance.
1 The LORD is my shepherd; I shall not want.
2 He makes me to lie down in green pastures: he leads me beside the still waters.
3 He restores my soul: he leads me in the paths of righteousness for his name's sake.
4 Yea, though I walk through the valley of the shadow of death, I will fear no evil: for you are with me; your rod and your staff they comfort me.
5 You prepares a table before me in the presence of mine enemies: you anoint my head with oil; my cup runs over.
6 Surely goodness and mercy shall follow me all the days of my life: and I will dwell in the house of the LORD for ever.
The title is from 1 Peter 5:6, and the Greek word there rendered "care" is merimna, meaning all the things that distract and draw our attention away from His advice and guidance, which leads us as a good shepherd. The word translated "cares" telling us of the reason He does this, is melo, meaning He is interested because it matters to Him. This is the context of 1 Peter 5 as he speaks to the elders telling them not to lead to become lords over or gain from God's people, but as good (caring) example to the flock. This itself is spoken in the context of what has just said about judgment that must begin at the house of God, and there show ourselves as good examples of leadership.
Of course, these ideas are a continuation of the prior post and our discussion of Ezekiel 34 where we saw the contrast between the shepherds who have misled God's flock, and the one shepherd the LORD would raise up: the Branch that would grow into David.
11 If any man speak, let him speak as the oracles of God; if any man minister, let him do it as of the ability which God gives: that God in all things may be glorified through Jesus Christ, to whom be praise and dominion for ever and ever. Amen.
12 Beloved, think it not strange concerning the fiery trial which is to try you, as though some strange thing happened unto you:
13 But rejoice, inasmuch as you are partakers of Christ's sufferings; that, when his glory shall be revealed, you may be glad also with exceeding joy.
14 If you be reproached for the name of Christ, happy are you; for the spirit of glory and of God rests upon you: on their part he is evil spoken of, but on your part he is glorified.
15 But let none of you suffer as a murderer, or as a thief, or as an evildoer, or as a busybody in other men's matters.
16 Yet if any man suffer as a Christian, let him not be ashamed; but let him glorify God on this behalf.
17 For the time is come that judgment must begin at the house of God: and if it first begin at us, what shall the end be of them that obey not the gospel of God?
18 And if the righteous scarcely be saved, where shall the ungodly and the sinner appear?
19 Wherefore let them that suffer according to the will of God commit the keeping of their souls to him in well doing, as unto a faithful Creator.
1 The elders which are among you I exhort, who am also an elder, and a witness of the sufferings of Christ, and also a partaker of the glory that shall be revealed:
2 Feed the flock of God which is among you, taking the oversight thereof, not by constraint, but willingly; not for filthy lucre, but of a ready mind;
3 Neither as being lords over God's heritage, but being examples to the flock.
4 And when the chief Shepherd shall appear, you shall receive a crown of glory that fades not away.
5 Likewise, you younger, submit yourselves unto the elder. Yea, all of you be subject one to another, and be clothed with humility: for God resists the proud, and gives grace to the humble.
6 Humble yourselves therefore under the mighty hand of God, that he may exalt you in due time:
7 Casting all your care [merimna] upon him; for he cares [melo] for you.
8 Be sober, be vigilant; because your adversary the devil, as a roaring lion, walks about, seeking whom he may devour:
9 Whom resist steadfast in the faith, knowing that the same afflictions are accomplished in your brethren that are in the world.
10 But the God of all grace, who has called us unto his eternal glory by Christ Jesus, after that you have suffered a while, make you perfect, stablish, strengthen, settle you.
11 To him be glory and dominion for ever and ever. Amen.
The glory revealed, God's presence as Christ in us and suffering through us, described above by Peter, is also seen in the John 10 as the LORD describes Himself as the good shepherd and describes the hireling who leaves the sheep (defenseless) when the wolf comes, because he is a hireling who doesn't care (melo) about the sheep.
5 And they were scattered, because there is no shepherd: and they became meat to all the beasts of the field, when they were scattered.
6 My sheep wandered through all the mountains, and upon every high hill: yea, my flock was scattered upon all the face of the earth, and none did search or seek after them.
7 Therefore, you shepherds, hear the word of the LORD;
8 As I live, says the LORD God, surely because my flock became a prey, and my flock became meat to every beast of the field, because there was no shepherd, neither did my shepherds search for my flock, but the shepherds fed themselves, and fed not my flock;
9 Therefore, O you shepherds, hear the word of the LORD;
10 Thus says the LORD God; Behold, I am against the shepherds; and I will require my flock at their hand, and cause them to cease from feeding the flock; neither shall the shepherds feed themselves any more; for I will deliver my flock from their mouth, that they may not be meat for them.
11 For thus says the LORD God; Behold, I, even I, will both search my sheep, and seek them out.
12 As a shepherd seeks out his flock in the day that he is among his sheep that are scattered; so will I seek out my sheep, and will deliver them out of all places where they have been scattered in the cloudy and dark day.
1 Truly, truly, I say unto you, He that enters not by the door into the sheepfold, but climbs up some other way, the same is a thief and a robber.
2 But he that enters in by the door is the shepherd of the sheep.
3 To him the porter opens; and the sheep hear his voice: and he calls his own sheep by name, and leads them out.
4 And when he puts forth his own sheep, he goes before them, and the sheep follow him: for they know his voice.
5 And a stranger will they not follow, but will flee from him: for they know not the voice of strangers.
6 This parable spoke Jesus unto them: but they understood not what things they were which he spoke unto them.
7 Then said Jesus unto them again, Truly, truly, I say unto you, I am the door of the sheep.
8 All that ever came before me are thieves and robbers: but the sheep did not hear them.
9 I am the door: by me if any man enter in, he shall be saved, and shall go in and out, and find pasture.
10 The thief comes not, but for to steal, and to kill, and to destroy: I am come that they might have life, and that they might have it more abundantly.
11 I am the good shepherd: the good shepherd gives his life for the sheep.
12 But he that is an hireling, and not the shepherd, whose own the sheep are not, sees the wolf coming, and leaves the sheep, and flees: and the wolf catches them, and scatters the sheep.
13 The hireling flees, because he is an hireling, and cares [melo] not for the sheep.
14 I am the good shepherd, and know my sheep, and am known of mine.
15 As the Father knows me, even so know I the Father: and I lay down my life for the sheep.
16 And other sheep I have, which are not of this fold: them also I must bring, and they shall hear my voice; and there shall be one fold, and one shepherd.
17 Therefore does my Father love me, because I lay down my life, that I might take it again.
18 No man taketh it from me, but I lay it down of myself. I have power to lay it down, and I have power to take it again. This commandment have I received of my Father.
19 There was a division therefore again among the Jews for these sayings.
20 And many of them said, He has a devil, and is mad; why hear you him?
21 Others said, These are not the words of him that has a devil. Can a devil open the eyes of the blind?
22 And it was at Jerusalem the feast of the dedication, and it was winter.
23 And Jesus walked in the temple in Solomon's porch.
24 Then came the Jews round about him, and said unto him, How long do you make us to doubt? If you be the Christ, tell us plainly.
25 Jesus answered them, I told you, and you believed not: the works that I do in my Father's name, they bear witness of me.
26 But you believe not, because you are not of my sheep, as I said unto you.
27 My sheep hear my voice, and I know them, and they follow me:
28 And I give unto them eternal life; and they shall never perish, neither shall any man pluck them out of my hand.
29 My Father, which gave them me, is greater than all; and no man is able to pluck them out of my Father's hand.
30 I and my Father are one.
31 Then the Jews took up stones again to stone him.
32 Jesus answered them, Many good works have I shewed you from my Father; for which of those works do you stone me?
33 The Jews answered him, saying, For a good work we stone you not; but for blasphemy; and because that you, being a man, make yourself God.
34 Jesus answered them, Is it not written in your law, I said, You are gods?
35 If he called them gods, unto whom the word of God came, and the scripture cannot be broken;
36 Say you of him, whom the Father has sanctified, and sent into the world, You blaspheme; because I said, I am the Son of God?
[Psalm 82:1 God stands in the congregation of the mighty; he judges among the gods. 2 How long will ye judge unjustly, and accept the persons of the wicked? Selah. 3 Defend the poor and fatherless: do justice to the afflicted and needy. 4 Deliver the poor and needy: rid them out of the hand of the wicked. 5 They know not, neither will they understand; they walk on in darkness: all the foundations of the earth are out of course. 6 I have said, You are gods; and all of you are children of the most High. 7 But you shall die like men, and fall like one of the princes. 8 Arise, O God, judge the earth: for you shall inherit all nations.]
37 If I do not the works of my Father, believe me not.
38 But if I do, though you believe not me, believe the works: that you may know, and believe, that the Father is in me, and I in him.
39 Therefore they sought again to take him: but he escaped out of their hand,
40 And went away again beyond Jordan into the place where John at first baptized; and there he abode.
41 And many resorted unto him, and said, John did no miracle: but all things that John spoke of this man were true.
42 And many believed on him there.
When the LORD says He is the door through which will enter the good shepherd, he is telling of Himself as the power that opens what He has Himself closed. It is the door Paul speaks of in 1 Corinthians 16:9, that he says is "effectual," using the three times appearing Greek word energes, which we have looked at in other forms telling of the power that works in God's sons (children). In this passage the Father, speaking by/in Paul, tells us in whom resides the enegres, as it abides in him.
9 For a great door and effectual [energes] is opened unto me, and there are many adversaries.
10 Now if Timothy come, see that he may be with you without fear: for he works [ergazomai] the work [ergon] of the LORD, as I also do.
11 Let no man therefore despise him: but conduct him forth in peace, that he may come unto me: for I look for him with the brethren.
The works of the LORD are the works (ergon) He speaks of in John 10:25 thru 38, which show the Father is in Him as the energy doing the work. Ergon in the word the LORD then uses in John 14:10, 11, & 12, to plainly says it is the Father in Him who is doing the works.
6 Jesus said unto him, I am the way, the truth, and the life: no man comes unto the Father, but by me.
7 If you had known me, you should have known my Father also: and from henceforth you know him, and have seen him.
8 Philip said unto him, LORD, show us the Father, and it suffices us [if seeing the Father is what completes us, then show us the Father].
9 Jesus said unto him, Have I been so long time with you, and yet have you not known me, Philip? he that has seen me has seen the Father; and how says you then, Show us the Father?
10 Believes you not that I am in the Father, and the Father in me? the words that I speak unto you I speak not of myself: but the Father that dwells in me, he does the works.
11 Believe me that I am in the Father, and the Father in me: or else believe me for the very works' sake.
12 Truly, truly, I say unto you, He that believes on me, the works that I do shall he do also; and greater works than these shall he do; because I go unto my Father.
13 And whatsoever you shall ask in my name, that will I do, that the Father may be glorified in the Son.
14 If you shall ask any thing in my name, I will do it.
15 If you love me, keep my commandments.
16 And I will pray the Father, and he shall give you another Comforter, that he may abide with you for ever;
17 Even the Spirit of truth; whom the world cannot receive, because it sees him not, neither knows him: but you know him; for he dwells with you, and shall be in you.
18 I will not leave you comfortless: I will come to you.
19 Yet a little while, and the world sees me no more; but you see me: because I live, you shall live also.
20 At that day you shall know that I am in my Father, and you in me, and I in you.
21 He that has my commandments, and keeps them, he it is that loves me: and he that loves me shall be loved of my Father, and I will love him, and will manifest myself to him.
22 Judas said unto him, not Iscariot, LORD, how is it that you will manifest yourself unto us, and not unto the world?
23 Jesus answered and said unto him, If a man love me, he will keep my words: and my Father will love him, and we will come unto him, and make our abode with him.
24 He that loves me not keeps not my sayings: and the word which you hear is not mine, but the Father's which sent me.
25 These things have I spoken unto you, being yet present with you.
26 But the Comforter, which is the Holy Ghost, whom the Father will send in my name, he shall teach you all things, and bring all things to your remembrance, whatsoever I have said unto you.
Friends, the point the LORD is making is the same point we have been discussing: seeing the Father is the one speaking, revealed in the works the Father does from within the person He has chosen to speak through, is the change that comes in the blink of an eye. A person must necessarily see it is the LORD speaking, the living God in man, and by this only is man raised to life, quickened from the dead as the same God becomes alive in those who receive Him.
Again, we see Paul telling of this in 1 Thessalonians 2, as he also tells of the suffering we must long-suffer through until the glory of God is revealed in and by these works. We have seen the same event as what Paul describes in 1 Thessalonians 4, as he speaks of this time when even those who have been our persecutors, the sleeping dead in Christ, drunken by their own ignorance and pride, are awakened by the voice of God. I am that archangel, my voice is the voice of God calling the dead to come to life, to hear the sound of the trumpet and understand its meaning.
9 For you remember, brethren, our labor and travail: for laboring night and day, because we would not be chargeable unto any of you, we preached unto you the gospel of God.
10 You are witnesses, and God also, how holily and justly and unblameably we behaved ourselves among you that believe:
11 As you know how we exhorted and comforted and charged every one of you, as a father does his children,
12 That you would walk worthy of God, who has called you unto his kingdom and glory.
13 For this cause also thank we God without ceasing, because, when you received the word of God which you heard of us, you received it not as the word of men, but as it is in truth, the word of God, which effectually works [energeo] also in you that believe.
14 For you, brethren, became followers of the churches of God which in Judaea are in Christ Jesus: for you also have suffered like things of your own countrymen, even as they have of the Jews:
15 Who both killed the LORD Jesus, and their own prophets, and have persecuted us; and they please not God, and are contrary to all men:
16 Forbidding us to speak to the Gentiles that they might be saved, to fill up their sins alway: for the wrath is come upon them to the uttermost.
17 But we, brethren, being taken from you for a short time in presence, not in heart, endeavoured the more abundantly to see your face with great desire.
18 Wherefore we would have come unto you, even I Paul, once and again; but Satan hindered us.
19 For what is our hope, or joy, or crown of rejoicing? Are not even you in the presence of our LORD Jesus Christ at his coming?
20 For you are our glory and joy.
7 Again, he limits a certain day, saying in [speaking by/in] David, To day, after so long a time; as it is said, To day if you will hear his voice, harden not your hearts.
8 For if Jesus had given them rest, then would he not afterward have spoken of another day.
9 There remains therefore a rest to the people of God.
10 For he that is entered into his rest, he also has ceased from his own works, as God did from his.
11 Let us labor therefore to enter into that rest, lest any man fall after the same example of unbelief.
12 For the word of God is quick, and powerful [energes], and sharper than any two-edged sword, piercing even to the dividing asunder of soul and spirit, and of the joints and marrow, and is a discerner of the thoughts and intents of the heart.
13 Neither is there any creature that is not manifest in his sight: but all things are naked and opened unto the eyes of him with whom we have to do.
14 Seeing then that we have a great high priest, that is passed into the heavens, Jesus the Son of God, let us hold fast our profession.
15 For we have not an high priest which cannot be touched with the feeling of our infirmities; but was in all points tempted like as we are, yet without sin.
16 Let us therefore come boldly unto the throne of grace, that we may obtain mercy, and find grace to help in time of need.
11 These things have I spoken unto you, that my joy might remain in you, and that your joy might be full.
12 This is my commandment, That you love one another, as I have loved you.
13 Greater love has no man than this, that a man lay down his life for his friends.
14 You are my friends, if you do whatsoever I command you.
15 Henceforth I call you not servants; for the servant knows not what his LORD does: but I have called you friends; for all things that I have heard of my Father I have made known unto you.
16 You have not chosen me, but I have chosen you, and ordained you, that you should go and bring forth fruit, and that your fruit should remain: that whatsoever you shall ask of the Father in my name, he may give it you.
17 These things I command you, that you love one another.
18 If the world hate you, you know that it hated me before it hated you.
19 If you were of the world, the world would love his own: but because you are not of the world, but I have chosen you out of the world, therefore the world hates you.
20 Remember the word that I said unto you, The servant is not greater than his LORD. If they have persecuted me, they will also persecute you; if they have kept my saying, they will keep yours also.
21 But all these things will they do unto you for my name's sake, because they know not him that sent me.
22 If I had not come and spoken unto them, they had not had sin: but now they have no cloak for their sin.
23 He that hates me hates my Father also.
24 If I had not done among them the works [ergon] which none other man did, they had not had sin: but now have they both seen and hated both me and my Father.
25 But this comes to pass, that the word might be fulfilled that is written in their law, They hated me without a cause.
26 But when the Comforter is come, whom I will send unto you from the Father, even the Spirit of truth, which proceeds from the Father, he shall testify of me:
27 And you also shall bear witness, because you have been with me from the beginning.
1 These words spoke Jesus, and lifted up his eyes to heaven, and said, Father, the hour is come; glorify your Son, that your Son also may glorify you:
2 As you have given him power over all flesh, that he should give eternal life to as many as you have given him.
3 And this is life eternal, that they might know you the only true God, and Jesus Christ, whom you have sent.
4 I have glorified you on the earth: I have finished the work [ergon] which you gave me to do.
5 And now, O Father, glorify you me with your own self with the glory which I had with you before the world was.
6 I have manifested your name unto the men which you gave me out of the world: your they were, and you gave them me; and they have kept your word.
7 Now they have known that all things whatsoever you have given me are of you.
8 For I have given unto them the words which you gave me; and they have received them, and have known surely that I came out from you, and they have believed that you did send me.
9 I pray for them: I pray not for the world, but for them which you have given me; for they are yours.
10 And all mine are yours, and yours are mine; and I am glorified in them.
11 And now I am no more in the world, but these are in the world, and I come to you. Holy Father, keep through your own name those whom you have given me, that they may be one, as we are.
12 While I was with them in the world, I kept them in your name: those that you gave me I have kept, and none of them is lost, but the son of perdition [the power (death) that now works (energeo) in the children of disobedience]; that the scripture might be fulfilled.
13 And now come I to you; and these things I speak in the world, that they might have my joy fulfilled in themselves.
14 I have given them your word; and the world has hated them, because they are not of the world, even as I am not of the world.
15 I pray not that you should take them out of the world, but that you should keep them from the evil.
16 They are not of the world, even as I am not of the world.
17 Sanctify them through your truth: your word is truth.
18 As you have sent me into the world, even so have I also sent them into the world.
19 And for their sakes I sanctify myself, that they also might be sanctified through the truth.
20 Neither pray I for these alone, but for them also which shall believe on me through their word;
21 That they all may be one; as you, Father, are in me, and I in you, that they also may be one in us: that the world may believe that you have sent me.
22 And the glory which you gave me I have given them; that they may be one, even as we are one:
23 I in them, and you in me, that they may be made perfect in one; and that the world may know that you have sent me, and have loved them, as you have loved me.
24 Father, I will that they also, whom you have given me, be with me where I am; that they may behold my glory, which you have given me: for you loved me before the foundation of the world.
25 O righteous Father, the world has not known you: but I have known you, and these have known that you have sent me.
26 And I have declared unto them your name, and will declare it: that the love wherewith you have loved me may be in them, and I in them.
1 O come, let us sing unto the LORD: let us make a joyful noise to the rock of our salvation.
2 Let us come before his presence with thanksgiving, and make a joyful noise unto him with psalms.
3 For the LORD is a great God, and a great King above all gods.
4 In his hand are the deep places of the earth: the strength of the hills is his also.
5 The sea is his, and he made it: and his hands formed the dry land.
6 O come, let us worship and bow down: let us kneel before the LORD our maker.
7 For he is our God; and we are the people of his pasture, and the sheep of his hand. To day if you will hear his voice,
8 Harden not your heart, as in the provocation, and as in the day of temptation [when His presence was questioned] in the wilderness:
9 When your fathers tempted me, proved me, and saw my work.
10 Forty years long was I grieved with this generation, and said, It is a people that do err in their heart, and they have not known my ways:
11 Unto whom I swore in my wrath that they should not enter into my rest.