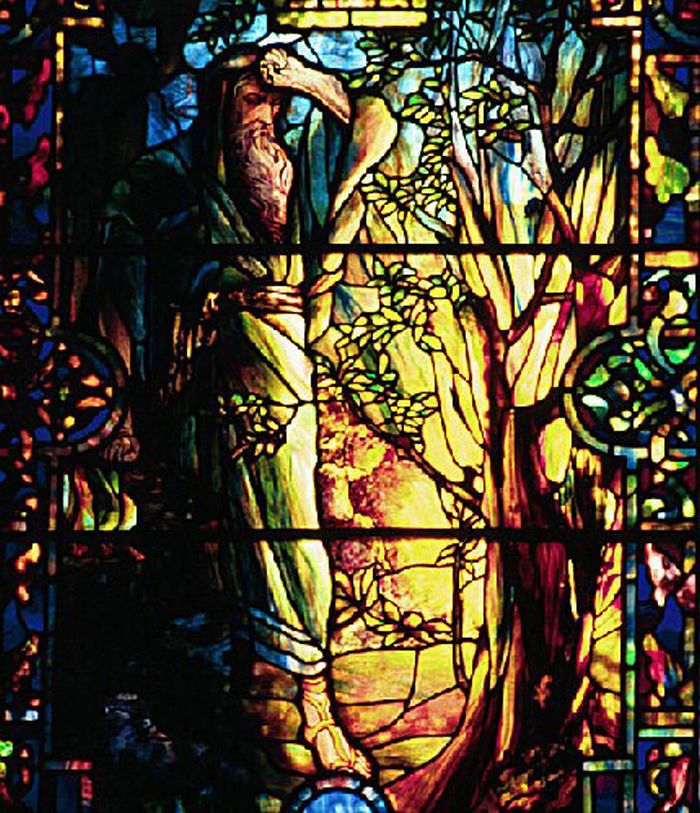 Changing the subject as the LORD directs it; today a discussion of the subject of "tongues." I surmise this is more for me than anyone else as I have become reluctant to discuss the topic due to it seemingly producing an almost demonic opposition come from otherwise rational people (my not wanting to provoke them into opposing themselves). I will start out with the point already made apparent to me: tongues are in fact the opposite of the unintelligible babbling the ignorant have reduced it to. It is in fact doctrine, unknown to those hearing it and therefore not understood. In this context we understand the uses of the term in the Word of God, and we understand the necessary repetition and exposition until the Holy Spirit is ignited in the hearer and the word is then clearly understood – and those then understanding cannot prevent themselves from willingly becoming part of the church of the firstborn.
This above description is what we read of first happening in Acts 2 where every man heard and understood. The so-called "tongue" being understood is the key and most relevant aspect. This is the context that makes what seem to be contradictory statements in 1 Corinthians 14 understandable, and this aspect itself is exemplified in this exposition. This is why we are first told of tongues being for the unbelieving, not the believing. The believing (should) already understand, and the unbelieving of logical course don't comprehend what is being said.
As always, we find the full understand of the intended context and boundaries of what is said in 1 Corinthians 14 when in verse 21 Paul quotes from Isaiah 28:11. The quote is telling of the LORD saying He will speak to us in these other tongues. It is defined in Isaiah by the verses before and after telling of the LORD teaching us by laying out a systematic discourse to this end of our understanding. He, the LORD, is the one that tells us it will seem to us as some new doctrine, while in fact a precept upon precept, line upon line, that they might be snared, fall backward and be caught (taken). In Isaiah 28:12 the LORD tells of this lack of comprehending as a refusal to hear what is being taught, as His telling us, "This is the rest wherein you may cause the weary to rest, and this is the refreshing," and our rejecting it. These verses are specifically directed at those ruling and teaching God's people into this state of ignorance. (God is not the author of confusion, and never has anyone ever interpreted or understood one word of the babbling that now ignorantly passes for "tongues." And if we would understand this one thing we might understand all things.)
The "precepts" and the "lines" spoken of are the element that are being taught as what should replace the foundational elements (principles – stoicheion) we have discussed many times. These are those causing the fires that now burn in the world, and the same principles melting away as they have failed (again, and ever time) before our eyes. In Isaiah 28:15 we read of this being as those who have ruled us and taught us having made a covenant with death (the dead can't hear or understand anything); it then define their ways as making lies their refuge, and under falsehood hid themselves.
In the next verse we read of the LORD laying the new foundation, and they that believe on him shall not be ashamed or flee away. This is followed by the LORD telling of this being His judgment, and seen by His right and equitable measurement; and by this He will sweep away the lies, and overflow their hiding places.
The chapter begins by addressing the "crown of pride," the "drunkard of Ephraim." These are the same rulers and teachers, so proud they think they know everything, and drunken (by the same sleep and death) in the night just as we are told of in 1 Thessalonian 5, not knowing the season or the time of their judgment. We know Ephraim is used to tell of the latter generation of the household of God in our time. In verse 2 we read of the same "mighty one" we are told of in verse 16 as the "foundation stone," and in verse 2 we see he is the same who sweeps away lies and uncovers the hidden. We are told of these rulers and teachers as fading flowers, as the drunkard of Ephraim is trodden under foot. This lead up to the LORD telling He will be our crown of glory, and the prophets and priests that have caused the people to err into drunkenness will be replace with those the LORD teaches knowledge. The only thing needed will be to understand what the tongue is speaking, "19 From the time that it goes forth it shall take you: for morning by morning shall it pass over, by day and by night: and it shall be a vexation only to understand the report."
Isaiah 28
1 Woe to the crown of pride, to the drunkards of Ephraim, whose glorious beauty is a fading flower, which are on the head of the fat valleys of them that are overcome with wine!
2 Behold, the LORD has a mighty and strong one, which as a tempest of hail and a destroying storm, as a flood of mighty waters overflowing, shall cast down to the earth with the hand.
3 The crown of pride, the drunkards of Ephraim, shall be trodden under feet:
4 And the glorious beauty, which is on the head of the fat valley, shall be a fading flower, and as the hasty fruit before the summer; which when he that looks upon it sees, while it is yet in his hand he eats it up.
5 In that day shall the LORD of hosts be for a crown of glory, and for a diadem of beauty, unto the residue of his people,
6 And for a spirit of judgment to him that sits in judgment, and for strength to them that turn the battle to the gate.
7 But they also have erred through wine, and through strong drink are out of the way; the priest and the prophet have erred through strong drink, they are swallowed up of wine, they are out of the way through strong drink; they err in vision, they stumble in judgment.
8 For all tables are full of vomit and filthiness, so that there is no place clean.
9 Whom shall he teach knowledge? and whom shall he make to understand doctrine? them that are weaned from the milk, and drawn from the breasts.
10 For precept must be upon precept, precept upon precept; line upon line, line upon line; here a little, and there a little:
11 For with stammering lips and another tongue will he speak to this people.
12 To whom he said, This is the rest wherewith you may cause the weary to rest; and this is the refreshing: yet they would not hear.
13 But the word of the LORD was unto them precept upon precept, precept upon precept; line upon line, line upon line; here a little, and there a little; that they might go, and fall backward, and be broken, and snared, and taken.
14 Wherefore hear the word of the LORD, you scornful men, that rule this people which is in Jerusalem.
15 Because you have said, We have made a covenant with death, and with h*ll are we at agreement; when the overflowing scourge shall pass through, it shall not come unto us: for we have made lies our refuge, and under falsehood have we hid ourselves:
16 Therefore thus says the LORD God, Behold, I lay in Zion for a foundation a stone, a tried stone, a precious corner stone, a sure foundation: he that believeth shall not make haste.
17 Judgment also will I lay to the line, and righteousness to the plummet: and the hail shall sweep away the refuge of lies, and the waters shall overflow the hiding place.
18 And your covenant with death shall be disannulled, and your agreement with h*ll shall not stand; when the overflowing scourge shall pass through, then you shall be trodden down by it.
19 From the time that it goes forth it shall take you: for morning by morning shall it pass over, by day and by night: and it shall be a vexation only to understand the report.
20 For the bed is shorter than that a man can stretch himself on it: and the covering narrower than that he can wrap himself in it.
21 For the LORD shall rise up as in mount Perazim, he shall be wroth as in the valley of Gibeon, that he may do his work, his strange work; and bring to pass his act, his strange act.
22 Now therefore be you not mockers, lest your bands be made strong: for I have heard from the LORD God of hosts a consumption, even determined upon the whole earth.
23 Give you ear, and hear my voice; hearken, and hear my speech.
24 Does the plowman plow all day to sow? does he open and break the clods of his ground?
25 When he has made plain the face thereof, does he not cast abroad the fitches, and scatter the cummin, and cast in the principal wheat and the appointed barley and the rie in their place?
26 For his God does instruct him to discretion, and does teach him.
27 For the fitches are not threshed with a threshing instrument, neither is a cart wheel turned about upon the cummin; but the fitches are beaten out with a staff, and the cummin with a rod.
28 Bread corn is bruised; because he will not ever be threshing it, nor break it with the wheel of his cart, nor bruise it with his horsemen.
29 This also cometh forth from the LORD of hosts, which is wonderful in counsel, and excellent in working.
1 Thessalonians 5
1 But of the times and the seasons, brethren, you have no need that I write unto you.
2 For yourselves know perfectly that the day of the LORD so cometh as a thief in the night.
3 For when they shall say, Peace and safety; then sudden destruction cometh upon them, as travail upon a woman with child; and they shall not escape.
4 But you, brethren, are not in darkness, that that day should overtake you as a thief.
5 You are all the children of light, and the children of the day: we are not of the night, nor of darkness.
6 Therefore let us not sleep, as do others; but let us watch and be sober.
7 For they that sleep sleep in the night; and they that be drunken are drunken in the night.
8 But let us, who are of the day, be sober, putting on the breastplate of faith and love; and for an helmet, the hope of salvation.
9 For God has not appointed us to wrath, but to obtain salvation by our LORD Jesus Christ,
10 Who died for us, that, whether we wake or sleep, we should live together with him.
11 Wherefore comfort yourselves together, and edify one another, even as also you do.
12 And we beseech you, brethren, to know them which labor among you, and are over you in the LORD, and admonish you;
13 And to esteem them very highly in love for their work's sake. And be at peace among yourselves.
14 Now we exhort you, brethren, warn them that are unruly, comfort the feebleminded, support the weak, be patient toward all men.
15 See that none render evil for evil unto any man; but ever follow that which is good, both among yourselves, and to all men.
16 Rejoice evermore.
17 Pray without ceasing.
18 In every thing give thanks: for this is the will of God in Christ Jesus concerning you.
19 Quench not the Spirit.
20 Despise not prophesying.
21 Prove all things; hold fast that which is good.
22 Abstain from all appearance of evil.
23 And the very God of peace sanctify you wholly; and I pray God your whole spirit and soul and body be preserved blameless unto the coming of our LORD Jesus Christ.
24 Faithful is he that calls you, who also will do it.
25 Brethren, pray for us.
26 Greet all the brethren with a holy kiss.
27 I charge you by the LORD that this epistle be read unto all the holy brethren.
28 The grace of our LORD Jesus Christ be with you. Amen.
It is worth noting that before Paul gives His Mars' Hill discourse, the philosophers (the keepers of knowledge), call him a babbler (Acts 17:18), because he seems to be setting forth some unknown God, because he preached Jesus and the resurrection. The unique word used by Luke (the physician writer of Acts) and translated "babbler" is the one time used Greek spermologos, literally meaning seed, as in the first principles, and lego, meaning as systematic discourse – laying out a seemingly unknown doctrine. This is what Paul then goes on to demonstrate in his discourse.
Acts 17
21 (For all the Athenians and strangers which were there spent their time in nothing else, but either to tell, or to hear some new thing.)
22 Then Paul stood in the midst of Mars' hill, and said, You men of Athens, I perceive that in all things you are too superstitious.
23 For as I passed by, and beheld your devotions, I found an altar with this inscription, To The Unknown God. Whom therefore you ignorantly worship, him declare I unto you.
24 God that made the world and all things therein, seeing that he is LORD of heaven and earth, dwelleth not in temples made with hands;
25 Neither is worshipped with men's hands, as though he needed any thing, seeing he giveth to all life, and breath, and all things;
26 And has made of one blood all nations of men for to dwell on all the face of the earth, and has determined the times before appointed, and the bounds of their habitation;
27 That they should seek the LORD, if haply they might feel after him, and find him, though he be not far from every one of us:
28 For in him we live, and move, and have our being; as certain also of your own poets have said, For we are also his offspring.
29 Forasmuch then as we are the offspring of God, we ought not to think that the Godhead is like unto gold, or silver, or stone, graven by art and man's device.
30 And the times of this ignorance God winked at; but now commands all men every where to repent:
31 Because he has appointed a day, in the which he will judge the world in righteousness by that man whom he has ordained; whereof he has given assurance unto all men, in that he has raised him from the dead.
32 And when they heard of the resurrection of the dead, some mocked: and others said, We will hear you again of this matter.
The words for drunkenness used in 1 Thessalonians 5 are best understood by looking the word translated "sober," used as their opposite. It is the Greek word nepho, meaning to abstain, and also to be vigilant and watchful. This is contrasted against those who are methusko, intoxicated, and therefore not vigilant or watchful (for errors nor the coming of the LORD in judgment). Therefore we understand this thinking everything is fine, and in this pride filled ignorance the Day of Judgment comes upon them as a thief invading their darkness and drunkenness. This tells of the true drunkenness, as opposed to those watching and understanding the systematic discourse they see and hear, and these others not understanding hear as if an unknown language and therefore reject it. But to as many as receive it gave He power to become the children of God.
Acts 2
12 And they were all amazed, and were in doubt, saying one to another, What means this?
13 Others mocking said, These men are full of new wine.
14 But Peter, standing up with the eleven, lifted up his voice, and said unto them, You men of Judaea, and all you that dwell at Jerusalem, be this known unto you, and hearken to my words:
15 For these are not drunken, as you suppose, seeing it is but the third hour of the day.
16 But this is that which was spoken by the prophet Joel;
17 And it shall come to pass in the last days, says God, I will pour out of my Spirit upon all flesh: and your sons and your daughters shall prophesy, and your young men shall see visions, and your old men shall dream dreams:
18 And on my servants and on my handmaidens I will pour out in those days of my Spirit; and they shall prophesy:
19 And I will show wonders in heaven above, and signs in the earth beneath; blood, and fire, and vapor of smoke:
20 The sun shall be turned into darkness, and the moon into blood, before the great and notable day of the LORD come:
21 And it shall come to pass, that whosoever shall call on the name of the LORD shall be saved.
22 You men of Israel, hear these words; Jesus of Nazareth, a man approved of God among you by miracles and wonders and signs, which God did by him in the midst of you, as you yourselves also know:
23 Him, being delivered by the determinate counsel and foreknowledge of God, you have taken, and by wicked hands have crucified and slain:
24 Whom God has raised up, having loosed the pains of death: because it was not possible that he should be held of it.
25 For David speaks concerning him, I foresaw the LORD always before my face, for he is on my right hand, that I should not be moved:
26 Therefore did my heart rejoice, and my tongue was glad; moreover also my flesh shall rest in hope:
27 Because you will not leave my soul in h*ll, neither will you suffer your Holy One to see corruption.
28 You have made known to me the ways of life; you shall make me full of joy with your countenance.
29 Men and brethren, let me freely speak unto you of the patriarch David, that he is both dead and buried, and his sepulcher is with us unto this day.
30 Therefore being a prophet, and knowing that God had sworn with an oath to him, that of the fruit of his loins, according to the flesh, he would raise up Christ to sit on his throne;
31 He seeing this before spoke of the resurrection of Christ, that his soul was not left in h*ll, neither his flesh did see corruption.
32 This Jesus has God raised up, whereof we all are witnesses.
33 Therefore being by the right hand of God exalted, and having received of the Father the promise of the Holy Ghost, he has shed forth this, which you now see and hear.
34 For David is not ascended into the heavens: but he said himself, The LORD said unto my LORD, Sit you on my right hand,
35 Until I make your foes your footstool.
36 Therefore let all the house of Israel know assuredly, that God has made the same Jesus, whom you have crucified, both LORD and Christ.
37 Now when they heard this, they were pricked in their heart, and said unto Peter and to the rest of the apostles, Men and brethren, what shall we do?
38 Then Peter said unto them, Repent, and be baptized every one of you in the name of Jesus Christ for the remission of sins, and you shall receive the gift of the Holy Ghost.
39 For the promise is unto you, and to your children, and to all that are afar off, even as many as the LORD our God shall call.
40 And with many other words did he testify and exhort, saying, Save yourselves from this untoward generation.