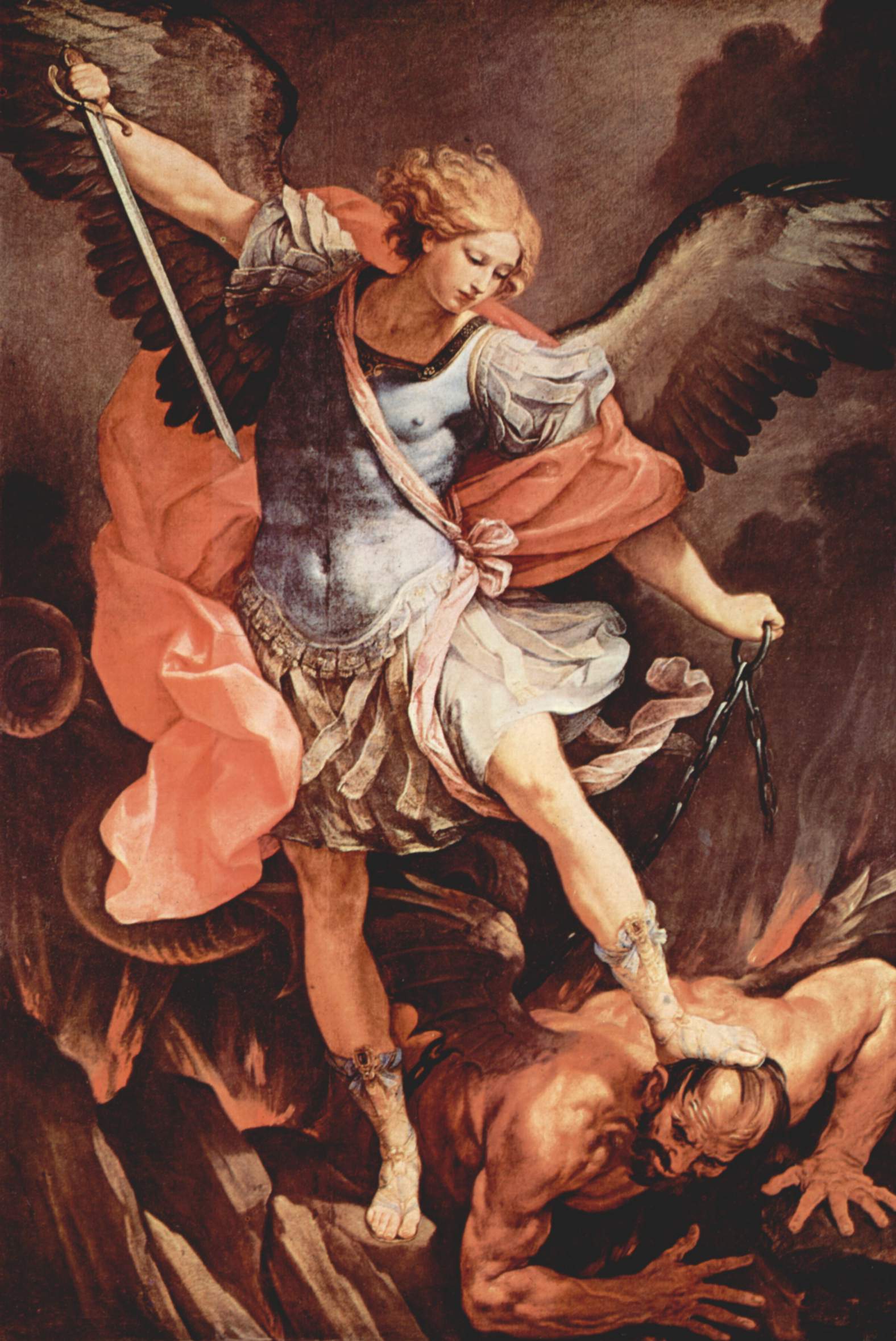 Continuing: As we have recently seen, when the term "wicked one" is used it is in defining the type as like Cain. When we as Christ minded people are called to love we are warned to do it as Christ did, not as Cain. The hate Cain shows is comparable to how the world hates us because we are Christian. The point of today is that we are called to be compassionate, not in words to make ourselves feel as if we are good (superior), but to do so in truth without any under covered self-serving agenda.
I would be negligent if I didn't at this point bring up Saul Alinsky, and the handbook of leftist agitators he authored, "Rules for Radicals." This is a book (seemingly) offhandedly dedicated (an "over the shoulder acknowledgement" as he called it) to Lucifer, who Alinsky said was the first community agitator and was so successful that he won his own kingdom, hell (my paraphrase). One of the book's espoused techniques is to create conflict and in that way bring groups together against who they define as their common enemy. This is what we have recently discussed is being employed by the political agitators and their allies in the leftist [news] media. The enemies of their enemies are their friend, not really, but are useful pawns in their political manipulations.
One of the "rules" used by Alinsky disciples, Obama and Hillary among the most notable, is to make the enemy live up to their own standards. In the case of refugees it is our standard of "compassion." If we claim we have Christian charity (love as compassion) they say we should [blindly] implement it in this case.
The truth is – we who understand the tactic know it as the Siren's Call of the leftists and nothing more than an agenda item to be used as explained above (to create conflict). These are what are known in politics as "wedge issues," and used to force apart people who are their political enemies. We will now fight among ourselves about who is or isn't "compassionate." The left care nothing about the people involved or the effectiveness of the government program they will set up to show their compassion instead of actually doing it. All are merely pawns and pieces in their political power game.
One of their other preeminent "rules" is ridicule, and most often used to combat the truth as it rises. (Rules for Radicals – Rule #5: "Ridicule is man's most potent weapon." There is no defense. It's irrational. It's infuriating. It also works as a key pressure point to force the enemy into concessions.) This comes in the form of demonization and  is the main tool in creating the common enemy that must be vanquished. In these political battles this common enemy becomes both the problem and then any opposition to the deceptions is framed as these demons wanting to continue the evil for which they are responsible. This tactic can be seen in every issue from gun control to global warming. It is never really about the issue, but rather the political power (money – control of the treasury), and the people never seen as anything except to be used in gaining it.
The truth becomes meaningless and in fact is the enemy in this intentionally reversed world void of reality, and of necessity all truthful discourse must be destroyed for it to work. Outcome can't be allowed to be connected to the good intentions falsely stated as the premise, and therefore a lie must and is created that shifts the blame to an existing demon or a newly created one. This is the politics of "crisis" manipulation, the creation of decision points and then manipulation toward self-serving solution, which by design turn into greater problems. It is a never-ending cycle of crisis and solution and at each point those who control the information outlets (the media) define the demons, and the same saviors are raised up once again with more of the same old "good intentioned" "compassionate" "solutions."
Here again is a quote we have looked at in the past in dealing with this same issue of the leftists' deception. From Joseph Goebbels, Hitler's minister of propaganda:
"If you tell a lie big enough and keep repeating it, people will eventually come to believe it. The lie can be maintained only for such time as the State can shield the people from the political, economic and/or military consequences of the lie. It thus becomes vitally important for the State to use all of its powers to repress dissent, for the truth is the mortal enemy of the lie, and thus by extension, the truth is the greatest enemy of the State."
These deceivers seek nothing but to use our Christian compassion against us. Connect the outcome to the stated intentions and in doing you will know them by the fruit and not be deceived by the lying claims of compassion. They are liars and there is no truth in them.
1 John 2
18 Little children, it is the last time: and as ye have heard that antichrist shall come, even now are there many antichrists; whereby we know that it is the last time.
19 They went out from us, but they were not of us; for if they had been of us, they would no doubt have continued with us: but they went out, that they might be made manifest that they were not all of us.
20 But ye have an unction from the Holy One, and ye know all things.
21 I have not written unto you because ye know not the truth, but because ye know it, and that no lie is of the truth.
22 Who is a liar but he that denies that Jesus is the Christ? He is antichrist, that denies the Father and the Son.
23 Whosoever denies the Son, the same hath not the Father: he that acknowledges the Son hath the Father also.
24 Let that therefore abide in you, which ye have heard from the beginning. If that which ye have heard from the beginning shall remain in you, ye also shall continue in the Son, and in the Father.
25 And this is the promise that he hath promised us, even eternal life.
26 These things have I written unto you concerning them that seduce you.
27 But the anointing which ye have received of him abides in you, and ye need not that any man teach you: but as the same anointing teaches you of all things, and is truth, and is no lie, and even as it hath taught you, ye shall abide in him.
28 And now, little children, abide in him; that, when he shall appear, we may have confidence, and not be ashamed before him at his coming.
29 If ye know that he is righteous, ye know that every one that doeth righteousness is born of him.
When the Lord tells of the parable of the tares He defines the one sowing the corrupt seed as the "wicked one." Again this is a reference to Cain, who was also a sower of seed. The seed the Lord tells will be separated from His children are these who will seek to do the same as their father Cain. They come to kill and destroy.
Matthew 13
18 Hear ye therefore the parable of the sower.
19 When any one hears the word of the kingdom, and understands it not, then cometh the wicked one, and catches away that which was sown in his heart. This is he which received seed by the way side.
20 But he that received the seed into stony places, the same is he that hears the word, and anon with joy receives it;
21 Yet hath he not root in himself, but endures for a while: for when tribulation or persecution arises because of the word, by and by he is offended.
22 He also that received seed among the thorns is he that hears the word; and the care of this world, and the deceitfulness of riches, choke the word, and he becomes unfruitful.
23 But he that received seed into the good ground is he that hears the word, and understands it; which also bears fruit, and brings forth, some an hundredfold, some sixty, some thirty.
24 Another parable put he forth unto them, saying, The kingdom of heaven is likened unto a man which sowed good seed in his field:
25 But while men slept, his enemy came and sowed tares among the wheat, and went his way.
26 But when the blade was sprung up, and brought forth fruit, then appeared the tares also.
27 So the servants of the householder came and said unto him, Sir, didst not thou sow good seed in thy field? from whence then hath it tares?
28 He said unto them, An enemy hath done this. The servants said unto him, Wilt thou then that we go and gather them up?
29 But he said, Nay; lest while ye gather up the tares, ye root up also the wheat with them.
30 Let both grow together until the harvest: and in the time of harvest I will say to the reapers, Gather ye together first the tares, and bind them in bundles to burn them: but gather the wheat into my barn.
31 Another parable put he forth unto them, saying, The kingdom of heaven is like to a grain of mustard seed, which a man took, and sowed in his field:
32 Which indeed is the least of all seeds: but when it is grown, it is the greatest among herbs, and becomes a tree, so that the birds of the air come and lodge in the branches thereof.
33 Another parable spoke he unto them; The kingdom of heaven is like unto leaven, which a woman took, and hid in three measures of meal, till the whole was leavened.
34 All these things spoke Jesus unto the multitude in parables; and without a parable spoke he not unto them:
35 That it might be fulfilled which was spoken by the prophet, saying, I will open my mouth in parables; I will utter things which have been kept secret from the foundation of the world.
36 Then Jesus sent the multitude away, and went into the house: and his disciples came unto him, saying, Declare unto us the parable of the tares of the field.
37 He answered and said unto them, He that sows the good seed is the Son of man;
38 The field is the world; the good seed are the children of the kingdom; but the tares are the children of the wicked one;
39 The enemy that sowed them is the devil; the harvest is the end of the world; and the reapers are the angels.
40 As therefore the tares are gathered and burned in the fire; so shall it be in the end of this world.
41 The Son of man shall send forth his angels, and they shall gather out of his kingdom all things that offend, and them which do iniquity;
42 And shall cast them into a furnace of fire: there shall be wailing and gnashing of teeth.
43 Then shall the righteous shine forth as the sun in the kingdom of their Father. Who hath ears to hear, let him hear.
44 Again, the kingdom of heaven is like unto treasure hid in a field; the which when a man hath found, he hides, and for joy thereof goes and sells all that he hath, and buys that field.
45 Again, the kingdom of heaven is like unto a merchant man, seeking goodly pearls:
46 Who, when he had found one pearl of great price, went and sold all that he had, and bought it.
47 Again, the kingdom of heaven is like unto a net, that was cast into the sea, and gathered of every kind:
48 Which, when it was full, they drew to shore, and sat down, and gathered the good into vessels, but cast the bad away.
49 So shall it be at the end of the world: the angels shall come forth, and sever the wicked from among the just,
50 And shall cast them into the furnace of fire: there shall be wailing and gnashing of teeth.
51 Jesus said unto them, "Have ye understood all these things?" They say unto him, "Yea, Lord."
52 Then said he unto them, Therefore every scribe which is instructed unto the kingdom of heaven is like unto a man that is an householder, which brings forth out of his treasure things new and old.
53 And it came to pass, that when Jesus had finished these parables, he departed thence.
54 And when he was come into his own country, he taught them in their synagogue, insomuch that they were astonished, and said, Whence hath this man this wisdom, and these mighty works?
55 Is not this the carpenter's son? is not his mother called Mary? and his brethren, James, and Joses, and Simon, and Judas?
56 And his sisters, are they not all with us? Whence then hath this man all these things?
57 And they were offended in him. But Jesus said unto them, A prophet is not without honour, save in his own country, and in his own house.
58 And he did not many mighty works there because of their unbelief.
John 10
1 Verily, verily, I say unto you, He that enters not by the door into the sheepfold, but climbs up some other way, the same is a thief and a robber.
2 But he that enters in by the door is the shepherd of the sheep.
3 To him the porter opens; and the sheep hear his voice: and he calls his own sheep by name, and leads them out.
4 And when he puts forth his own sheep, he goes before them, and the sheep follow him: for they know his voice.
5 And a stranger will they not follow, but will flee from him: for they know not the voice of strangers.
6 This parable spoke Jesus unto them: but they understood not what things they were which he spoke unto them.
7 Then said Jesus unto them again, Verily, verily, I say unto you, I am the door of the sheep.
8 All that ever came before me are thieves and robbers: but the sheep did not hear them.
9 I am the door: by me if any man enter in, he shall be saved, and shall go in and out, and find pasture.
10 The thief cometh not, but for to steal, and to kill, and to destroy: I am come that they might have life, and that they might have it more abundantly.
11 I am the good shepherd: the good shepherd gives his life for the sheep.
12 But he that is an hireling, and not the shepherd, whose own the sheep are not, sees the wolf coming, and leaves the sheep, and flees: and the wolf catches them, and scatters the sheep.
13 The hireling flees, because he is an hireling, and cares not for the sheep.
14 I am the good shepherd, and know my sheep, and am known of mine.
15 As the Father knows me, even so know I the Father: and I lay down my life for the sheep.
16 And other sheep I have, which are not of this fold: them also I must bring, and they shall hear my voice; and there shall be one fold, and one shepherd.
17 Therefore doth my Father love me, because I lay down my life, that I might take it again.
18 No man takes it from me, but I lay it down of myself. I have power to lay it down, and I have power to take it again. This commandment have I received of my Father.
19 There was a division therefore again among the Jews for these sayings.
20 And many of them said, He hath a devil, and is mad; why hear ye him?
21 Others said, These are not the words of him that hath a devil. Can a devil open the eyes of the blind?
22 And it was at Jerusalem the feast of the dedication, and it was winter.
23 And Jesus walked in the temple in Solomon's porch.
24 Then came the Jews round about him, and said unto him, How long dost thou make us to doubt? If thou be the Christ, tell us plainly.
25 Jesus answered them, I told you, and ye believed not: the works that I do in my Father's name, they bear witness of me.
26 But ye believe not, because ye are not of my sheep, as I said unto you.
27 My sheep hear my voice, and I know them, and they follow me:
28 And I give unto them eternal life; and they shall never perish, neither shall any man pluck them out of my hand.
29 My Father, which gave them me, is greater than all; and no man is able to pluck them out of my Father's hand.
30 I and my Father are one.
31 Then the Jews took up stones again to stone him.
32 Jesus answered them, Many good works have I shown you from my Father; for which of those works do ye stone me?
33 The Jews answered him, saying, For a good work we stone thee not; but for blasphemy; and because that thou, being a man, make thyself God.
34 Jesus answered them, Is it not written in your law, I said, Ye are gods?
35 If he called them gods, unto whom the word of God came, and the scripture cannot be broken;
36 Say ye of him, whom the Father hath sanctified, and sent into the world, Thou blasphemes; because I said, I am the Son of God?
37 If I do not the works of my Father, believe me not.
38 But if I do, though ye believe not me, believe the works: that ye may know, and believe, that the Father is in me, and I in him.
39 Therefore they sought again to take him: but he escaped out of their hand,
40 And went away again beyond Jordan into the place where John at first baptized; and there he abode.
41 And many resorted unto him, and said, John did no miracle: but all things that John spoke of this man were true.
42 And many believed on him there.
Psalm 78
1 Give ear, O my people, to my law: incline your ears to the words of my mouth.
2 I will open my mouth in a parable: I will utter dark sayings of old:
3 Which we have heard and known, and our fathers have told us.
4 We will not hide them from their children, showing to the generation to come the praises of the Lord, and his strength, and his wonderful works that he hath done.
5 For he established a testimony in Jacob, and appointed a law in Israel, which he commanded our fathers, that they should make them known to their children:
6 That the generation to come might know them, even the children which should be born; who should arise and declare them to their children:
7 That they might set their hope in God, and not forget the works of God, but keep his commandments:
8 And might not be as their fathers, a stubborn and rebellious generation; a generation that set not their heart aright, and whose spirit was not steadfast with God.
9 The children of Ephraim, being armed, and carrying bows, turned back in the day of battle.
10 They kept not the covenant of God, and refused to walk in his law;
11 And forgot his works, and his wonders that he had showed them.
12 Marvellous things did he in the sight of their fathers, in the land of Egypt, in the field of Zoan.
13 He divided the sea, and caused them to pass through; and he made the waters to stand as an heap.
14 In the daytime also he led them with a cloud, and all the night with a light of fire.
15 He clave the rocks in the wilderness, and gave them drink as out of the great depths.
16 He brought streams also out of the rock, and caused waters to run down like rivers.
17 And they sinned yet more against him by provoking the most High in the wilderness.
18 And they tempted God in their heart by asking meat for their lust.
19 Yea, they spoke against God; they said, Can God furnish a table in the wilderness?
20 Behold, he smote the rock, that the waters gushed out, and the streams overflowed; can he give bread also? can he provide flesh for his people?
21 Therefore the Lord heard this, and was wroth: so a fire was kindled against Jacob, and anger also came up against Israel;
22 Because they believed not in God, and trusted not in his salvation:
23 Though he had commanded the clouds from above, and opened the doors of heaven,
24 And had rained down manna upon them to eat, and had given them of the corn of heaven.
25 Man did eat angels' food: he sent them meat to the full.
26 He caused an east wind to blow in the heaven: and by his power he brought in the south wind.
27 He rained flesh also upon them as dust, and feathered fowls like as the sand of the sea:
28 And he let it fall in the midst of their camp, round about their habitations.
29 So they did eat, and were well filled: for he gave them their own desire;
30 They were not estranged from their lust. But while their meat was yet in their mouths,
31 The wrath of God came upon them, and slew the fattest of them, and smote down the chosen men of Israel.
32 For all this they sinned still, and believed not for his wondrous works.
33 Therefore their days did he consume in vanity, and their years in trouble.
34 When he slew them, then they sought him: and they returned and enquired early after God.
35 And they remembered that God was their rock, and the high God their redeemer.
36 Nevertheless they did flatter him with their mouth, and they lied unto him with their tongues.
37 For their heart was not right with him, neither were they steadfast in his covenant.
38 But he, being full of compassion, forgave their iniquity, and destroyed them not: yea, many a time turned he his anger away, and did not stir up all his wrath.
39 For he remembered that they were but flesh; a wind that passes away, and cometh not again.
40 How oft did they provoke him in the wilderness, and grieve him in the desert!
41 Yea, they turned back and tempted God, and limited the Holy One of Israel.
42 They remembered not his hand, nor the day when he delivered them from the enemy.
43 How he had wrought his signs in Egypt, and his wonders in the field of Zoan.
44 And had turned their rivers into blood; and their floods, that they could not drink.
45 He sent divers sorts of flies among them, which devoured them; and frogs, which destroyed them.
46 He gave also their increase unto the caterpiller, and their labour unto the locust.
47 He destroyed their vines with hail, and their sycomore trees with frost.
48 He gave up their cattle also to the hail, and their flocks to hot thunderbolts.
49 He cast upon them the fierceness of his anger, wrath, and indignation, and trouble, by sending evil angels among them.
50 He made a way to his anger; he spared not their soul from death, but gave their life over to the pestilence;
51 And smote all the firstborn in Egypt; the chief of their strength in the tabernacles of Ham:
52 But made his own people to go forth like sheep, and guided them in the wilderness like a flock.
53 And he led them on safely, so that they feared not: but the sea overwhelmed their enemies.
54 And he brought them to the border of his sanctuary, even to this mountain, which his right hand had purchased.
55 He cast out the heathen also before them, and divided them an inheritance by line, and made the tribes of Israel to dwell in their tents.
56 Yet they tempted and provoked the most high God, and kept not his testimonies:
57 But turned back, and dealt unfaithfully like their fathers: they were turned aside like a deceitful bow.
58 For they provoked him to anger with their high places, and moved him to jealousy with their graven images.
59 When God heard this, he was wroth, and greatly abhorred Israel:
60 So that he forsook the tabernacle of Shiloh, the tent which he placed among men;
61 And delivered his strength into captivity, and his glory into the enemy's hand.
62 He gave his people over also unto the sword; and was wroth with his inheritance.
63 The fire consumed their young men; and their maidens were not given to marriage.
64 Their priests fell by the sword; and their widows made no lamentation.
65 Then the Lord awaked as one out of sleep, and like a mighty man that shouts by reason of wine.
66 And he smote his enemies in the hinder parts: he put them to a perpetual reproach.
67 Moreover he refused the tabernacle of Joseph, and chose not the tribe of Ephraim:
68 But chose the tribe of Judah, the mount Zion which he loved.
69 And he built his sanctuary like high palaces, like the earth which he hath established for ever.
70 He chose David also his servant, and took him from the sheepfolds:
71 From following the ewes great with young he brought him to feed Jacob his people, and Israel his inheritance.
72 So he fed them according to the integrity of his heart; and guided them by the skilfulness of his hands.