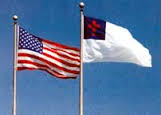 Today a bit on the meaning of the "wall of separation between church and state," and the completely different meaning in the First Amendment saying, "Congress shall make no law respecting an establishment of religion, or prohibiting the free exercise thereof."
There is a difference between "religion" and the "church." Religion is the means and methods of practice (exercise) what one believes. The church is the group of people who believe, each of the sects considering themselves "The Church" apart and aside from others – because of their religious exercises (the practices that separate them).
In matters of religion and church there is no better place than the scriptures to look for their meaning, as the founders would have understood the terms. The most notable of the English word religion being used is twice in James 1:26 & 27 stating what is defined as "Pure religion." There we see it not only defining what "religious" practice is but also its purest sense.
James 1
22 But be ye doers of the word, and not hearers only, deceiving your own selves.
23 For if any be a hearer of the word, and not a doer, he is like unto a man beholding his natural face in a glass:
24 For he beholds himself, and goes his way, and straightway forgets what manner of man he was.
25 But whoso looks into the perfect law of liberty, and continues therein, he being not a forgetful hearer, but a doer of the work, this man shall be blessed in his deed.
26 If any man among you seem to be religious, and bridles not his tongue, but deceives his own heart, this man's religion is vain.
27 Pure religion and undefiled before God and the Father is this, To visit the fatherless and widows in their affliction, and to keep himself unspotted from the world.
(As a short aside: the idea of this purist form of religion being to visit widows and orphans creates a paradoxical challenge for one of the many other modern mutations of Constitutional interpretation. The general welfare clause as it is now interpreted (charity) would be a religious practice and should logically be invalid (walled off) as interpreted and implemented.)
The Greek word is threskeia, meaning the ceremonial aspect of practicing religion, and is also translated as worship.
Congress shall make no law respecting the establishment of a (among many opinions choosing one) specific religion (one sects practices), nor shall it prohibiting the free exercise (practice) thereof. (This is the meaning that has been rejected by the mutated nation that now seeks to eliminate and outlaw God.)
Each of the thirteen states at the time of the Constitution being written had an established religion. The fear was that if the Constitution was ratified the majority religion would be voted on, its practices would be established by law as the state (U.S.) church, and all would be forced to accept its practices.
The origin of "the wall of separation between church and state" is meant in this context. There would be no established U.S. church. The Greek word church is ekklesia, literally being a calling out, therefore a popular meeting. It is well known to mean and define the whole group of the One body of Christ. We see this aspect in its use in Hebrews 12 as it defines the General Assembly of true believers. It is the kingdom come on earth.
Hebrews 12
22 But ye are come unto mount Zion, and unto the city of the living God, the heavenly Jerusalem, and to an innumerable company of angels,
23 To the general assembly and church of the firstborn, which are written in heaven, and to God the Judge of all, and to the spirits of just men made perfect,
24 And to Jesus the mediator of the new covenant, and to the blood of sprinkling, that speaks better things than that of Abel.
25 See that ye refuse not him that speaks. For if they escaped not who refused him that spoke on earth, much more shall not we escape, if we turn away from him that speaks from heaven:
26 Whose voice then shook the earth: but now he hath promised, saying, Yet once more I shake not the earth only, but also heaven.
27 And this word, Yet once more, signifies the removing of those things that are shaken, as of things that are made, that those things which cannot be shaken may remain.
28 Wherefore we receiving a kingdom which cannot be moved, let us have grace, whereby we may serve God acceptably with reverence and godly fear:
29 For our God is a consuming fire.
We see this above understanding in the context of Jefferson's letter containing the original "separation" phrase. Jefferson wrote the letter to the Danbury Baptist (sect) Association after an election in which he had been attacked by the Congregationalists (religious sect of which John Adams was a member). It is defining a metaphoric wall that keeps the state from recognizing (establishing) any sect of Christianity as "the church."
From the attached article which should also be read it total:
"On New Year's Day, 1802, President Jefferson penned a missive to the Baptist Association of Danbury, Connecticut. The Baptists had written the President a "fan" letter in October 1801, congratulating him on his election to the "chief Magistracy in the United States." They celebrated Jefferson's zealous advocacy for religious liberty and chastised those who had criticized him "as an enemy of religion[,] Law & good order because he will not, dares not assume the prerogative of Jehovah and make Laws to govern the Kingdom of Christ."
In a carefully crafted reply, Jefferson endorsed the persecuted Baptists' aspirations for religious liberty:
Believing with you that religion is a matter which lies solely between Man & his God, that he owes account to none other for his faith or his worship, that the legitimate powers of government reach actions only, & not opinions, I contemplate with sovereign reverence that act of the whole American people which declared that their legislature should "make no law respecting an establishment of religion, or prohibiting the free exercise thereof," thus building a wall of separation between Church & State.
Although today Jefferson's Danbury letter is thought of as a principled statement on the prudential and constitutional relationship between church and state, it was in fact a political statement written to reassure pious Baptist constituents that Jefferson was indeed a friend of religion and to strike back at the Federalist-Congregationalist establishment in Connecticut for shamelessly vilifying him as an infidel and atheist in the recent campaign. James H. Hutson of the Library of Congress has concluded that the President "regarded his reply to the Danbury Baptists as a political letter, not as a dispassionate theoretical pronouncement on the relations between government and religion."
Isaiah 30
8 Now go, write it before them in a table, and note it in a book, that it may be for the time to come for ever and ever:
9 That this is a rebellious people, lying children, children that will not hear the law of the Lord:
10 Which say to the seers, See not; and to the prophets, Prophesy not unto us right things, speak unto us smooth things, prophesy deceits:
11 Get you out of the way, turn aside out of the path, cause the Holy One of Israel to cease from before us.
12 Wherefore thus saith the Holy One of Israel, Because ye despise this word, and trust in oppression and perverseness, and stay thereon:
13 Therefore this iniquity shall be to you as a breach ready to fall, swelling out in a high wall, whose breaking cometh suddenly at an instant.
14 And he shall break it as the breaking of the potters' vessel that is broken in pieces; he shall not spare: so that there shall not be found in the bursting of it a sherd to take fire from the hearth, or to take water withal out of the pit.
15 For thus saith the Lord God, the Holy One of Israel; In returning and rest shall ye be saved; in quietness and in confidence shall be your strength: and ye would not.
16 But ye said, No; for we will flee upon horses; therefore shall ye flee: and, We will ride upon the swift; therefore shall they that pursue you be swift.
17 One thousand shall flee at the rebuke of one; at the rebuke of five shall ye flee: till ye be left as a beacon upon the top of a mountain, and as an ensign on an hill.
18 And therefore will the Lord wait, that he may be gracious unto you, and therefore will he be exalted, that he may have mercy upon you: for the Lord is a God of judgment: blessed are all they that wait for him.
Paid for by TimD2016 – Tim D'Annunzio for US Congress NC District 2
http://www.heritage.org/research/reports/2006/06/the-mythical-wall-of-separation-how-a-misused-metaphor-changed-church-state-law-policy-and-discourse#.Vqq7aj20f7A.facebook