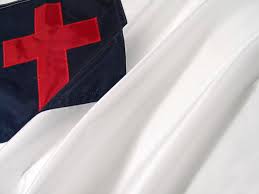 Continuing: What is the evidence of the regeneration and the new birth? The question is in the context of yesterday's discussion about a relationship that goes from superficial to one that is internal. Regeneration is what God's word tells us is a new heart created by our mind transforming into the mind of Christ. It is our heart as the center of our reasoning and a mind focused on God's will rather than our own.
The LORD's Prayer is specific in telling us His prescription for achieving this. It isn't as it has become just empty words. Luke 11 records the Prayer as this: "Our Father who is in the heavens, Holy is your name. Let your reign and rule come. Let your will be done, as it is in heaven, also on the earth. The bread we need give us day by day. And forgive us our sins; we also forgive every one that is indebted to us. And lead us not into temptation; but deliver us from evil.
It tells us our Father God reigns and rules, and of our having become His sons by aspiration of His wisdom by the working of His Holy Spirit. The regeneration comes as His will become ours and is done through us as the Holy Spirit in us Acts in Consort with God on the earth to bring further regeneration (of minds with new thinking and reasoning).
How do you know if you have been regenerated and are in Consort? The answer is – the focus of our effort changes.
When I say I see no evidence of this happening in God's people I mean there is no change of focus. The vast majority of the preaching is about how to make yourself better so you are able to accomplish your own will on earth.
It is the same old thing with all the religious and political leading and teaching. It is men teaching their own ways to preach and teach how to accomplish material success. That success is usually about how to have dominion over other men – meaning how to dominate them to victimize (persecute) away their liberty and bring them and their life and property under your control.
This is the same thing I have been preaching and teaching from the beginning. It is about internal control (self-government as self-control), having breathed in (aspired) the ways of life (God's wisdom) able to breath it out. It is civilization that has developed through a society doing the same, and the resulting reciprocal respect brings security (peace) to all. It is an individual focus on producing positive external effects by what comes out of us. (And that never comes from empowering a government to use its force of law to impose its self-created version or morality and ethics that victimizes some to satisfy the grievances of others. Nor does it come by following men who preach and teach such things just to raise themselves to power or become rich.) Now – don't add to what I've just said to change it into something you can use against me. You only prove my point by doing so and in turn condemn yourself.
Titus 3
1 Put them in mind to be subject to principalities and powers, to obey magistrates, to be ready to every good work,
2 To speak evil of no man, to be no brawlers, but gentle, showing all meekness unto all men.
3 For we ourselves also were sometimes foolish, disobedient, deceived, serving divers lusts and pleasures, living in malice and envy, hateful, and hating one another.
4 But after that the kindness and love of God our Savior toward man appeared,
5 Not by works of righteousness which we have done, but according to his mercy he saved us, by the washing of regeneration, and renewing of the Holy Ghost;
6 Which he shed on us abundantly through Jesus Christ our Savior;
7 That being justified by his grace, we should be made heirs according to the hope of eternal life.
8 This is a faithful saying, and these things I will that you affirm constantly, that they which have believed in God might be careful to maintain good works. These things are good and profitable unto men.
9 But avoid foolish questions, and genealogies, and contentions, and strivings about the law; for they are unprofitable and vain.
10 A man that is an heretic after the first and second admonition reject;
11 Knowing that he that is such is subverted, and sins, being condemned of himself.
So, what do I have to say about all the false preachers and the rulers that have made themselves rich men or have gained positions of power from doing what it is their duty to do?
If you will be perfect, go and sell that you have, and give to the poor, and you shall have treasure in heaven: and come and follow me.
22 But when the young man heard that saying, he went away sorrowful: for he had great possessions.
23 Then said Jesus unto his disciples, Truly I say unto you, That a rich man shall hardly enter into the kingdom of heaven.
24 And again I say unto you, It is easier for a camel to go through the eye of a needle, than for a rich man to enter into the kingdom of God.
25 When his disciples heard it, they were exceedingly amazed, saying, Who then can be saved?
26 But Jesus beheld them, and said unto them, With men this is impossible; but with God all things are possible.
27 Then answered Peter and said unto him, Behold, we have forsaken all, and followed you; what shall we have therefore?
28 And Jesus said unto them, Verily I say unto you, That you which have followed me, in the regeneration when the Son of man shall sit in the throne of his glory, you also shall sit upon twelve thrones, judging the twelve tribes of Israel.
29 And every one that hath forsaken houses, or brethren, or sisters, or father, or mother, or wife, or children, or lands, for my name's sake, shall receive an hundredfold, and shall inherit everlasting life.
30 But many that are first shall be last; and the last shall be first.
Luke 11
1 And it came to pass, that, as he was praying in a certain place, when he ceased, one of his disciples said unto him, LORD, teach us to pray, as John also taught his disciples.
2 And he said unto them, When you pray, say, Our Father which art in heaven, Hallowed be your name. Your kingdom come. Your will be done, as in heaven, so in earth.
3 Give us day by day our daily bread.
4 And forgive us our sins; for we also forgive every one that is indebted to us. And lead us not into temptation; but deliver us from evil.
5 And he said unto them, Which of you shall have a friend, and shall go unto him at midnight, and say unto him, Friend, lend me three loaves;
6 For a friend of mine in his journey is come to me, and I have nothing to set before him?
7 And he from within shall answer and say, Trouble me not: the door is now shut, and my children are with me in bed; I cannot rise and give you.
8 I say unto you, Though he will not rise and give him, because he is his friend, yet because of his importunity he will rise and give him as many as he needs.
9 And I say unto you, Ask, and it shall be given you; seek, and you shall find; knock, and it shall be opened unto you.
10 For every one that asks receives; and he that seeks finds; and to him that knocks it shall be opened.
11 If a son shall ask bread of any of you that is a father, will he give him a stone? or if he ask a fish, will he for a fish give him a serpent?
12 Or if he shall ask an egg, will he offer him a scorpion?
13 If you then, being evil, know how to give good gifts unto your children: how much more shall your heavenly Father give the Holy Spirit to them that ask him?
14 And he was casting out a devil, and it was dumb. And it came to pass, when the devil was gone out, the dumb spoke; and the people wondered.
15 But some of them said, He casts out devils through Beelzebub the chief of the devils.
16 And others, tempting him, sought of him a sign from heaven.
17 But he, knowing their thoughts, said unto them, Every kingdom divided against itself is brought to desolation; and a house divided against a house falls.
18 If Satan also be divided against himself, how shall his kingdom stand? because you say that I cast out devils through Beelzebub.
19 And if I by Beelzebub cast out devils, by whom do your sons cast them out? therefore shall they be your judges.
20 But if I with the finger of God cast out devils, no doubt the kingdom of God is come upon you.
21 When a strong man armed keeps his palace, his goods are in peace:
22 But when a stronger than he shall come upon him, and overcome him, he takes from him all his armor wherein he trusted, and divides his spoils.
23 He that is not with me is against me: and he that gathers not with me scatters.
24 When the unclean spirit is gone out of a man, he walks through dry places, seeking rest; and finding none, he said, I will return unto my house whence I came out.
25 And when he cometh, he finds it swept and garnished.
26 Then goes he, and takes to him seven other spirits more wicked than himself; and they enter in, and dwell there: and the last state of that man is worse than the first.
27 And it came to pass, as he spoke these things, a certain woman of the company lifted up her voice, and said unto him, Blessed is the womb that bare you, and the paps which you hast sucked.
28 But he said, Yea rather, blessed are they that hear the word of God, and keep it.
29 And when the people were gathered thick together, he began to say, This is an evil generation: they seek a sign; and there shall no sign be given it, but the sign of Jonas the prophet.
30 For as Jonas was a sign unto the Ninevites, so shall also the Son of man be to this generation.
31 The queen of the south shall rise up in the judgment with the men of this generation, and condemn them: for she came from the utmost parts of the earth to hear the wisdom of Solomon; and, behold, a greater than Solomon is here.
32 The men of Nineve shall rise up in the judgment with this generation, and shall condemn it: for they repented at the preaching of Jonas; and, behold, a greater than Jonas is here.
33 No man, when he hath lighted a candle, puts it in a secret place, neither under a bushel, but on a candlestick, that they which come in may see the light.
34 The light of the body is the eye: therefore when your eye is single, your whole body also is full of light; but when your eye is evil, your body also is full of darkness.
35 Take heed therefore that the light which is in you be not darkness.
36 If your whole body therefore be full of light, having no part dark, the whole shall be full of light, as when the bright shining of a candle doth give you light.
37 And as he spoke, a certain Pharisee besought him to dine with him: and he went in, and sat down to meat.
38 And when the Pharisee saw it, he marveled that he had not first washed before dinner.
39 And the LORD said unto him, Now do you Pharisees make clean the outside of the cup and the platter; but your inward part is full of ravening and wickedness.
40 You fools, did not he that made that which is without make that which is within also?
41 But rather give alms of such things as you have; and, behold, all things are clean unto you.
42 But woe unto you, Pharisees! for you tithe mint and rue and all manner of herbs, and pass over judgment and the love of God: these ought you to have done, and not to leave the other undone.
43 Woe unto you, Pharisees! for you love the uppermost seats in the synagogues, and greetings in the markets.
44 Woe unto you, scribes and Pharisees, hypocrites! for you are as graves which appear not, and the men that walk over them are not aware of them.
45 Then answered one of the lawyers, and said unto him, Master, thus saying you reproach us also.
46 And he said, Woe unto you also, you lawyers! for you lade men with burdens grievous to be borne, and you yourselves touch not the burdens with one of your fingers.
47 Woe unto you! for you build the tombs of the prophets, and your fathers killed them.
48 Truly you bear witness that you allow the deeds of your fathers: for they indeed killed them, and you build their tombs.
49 Therefore also said the wisdom of God, I will send them prophets and apostles, and some of them they shall slay and persecute:
50 That the blood of all the prophets, which was shed from the foundation of the world, may be required of this generation;
51 From the blood of Abel unto the blood of Zacharias which perished between the altar and the temple: verily I say unto you, It shall be required of this generation.
52 Woe unto you, lawyers! for you have taken away the key of knowledge: you entered not in yourselves, and them that were entering in you hindered.
53 And as he said these things unto them, the scribes and the Pharisees began to urge him vehemently, and to provoke him to speak of many things:
54 Laying wait for him, and seeking to catch something out of his mouth, that they might accuse him.
2 Timothy 3
1 This know also, that in the last days perilous times shall come.
2 For men shall be lovers of their own selves, covetous, boasters, proud, blasphemers, disobedient to parents, unthankful, unholy,
3 Without natural affection, trucebreakers, false accusers, incontinent, fierce, despisers of those that are good,
4 Traitors, heady, high-minded, lovers of pleasures more than lovers of God;
5 Having a form of godliness, but denying the power (to change people's minds) thereof: from such turn away.
6 For of this sort are they which creep into houses, and lead captive silly women laden with sins, led away with divers lusts,
7 Ever learning, and never able to come to the knowledge of the truth.
8 Now as Jannes and Jambres withstood Moses, so do these also resist the truth: men of corrupt minds, reprobate concerning the faith.
9 But they shall proceed no further: for their folly shall be manifest unto all men, as theirs also was.
10 But you hast fully known my doctrine, manner of life, purpose, faith, longsuffering, charity, patience,
11 Persecutions, afflictions, which came unto me at Antioch, at Iconium, at Lystra; what persecutions I endured: but out of them all the LORD delivered me.
12 Yea, and all that will live godly in Christ Jesus shall suffer persecution.
13 But evil men and seducers shall wax worse and worse, deceiving, and being deceived.
14 But continue you in the things which you hast learned and hast been assured of, knowing of whom you hast learned them;
15 And that from a child you hast known the holy scriptures, which are able to make you wise unto salvation through faith which is in Christ Jesus.
16 All scripture is given by inspiration o (breathed from) God, and is profitable for doctrine, for reproof, for correction, for instruction in righteousness:
17 That the man of God may be perfect, thoroughly furnished unto all good works.
Isaiah 8 (Remember the waters of Shiloah are the waters that secretly flow under Zion. The Assyrian king (Obama) is the foreign king ruling over the LORD's people and who they trust in. Judah is the symbol the leader (the elite class as the firsts) of God's people.)
5 The LORD spoke also unto me again, saying,
6 Forasmuch as this people refuse the waters of Shiloah that go softly, and rejoice in Rezin and Remaliah's son;
7 Now therefore, behold, the LORD brings up upon them the waters of the river, strong and many, even the king of Assyria, and all his glory: and he shall come up over all his channels, and go over all his banks:
8 And he shall pass through Judah; he shall overflow and go over, he shall reach even to the neck; and the stretching out of his wings shall fill the breadth of your land, O Immanuel.
9 Associate yourselves, O you people, and you shall be broken in pieces; and give ear, all you of far countries: gird yourselves, and you shall be broken in pieces; gird yourselves, and you shall be broken in pieces.
10 Take counsel together, and it shall come to naught; speak the word, and it shall not stand: for God is with us.
11 For the LORD spoke thus to me with a strong hand, and instructed me that I should not walk in the way of this people, saying,
12 Say you not, A confederacy, to all them to whom this people shall say, A confederacy; neither fear you their fear, nor be afraid.
13 Sanctify the LORD of hosts himself; and let him be your fear, and let him be your dread.
14 And he shall be for a sanctuary; but for a stone of stumbling and for a rock of offence to both the houses of Israel, for a gin and for a snare to the inhabitants of Jerusalem.
15 And many among them shall stumble, and fall, and be broken, and be snared, and be taken.
16 Bind up the testimony, seal the law among my disciples.
17 And I will wait upon the LORD, that hides his face from the house of Jacob, and I will look for him.
18 Behold, I and the children whom the LORD hath given me are for signs and for wonders in Israel from the LORD of hosts, which dwells in mount Zion.
19 And when they shall say unto you, Seek unto them that have familiar spirits, and unto wizards that peep, and that mutter: should not a people seek unto their God? for the living to the dead?
20 To the law and to the testimony: if they speak not according to this word, it is because there is no light in them.
21 And they shall pass through it, hardly bestead and hungry: and it shall come to pass, that when they shall be hungry, they shall fret themselves, and curse their king and their God, and look upward.
22 And they shall look unto the earth; and behold trouble and darkness, dimness of anguish; and they shall be driven to darkness.