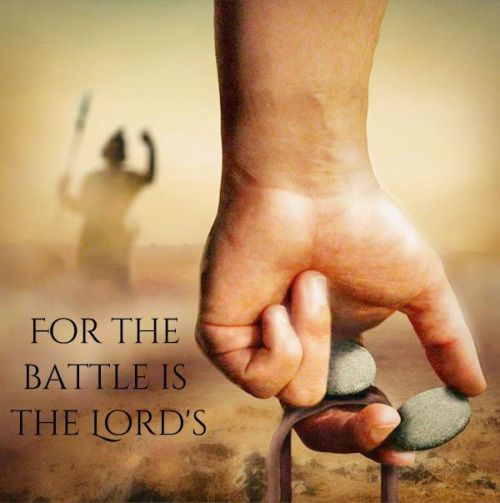 Many shall be purified, and made white, and tried; but the wicked shall do wickedly: and none of the wicked shall understand; but the wise shall understand.
Continuing: In the prior post, we discussed David saying the word of the LORD is tried (tsaraph) and becomes a shield (megan) to those who receive it as the power of the LORD in us, and the means of our warfare. The title, from Daniel 12:10, is speaking of the same word, and by it we are "tried" (tsaraph) and purified. This trial is the "vexation" spoken of in Isaiah 28:19, as the LORD tells of His teaching men into a state of rest and refreshing, which they rejected, instead choosing to remain in the covenant they made with death. In verse 19 the LORD says he will send His teaching word, morning after morning, and the only vexation is the understand the report.
We have seen over and over again, precept by precept, line by line, God's word saying it is the wickedness of the lost, meaning they not only rejecting His teaching but also slander the work of the Holy Spirit, that keeps this gospel hidden from their understanding.
3 But if our gospel be hid, it is hid to them that are lost:
4 In whom the god of this world has blinded the minds of them which believe not [that Chris is in our flesh speaking to them], lest the light of the glorious gospel of Christ, who is the image of God, should shine unto them.)
1 Beloved, believe not every spirit, but try the spirits whether they are of God: because many false prophets are gone out into the world.
2 Hereby know you the Spirit of God: Every spirit that confesses that Jesus Christ is come in the flesh is of God:
3 And every spirit that confesses not that Jesus Christ is come in the flesh is not of God: and this is that spirit of antichrist, whereof you have heard that it should come; and even now already is it in the world.
4 You are of God, little children, and have overcome them: because greater is he that is in you, than he that is in the world.
5 They are of the world: therefore speak they of the world, and the world hears them.
6 We are of God: he that knows God hears us; he that is not of God hears not us. Hereby know we the spirit of truth, and the spirit of error.
The wise of this world are failing the test miserably, because they roam in the theoretical world of their own creation, which is itself an experiment verifying their ideas have failed. These wicked men need to understand they are in a war they will never win, and they should fear the One they have by choice made their enemy. "The fear of the LORD is the beginning of wisdom: a good understanding have all they that do his commandments."
4 (For the weapons of our warfare are not carnal, but mighty through God to the pulling down of strong holds;)
5 Casting down imaginations, and every high thing that exalts itself against the knowledge of God, and bringing into captivity every thought to the obedience of Christ;
6 And having in a readiness to revenge all disobedience, when your obedience is fulfilled.
7 Do you look on things after the outward appearance? if any man trust to himself that he is Christ's, let him of himself think this again, that, as he is Christ's, even so are we Christ's.
8 For though I should boast somewhat more of our authority, which the LORD has given us for edification, and not for your destruction, I should not be ashamed:
9 That I may not seem as if I would terrify you by letters.
10 For his letters, say they, are weighty and powerful; but his bodily presence is weak, and his speech contemptible.
11 Let such an one think this, that, such as we are in word by letters when we are absent, such will we be also in deed when we are present.
12 For we dare not make ourselves of the number, or compare ourselves with some that commend themselves: but they measuring themselves by themselves, and comparing themselves among themselves, are not wise.
7 But they also have erred through wine, and through strong drink are out of the way; the priest and the prophet have erred through strong drink, they are swallowed up of wine, they are out of the way through strong drink; they err in vision, they stumble in judgment.
8 For all tables are full of vomit and filthiness, so that there is no place clean.
9 Whom shall he teach knowledge? and whom shall he make to understand doctrine? them that are weaned from the milk, and drawn from the breasts.
10 For precept must be upon precept, precept upon precept; line upon line, line upon line; here a little, and there a little:
11 For with stammering lips and another tongue will he speak to this people.
12 To whom he said, This is the rest wherewith you may cause the weary to rest; and this is the refreshing: yet they would not hear.
13 But the word of the LORD was unto them precept upon precept, precept upon precept; line upon line, line upon line; here a little, and there a little; that they might go, and fall backward, and be broken, and snared, and taken.
14 Wherefore hear the word of the LORD, you scornful men, that rule this people which is in Jerusalem.
15 Because you have said, We have made a covenant with death, and with Sheol [this world: the habitation of the dead] are we at agreement; when the overflowing scourge shall pass through, it shall not come unto us: for we have made lies our refuge, and under falsehood have we hid ourselves:
16 Therefore thus says the LORD God, Behold, I lay in Zion for a foundation a stone, a tried stone, a precious corner stone, a sure foundation: he that believes shall not make haste.
17 Judgment also will I lay to the line, and righteousness to the plummet: and the hail shall sweep away the refuge of lies, and the waters shall overflow the hiding place.
18 And your covenant with death shall be disannulled, and your agreement with Sheol [this world: the habitation of the dead] shall not stand; when the overflowing scourge shall pass through, then you shall be trodden down by it.
19 From the time that it goes forth it shall take you: for morning by morning shall it pass over, by day and by night: and it shall be a vexation only to understand the report.
Daniel 12 tells of this time as the time when God's people are delivered, as Michael stands (his name meaning, he who is like God: has the mind of Christ). He says this is the time of the resurrection of the dead, when God again creates man from the dust of the earth, as He did Adam. Daniel is also told there will be serpents raised into God's new creation, but these are those raised into everlasting contempt.
1 And at that time shall Michael stand up, the great prince which stands for the children of your people: and there shall be a time of trouble, such as never was since there was a nation even to that same time: and at that time your people shall be delivered, every one that shall be found written in the book.
2 And many of them that sleep in the dust of the earth shall awake, some to everlasting life, and some to shame and everlasting contempt.
3 And they that be wise shall shine as the brightness of the firmament; and they that turn many to righteousness as the stars for ever and ever.
42 So also is the resurrection of the dead. It is sown in corruption; it is raised in incorruption:
43 It is sown in dishonor; it is raised in glory: it is sown in weakness; it is raised in power:
44 It is sown a natural body; it is raised a spiritual body. There is a natural body, and there is a spiritual body.
45 And so it is written, The first man Adam was made a living soul; the last Adam was made a quickening spirit [a man with the Spirit of God in Him, reproducing after His own kind and bringing others to life by the same Spirit born in them].
46 Howbeit that was not first which is spiritual, but that which is natural; and afterward that which is spiritual.
47 The first man is of the earth, earthy; the second man is the LORD from heaven.
48 As is the earthy, such are they also that are earthy: and as is the heavenly, such are they also that are heavenly.
49 And as we have borne the image of the earthy, we shall also bear the image of the heavenly.
The Hebrew word malat is used by Daniel to tell of this deliverance: when a man frees himself from the snare of the devil: escaping by acquiring knowledge, understanding, and using wisdom. Proverbs 28: 26 He that trusts in his own heart is a fool: but whoso walks wisely, he shall be delivered [malat].
1 You therefore, my son, be strong in the grace that is in Christ Jesus.
2 And the things that you have heard of me among many witnesses, the same commit you to faithful men, who shall be able to teach others also.
3 You therefore endure hardness, as a good soldier of Jesus Christ.
4 No man that wars entangles himself with the affairs of this life; that he may please him who has chosen him to be a soldier.
5 And if a man also strive for masteries, yet is he not crowned, except he strive lawfully.
6 The husbandman that labors must be first partaker of the fruits [2 Thessalonians 3:10, "this we commanded you, that if any would not work, neither should he eat].
7 Consider what I say; and the LORD give you understanding in all things [without labor there is no fruit, no understanding].
8 Remember that Jesus Christ of the seed of David was raised from the dead according to my gospel:
9 Wherein I suffer trouble, as an evil doer, even unto bonds; but the word of God is not bound.
10 Therefore I endure all things for the elect's sakes, that they may also obtain the salvation which is in Christ Jesus with eternal glory.
11 It is a faithful saying: For if we be dead with him, we shall also live with him:
12 If we suffer, we shall also reign with him: if we deny him, he also will deny us:
13 If we believe not, yet he abides faithful: he cannot deny himself.
14 Of these things put them in remembrance, charging them before the LORD that they strive not about words to no profit, but to the subverting of the hearers.
15 Study to shew yourself approved unto God, a workman that need not to be ashamed, rightly dividing the word of truth.
16 But shun profane and vain babblings: for they will increase unto more ungodliness.
17 And their word will eat as does a canker: of whom is Hymenaeus [joined with idols and encouraging others to join with them in their errors] and Philetus [counterfeit love, the feminized snowflakes who stand for nothing];
18 Who concerning the truth have erred, saying that the resurrection is past already; and overthrow the faith of some.
19 Nevertheless the foundation of God stands sure, having this seal, The LORD knows them that are his. And, let every one that names the name of Christ depart from iniquity.
20 But in a great house there are not only vessels of gold and of silver, but also of wood and of earth; and some to honor, and some to dishonor [those defined above].
21 If a man therefore purge himself from these [these men and their ways dishonoring God], he shall be a vessel unto honor, sanctified, and meet for the master's use, and prepared unto every good work.
22 Flee also youthful lusts: but follow righteousness, faith, charity, peace, with them that call on the LORD out of a pure heart.
23 But foolish and unlearned questions avoid, knowing that they do gender strifes [are not seeking to understand, but only to start and continue the never ending argument (the fall into the bottomless pit)].
24 And the servant of the LORD must not strive; but be gentle unto all men, apt to teach, patient,
25 In meekness [strong and powerful, but not toward destruction of anything but ignorance and lies] instructing those that oppose themselves; if God peradventure will give them repentance to the acknowledging of the truth;
26 And that they may recover themselves out of the snare of the devil, who are taken captive by him at his will.
1 The wicked flee when no man pursues: but the righteous are bold as a lion.
2 For the transgression of a land many are the princes thereof: but by a man of understanding and knowledge the state thereof shall be prolonged.
3 A poor man that oppresses the poor is like a sweeping rain which leaves no food.
4 They that forsake the law praise the wicked: but such as keep the law contend with them.
5 Evil men understand not judgment: but they that seek the LORD understand all things.
6 Better is the poor that walks in his uprightness, than he that is perverse in his ways, though he be rich.
7 Whoso keeps the law is a wise son: but he that is a companion of riotous men shames his father.
8 He that by usury and unjust gain increases his substance, he shall gather it for him that will pity the poor.
9 He that turns away his ear from hearing the law, even his prayer shall be abomination.
10 Whoso causes the righteous to go astray in an evil way, he shall fall himself into his own pit: but the upright shall have good things in possession.
11 The rich man is wise in his own conceit; but the poor that has understanding searches him out.
12 When righteous men do rejoice, there is great glory: but when the wicked rise, a man is hidden.
13 He that covers his sins shall not prosper: but whoso confesses and forsakes them shall have mercy.
14 Happy is the man that fears always: but he that hardens his heart shall fall into mischief.
15 As a roaring lion, and a ranging bear; so is a wicked ruler over the poor people.
16 The prince that wants understanding is also a great oppressor: but he that hateth covetousness shall prolong his days.
17 A man that does violence to the blood of any person shall flee to the pit; let no man stay him.
18 Whoso walks uprightly shall be saved: but he that is perverse in his ways shall fall at once.
19 He that tills his land shall have plenty of bread: but he that follows after vain persons shall have poverty enough.
20 A faithful man shall abound with blessings: but he that makes haste to be rich shall not be innocent.
21 To have respect of persons is not good: for for a piece of bread that man will transgress.
22 He that hastes to be rich has an evil eye, and considers not that poverty shall come upon him.
23 He that rebukes a man afterwards shall find more favor than he that flatters with the tongue.
24 Whoso robs his father or his mother, and says, It is no transgression; the same is the companion of a destroyer.
25 He that is of a proud heart stirs up strife: but he that puts his trust in the LORD shall be made fat.
26 He that trusts in his own heart is a fool: but whoso walks wisely, he shall be delivered [malat].
27 He that giveth unto the poor shall not lack: but he that hides his eyes shall have many a curse.
28 When the wicked rise, men hide themselves: but when they perish, the righteous increase.
The trial we are in, the tsaraph, is described in Zechariah 13:9 where it is twice rendered "refiner." This is the same purification Daniel 12 speaks of, and the same purge spoken of in 2 Timothy 2, of those who walk wisely and not as fools.
7 Be not you therefore partakers with them.
8 For you were sometimes darkness, but now are you light in the LORD: walk as children of light:
9 (For the fruit of the Spirit is in all goodness and righteousness and truth;)
10 Proving what is acceptable unto the LORD.
11 And have no fellowship with the unfruitful works of darkness, but rather reprove them.
12 For it is a shame even to speak of those things which are done of them in secret.
13 But all things that are reproved are made manifest by the light: for whatsoever does make manifest is light.
14 Wherefore he says, Awake you that sleeps, and arise from the dead, and Christ shall give you light.
15 See then that you walk circumspectly, not as fools, but as wise,
16 Redeeming the time, because the days are evil.
17 Wherefore be you not unwise, but understanding what the will of the LORD is.
1 In that day there shall be a fountain opened to the house of David and to the inhabitants of Jerusalem for sin and for uncleanness.
2 And it shall come to pass in that day, says the LORD of hosts, that I will cut off the names of the idols out of the land, and they shall no more be remembered: and also I will cause the prophets and the unclean spirit to pass out of the land [the purge and purification].
3 And it shall come to pass, that when any shall yet prophesy, then his father and his mother that begat him shall say unto him, You shall not live; for you speak lies in the name of the LORD: and his father and his mother that begat him shall thrust him through when he prophesies [ending the false prophets].
4 And it shall come to pass in that day, that the prophets shall be ashamed every one of his vision, when he has prophesied; neither shall they wear a rough garment to deceive:
5 But he shall say, I am no prophet, I am an husbandman; for man taught me to keep cattle from my youth.
6 And one shall say unto him, What are these wounds in your hands? Then he shall answer, Those with which I was wounded in the house of my friends.
7 Awake, O sword, against my shepherd, and against the man that is my fellow, says the LORD of hosts: smite the shepherd, and the sheep shall be scattered: and I will turn mine hand upon the little ones.
8 And it shall come to pass, that in all the land, says the LORD, two parts therein shall be cut off and die; but the third shall be left therein.
9 And I will bring the third part through the fire, and will refine [tsaraph] them as silver is refined [tsaraph], and will try them as gold is tried: they shall call on my name, and I will hear them: I will say, It is my people: and they shall say, The LORD is my God.
The shepherd spoken of above isn't the LORD, as is taught by the shepherds of our day, of whom it speaks. When the LORD quotes this passage He is speaking to and of His apostles (His fellows) who He says will all be offended because of Him.
In the above passage the "wound" in the hand of false prophets and the word in the following verse, "smite," telling of what happened to the shepherd, are the same Hebrew word nakah. The word is used four other times in Zechariah, once in 9:4, once in 10:11, and twice in 12:4; all translated "smite." In chapter 9 it is speaking of Tyrus, the false rock, who built herself a stronghold and heaped up silver as dust and gold as the mire. Verse 4 then says, "4 Behold, the LORD will cast her out, and He will smite [nakah] her power in the sea [over the people]; and she shall be devoured with fire."
1Ask you of the LORD rain in the time of the latter rain; so the LORD shall make bright clouds, and give them showers of rain, to every one grass in the field.
2 For the idols have spoken vanity, and the diviners have seen a lie, and have told false dreams; they comfort in vain: therefore they went their way as a flock, they were troubled, because there was no shepherd.
3 Mine anger was kindled against the shepherds, and I punished the goats: for the LORD of hosts has visited his flock the house of Judah, and has made them as his goodly horse in the battle.
4 Out of him came forth the corner, out of him the nail, out of him the battle bow, out of him every oppressor together.
5 And they shall be as mighty men, which tread down their enemies in the mire of the streets in the battle: and they shall fight, because the LORD is with them, and the riders on horses shall be confounded.
6 And I will strengthen the house of Judah, and I will save the house of Joseph, and I will bring them again to place them; for I have mercy upon them: and they shall be as though I had not cast them off: for I am the LORD their God, and will hear them.
7 And they of Ephraim shall be like a mighty man, and their heart shall rejoice as through wine: yea, their children shall see it, and be glad; their heart shall rejoice in the LORD.
8 I will hiss for them, and gather them; for I have redeemed them: and they shall increase as they have increased.
9 And I will sow them among the people: and they shall remember me in far countries; and they shall live with their children, and turn again.
10 I will bring them again also out of the land of Egypt, and gather them out of Assyria; and I will bring them into the land of Gilead and Lebanon; and place shall not be found for them.
11 And he shall pass through the sea with affliction, and shall smite [nakah] the waves [the pride of men, which is the agitation of sea, the people] in the sea, and all the deeps of the river [their words] shall dry up: and the pride of Assyria [foreign ideas and ways] shall be brought down, and the scepter [rule] of Egypt [captivity] shall depart away.
12 And I will strengthen them in the LORD; and they shall walk up and down in his name, says the LORD.
4 In that day, says the LORD, I will smite [nakah] every horse with astonishment, and his rider with madness: and I will open mine eyes upon the house of Judah, and will smite [nakah] every horse of the people with blindness.
5 And the governors of Judah [the new rulers of God's people] shall say in their heart, The inhabitants of Jerusalem shall be my strength in the LORD of hosts their God.
6 In that day will I make the governors of Judah like an hearth of fire among the wood, and like a torch of fire in a sheaf; and they shall devour all the people round about, on the right hand and on the left: and Jerusalem shall be inhabited again in her own place, even in Jerusalem.
7 The LORD also shall save the tents of Judah first, that the glory of the house of David and the glory of the inhabitants of Jerusalem do not magnify themselves against Judah.
8 In that day shall the LORD defend the inhabitants of Jerusalem; and he that is feeble among them at that day shall be as David; and the house of David shall be as God, as the angel of the LORD before them.
This is the deliverance (malat) spoken of in Daniel 12:1 and is spoken of in Zechariah 2:7 where it is rendered "deliver yourself."
5 For I, says the LORD, will be unto her a wall of fire round about, and will be the glory in the midst of her.
6 Ho, ho, come forth, and flee from the land of the north, says the LORD: for I have spread you abroad as the four winds of the heaven, says the LORD.
7 Deliver yourself [malat], O Zion, that dwells with the daughter of Babylon [confusion].
8 For thus says the LORD of hosts; After the glory has he sent me unto the nations which spoiled you: for he that touches you touches the apple of his eye.
9 For, behold, I will shake mine hand upon them, and they shall be a spoil to their servants: and you shall know that the LORD of hosts has sent me.
10 Sing and rejoice, O daughter of Zion: for, lo, I come, and I will dwell in the midst of you, says the LORD.
Smiting the shepherd and scattering the sheep is the pattern spoken of in Isaiah 28:25 as the same word puwts, rendered "scatter" in Zechariah 13:7 is used to tell of "casting abroad" the seed [fitches]. It is telling of when the plowman has prepared the earth and God scatters His people so they will grow and cover it.
This scattering (puwts) is described in Ezekiel 34 as coming because there is no real shepherd, and shepherds there now are feeding only themselves from the remains of the flock.
5 And they were scattered [puwts], because there is no shepherd: and they became meat to all the beasts of the field, when they were scattered [puwts].
6 My sheep wandered through all the mountains, and upon every high hill: yea, my flock was scattered [puwts]upon all the face of the earth, and none did search or seek after them.
7 Therefore, you shepherds, hear the word of the LORD;
8 As I live, says the LORD God, surely because my flock became a prey, and my flock became meat to every beast of the field, because there was no shepherd, neither did my shepherds search for my flock, but the shepherds fed themselves, and fed not my flock;
9 Therefore, O you shepherds, hear the word of the LORD;
10 Thus says the LORD God; Behold, I am against the shepherds; and I will require my flock at their hand, and cause them to cease from feeding the flock; neither shall the shepherds feed themselves any more; for I will deliver my flock from their mouth, that they may not be meat for them.
11 For thus says the LORD God; Behold, I, even I, will both search my sheep, and seek them out.
12 As a shepherd seeks out his flock in the day that he is among his sheep that are scattered; so will I seek out my sheep, and will deliver them out of all places where they have been scattered [puwts] in the cloudy and dark day.
13 And I will bring them out from the people, and gather them from the countries, and will bring them to their own land, and feed them upon the mountains of Israel by the rivers, and in all the inhabited places of the country.
14 I will feed them in a good pasture, and upon the high mountains of Israel shall their fold be: there shall they lie in a good fold, and in a fat pasture shall they feed upon the mountains of Israel.
15 I will feed my flock, and I will cause them to lie down, says the LORD God.
16 I will seek that which was lost, and bring again that which was driven away, and will bind up that which was broken, and will strengthen that which was sick: but I will destroy the fat and the strong; I will feed them with judgment.
17 And as for you, O my flock, thus says the LORD God; Behold, I judge between cattle and cattle, between the rams and the he goats.
18 Seem it a small thing unto you to have eaten up the good pasture, but you must tread down with your feet the residue of your pastures? and to have drunk of the deep waters, but you must foul the residue with your feet?
19 And as for my flock, they eat that which you have trodden with your feet; and they drink that which you have fouled with your feet.
20 Therefore thus says the LORD God unto them; Behold, I, even I, will judge between the fat cattle and between the lean cattle.
21 Because you have thrust with side and with shoulder, and pushed all the diseased with your horns, till you have scattered [puwts] them abroad;
22 Therefore will I save my flock, and they shall no more be a prey; and I will judge between cattle and cattle.
23 And I will set up one shepherd over them, and he shall feed them, even my servant David; he shall feed them, and he shall be their shepherd.
24 And I the LORD will be their God, and my servant David a prince among them; I the LORD have spoken it.