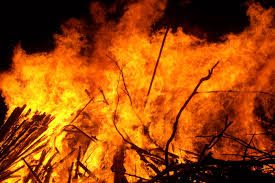 Today more on God's standard as He told of His raising it up in Isaiah 49:22 (see previous post). The Hebrew word used here is nec, from the word nacac. Their meanings (followed by their translated forms) From Strong's Hebrew Dictionary.
Strong's #5251: nec (pronounced nace) from 5264; a flag; also a sail; by implication, a flagstaff; generally a signal; figuratively, a token:–banner, pole, sail, (en-)sign, standard.
Strong's #5264: nacac (pronounced naw-sas') a primitive root; to gleam from afar, i.e. to be conspicuous as a signal; or rather perhaps a denominative from 5251 (and identical with 5263, through the idea of a flag as fluttering in the wind); to raise a beacon:–lift up as an ensign.
Isaiah 49 is telling of when the corrupted is separated from uncorrupted. The standard raised is the mind of God ordered reasoning and with it the body of Christ.
Isaiah 49 (nec is "standard" inverse 22)
22 Thus saith the Lord God, Behold, I will lift up mine hand to the Gentiles, and set up my standard to the people: and they shall bring thy sons in their arms, and thy daughters shall be carried upon their shoulders.
23 And kings shall be thy nursing fathers, and their queens thy nursing mothers: they shall bow down to thee with their face toward the earth, and lick up the dust of thy feet; and thou shalt know that I am the Lord: for they shall not be ashamed that wait for me.
This chapter begins with telling of the LORD having made the writer's mouth a sharp sword. The LORD then goes on to call the one whose mouth has been made the shape sword Israel, and of him being the one who will bring Jacob (still in rebellion) again to Him. This is all an illustrative view of Christ and His body calling the prodigal home. It is unifying the body and in doing saving the nation and the world (humanity).
Isaiah 49                                                                                                                                                                       1 Listen, O isles, unto me; and hearken, ye people, from far; The Lord hath called me from the womb; from the bowels of my mother hath he made mention of my name.
2 And he hath made my mouth like a sharp sword; in the shadow of his hand hath he hid me, and made me a polished shaft; in his quiver hath he hid me;
3 And said unto me, Thou art my servant, O Israel, in whom I will be glorified.
4 Then I said, I have laboured in vain, I have spent my strength for nought, and in vain: yet surely my judgment is with the Lord, and my work with my God.
5 And now, saith the Lord that formed me from the womb to be his servant, to bring Jacob again to him, Though Israel be not gathered, yet shall I be glorious in the eyes of the Lord, and my God shall be my strength.
6 And he said, It is a light thing that thou shouldest be my servant to raise up the tribes of Jacob, and to restore the preserved of Israel: I will also give thee for a light to the Gentiles, that thou mayest be my salvation unto the end of the earth.
Nacac is only used once and again it is in describing those who are saved (yasha – set free) as what adorns the crown (the nezer – the set apart for His work). It is the ensign raised up as it is written in Zechariah 9:16. In Verse 14 we are told of the LORD being seen over the sons of Zion who he has raised (as the ensign). It goes on to say He blows the trumpet and comes as whirlwind out of the south. The word translated as "south" is teman, meaning the right hand (as the sunrise is faced). See yesterday's post.
Zechariah 9
1 The burden of the word of the Lord in the land of Hadrach, and Damascus shall be the rest thereof: when the eyes of man, as of all the tribes of Israel, shall be toward the Lord.
2 And Hamath also shall border thereby; Tyrus, and Zidon, though it be very wise.
3 And Tyrus did build herself a strong hold, and heaped up silver as the dust, and fine gold as the mire of the streets.
4 Behold, the Lord will cast her out, and he will smite her power in the sea; and she shall be devoured with fire.
5 Ashkelon shall see it, and fear; Gaza also shall see it, and be very sorrowful, and Ekron; for her expectation shall be ashamed; and the king shall perish from Gaza, and Ashkelon shall not be inhabited.
6 And a bastard shall dwell in Ashdod, and I will cut off the pride of the Philistines.
7 And I will take away his blood out of his mouth, and his abominations from between his teeth: but he that remaineth, even he, shall be for our God, and he shall be as a governor in Judah, and Ekron as a Jebusite.
8 And I will encamp about mine house because of the army, because of him that passeth by, and because of him that returneth: and no oppressor shall pass through them any more: for now have I seen with mine eyes.
9 Rejoice greatly, O daughter of Zion; shout, O daughter of Jerusalem: behold, thy King cometh unto thee: he is just, and having salvation; lowly, and riding upon an ass, and upon a colt the foal of an ass.
10 And I will cut off the chariot from Ephraim, and the horse from Jerusalem, and the battle bow shall be cut off: and he shall speak peace unto the heathen: and his dominion shall be from sea even to sea, and from the river even to the ends of the earth.
11 As for thee also, by the blood of thy covenant I have sent forth thy prisoners out of the pit wherein is no water.
12 Turn you to the strong hold, ye prisoners of hope: even to day do I declare that I will render double unto thee;
13 When I have bent Judah for me, filled the bow with Ephraim, and raised up thy sons, O Zion, against thy sons, O Greece, and made thee as the sword of a mighty man.
14 And the Lord shall be seen over them, and his arrow shall go forth as the lightning: and the Lord God shall blow the trumpet, and shall go with whirlwinds of the south.
15 The Lord of hosts shall defend them; and they shall devour, and subdue with sling stones; and they shall drink, and make a noise as through wine; and they shall be filled like bowls, and as the corners of the altar.
16 And the Lord their God shall save them in that day as the flock of his people: for they shall be as the stones of a crown, lifted up as an ensign upon his land.
17 For how great is his goodness, and how great is his beauty! corn shall make the young men cheerful, and new wine the maids.
The word nec is the word translated twice in Numbers 21 as the "pole" the fiery serpent is raised on. Here again we see the serpents in the camp as the world corruption intermixed with God's people. Those who looked on the fiery serpent raised on the standard were made impervious to the effect of their poison, death (not rotted in the inner man).
The idea being seen is the standard as what we are raised on, as the cross we like the Lord take up and bear. The world and the corrupted hate, revile and ridicule us for raising the "standard" of righteousness. This is His cross we must take up and follow him – this is the cross we preach, His message, as He did, knowing what we face and why we do it. It isn't to save ourselves but rather the dying world.
Now read John 3 again in this context. We (as He was) are raised up on this standard, His truth. We then as a flag or a sail are the evidence of the Spirit moving. It isn't just the standard but rather what is raised on it (it isn't just the cross we believe in but rather the substance of the One raised on it).
John 3
1 There was a man of the Pharisees, named Nicodemus, a ruler of the Jews:
2 The same came to Jesus by night, and said unto him, Rabbi, we know that thou art a teacher come from God: for no man can do these miracles that thou doest, except God be with him.
3 Jesus answered and said unto him, Verily, verily, I say unto thee, Except a man be born again, he cannot see the kingdom of God.
4 Nicodemus saith unto him, How can a man be born when he is old? can he enter the second time into his mother's womb, and be born?
5 Jesus answered, Verily, verily, I say unto thee, Except a man be born of water and of the Spirit, he cannot enter into the kingdom of God.
6 That which is born of the flesh is flesh; and that which is born of the Spirit is spirit.
7 Marvel not that I said unto thee, Ye must be born again.
8 The wind bloweth where it listeth, and thou hearest the sound thereof, but canst not tell whence it cometh, and whither it goeth: so is every one that is born of the Spirit.
9 Nicodemus answered and said unto him, How can these things be?
10 Jesus answered and said unto him, Art thou a master of Israel, and knowest not these things?
11 Verily, verily, I say unto thee, We speak that we do know, and testify that we have seen; and ye receive not our witness.
12 If I have told you earthly things, and ye believe not, how shall ye believe, if I tell you of heavenly things?
13 And no man hath ascended up to heaven, but he that came down from heaven, even the Son of man which is in heaven.
14 And as Moses lifted up the serpent in the wilderness, even so must the Son of man be lifted up:
15 That whosoever believeth in him should not perish, but have eternal life.
16 For God so loved the world, that he gave his only begotten Son, that whosoever believeth in him should not perish, but have everlasting life.
17 For God sent not his Son into the world to condemn the world; but that the world through him might be saved.
18 He that believeth on him is not condemned: but he that believeth not is condemned already, because he hath not believed in the name of the only begotten Son of God.
19 And this is the condemnation, that light is come into the world, and men loved darkness rather than light, because their deeds were evil.
20 For every one that doeth evil hateth the light, neither cometh to the light, lest his deeds should be reproved.
21 But he that doeth truth cometh to the light, that his deeds may be made manifest, that they are wrought in God.
22 After these things came Jesus and his disciples into the land of Judaea; and there he tarried with them, and baptized.
23 And John also was baptizing in Aenon near to Salim, because there was much water there: and they came, and were baptized.
24 For John was not yet cast into prison.
25 Then there arose a question between some of John's disciples and the Jews about purifying.
26 And they came unto John, and said unto him, Rabbi, he that was with thee beyond Jordan, to whom thou barest witness, behold, the same baptizeth, and all men come to him.
27 John answered and said, A man can receive nothing, except it be given him from heaven.
28 Ye yourselves bear me witness, that I said, I am not the Christ, but that I am sent before him.
29 He that hath the bride is the bridegroom: but the friend of the bridegroom, which standeth and heareth him, rejoiceth greatly because of the bridegroom's voice: this my joy therefore is fulfilled.
30 He must increase, but I must decrease.
31 He that cometh from above is above all: he that is of the earth is earthly, and speaketh of the earth: he that cometh from heaven is above all.
32 And what he hath seen and heard, that he testifieth; and no man receiveth his testimony.
33 He that hath received his testimony hath set to his seal that God is true.
34 For he whom God hath sent speaketh the words of God: for God giveth not the Spirit by measure unto him.
35 The Father loveth the Son, and hath given all things into his hand.
36 He that believeth on the Son hath everlasting life: and he that believeth not the Son shall not see life; but the wrath of God abideth on him.
The word nec is translated as "banner" in Psalms 60:4 in telling of it being the LORD reestablishing His truth. It begins with describing the effects of anti-truth as the people being scattered and the earth shaken and broken.
Psalms 60
1 O God, thou hast cast us off, thou hast scattered us, thou hast been displeased; O turn thyself to us again.
2 Thou hast made the earth to tremble; thou hast broken it: heal the breaches thereof; for it shaketh.
3 Thou hast shewed thy people hard things: thou hast made us to drink the wine of astonishment.
4 Thou hast given a banner to them that fear thee, that it may be displayed because of the truth. Selah.
5 That thy beloved may be delivered; save with thy right hand, and hear me.
6 God hath spoken in his holiness; I will rejoice, I will divide Shechem, and mete out the valley of Succoth.
7 Gilead is mine, and Manasseh is mine; Ephraim also is the strength of mine head; Judah is my lawgiver;
8 Moab is my washpot; over Edom will I cast out my shoe: Philistia, triumph thou because of me.
9 Who will bring me into the strong city? who will lead me into Edom?
10 Wilt not thou, O God, which hadst cast us off? and thou, O God, which didst not go out with our armies?
11 Give us help from trouble: for vain is the help of man.
12 Through God we shall do valiantly: for he it is that shall tread down our enemies.
This shaking is the same shaking we are told of in Hebrews 12. It is in the context of correction, and ends with saying, "Our God is a consuming fire." Those are the same fire and sword coming from the mouth of the Lord as He wars again the spiritually wicked in all the high places of the world. The end in victory is our destination. The beginning is already under way and the victory has already been won in resurrection – Truth has been raised and will never die again.
Hebrews 12
1 Wherefore seeing we also are compassed about with so great a cloud of witnesses, let us lay aside every weight, and the sin which doth so easily beset us, and let us run with patience the race that is set before us,
2 Looking unto Jesus the author and finisher of our faith; who for the joy that was set before him endured the cross, despising the shame, and is set down at the right hand of the throne of God.
3 For consider him that endured such contradiction of sinners against himself, lest ye be wearied and faint in your minds.
4 Ye have not yet resisted unto blood, striving against sin.
5 And ye have forgotten the exhortation which speaketh unto you as unto children, My son, despise not thou the chastening of the Lord, nor faint when thou art rebuked of him:
6 For whom the Lord loveth he chasteneth, and scourgeth every son whom he receiveth.
7 If ye endure chastening, God dealeth with you as with sons; for what son is he whom the father chasteneth not?
8 But if ye be without chastisement, whereof all are partakers, then are ye bastards, and not sons.
9 Furthermore we have had fathers of our flesh which corrected us, and we gave them reverence: shall we not much rather be in subjection unto the Father of spirits, and live?
10 For they verily for a few days chastened us after their own pleasure; but he for our profit, that we might be partakers of his holiness.
11 Now no chastening for the present seemeth to be joyous, but grievous: nevertheless afterward it yieldeth the peaceable fruit of righteousness unto them which are exercised thereby.
12 Wherefore lift up the hands which hang down, and the feeble knees;
13 And make straight paths for your feet, lest that which is lame be turned out of the way; but let it rather be healed.
14 Follow peace with all men, and holiness, without which no man shall see the Lord:
15 Looking diligently lest any man fail of the grace of God; lest any root of bitterness springing up trouble you, and thereby many be defiled;
16 Lest there be any fornicator, or profane person, as Esau, who for one morsel of meat sold his birthright.
17 For ye know how that afterward, when he would have inherited the blessing, he was rejected: for he found no place of repentance, though he sought it carefully with tears.
18 For ye are not come unto the mount that might be touched, and that burned with fire, nor unto blackness, and darkness, and tempest,
19 And the sound of a trumpet, and the voice of words; which voice they that heard intreated that the word should not be spoken to them any more:
20 (For they could not endure that which was commanded, And if so much as a beast touch the mountain, it shall be stoned, or thrust through with a dart:
21 And so terrible was the sight, that Moses said, I exceedingly fear and quake:)
22 But ye are come unto mount Sion, and unto the city of the living God, the heavenly Jerusalem, and to an innumerable company of angels,
23 To the general assembly and church of the firstborn, which are written in heaven, and to God the Judge of all, and to the spirits of just men made perfect,
24 And to Jesus the mediator of the new covenant, and to the blood of sprinkling, that speaketh better things than that of Abel.
25 See that ye refuse not him that speaketh. For if they escaped not who refused him that spake on earth, much more shall not we escape, if we turn away from him that speaketh from heaven:
26 Whose voice then shook the earth: but now he hath promised, saying, Yet once more I shake not the earth only, but also heaven.
27 And this word, Yet once more, signifieth the removing of those things that are shaken, as of things that are made, that those things which cannot be shaken may remain.
28 Wherefore we receiving a kingdom which cannot be moved, let us have grace, whereby we may serve God acceptably with reverence and godly fear:
29 For our God is a consuming fire.
Psalm 18
18 I will love thee, O Lord, my strength.
2 The Lord is my rock, and my fortress, and my deliverer; my God, my strength, in whom I will trust; my buckler, and the horn of my salvation, and my high tower.
3 I will call upon the Lord, who is worthy to be praised: so shall I be saved from mine enemies.
4 The sorrows of death compassed me, and the floods of ungodly men made me afraid.
5 The sorrows of hell compassed me about: the snares of death prevented me.
6 In my distress I called upon the Lord, and cried unto my God: he heard my voice out of his temple, and my cry came before him, even into his ears.
7 Then the earth shook and trembled; the foundations also of the hills moved and were shaken, because he was wroth.
8 There went up a smoke out of his nostrils, and fire out of his mouth devoured: coals were kindled by it.
9 He bowed the heavens also, and came down: and darkness was under his feet.
10 And he rode upon a cherub, and did fly: yea, he did fly upon the wings of the wind.
11 He made darkness his secret place; his pavilion round about him were dark waters and thick clouds of the skies.
12 At the brightness that was before him his thick clouds passed, hail stones and coals of fire.
13 The Lord also thundered in the heavens, and the Highest gave his voice; hail stones and coals of fire.
14 Yea, he sent out his arrows, and scattered them; and he shot out lightnings, and discomfited them.
15 Then the channels of waters were seen, and the foundations of the world were discovered at thy rebuke, O Lord, at the blast of the breath of thy nostrils.
16 He sent from above, he took me, he drew me out of many waters.
17 He delivered me from my strong enemy, and from them which hated me: for they were too strong for me.
18 They prevented me in the day of my calamity: but the Lord was my stay.
19 He brought me forth also into a large place; he delivered me, because he delighted in me.
20 The Lord rewarded me according to my righteousness; according to the cleanness of my hands hath he recompensed me.
21 For I have kept the ways of the Lord, and have not wickedly departed from my God.
22 For all his judgments were before me, and I did not put away his statutes from me.
23 I was also upright before him, and I kept myself from mine iniquity.
24 Therefore hath the Lord recompensed me according to my righteousness, according to the cleanness of my hands in his eyesight.
25 With the merciful thou wilt shew thyself merciful; with an upright man thou wilt shew thyself upright;
26 With the pure thou wilt shew thyself pure; and with the froward thou wilt shew thyself froward.
27 For thou wilt save the afflicted people; but wilt bring down high looks.
28 For thou wilt light my candle: the Lord my God will enlighten my darkness.
29 For by thee I have run through a troop; and by my God have I leaped over a wall.
30 As for God, his way is perfect: the word of the Lord is tried: he is a buckler to all those that trust in him.
31 For who is God save the Lord? or who is a rock save our God?
32 It is God that girdeth me with strength, and maketh my way perfect.
33 He maketh my feet like hinds' feet, and setteth me upon my high places.
34 He teacheth my hands to war, so that a bow of steel is broken by mine arms.
35 Thou hast also given me the shield of thy salvation: and thy right hand hath holden me up, and thy gentleness hath made me great.
36 Thou hast enlarged my steps under me, that my feet did not slip.
37 I have pursued mine enemies, and overtaken them: neither did I turn again till they were consumed.
38 I have wounded them that they were not able to rise: they are fallen under my feet.
39 For thou hast girded me with strength unto the battle: thou hast subdued under me those that rose up against me.
40 Thou hast also given me the necks of mine enemies; that I might destroy them that hate me.
41 They cried, but there was none to save them: even unto the Lord, but he answered them not.
42 Then did I beat them small as the dust before the wind: I did cast them out as the dirt in the streets.
43 Thou hast delivered me from the strivings of the people; and thou hast made me the head of the heathen: a people whom I have not known shall serve me.
44 As soon as they hear of me, they shall obey me: the strangers shall submit themselves unto me.
45 The strangers shall fade away, and be afraid out of their close places.
46 The Lord liveth; and blessed be my rock; and let the God of my salvation be exalted.
47 It is God that avengeth me, and subdueth the people under me.
48 He delivereth me from mine enemies: yea, thou liftest me up above those that rise up against me: thou hast delivered me from the violent man.
49 Therefore will I give thanks unto thee, O Lord, among the heathen, and sing praises unto thy name.
50 Great deliverance giveth he to his king; and sheweth mercy to his anointed, to David, and to his seed for evermore.